Texas Rangers:

Globe Life Park
April, 16, 2014
Apr 16
9:59
PM CT
ARLINGTON, Texas --
Leonys Martin
's single ended a wild ninth inning as the
Texas Rangers
earned their fourth walk-off win at home this season, 3-2 over the
Seattle Mariners
. Texas did all the damage with two outs.
Kevin Kouzmanoff
singled,
Mitch Moreland
walked and then the Rangers got some help.
Donnie Murphy
's ground ball to short should have ended the inning, but the flip to second was high. The error kept the inning going and loaded the bases for Martin. A wild pitch scored the tying run, and then, Martin's single to left ended it. A few quick thoughts:


Pitch counts:
It seems to be a topic of conversation every time
Yu Darvish
pitches, but the 27-year-old ace threw 107 pitches in seven innings Wednesday -- an average of 15.2 per inning. He came into the game No. 2 in the AL in pitches per inning at 12.7, nearly four fewer pitches per inning than his average last season. Darvish had two full counts in a 19-pitch first inning and didn't get much more efficient from there. Darvish adjusted by throwing more breaking pitches earlier in the count for strikes, but his command of his fastball and slider was not as good as it was in his first two starts.
Ambushing the fastball
: Knowing that Darvish was getting ahead on hitters with first-pitch strikes in his first two starts, the Mariners came in with the idea of swinging at first-pitch fastballs and got a triple off one from
Nick Franklin
with one out in the second inning to get Seattle in position to score. A single by
Mike Zunino
plated Franklin. Darvish also walked
Dustin Ackley
with two outs, and that proved costly, as
Abraham Almonte
's single brought home Ackley to make it 2-0.
Where's the run support?
: Darvish has pitched 22 innings this season, and his offense has yet to score a run for him. Not one. Blame
Felix Hernandez
for that Wednesday, but it's been like that all season. Darvish has no margin for error. On Wednesday, the Rangers managed just four hits and were 0-for-2 with runners in scoring position while Darvish was on the mound.
Defensive issues
: In the two-run second for the Mariners,
Shin-Soo Choo
charged Almonte's single but seemed to hesitate before throwing home. His throw home was off target and went to the backstop, allowing a runner to advance. A few innings later, Martin and Choo had a communication issue, and what should have been a routine fly-ball out glanced off Martin's glove and hit the ground. It was scored a hit but was another mistake by the defense. Texas has 15 errors in 15 games this season, which leads the AL, but the Rangers have made other miscues that haven't been called errors.
Hernandez dazzles:
It sure looked like the Cy Young version of Hernandez on the mound Wednesday. He allowed one run (in the eighth) on four hits with a walk and nine strikeouts. He was lifted after just 96 pitches following Martin's leadoff triple in the eighth. Martin scored on
Michael Choice
's sacrifice fly. Hernandez threw first-pitch strikes to 22 of the 26 batters he faced. In three career meetings against Darvish (the other two in 2012), Hernandez is 3-0 and has a 0.75 ERA in 24 innings pitched with 28 strikeouts and three walks. Darvish didn't have his best stuff but hung in for seven innings, allowing two runs.
Briefly
: Kouzmanoff's ninth-inning single kept his hitting streak alive. He's hit in all seven games he's played for the Rangers. ... Moreland's first walk of the season came against Hernandez in the fourth. He also walked with two outs in the ninth off
Fernando Rodney
.
Up next:
Right-handed pitcher
Tanner Scheppers
(0-1, 7.88 ERA) goes up against righty
Erasmo Ramirez
(1-2, 5.63 ERA) at 1:05 p.m. on ESPN Dallas 103.3 FM and Fox Sports Southwest.
April, 13, 2014
Apr 13
4:25
PM CT
ARLINGTON, Texas -- That's 15 straight series wins over the
Houston Astros
for the
Texas Rangers
as they secure their second 1-0 win in the past three days. It was the first time in club history that Texas had two 1-0 wins in the same series and the first time for two 1-0 games in the same series since 1982 vs. Boston Red Sox.
Martin Perez
pitched eight shutout innings and
Alexi Ogando
got the save in the ninth. Texas now has three shutout wins in the first 12 games of the season and they move to .500 on the season. Some quick thoughts:
Perez loves double plays:
Young Martin Perez found a nice pace in Sunday's game, pitching quickly and with confidence. He allowed four hits, but no runs and the double play was very helpful for him. He induced four ground-ball double plays, including one to end the eighth inning, his final frame of the game. Perez was leading the AL with five ground-ball double plays before the game started.
Long start:
For just the second time in his career, Perez got through at least eight innings. The only other time he did it was Aug. 11, 2013 against the same Astros. In that one, he got a complete-game victory, allowing just one run on four hits.
Don't steal from me:
Catcher
Robinson Chirinos
' arm was impressive on Sunday as he threw out two Houston runners attempting to steal. He nailed
Jonathan Villar
in the third and
Matt Dominguez
in the fifth. He has thrown out four baserunners this season.
Andrus ejected:
Elvis Andrus
argued a called third strike to end the third inning and was quickly ejected by home plate umpire Alan Porter. It was a low strike call and Andrus didn't like it. The ejection also brought an end to Andrus' streak of hitting safely in every game this season. He was at 11 games prior to Sunday, so he won't catch Al Oliver's club-record 13 in 1979.
Solid substitutes:
Josh Wilson
and
Donnie Murphy
made their presences felt in Sunday's game. Wilson moved over to shortstop and Murphy came in to play second when Andrus was ejected. They played solid defense, and provided some offensive help in the sixth. Wilson led off the inning with a single, went from first to third on a single by
Shin-Soo Choo
and scored on Murphy's sacrifice fly, which game in the spot that Andrus would have batted in had not been asked to depart early.
Ogando in for the save:
With
Joakim Soria
having pitched for two straight games, Alexi Ogando got the opportunity to save Sunday's game and came through. It was his fourth career save, his last one coming in 2012 as he pitched when
Joe Nathan
needed rest that season, grabbing three saves.
Defensive gems:
Prince Fielder
made a nice diving stop toward the first-base line to take an extra-base hit away from
Jesus Guzman
with one out in the fourth. Fielder worked earlier this homestand on his footwork and short-hops at first base with manager Ron Washington and will get some more work on other aspects of his defense before the homestand ends. But that was a very nice play for Fielder to keep the Astros off the bases. ... Josh Wilson, playing shortstop after Andrus' ejection, ranged to his left and snagged a line drive from
L.J. Hoes
, preventing a hit in the fifth.
April, 12, 2014
Apr 12
10:24
PM CT
ARLINGTON, Texas -- A
Texas Rangers
comeback fell short on Saturday, as the
Houston Astros
scored in the 10th inning and held on for a 6-5 win.
Texas tied the game in the bottom of the ninth, but a triple by
Jason Castro
, aided by a strange bounce off the wall in right, put him in position to score on
Jose Altuve
's sac fly to right. A few thoughts:
Great stop:
Astros shortstop
Jonathan Villar
made a terrific diving play, backhanding a ball to his right and throwing to first to get
Alex Rios
with
Elvis Andrus
at second and no outs in the bottom of the 10th. The Astros wiggled out of the jam and preserved the win. The game could still be going on if not for Villar's play.
Baserunning blunder:
After Rios hit a double off the wall in left-center to score Andrus and make it a one-run game, the outfielder tried to steal third. He was caught stealing for the first out of the inning, preempting the rally. The next two Rangers batters got out quickly, and any hope of tying the game at that point was lost. Rios also had trouble with a throw back to the infield in the 10th, missing the cutoff man, though it didn't allow the Astros an extra base (that happened on the odd bounce off the wedge wall).
Right Choice:
Michael Choice
didn't start the game, but he came in to pinch hit to lead off the ninth inning and belted his first career home run 412 feet into the Rangers bullpen to tie the score. It was only the 13th at-bat of the season for Choice, who hits mainly against left-handed pitchers. That included lefty
Kevin Chapman
in the ninth on Saturday, and Choice took advantage.
Two-out runs:
Through three starts for
Tanner Scheppers
, he's had trouble finishing off innings with runners on base. That was the case again on Saturday as the Astros came back from a 2-0 deficit to score five runs -- four with two outs -- in the fourth inning to take the lead. Scheppers didn't allow a hit in the game until that frame but gave up three singles, a walk and a three-run home run to alter the game early.
Velocity up:
When Scheppers was in the bullpen, he was regularly able to dial up his fastball to 95 or 96 mph. That didn't happen this season until Saturday. Scheppers touched 97 at one point and had that fastball in the 93-95 range consistently. That was an improvement.
Better finish:
The fourth inning -- and
Robbie Grossman
's three-run homer specifically (with some help from the Globe Life Park jetstream) -- ruined any bid for a quality start, but Scheppers did bear down in the next three innings to get through seven. He needed 29 pitches as he retired nine of the next 10 batters he faced to finish off his start.
Hard-hit balls:
Prince Fielder
hit a few balls hard on Saturday, perhaps a sign that his timing is coming around. Fielder's single in the first was a one-hopper through the shift and probably the hardest ball he's hit all season. He also hit a long fly ball in the third. It's a small thing, but with Fielder struggling to do anything, it was noticeable.
Leadoff strikeouts:
Neither leadoff hitter had a good night on Saturday.
Shin-Soo Choo
, who came in with seven strikeouts the whole season, had five in five at-bats, including four off
Jarred Cosart
(two of them looking). It was the first time he had five strikeouts in his career. The last time he had four strikeouts in a game was in July 2012 while with Cleveland. Astros center fielder
Dexter Fowler
wasn't much better, striking out in his first three at-bats against Scheppers (one of those looking).
Did it hit him?:
Carlos Corporan
was given first base in the sixth on a hit-by-pitch that plate umpire Rob Drake said hit the jersey. But it sure looked on the replay like it didn't hit him. That is a call the manager can challenge, but the Rangers chose not to do that. The HBP came with two outs, and Scheppers retired the next batter to end the inning.
Briefly:
Donnie Murphy
got a chance to play second base and took advantage with a double, a walk and two runs scored. … Andrus has now hit safely in 11 games to start the season. The club record is 13 by Al Oliver in 1979.
Up next:
Left-hander
Martin Perez
(1-0, 4.50 ERA) takes the mound for the Rangers in the final game of this series against
Brett Oberholtzer
(0-2, 4.91) in a 2:05 p.m. game.
April, 11, 2014
Apr 11
11:20
PM CT
ARLINGTON, Texas -- The
Texas Rangers
have played four games in Arlington. They've won three of them in walk-off fashion. And
Robinson Chirinos
was the hero in the 12th inning. His single to right scored
Kevin Kouzmanoff
from second -- who got there by staying aggressive and getting to second on a ball in the dirt -- to give the Rangers a 1-0 win over the
Houston Astros
.
It was the longest game (by innings) to go scoreless in Arlington since Sept. 22, 1992, when the Rangers lost to the
Minnesota Twins
1-0 in 13 innings. Nolan Ryan started the game for the Rangers with Pudge Rodriguez catching. Both Ryan and Rodriguez were at the game Friday.
Darvish dazzles:
The Rangers' ace loves pitching against the Astros. Last season, he was one out away from a perfect game in Houston in April. On Friday, he had a perfect game through five innings before
Matt Dominguez
-- hitting .129 when the game started -- hit an 0-2 breaking pitch for a looping hit to left-center. Darvish retired the next three batters to end the inning with no damage done, but it ended his perfect game and no-hit hopes. In that at-bat, Dominguez hit a foul ball down the right-field line that
Alex Rios
nearly caught but wasn't able to (and it would have required he dive against the wall, which would have been risky). Shortly thereafter, Darvish gave up the hit.
Still, Darvish went eight innings and gave up that lone hit with one walk and nine strikeouts. It was a terrific performance. He now has pitched 15 innings of scoreless baseball.
Darvish established his fastball the first time through the order, then utilized the slider more the second time through. Once again, he was efficient, throwing 101 pitches in his eight innings of work. Darvish was in command and in control out there, not even getting to a three-ball count until he walked
Jose Altuve
with two outs in the seventh. It didn't hurt that the Astros rolled out a lineup that featured six batters hitting under .200 and another hitting .226.
Baserunning problems:
Shin-Soo Choo
did a terrific job of getting on base Friday, drawing three walks and a single in six plate appearances. But after a single in the 11th, Choo stole second base with one out and
Elvis Andrus
at the plate. Andrus hit a dribbler in front of the plate and Choo froze rather than moving to third. With Andrus' speed, it would have put even more pressure on the Astros, never mind possibly putting the winning run at third base with two outs, should a wild pitch or something have happened. Instead, Choo stayed at second and the Astros retired
Alex Rios
to end the inning.
10th-inning issues:
Texas had a great chance to win the game in the 10th inning, loading the bases with no outs. Houston brought in
Marwin Gonzalez
and inserted him as part of a five-man infield with no left fielder. The Rangers needed a fly ball and couldn't get it.
Mitch Moreland
hit into a fielder's choice with the Astros throwing out Rios at home. Chirinos struck out and
Leonys Martin
grounded out to second.
Not quite in ninth:
The Rangers rallied with two outs in the inning as Martin singled and
Josh Wilson
also singled, with Martin going to third. Choo had a typically solid at-bat, getting behind in the count but still drawing a walk. Andrus came up with the bases loaded and grounded out to end the inning.
Is that blood?:
At one point in the sixth inning, TV cameras showed the top of Darvish's thumb was cut and he was bleeding a bit. It didn't seem to bother him as he continued to pitch.
Nice arm:
Astros catcher
Jason Castro
threw out two Rangers runners Friday. He got Andrus trying to steal after Andrus didn't get a good jump to end the third, and he nailed Martin on a pitch-out call to end the fifth.
Nice catch:
Martin had the highlight of the night, making a diving catch to end the seventh inning.
Offensive issues:
The Rangers couldn't do much with the bats, though they had some chances. The best might have been in the seventh, when the Rangers put two on with one out and had the bases loaded with two outs and couldn't score anything. Houston opted to intentionally walk Martin -- the first time that has happened in his young career -- to pitch to Wilson and
Scott Feldman
struck him out to end the frame. Give Feldman some credit. His curveball was working and he pitched very well only two days after his father died.
Hesitancy hurts:
With Kouzmanoff at first, Moreland laced a ball to the gap in right-center in the second inning, but Kouzmanoff didn't get a good read on the ball and hesitated. He ended up at third base but might have had a chance to score had he been running right away. That put runners and second and third with one out, but
J.P. Arencibia
struck out, and Martin grounded out to end the threat.
Big hand for Nolan:
Ryan, a Hall of Famer and former Rangers CEO, was at the ballpark on Friday night and sat next to former president George W. Bush in the owner's box (his usual place from the past handful of seasons). He was shown on the video board between innings early in the game and received a standing ovation (while "Don't Go Breaking My Heart" played as background music).
April, 10, 2014
Apr 10
3:14
PM CT
For fans heading out to the
Texas Rangers
' 10-game homestand should note one important traffic situation: The HOV lanes in both directions on I-30 from Dallas westbound to Baird Farm Road Bridge in Arlington will be closed.
Construction is going on to widen the lanes and they will be closed until August when they reopen (and they'll be tolled when they do finally reopen).
The club recommends that fans traveling on I-30 should use exits at SH 161, Ballpark Way and AT&T Way or Collins Street to get into and out of the parking areas. For more information,
click here
.
Other homestand highlights:
* Friday-Sunday vs.
Houston Astros
includes a replica ballpark for the first 15,000 fans on Friday and Mercy Me concert on Sunday along with $1 ice cream for kids 13 and under.
* Monday-Thursday vs.
Seattle Mariners
is highlighted by
Shin-Soo Choo
T-shirt giveaway for first 15,000 fans 14 and older on Tuesday and an afternoon affair (1:05 p.m.) on Thursday, which is also Wildlife Education Day with the Dallas Zoo.
* Friday-Sunday vs.
Chicago White Sox
starts with fireworks after Friday's game (themed to music of Movie Funnies), and Saturday is
Yu Darvish
Strikeout King Bobblehead night to the first 15,000 fans. Kids get to run the bases after Sunday's 2:05 p.m. game.
April, 2, 2014
Apr 2
10:17
PM CT
ARLINGTON, Texas -- It's early, and yet the
Texas Rangers
already have a penchant for comebacks in 2014.
For the second consecutive game, the Rangers found a way to score the runs they needed in the ninth and took the series from the
Philadelphia Phillies
with a 4-3 win.
Some quick thoughts:
Comeback kids:
Down two runs in the ninth,
Adrian Beltre
started the comeback with a single.
Jim Adduci
's pinch-hit single scored Beltre to make it a one-run game.
Leonys Martin
scored
Mitch Moreland
, who hit a double earlier in the inning, to tie the score. Then
Shin-Soo Choo
ended up delivering with a patient walk with the bases loaded to win the game. It was the Rangers' first walk=off walk since 1999.
Early chance goes awry:
The Rangers had a terrific opportunity to score early runs and grab the lead on Wednesday and couldn't get the job done. Singles by Choo and
Elvis Andrus
and an errant throw by right fielder
Marlon Byrd
put them at second and third with no outs. The key at-bat was
Prince Fielder
's. He got the count to 3-2, then took a swing at a pitch out of the zone and struck out. Beltre's ground ball back to the mound wasn't fielded well by
Kyle Kendrick
, but Choo's hesitation got him caught in a rundown. Choo stayed in it long enough to allow both runners to move up, but with two outs,
Alex Rios
' ball to deep center was caught. Just like that, the Rangers got nothing.
Ross vs. lefties:
One of the big questions going into the game was whether
Robbie Ross
could retire left-handed hitters consistently -- something he didn't do last year. He left a slider in the middle of the plate to
Ryan Howard
, who crushed it 411 feet to right-center for a two-run shot to give the Phillies a 3-0 lead in the third. And of his seven hits allowed, three of them came off the five left-handers that Phillies manager Ryne Sandberg had in the lineup.
Decent debut:
No, Ross didn't dominate the Phillies and he wasn't efficient, throwing 96 pitches in five innings. But Rangers manager Ron Washington wanted Ross to keep his team in the game. He did that; he just couldn't get any help from his offense. Ross pitched out of some jams and ended up with a career-high seven strikeouts. Ross had at least two men on base in every inning, yet limited the damage. All in all, not a bad first start.
Two-out RBI:
Martin had a two-out RBI single to right in the seventh inning, scoring the Rangers' first run. It scored Moreland, who hit the third triple of his career, diving into third base ahead of the throw on a ball hit to the right-center gap.
Velocity up, control down:
Pedro Figueroa
's first four pitches on to
Chase Utley
were in the mid-to-high 90s. They also were all balls. But with one out and a runner at first, Howard smoked a Figueroa fastball right into the Fielder's glove for a double play.
Solid Seth:
Rangers reliever
Seth Rosin
came in for the eighth and ninth and pitched well, allowing one hit and no runs in both frames. Rosin has tossed three scoreless frames so far this season.
More for Moreland:
After a rough start to the season, Moreland found his stroke late in Wednesday's game. He had a triple in the seventh and a double in the ninth.
Up next:
The Rangers are off on Thursday before heading to Florida for a three-game set against the
Tampa Bay Rays
. The pitching matchups:
Friday, 6:10 p.m. CT: LHP
Joe Saunders
vs. RHP
Jake Odorizzi
Saturday, 6:10 p.m. CT: RHP Nick Martinez vs. LHP
David Price
Sunday, 12:40 p.m. CT: RHP
Yu Darvish
vs. RHP
Alex Cobb
April, 1, 2014
Apr 1
10:21
PM CT
ARLINGTON, Texas --
Adrian Beltre
's walk-off single to right scored
Shin-Soo Choo
with the winning run as the
Texas Rangers
got their first victory of 2014, 3-2 over the
Philadelphia Phillies
. Some quick thoughts on the game:
Clutch:
Beltre delivered in big moments twice on Monday, something he did with regularity last season. With two outs and a runner at third in the seventh, Beltre doubled the other way to score the tying run. Beltre was tops in the league last year with a .416 average in the "close and late" stat, which is how a batter fares when his team is leading by one, tied or has the tying run on base. He had two hits and two RBIs in those situations on Monday, including the game-winning single in the bottom of the ninth.
Bullpen lineup:
With a close game, manager Ron Washington lined up the bullpen the way he wanted to in the later stages. That was
Jason Frasor
to finish off the sixth and pitch the seventh, lefty
Neal Cotts
in the eighth and closer
Joakim Soria
in the ninth. They all did the job, allowing no runs on one hit with one walk and four strikeouts in 3 ⅓ innings.
Choo vs. lefty:
The Phillies sent a steady diet of left-handed pitchers out against Choo on Monday and it worked. On Tuesday, they opted to take righty
A.J. Burnett
out and put lefty
Jake Diekman
in with Choo leading off the seventh and Choo punched a ground ball single to left. He ended up scoring on Beltre's two-out double to right. Choo had just a .215 average against lefties last season.
Perez solid:
Martin Perez
left with a deficit, but that doesn't change the fact that he pitched well overall in his first start of 2014. The lefty allowed two runs -- both in the sixth -- on seven hits with no walks and seven strikeouts. He was locked in a scoreless contest with Burnett until the sixth, when he allowed a leadoff double to
Cesar Hernandez
and then surrendered hits to three of the next five batters he faced. Perez's slider and changeup were excellent and he attacked the strike zone, something he talked about before the start.
Getting in replay flow:
The Rangers challenged one play in the sixth inning on Tuesday and won it, getting the call overturned.
You can read more about that here.
But to me, what was more interesting was watching how the mechanics worked as the club decided whether or not to challenge. Earlier in the sixth, Washington showed how slowly he can walk to chat with an umpire so that Joey Prebynski could look at the replays. They showed the umpires got it right, so Washington looked in the dugout and got a sign from someone (likely bench coach
Tim Bogar
) not to challenge, and didn't. Later in the inning, walking slowly yet again, Washington got the go sign and the Rangers won the challenge. That's how you do it.
Missed opportunities:
Prince Fielder
came up with runners at first and second and no outs in the third inning and wasn't able to convert, popping up in foul territory near the Phillies' dugout. Beltre then hit into a fielder's choice and
Alex Rios
lined out to second base to end the frame. ... Fielder smoked a two-out double in the fifth -- the bat speed was extremely fast -- and Beltre hit a ball to one of the deepest parts of the stadium, but it was caught against the wall to end the frame.
Briefly:
Former president George W. Bush was on hand, sitting in the owner's box. It was odd not seeing Nolan Ryan down there with him as the two have watched a fair number of games together at Globe Life Park since Bush left office. ... Catcher
Robinson Chirinos
, playing in his first game of the season, showed off his arm in the second, getting
Jayson Nix
trying to get to second base. It appeared to be a botched hit-and-run attempt, but Chirinos made a terrific throw that had Nix out by a lot.
Up next:
LHP
Robbie Ross
is on the mound for the Rangers as they take on the Phillies and RHP
Kyle Kendrick
in the final game of a three-game series, which starts at 7:05 p.m. at Globe Life Park. Ross has been in the bullpen the past two seasons and now will get a shot to start for the first time since making six starts for Double-A Frisco in 2011. Seattle Seahawks quarterback and Rangers Rule 5 draft pick
Russell Wilson will throw out the ceremonial first pitch.
April, 1, 2014
Apr 1
7:57
PM CT
ARLINGTON, Texas -- Bacon sells. Just ask the
Texas Rangers
.
[+] Enlarge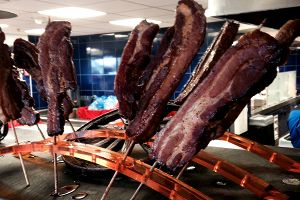 Richard Durrett/ESPN"Bacon on a stick" was a hot commodity at Globe Life Park on Opening Day.
The team offered its "Bacon on a stick" for the first time on Opening Day, and sold out all 600 units it ordered.
"It was extremely popular," said Shawn Mattox, general manager of Metroplex Sportservice, the vendor at Rangers Ballpark. "We had to bring more in this morning [Tuesday]."
The club has also had to alter its orders for future games in anticipation of a higher-than-expected demand.
The bacon, which is three-quarters-of-an inch thick, sells for $7 and is Hungarian smoked and dipped in maple syrup. It was a new menu item the club unveiled for the 2014 season.
It is sold at three different stands around the stadium, including two in the lower level and one in the upper deck.
The club is also offering frozen beer and a 24-inch sandwich called "The Choomongous," named after
Shin-Soo Choo
. It has Asian beef with a sweet and spicy relish on top.