Texas Rangers:

Gold Glove
October, 25, 2013
10/25/13
12:16
PM CT
By
Todd Wills
| ESPNDallas.com
ARLINGTON, Texas -- Rangers third baseman
Adrian Beltre
is a finalist for a Rawlings Gold Glove Award once again.
Beltre is of the top three defenders at third base for the third consecutive year. He's one of 11 players in the major leagues to be a finalist each year since Rawlings started naming finalists in 2011. Tampa Bay's
Evan Longoria
and Baltimore's
Manny Machado
are the other two finalists at third base in the American League.
The winners of the Gold Glove at each position in the American League and National League will be unveiled during a one-hour special on ESPN's Baseball Tonight. The 2013 Rawlings Gold Glove Award Announcement Show will be broadcast on ESPN2 on Tuesday at 7 p.m.
Beltre, who has won four Gold Gloves and the last two at third base in the AL, committed 14 errors this season.
The other three-time finalists are Cincinnati right fielder
Jay Bruce
and second baseman
Brandon Phillips
,
New York Yankees
second baseman
Robinson Cano
,
Los Angeles Dodgers
first baseman
Adrian Gonzalez
, Kansas City left fielder
Alex Gordon
, Baltimore shortstop
J.J. Hardy
and catcher
Matt Wieters
, St. Louis catcher
Yadier Molina
and Boston second baseman
Dustin Pedroia
.
October, 30, 2012
10/30/12
9:30
PM CT
By
Richard Durrett
| ESPNDallas.com
With apologies to Buddy Bell, Steve Buechele and a few others,
Adrian Beltre
will go down as the best third baseman in
Texas Rangers
history by the time his contract ends. Heck, he might already be the best third baseman in franchise history.
[+] Enlarge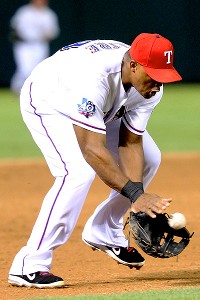 Rick Yeatts/Getty ImagesAdrian Beltre won his fourth Gold Glove in six years Tuesday. Bet on him winning more while he's manning third base for the Rangers.
And he's only been in Texas two years.
Beltre won his second consecutive Gold Glove on Tuesday night. It was his fourth in the past six years (he won a couple in Seattle, too). Don't bet against Beltre winning at least a few more of these gold awards while wearing a Rangers uniform. At 33 years old, Beltre just seems to keep getting better with age.
Perhaps the biggest reason is his firm belief that he's merely "above average" defensively at his position. Even his collection of Gold Gloves hasn't changed his mind about that.
That doesn't mean he's not confident on the field. But the conviction that he constantly has things he can get better at doing drives him to work harder and try to do more.
"Every time the season begins, you always have space to improve," Beltre said. "I know I have some areas that I can get better, more consistent. It doesn't matter how hard you work and how much you want to improve in those areas, there's always going to be challenges. Some things you're more comfortable doing, some things you have to work harder at."
We know that Beltre makes ridiculous plays. We know he's extremely unorthodox, throwing lasers to first base flat-footed. We know no one is better at charging balls down the third-base line and making the off-balance throw to first than Beltre. And we know few in the game have more fun than Beltre when he's defending the hot corner.
Be thankful, Rangers fans.
There are few players in the league that are more fun to watch than Beltre and you get to do it on a nightly basis during the season. One of the best parts of spring training for me the past two years has been watching Beltre go about his business at third base during drills and batting practice. He takes a ton a ground balls, and treats every one of them like it's the regular season.
Trust me, his teammates notice that. They feed off it, too.
"I play it with a lot of love and determination that I want to make every play I can," Beltre said. "There are probably some plays I should give up and not be as aggressive, but that's the way I am. I want to make every play I can."
It shows. Beltre has become a fan favorite, earning "MVP" chants as the season was ending in 2012 and plenty of facetime on the big videoboard as his highlights are shown on a nightly basis. Part of that was how well he hit the ball this season -- a .321 average, 36 homers and 102 RBIs. He also won over fans with his toughness, playing through pain, especially in the final weeks of the season.
He's impressed those who played third base before him, including Bell (the only other Rangers third baseman to win a Gold Glove).
"If you're going to play that position, you have to be somewhat fearless," Bell said last month. "You have to be very aggressive to the ball. All young infielders should practice throwing off-balance and unorthodox. Guys are fast and you might need to make those throws. Most really good infielders are able to throw from where Beltre throws and do it from different angles.
"What I like about him is that he has a little fun with it. You have to have some of that in your game. There's no doubt he wants to be the best and there's confidence there, but there's a lot of relaxed fun in his game."
The good news for Rangers fans: They'll get to see that for at least another three seasons.
October, 30, 2012
10/30/12
9:17
PM CT
By
Richard Durrett
| ESPNDallas.com
Adrian Beltre
is a Gold Glove winner for the second consecutive year.
Beltre, 33, has won the award as an AL third baseman in four of the last six years (also 2007 and 2008 with Seattle). He was first among third basemen in the American League with a .974 fielding percentage, the second-best figure of his career (.978 in 2004). He has eight errors, his fewest ever at third base. He played in 129 games at third and got the same number of total chances as he did in 2011 (312). His last error came on Aug. 26 vs. Minnesota, which means he played his final 26 games at third without an error.
"It is nice to be recognized for what you've done defensively for your team," Beltre said on a media conference call Tuesday night. "This one was more tough because I went through more of a physical challenge. It is special and I'm happy to be recognized for this."
Beltre said he is feeling better after dealing with abdominal pain caused by scar tissue from a previous surgery and is not expected to have surgery.
"I'm feeling good," Beltre said. "I hope there would not be any more problems with my stomach and if it is, I hope it's a little bit. So far I've ben feeling good and don't have any issue with it. I hope that will never bother me again."
Beltre has become a fan favorite, thanks to his toughness, timely hitting and highlight-reel plays (plus an unorthodox style) at third base.
"He's the best I've ever seen," Rangers manager Ron Washington said a week before the regular season ended. "He does everything with his hands. I've never seen a guy that just catches the ball with his hands. He moves to the ball, but he doesn't use his feet to catch balls. He catches balls flat-footed. Those are things you don't want to teach people. But he's accurate and knows what he's doing.
"He's an unorthodox guy with great hands. And I mean great hands."
Beltre hit .321 this season with 36 homers and 102 RBIs. It was the second-best offensive season of his career in all three categories.
"I play it with a lot of love and determination that I want to make every play I can," Beltre said. "There are probably some plays I should give up and not be as aggressive, but that's the way I am. I want to make every play I can."
Beltre beat out Mike Moustakas of the Kansas City Royals and Brandon Inge of the Oakland A's. American League coaches and managers voted on the awards and could not vote for their own players.
November, 9, 2010
11/09/10
3:35
PM CT
By
Richard Durrett
| ESPNDallas.com
Well, I'm surprised that neither outfielder
Josh Hamilton
nor
Elvis Andrus
claimed their first Gold Glove Awards on Tuesday.
Derek Jeter
won at shortstop for the AL and
Ichiro Suzuki
,
Carl Crawford
and
Franklin Gutierrez
won in the OF.
I really believed Andrus had a great chance to win the award at shortstop. He has the best range of anyone in the AL at the position and after committing 22 errors in his rookie season of 2009, dropped to 16 in 2010. As I've said before, I believe Andrus commits more errors than many others because he gets to more balls than others do, giving him more chances to bobble a ball or make an errant throw.
Maybe next year, the coaches and managers who vote on the awards will take more notice of Andrus' exploits. That's not, by the way, to say I don't think Hamilton was deserving. But Hamilton missed most of the final month with an injury, and I think you can make a stronger case for the three outfielders chosen than you can for Jeter. But that's just me.
Yes, I know Jeter had 10 fewer errors. But we've talked about why I think Andrus' error total is inflated. Andrus had a much higher zone total runs above fielding number (2 to Jeter's minus-10). That's the number of runs above average the player was worth based on the number of plays made. He had the higher range factor per nine innings, the higher range factor per game. He was well higher (1 to minus-13) on defensive runs saved above the average. Andrus also had the third-most putouts of any shortstop in the AL with 242 (in 148 games). Jeter had 182 (in 151 games). Andrus also had over 100 more chances.
As for UZR (ultimate zone rating), which encompasses some of the numbers above, he was above average (barely) among AL shortstops. But Jeter was considerably below average.
Alexei Ramirez
was No. 1 in that category.
I know those are obscure stats to some, but the entire body of work shows he was a solid fielder at his position. And, in my mind, better than Jeter. Maybe he'll be justly rewarded next year.
February, 22, 2010
2/22/10
2:05
PM CT
By
Richard Durrett
| ESPNDallas.com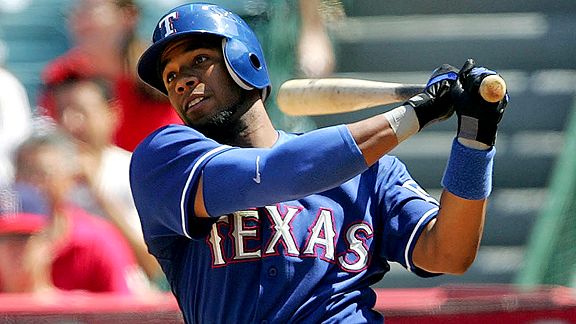 Gary A. Vasquez/US PresswireElvis Andrus gained plenty of experience last year, playing in 145 games.
SURPRISE, Ariz. -- Don't tell
Elvis Andrus
that he isn't a rookie anymore. That's not the way he's approaching his sophomore season as the Rangers' starting shortstop.
"I still think I'm a rookie," Andrus said. That's my approach for this year. I'm not going to try to change things because it's my second year."
But a lot has changed for Andrus. For starters, he arrives in Surprise, Ariz., old enough to have a beer if he wanted. And he's, without question, the club's shortstop of the future.
The 21-year-old also gained valuable experience in 2009, a season where he managed to exceed lofty expectations. Andrus finished second in the AL Rookie of the Year voting, hitting .267 with six homers and 40 RBIs in 145 games. He had 33 stolen bases, leading all rookies. And was just the fifth player in maojr league history to have 30 or more stolen bases while playing most of the season under the age of 21. He also wowed fans, teammates and opponents with his highlight-reel defensive plays.
In other words: It was an impressive rookie campaign, considering the club moved Michael Young, a Gold Glove shortstop to third base to make room for him. Andrus doesn't seem to have a huge problem handling pressure.
But he also has avoided basking in the accolades of his 2009 season. He identified some areas that needed improvement and applied those in winter ball in the Dominican Republic. It starts with making the plays consistently on routine ground balls.
"The routine ground balls are the ones I have to make," Andrus said. "I understand that part of the game."
Many of Andrus' 22 errors last year were on routine plays. And more than the glove work, it was the throws to first that proved costly. Andrus said he emphasized that in winter ball and felt like he's improved.
"It's about my release point," Andrus said. "I lose that sometimes and the ball goes everywhere. Once I found that release point, I was fine. I need to find that faster this year."
Andrus benefited from having veteran players around them that could provide support. The coaching staff, including Washington and infield coach Dave Anderson, helped. But so did Young,
Ian Kinsler
and
Omar Vizquel
. Andrus will still use those folks as he begins his second year.
Washington has made it clear that he wants Andrus to play around 150 games. That means making sure he gets breaks even when he may not want them. Washington feels that's important in Andrus' progress and that if all goes well, he can play even more in 2011.
"I'm doing what I think I have to do to keep him healthy," Washington said.
Andrus isn't worried about any particular stats. He admits that he does think about winning a Gold Glove, but he's more interested in team goals. In other words, he's already starting to show the leadership qualities the club expects of him.
"I just can't wait to get going," Andrus said.