Texas Rangers:

Guillermo Moscoso
January, 7, 2011
1/07/11
12:55
PM CT
By
Richard Durrett
| ESPNDallas.com
In order to make room on the 40-man roster for
Adrian Beltre
, right-handed pitcher
Guillermo Moscoso
was designated for assignment. The Rangers have 10 days to trade, release or outright Moscoso to the minors.
Moscoso pitched once for Texas in 2010, giving up two runs in tw0-thirds of an inning (May 20 vs. Baltimore). He was in Triple-A Oklahoma City the rest of the season and was 7-7 with a 5.18 ERA in 23 games (22 starts).
Moscoso came to the Rangers in a trade with the Detroit in Dec 2008 and appeared in 11 games over his two seasons.
He seemed the logical choice to come off the 40-man roster once the Rangers made the deal for Beltre. And this means they are once again full on that roster.
May, 15, 2010
5/15/10
12:22
PM CT
The
Texas Rangers
recalled RHPs
Guillermo Moscoso
and
Pedro Strop
from Oklahoma City on Saturday and optioned outfielder
Craig Gentry
and RHP
Doug Mathis
to the Triple-A affiliate.
Mathis (1-1) had a tough outing Friday in relief of starter
Rich Harden
, allowing eight runs in 1 1/3 innings in a 16-10 loss at Toronto. Gentry was recalled from Oklahoma City on April 27 and appeared in nine games. He made four starts at center field and batted .214.
In seven stars at Oklahoma City, Moscoso went 2-2 with a 2.95 ERA while striking out 33 and walking 16. He made his major league debut last season with Texas, posting a 3.21 ERA in 10 reliefe appearances.
Strop, a converted infielder, went 0-1 in Oklahoma City with a 2.63 ERA. He recorded four saves over 13 relief appearances.
May, 14, 2010
5/14/10
10:30
AM CT
By
Brett Perryman
| ESPNDallas.com
RHP Alexi Ogando, OKC - Ogando has made two Triple-A appearances this week following his promotion from Frisco. He picked up the save Tuesday with a perfect ninth inning and was asked to throw two innings in a 14-inning marathon Thursday. His aggregate line: 3 IP, 3 H, 1 ER, 0 BB, 5 K. The five strikeouts without a walk are obviously encouraging, but there is a belief that he needs to work on his delivery for his off-speed pitches. Whether more advanced hitters hit him significantly harder than Texas Leaguers could provide a clue on his progress in that regard.

OF Engel Beltre, Bakersfield - Beltre's harmonic season continues. With eight hits over the last four days, his May line is an impressive .333/.397/.471. The power is not consistent (.398 SLGfor the season in a good hitting environment), but he's making strides, and, most encouraging, his effort to mature as a hitter is much more evident than in previous seasons.

RHP Guillermo Moscoso, OKC - Moscoso was strong Wednesday, making his longest and best start of the season: 7 IP, 4 H, 0 R, 4 BB, 9 K. The four walks were the only blemish, and though he has been solid at the Triple-A level, he has regressed from a 60:15 BB:SO ratio there last season to 33:16 this spring. He is a nice insurance policy, particularly since he is viable as a starter and reliever, but with the addition of Ogando and Tanner Scheppers to the Redhawks staff, he has work to do in order to maintain his spot in the pecking order.

LHP Robbie Ross, LHP Robbie Erlin, RHP Braden Tullis, Hickory - These three recent draftees have been among the Rangers' most promising arms so far this season, and they combined for one of the most impressive performances in baseball Monday. In a nine inning shutout, they struck out ten and walked none. They allowed four hits, but just five balls left the infield all day, and 13 of their 16 outs in play were groundballs. Their combined ERA for the season is now under two.

SS Leury Garcia, Hickory - Garcia can really fill up a stat page. Through five weeks he has 17 stolen bases, 12 errors, 13 walks, and even two home runs (only one all last season). Though the power is still modest and likely always will be, Garcia has made offensive strides this season. That 13BB:16SO ratio represents major improvement in controlling the strike zone from his 18:64 ratio last season in Hickory, and he has nearly matched his extra-base hit total from last season. The error total is still way too high, particularly for a player whose primary value is defensive wizardry.

RHP Tanner Scheppers, OKC - The PCL appears to be a whole different deal for Scheppers so far, as he's still had success - nine strikeouts and one run in six innings - but has seen his efficiency dip. He has allowed five hits and five walks, and Thursday needed 44 pitches to complete two innings. After watching him pitch in Frisco, I suspected that he was ready for the majors immediately, but this level of competition appears to be serving him well.

LHP Kasey Kiker, Frisco - More ugliness Thursday with five more walks, 32:31 ratio for the season
RHP Wilfredo Boscan, Bakersfield - Best start of the year Wednesday: 7 IP, 4 H, 1 R, 1 BB, 3 K
OF David Paisano, Bakersfield - Still hitting for average (.306) but indicators dropping: 9BB:27SO, .413 SLG
OF Miguel Velazquez, Hickory - Still hitting lights out, now at .331/.403/.583 for the season - when will promotion come?
RHP Wilmer Font, Hickory - Struggled of late but returned to form Wednesday: 5 IP, 3 H, 1 R, 2 BB, 6 K
April, 6, 2010
4/06/10
2:30
PM CT
By
Brett Perryman
| ESPNDallas.com
Before I get to the Oklahoma City roster, here is a quick overview of where the top talent in the Texas system has been assigned. The number in parenthesis is the player's rank in the organization in Baseball America's prospect handbook.
[+] Enlarge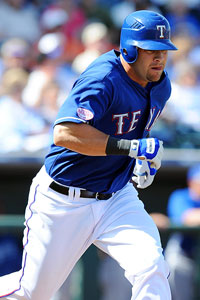 Lisa Blumenfeld/Getty ImagesOutfielder Mitch Moreland carries a .321 career batting average into this season with the Oklahoma City Redhawks.
Texas
:
Neftali Feliz
(1)
Oklahoma City
: Justin Smoak (2), Mitch Moreland (8),
Max Ramirez
(11), Michael Kirkman (16),
Guillermo Moscoso
(19),
Pedro Strop
(23), Craig Gentry (28),
Brandon McCarthy
,
Derek Holland
, Omar Beltre
Frisco
: Martin Perez (3), Tanner Scheppers (4), Kasey Kiker (6), Blake Beavan (17), Alexi Ogando
Bakersfield
: Engel Beltre (14), Tommy Mendonca (18), Michael Main (21), Jake Brigham (25), Wilfredo Boscan (27)
Hickory
: Robbie Ross (7), Wilmer Font (10), Joe Wieland (12), Leury Garcia (15), Miguel Velazquez (22), Neil Ramirez (24), Andrew Doyle (29), Chad Bell, Robbie Erlin
Extended spring training/suspended/injured
: Jurickson Profar (5), Danny Gutierrez (9), Luis Sardinas (13), Omar Poveda (20), Tomas Telis (26), Richard Alvarez (30), Jorge Alfaro
The main theme among the Rangers' full season squads this season is abundant pitching and scarce hitting, illustrated by the above list, which includes 24 pitchers and just 12 position players. The AAA roster doesn't oppose this trend, but it is more balanced. Three-fifths of the rotation - Brandon McCarthy, Derek Holland and Guillermo Moscoso - will be watched with a close eye each outing, as each could be called on when any pitching need arises. The threesome combined for 38 starts and 60 overall appearances for Texas in 2009. Lefties Michael Kirkman and Michael Ballard round out the rotation. The bullpen should be led by returnees Pedro Strop and
Willie Eyre
, along with returnee to the country, Omar Beltre.
The club boasts a strong set of corner bats in outfielders Mitch Moreland,
Brandon Boggs
and
Chad Tracy
, infielders Justin Smoak and
Matt Brown
, and catcher/1B Max Ramirez. CF
Craig Gentry
will receive his first extended opportunity to succeed above the AA level, and the threesome of newly acquired middle infielders who could not beat out
Joaquin Arias
for a spot on the opening day roster in Arlington have landed in OKC. See the full roster
here
and (by Thursday)
here
.
Five players to watch:
Michael Kirkman
- While Kirkman began 2008 still kicking as a professional player, his career had fallen off the tracks. He was a fifth round choice back in 2005 and was a highly regarded talent entering professional ball, but 2006 and 2007 brought injuries and more walks than strikeouts. He's bounced back in a big way, dominating the hitters haven California League early last season and earning a promotion to AA. He has passed first rounders Kasey Kiker and Blake Beavan to win this AAA rotation spot, and he might be just a year away from winning a role somewhere on the big league staff. The big lefty has a low 90s fastball to lead his four pitch arsenal and is back on the map in a big way.
[+] Enlarge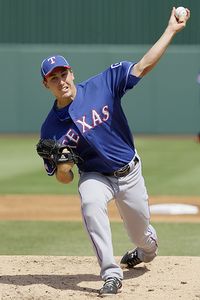 AP Photo/Jeff ChiuDerek Holland will start the season at Triple-A Oklahoma City, but he has the talent to return to the Rangers' rotation.
Justin Smoak
- When the Rangers drafted Justin Smoak in the first round in 2008, he joined a cluster of exciting, young position players who had not yet established themselves in the big leagues -
Jarrod Saltalamacchia
,
Chris Davis
,
Elvis Andrus
,
Julio Borbon
,
Nelson Cruz
, Max Ramirez and
Taylor Teagarden
. While things have not gone smoothly for the catchers or first baseman, all but Ramirez have established important roles for the major league club. Smoak begins this season looking to join the group. He has no spot right now, with Davis and
Ryan Garko
handling first base duties and Vlad Guerrero slotted at DH. But things can change, and the Rangers would love for the big switch-hitter to be ready to step in if an opening arises. In the worst case for Smoak, a strong Triple-A season will impact the club's plans for 2011, regardless of how well Davis, Garko and Guerrero perform.
Omar Beltre
- Beltre returns to American baseball six years later and two levels higher than when he last threw a pitch for Stockton of the Cal League. He has always been a serious prospect, and he still has major league stuff, but he will attempt to shake off the dust from a right arm that has seen little worthy competition from 2005-09 while facing much more advanced competition than he has faced in the U.S. Though he has a full repertoire, the club will use him in relief, as it did in 2004 when he returned from two years off from elbow reconstruction.
Derek Holland
- You know all about Holland, but while he is no longer considered a prospect in a technical sense, by any measure he is one of the 3-4 most significant minor leaguers in this organization. He has a tall order in front of him if he wants to return to the big league rotation soon - Brandon McCarthy and soon
Tommy Hunter
will also be looking to regain their spots - but he has the talent. More than any minor leaguer aside from possibly Tanner Scheppers, Holland has the ability to become one of the most important players on the Rangers this season, despite starting the season a level lower than he would prefer.
Mitch Moreland
- Moreland most likely will not be the first OKC outfielder to get a major league call if one should be needed. That distinction will probably belong to Brandon Boggs or Craig Gentry, both members of the 40-man roster. He is the best prospect of the group, though, and he carries easily the most impressive career line (.321/.387/.518) into this season. While Moreland's bat will carry him to the majors, his glove must open the gate. Despite his terrific arm, Moreland would currently be a major step down defensively from any of the three primary corner outfielders on the big club, and being limited to first base and designated hitter would significantly raise the bar offensively. So a major question for Moreland to answer this season is whether he can become an adequate outfielder.
March, 15, 2010
3/15/10
4:54
PM CT
By
Richard Durrett
| ESPNDallas.com
SURPRISE, Ariz. -- It was a late start to the day because of a night game here in Surprise between the Rangers and Giants. But here are a few notes from the clubhouse:
* 2B
Ian Kinsler
said he is "progressing smoothly" right now with his right high ankle sprain. Of course, that means he's doing very little in the way of baseball activity. He did say he was going to throw today to keep his arm strength up. But he's doing some fast walking, but not running and basically taking it easy to make sure it's completely healed before he returns. "I want to make sure I can rotate it by the time the season starts," Kinsler said. "It's getting better everyday." Kinsler didn't put a timetable on a return, but the Rangers said he's still looking at that 7-day window. Stay tuned.
* Michael Kirkman said he's fine and has been cleared to resume baseball activities after a line drive hit him in the ear. Kirkman said he knew he was OK when he was walking back behind the mound and only felt a little ringing in his ear. "The ball bounced in the dirt and came at me quick," Kirkman said. "If that's anywhere besides the desert, I'm not sure it isn't just a ground ball back to the mound that I field."
* OF
Brandon Boggs
(shoulder) has no limitations and RHP
Warner Madrigal
(forearm soreness) is still scheduled to have an MRI today with the results coming tomorrow.
* The Rangers have a "B" game on Tuesday and
Luis Mendoza
,
Guillermo Moscoso
, Omar Beltre and
Edwar Ramirez
are scheduled to pitch.
* RHP
Neftali Feliz
and LHP
C.J. Wilson
will pitch back-to-back in Mesa against the Cubs on Tuesday. Both are scheduled to pitch four innings. RHP
Pedro Strop
will pitch one inning after them.