Texas Rangers:

Hot Stove talk
December, 2, 2013
12/02/13
7:30
AM CT
Note: As part of our "Hot Stove Talk" series, which looks at issues, players and trades the Texas Rangers could consider this offseason, we'll also take a look at some positions on the club and assess whether general manager Jon Daniels and his staff should upgrade them at next week's Winter Meetings.
Today's position:
Left field
Let's face it, with the trade of
Ian Kinsler
to Detroit for
Prince Fielder
, left field now becomes the club's biggest need to fill this offseason. Daniels and his staff acquired the power bat for the middle of the lineup that they desperately needed, but the GM made it clear last week that he's still seeking some offensive help.
David Murphy
, who arrived at spring training as the every day left fielder last season, has departed for Cleveland. The Rangers have
Craig Gentry
,
Leonys Martin
and
Alex Rios
in the outfield and would like to add another bat to that group.
The good news: They've still got some choices. The bad news: It likely won't come very cheap. Expect to hear the Rangers' name tied to the remaining outfield free agents at next week's Winter Meetings. That list includes some big names, like
Shin-Soo Choo
and
Jacoby Ellsbury
. As we've discussed on this blog this offseason, Choo makes sense in that he gets on base and hits well against right-handed pitching . ESPN.com's Sweet Spot blogger
David Schoenfield has made the case that Texas needs Choo
. The question becomes cost, of course. Choo could be looking at a six- or seven-year deal, maybe similar to
Jayson Werth
's $126 million over seven years that he got from the Nationals. And Choo would cost a draft pick, though the Rangers would get one back if
Nelson Cruz
signs elsewhere.

This is a club that doesn't enter into long-term commitments lightly and just traded for one in Fielder. I can't see the Rangers offering seven years for Choo, but let's see where the market goes.
Ellsbury is another name that should command bigger bucks and it might be at a premium because he can play center field. With Martin showing he can handle the position, the Rangers could decide to just focus in on those who play mainly corner outfield in hopes that the cost might not be as high.
Carlos Beltran
continues to search for a new home and is garnering interest from a wide range of teams, according to reports. That's not surprising. To me, Beltran is very attractive because he gives this team another bat that they need and would be on a shorter-term deal.
What about Cruz? He's still out there, though could be seeking a four-year deal worth $75 million or so. Would you pay that? I'm leery going four years for Cruz and it has nothing to do with PEDs. He's been on the DL a lot and turns 34 next year. I'm concerned he might break down. But the advantage to Cruz is that he's a player the Rangers know and he's clearly comfortable here.
There's also
Nate McLouth
, who intrigues the Rangers. He could be another affordable option, though he doesn't have the power numbers of some other possibilities.
Those are the kinds of decisions -- and that's just the free-agent pool, perhaps there's a trade deal that could be made -- that the front office will be exploring next week in Orlando.
What would you do about left field?
November, 7, 2013
11/07/13
8:00
AM CT
By
Todd Wills
| ESPNDallas.com
Note: This is part of our Hot Stove Talk series, which profiles free agents and looks at possible trades the Texas Rangers could make this offseason.
Today's player:
Robinson Cano
The Rangers need offense. They need power. They need a No. 3 hitter. Or a No. 2 hitter. Cano, who has played all eight of his seasons with the
New York Yankees
, would provide all of these plus an above-average defender at second base.
The challenge with acquiring Cano is this -- the Yankees want him back and probably will give him a competitive deal. Probably not the 10-year contract for close to $300 million that Cano reportedly has asked the Yankees for in preliminary talks, according to ESPNNewYork.com. Remember, the Yankees are already saddled with bad contracts, the worst being
Alex Rodriguez's
, which could create an opening for a team that will give Cano a long-term deal.
Cano is 31. Giving him anything close to a 10-year deal is a risk -- just ask the Angels with
Albert Pujols
or
Josh Hamilton
.
The Rangers privately coveted Cano before the July 31 trade deadline this season as they were mired in the middle of the pack in the American League in runs scored and knowing they were about to likely lose
Nelson Cruz
to a suspension. According to a source, the Rangers called the Yankees about dealing for Cano, their "dream" acquisition. The Yankees, still in the wild-card race, told the Rangers that Cano was unavailable.
Cano has averaged 28 home runs the last five seasons and the left-handed hitter's swing should produce the same results at Rangers Ballpark in Arlington and its short porch in right field.
He'll cost $22 to $25 million per season, but he's also by far the best impact bat out there, and the Rangers desperately need one of those. Even with a glut of second basemen with
Ian Kinsler
and
Jurickson Profar
, the Rangers will likely make a run at Cano.
Why he makes sense:
Again, the Rangers need a No. 3 hitter desperately. Six different players started in that spot last season. The Rangers had a .725 OPS and 17 home runs from the three hole. Cano would be the perfect fit behind Kinsler and
Elvis Andrus
and batting in front of cleanup hitter
Adrian Beltre
.
Why he doesn't make sense:
Contract length. We could be talking 10 years here. As good as Cano is, pulling the trigger on 10 years, nine years, eight probably isn't the wise thing to do. Anything over five years for Cano, even with his extraordinary talent, will come with some risk.
Bottom line:
It'd be foolish not to explore the possibilities with Cano. There's not a free agent bat out there that can rival the ability of a player the Rangers nearly had a decade ago when they traded Rodriguez for
Alfonso Soriano
.
December, 21, 2012
12/21/12
12:00
AM CT
We'll shift our attention back to the outfield for our next candidate. It's a name many of you have asked about.
Today's player:
Michael Bourn
[+] Enlarge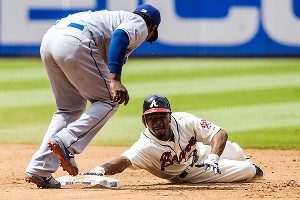 Daniel Shirey/USA TODAY SportsMichael Bourn stole 42 stolen bases and scored 96 runs for the Braves last season.
Bourn turns 30 on Thursday and is coming off a season in which he hit .274 with nine homers and 57 RBIs. He has great speed, swiping 42 stolen bases in 2012 (he was caught 13 times) and he scored 96 runs. He also had 26 doubles and 10 triples.
So he's clearly not the same type of player that
Josh Hamilton
was in the outfield. Bourn does it more with his feet, and once he gets on base he's dangerous. But he's never been a power guy. In fact, his nine homers in 2012 are a career-high.
But for a Rangers team that didn't steal as many bases as expected in 2012 and had their running game a bit stifled, he would certainly provide a spark.
Ian Kinsler
and
Elvis Andrus
were co-leaders on the Rangers in stolen bases last season. Their combined total equals what Bourn did by himself in 2012. Bourn has 257 stolen bases since 2008, which leads the majors by a huge margin (the next guy on the list is more than 50 behind).
Texas managed to lead the AL in runs and Bourn wouldn't hurt in that department. He has scored at least 94 runs in three of his last four seasons (he had 84 in the other season) and had a whopping 61 stolen bases in 2011. Bourn made $6.84 million in 2012, by the way.
Bourn has played all three outfield positions in his career, though he's played by far the most in center field. He started 151 games at that position last year.
He did have 155 strikeouts, which was a career high, but still managed a .348 on-base percentage. It's worth noting that his OBP is similar to Andrus, who was at .349 in 2012. He could bat leadoff, which would mean Kinsler drops in the order.
Bourn is represented by Scott Boras, and after seeing
B.J. Upton
's deal, Boras will certainly want to see if he can get Bourn signed up for a higher amount (Upton was 5 years, $75 million). The Rangers and Boras have worked well recently, getting the deal done for
Adrian Beltre
prior to the 2011 season.
But how Bourn fits in is another matter. Does the club want to sign an outfielder who doesn't have much power to go along with the current group (especially after losing the power-hitting Hamilton)? It would require a hefty investment, too. And the club has already put some money and time into
Leonys Martin
as the club's future center fielder. That future could be now.
It's also worth noting, as a few of you have pointed out, that the Braves did give Bourn a qualifying offer, so they would get draft-pick compensation for him from whichever team that signs him. So like a few of the folks we've discussed of late, if the Rangers were to sign him, they'd be giving up a first-round draft pick. That's yet another potential hurdle.
What do you think about Bourn? Should the club go after him?