Texas Rangers:

J.D. Martinez
June, 24, 2014
Jun 24
10:33
PM CT
ARLINGTON, Texas – The
Texas Rangers
' losing streak reached six games with an 8-2 defeat to the
Detroit Tigers
at Globe Life Park.


How it happened:
Things were moving along quietly until the seventh inning, when the Tigers sent 11 men to the plate and scored five runs, breaking a 1-1 tie.
J.D. Martinez
, who batted twice in the inning, hit a two-run homer off
Colby Lewis
for a 3-1 lead. Martinez, by the way, ended the inning with a strikeout.
Before he could strike out, the Tigers loaded the bases and beat up not only Lewis but reliever
Ben Rowen
, who allowed two runs on three hits before getting lifted for
Shawn Tolleson
. When the inning ended, Lewis was credited with four earned runs on nine hits in 6⅓ innings of work. The only positive from Lewis' outing was he pitched into the seventh inning for the first time this season.
What it means:
Well, the Rangers are falling further and further behind the leaders in the AL West and for the two AL wild-card spots. At some point the Rangers have to end this slide, but against the streaking Tigers (who have a five-game win streak) it doesn't appear as if that will happen soon.
Pena's debut:
The Rangers called up first baseman
Carlos Pena
before the game, and in four trips he struck out twice, bounced out to short and to the pitcher. Pena's first at-bat came with two runners on and none out in the second. He struck out looking on a
Drew Smyly
curveball on the corner of the plate.
Kinsler faces old team:
Ian Kinsler
spent eight years with the Rangers before an offseason trade sent him to the Tigers. He played in his former home on Tuesday night and received a mixture of boos and cheers. He went 2-for-5 with a first-inning homer that traveled 384 feet, and a two-run single to left in the eighth. He also struck out on an off-speed pitch in the seventh. Kinsler committed a throwing error in the eighth when he threw a double-play ball wide of first base.
Some good news:
Adrian Beltre
's second-inning single gave him 2,500 hits in his career. Beltre finished 4-for-4 with all singles, including an RBI single that tied the game in the third. He becomes the 97th player in big league history to reach 2,500 hits. He's also the sixth player to reach 2,500 hits while playing the majority of the time at third base. George Brett (3,514), Wade Boggs (3,010), Brooks Robinson (2,848),
Chipper Jones
(2,726) and Buddy Bell (2,514) are the others.
Up next:
The Rangers have LHP
Joe Saunders
(0-3, 4.11) facing RHP
Anibal Sanchez
(4-2, 2.33) Wednesday night.
June, 16, 2012
6/16/12
9:21
PM CT
By
Clint Foster
| ESPNDallas.com
ARLINGTON, Texas -- For the second night in a row, the
Texas Rangers
offense used a one-inning explosion to defeat the
Houston Astros
8-3 on Saturday in front of a sellout crowd of 48,288, the third largest of the season. Some quick thoughts:


What it means:
The Rangers locked up the Silver Boot trophy for the sixth straight year. It is the longest win streak in the history of the Lone Star Series rivalry between Texas and Houston. The win gives the Rangers their third consecutive series win. It's the first time they've won three straight series since they won six straight to start the season. The Rangers have a 4.5-game AL West lead with the
Los Angeles Angels
and
Arizona Diamondbacks
in action now.
Welcome to the big leagues:
In his major league debut,
Justin Grimm
had a mixed first inning, allowing a single and a solo home run, but ended the frame with a strikeout. Grimm then found his rhythm and struck out the side in the second inning. From that point on, he had the game under better control.
Grimm reaper:
Once Grimm figured things out, he had a solid game. He had five consecutive strikeouts from the end of the first to the beginning of the third. Grimm is the first player in Rangers history to strike out five consecutive batters in an MLB debut. He had 1-2-3 innings in the second, third and sixth innings and showed he could get out of a jam when he got the final two outs of the fourth with a runner on third. He finished the game allowing six hits, three earned runs and no walks to go with seven strikeouts. Grimm was the first pitcher to throw for seven strikeouts and no walks in a debut since Stephen Strausburg on June 8, 2010.
Another slow start:
The Rangers offense struggled to get going early again, having 1-2-3 innings in the first, second and fifth. The bats started to warm up in the third when
Mike Napoli
hit a long single in the gap between left and center field. The next two batters reached first on consecutive fielder's choices, but no runs were scored. It wasn't until the sixth that the Rangers got a man across home plate.
Just in time:
Despite only having two hits in the first five innings, the Rangers offense caught fire in the sixth and scored five runs to go up 5-3 and secure Grimm's first major league win.
Craig Gentry
and
Ian Kinsler
hit back-to-back singles and were moved over by a sacrifice from
Elvis Andrus
. Then the Astros made a fatal mistake, allowing
Michael Young
to reach on a fielder's choice while unsuccessfully trying to catch Gentry in a rundown between third and home. That loaded the bases for
Adrian Beltre
, who hit a two-RBI single.
Nelson Cruz
followed with a three-run, 431 foot home run. The Rangers batted around in the sixth and were able to keep the offense rolling the rest of the game.
Record breaker:
Michael Young hit his 66th sacrifice fly in the seventh inning, moving Ian Kinsler across home plate. Young's 66 sac flys tie him with
Ruben Sierra
for the club record.
Agony of da-feet:
In his first at bat, Cruz fouled a ball directly into his foot and almost had to leave the game. He finished the at bat with a strikeout and was able to finish, going 1-for-4 with two strikeouts and his three-run homer. The Astros'
J.D. Martinez
also fouled into his foot in the seventh and was able to finish.
Back in the swing of things:
Two Rangers broke hitless streaks in Saturday's game. Mike Napoli got his first hit in 10 at bats with his single in the third, and Ian Kinsler broke his hitless streak of 14 at bats with his single during the sixth-inning rally. Cruz' home run in the sixth was his first in 29 at bats. Seven Rangers had hits, and eight reached first base.
Blast from the past:
Both the Rangers and Astros wore throwback uniforms from 1986 for 80's weekend. The '80s Rangers logo featuring a blue state of texas with a baseball and red Rangers script was also painted behind home plate, and the scoreboard was lit up with classic yellow numbers and lettering.
Up next:
The Rangers close out their three-game series with Houston on Sunday. RHP
Colby Lewis
(5-5, 3.13) will be on the mound against LHP Dallas Keuchel, who is making his debut. First pitch is set for 2:05 p.m. on ESPN Dallas 103.3 FM/FSSW. ... Less than 50 reserved seats as well as scattered singles and obstructed-view seats remain. Standing-room tickets will also go on sale tomorrow.
June, 15, 2012
6/15/12
11:26
PM CT
By
Richard Durrett
| ESPNDallas.com
ARLINGTON, Texas --
Yu Darvish
wasn't messing around Friday in a 6-2 Rangers win. After a week off and a chance to rest his body and refresh his mind, the 25-year-old Japanese pitcher went back to the basics: Throw early strikes and rely on the fastball.
It's a straightforward, simple approach, but certainly effective. Just ask the
Houston Astros
.
[+] Enlarge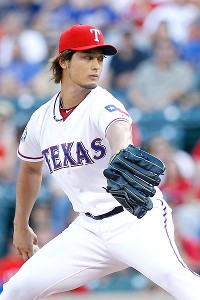 Jim Cowsert/US PresswireYu Darvish struck out 11 while allowing two runs on seven hits with two walks in eight innings of work against the Astros.
At times this season, it's seemed like Darvish has overanalyzed his approach or perhaps even given hitters too much credit by constantly shifting strategies on them. On Friday, none of that was evident. Darvish went with the basics.
"I didn't overthink too much," Darvish said through interpreter Joe Furukawa.
Exactly.
"He had a good fastball working tonight and he used it," manager Ron Washington said. "He had a good cutter, he had a good ride back on right-handers on the outside corner, he threw just enough breaking balls for strikes that when he needed to bury it, he got strikes on it. That's what he's capable of doing. Tonight he went out there with a plan, followed through with it and really did a good job.
"He just stayed simple. He's got good stuff. He just stayed simple. More than anything else, he pitched off the fastball."
Darvish is tied for the AL lead in wins with eight and has won all six of his starts at home. His six home wins are the most in the majors.
Darvish pitched eight innings, getting stronger as the game went along. He gave up two runs on seven hits with two walks and tied his season-high with 11 strikeouts. He had eight of those strikeouts in his final three innings, dashing any Houston comeback hopes. His final pitch, a 95 mph four-seam fastball, struck out cleanup hitter
J.D. Martinez
looking and Darvish let out a loud scream and pumped his fist. It was about as much emotion as you'll see from Darvish.
He worked off his fastball and wasn't afraid to throw it as an out pitch, either. He mixed in just enough breaking pitches -- especially that devastating slider -- for strikes to keep the Astros' lineup off-balance, but when he needed to reach back for something extra, he made his two-seamer, cutter and four-seamer work for him. His final three strikeout pitches were fastballs to the Nos. 2-4 hitters in the order.
Houston hitters were just 2-for-11 with five strikeouts against Darvish with runners on base and 1-for-5 with two strikeouts with runners in scoring position. Darvish had a three-ball count to just three batters in the game.
[+] Enlarge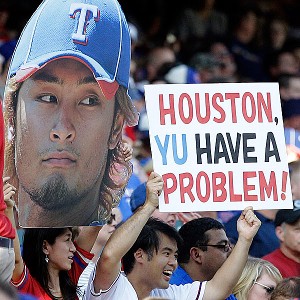 AP Photo/LM OteroHouston batters were just 2-for-11 with five strikeouts with runners on base against Yu Darvish.
"He throws hard and he's got run and he's got a pretty good slider," Martinez said. "He was working both sides of the plate pretty well. He was in, out, in, out. He just kept us off balance, kept us leaning and rocking a little bit."
Perhaps the most telling thing: Martinez was asked about Darvish's wide assortment of pitches and knew he hadn't seen them all.
"We probably saw fastball, curveball, slider," Martinez said. "He mixed in a two-seam and a four-seam with it."
He forgot changeup. But other than that, Martinez nailed it. Rather than try to throw his entire repertoire at the Astros, Darvish stuck with what was working. Plenty of credit should go to catcher
Yorvit Torrealba
.
"I trusted Torrealba, trusted what he put down and concentrated on the hitter and made my pitch," Darvish said.
It was as if Darvish treated the outing like a two-part play. The first part was ground balls and pitching delicately at times with the game so close. Darvish walked
Jose Altuve
, the Astros' leading offensive candidate for the All-Star Game, to start the third on four pitches. He stole second and later scored to give Houston a 1-0 lead. But after the Rangers put up five runs in the fifth inning, an intermission of sorts if you will, Darvish got aggressive. From that point, he became a strikeout machine. Eight of his final nine outs were via strikeouts as he pounded away with his fastball, which was still touching 95 mph even after he crossed the 100-pitch barrier.
"Early in the game I was very careful throwing strikes and just feeling the rhythm of the game," Darvish said. "But the second half, I gave it all and just went after them. Overall, I was able to throw a lot of strikes. I thought it was a very good outing."
Washington said Darvish didn't want the additional rest, but understood the club wanted to give him a little bit of a break and let him use the time wisely. He did.
"I think starting the season, I was pitching mostly every fifth day, sometimes sixth day, and the fatigue kind of caught up to me a little bit," Darvish said. "It showed in that Oakland game. But the manager was able to get on that right away and to give me this time off, which was very positive for me. I was able to reset my body and pitch the way I want, and going forward, I want to continue to have this type of production."
The Oakland start was the biggest reason the club backed off Darvish. He walked a season-high six batters, he hit folks and just seemed out of whack with his mechanics, allowing six runs in just 5 1/3 innings. In fact, Darvish's last four starts prior to Friday were mediocre. He had a 6.53 ERA and was 1-3 with 18 walks and 19 strikeouts in those four games. All of those against opponents who had seen Darvish before in 2012.
The Astros got their first look Friday and had to deal with a rested and refreshed Darvish. The result was more like the guy the Rangers saw carve up a few lineups earlier in the season.
"Yu's got it," Rangers first baseman
Mitch Moreland
said. "He's got the stuff to be a special pitcher. He showed it earlier this year. He had some trouble in the last few starts throwing strikes consistently, but he got some work in it looked like and threw the ball great for us. He really put us in the situation to win that game. I can't say enough about what he did for us tonight."
Kenton Wong of ESPN Stats & Information contributed to this report.