Texas Rangers:

Jacoby Ellsbury
July, 24, 2014
7/24/14
3:05
PM CT
NEW YORK – The middle innings did
Colby Lewis
in Thursday afternoon from Yankee Stadium. And the Rangers right-hander didn't get enough support in the late innings from his teammates to overcome his issues in a 4-2 loss to the Yankees.
The loss dropped the Rangers to a 40-62 on the season, marking the first time since 1988 that the franchise has dipped 22 games under .500.
What happened?:
With the score tied in the fifth, Lewis committed the unallowable, walking
Ichiro Suzuki
to start the inning.
Francisco Cervelli
shot a double down the left-field line, and Ichiro used his speed to score all the way from first.
Brendan Ryan
then bunted Cervelli over to third and, after a walk to
Jacoby Ellsbury
,
Brett Gardner
got Cervelli home with a sacrifice fly to left.
The Rangers cut the deficit to 3-2 on a solo shot from J.P. Arencibia in the seventh, but that's about as close as the visitors would get.
The road trip:
The Rangers finished 2-5 on the road trip, lost their closer (
Joakim Soria
) to a trade, missed their starting right fielder
Alex Rios
for three games with a sprained ankle, lost a four hour and 51 minute 14-inning game and another game that was cut short after the grounds crew failed to get the tarp on the field. The Rangers lost three out of four games to the Yankees to conclude the trip.
Elvis Andrus
(6-for-30),
Adrian Beltre
(5-for-29) and Shin-Soo Choo (5-for-24) didn't get much going with the bats.
RISP slide:
The Rangers were 1-for-12 the last two games with runners in scoring position.
Robinson Chirinos
hit into a 6-4-3 double play in the third. After
Rougned Odor
singled, Choo reached on a hit to right-center. Andrus ended an 0-for-12 slide with a bloop single in shallow center to give the Rangers a 1-0 lead and give the Rangers their first hit with runners in scoring postition. Alex Rios ended the inning on a fly ball to right. For the game, the Rangers were 1-for-4 with runners in scoring position and 6-for-26 in the four-game series.
What's next?:
The Rangers start a six-game homestand Friday night against AL West rival Oakland. The starter for Friday's game is undetermined. It was supposed to be
Nick Tepesch
, but he was scratched Thursday morning when the club decided it was best to protect him after his emergency relief appearance Tuesday night. Expect
Scott Baker
or a minor league call-up to get the start.
November, 14, 2013
11/14/13
9:00
AM CT
By
Todd Wills
| ESPNDallas.com
Note: This is part of our Hot Stove Talk series, which profiles free agents and looks at possible trades the Texas Rangers could make this offseason.
Today's player:
Shin-Soo Choo
The Rangers can go many ways to add another bat to their everyday lineup. One option is to pay big bucks, give up a draft pick and sign free-agent outfielder Shin-Soo Choo.
Choo, 31, would give the Rangers something they didn't have last year with
David Murphy
-- an outfielder that gets on base. Choo had an on-base percentage of .423 last season, which was fourth-best in baseball last season.
Choo won't bring a lot of power, at least going by last years' numbers when he had 21 home runs and 54 RBIs. He is an excellent defender and he's durable, playing in 154 games last season.
Why he makes sense:
If the Rangers are looking for a hitter that sees pitchers, Choo is their guy. He averaged 4.23 pitches per plate appearance last season, second to Washington's
Jayson Werth
in the National League, who was at 4.24 (by comparison, the Rangers' leader last season was first baseman
Mitch Moreland
, who was 12th in the AL at 4.13).
Add in his durability and all-around play and Choo would certainly be an interesting addition.
Why he doesn't make sense:
Choo is going to cost big money. After
Robinson Cano
, he's in a group of
Jacoby Ellsbury
and
Brian McCann
as the top offensive free agents available. Choo's overall production the last two seasons suggests he could be a player on the decline.
Bottom line:
The Rangers should pass and keep their eye on the their prize -- McCann, who makes much more sense for the club.
November, 8, 2013
11/08/13
8:00
AM CT
By
Richard Durrett
| ESPNDallas.com
Note: This is part of our Hot Stove Talk series, which profiles free agents and looks at possible trades the Texas Rangers could make this offseason.
Today's player:
Jacoby Ellsbury
.
The Rangers need help in the outfield, and Ellsbury is one of the bigger names available on the market. He certainly showed his toughness this postseason, dealing with a foot injury and a swollen hand that was bad enough that he got an MRI after the World Series. He can now rest it and should be ready to go for spring training, various reports suggest.
Ellsbury, 30, just completed his seventh season with the Red Sox. He hit .298 with nine homers and 53 RBIs in 134 games in 2013. The center fielder and left-handed hitter batted .344 in the playoffs with six RBIs in helping the Red Sox to the championship. In 38 career postseason games, Ellsbury is batting .344 with a .774 OPS.
Why he makes sense:
The Rangers have
Leonys Martin
in center and
Alex Rios
in right field. They still need an outfielder and Ellsbury would give them someone who is a career .297 hitter and has shown power and production in the past, hitting 32 homers and driving in 105 RBIs when he was fully healthy in 2011. The fact that he played hurt and did what he could to get through the pain says a lot about him. He hit well in the ALDS and ALCS, but dropped off in the World Series.
Why he doesn't make sense:
Ellsbury plays center field, and his agent, Scott Boras, is already sending signals that because of Ellsbury's track record and the fact that he plays center field, he's going to likely want more than the deal that
Carl Crawford
got from Boston in 2010. The Rangers have a center fielder in Martin, who comes a lot cheaper than Ellsbury, and they've got one more year with Rios in right.
Bottom line:
If the Rangers' payroll stays close to the same as it did in 2013, the club isn't likely to sign more than one big-name free agent (if any). If that's the limit, I'd rather see
Brian McCann
in Texas than Ellsbury. I think the price will probably get too high for Ellsbury and this club has a center fielder.
October, 15, 2013
10/15/13
8:00
AM CT
By
Todd Wills
| ESPNDallas.com
Editor's Note: This is the seventh in a 10-part series that will focus on questions the Texas Rangers must answer this offseason. These questions are in no particular order.
Today's question:
What do the Rangers do to address left field?
[+] Enlarge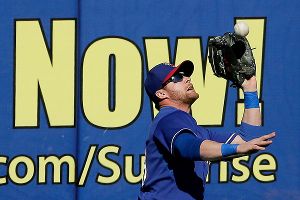 AP Photo/Charlie RiedelMight Craig Gentry get a chance to be the Rangers' everyday left fielder?
Left field was a black hole for the Rangers in 2013. There's nothing about the team that needs to be addressed more than the lack of production from this important corner outfield spot.
The Rangers are in a position to upgrade things because
David Murphy
, who was given every chance to to be an everyday producer in left field is a free agent. Murphy will be missed as a respected and member of the ball club. But it's almost certain he'll try to bounce back from a painful 2013 with another team, maybe hometown Houston.
So what do the Rangers do?
The first option is to bring back
Nelson Cruz
and let him try left field with
Alex Rios
back to play right field. Rangers general manager Jon Daniels said last week that he expects the club to offer Cruz a qualifying offer of $14 million for 2014. Cruz can take the deal or test the free-agent market for a multi-year contract. Either way, expect the Rangers to be involved.

There's also the final portion of
Craig Gentry
's season to consider. Gentry was the Rangers' player of the month for September after batting .354. He did most of his damage starting 11 of the Rangers' last 12 games, batting .462 with four RBIs, nine runs and 10 stolen bases.
It's no coincidence that the Rangers won seven straight games to end the season before the wild-card tiebreaker loss to Tampa Bay. Gentry solidified left field for the first time all season. He's an exciting player that gives the Rangers another a speed dimension. Has he earned a chance for a increased role?
May, 4, 2013
5/04/13
11:33
PM CT
By
Todd Wills
| ESPNDallas.com
ARLINGTON, Texas -- Make want you want about early season tests. The Rangers, for what it's worth, are acing the
Boston Red Sox
early-May exam.
The Red Sox still have baseball's best record after losing 5-1 on Saturday night. The Rangers have been the best team in this series, on the mound, at the plate, in the field and lastly making the most of your team speed.
[+] Enlarge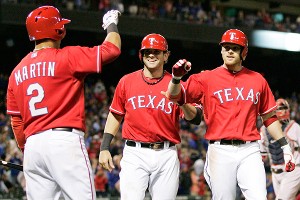 Tim Heitman/USA TODAY SportsCraig Gentry, right, is more known for his speed, but his home run Saturday gave the Rangers a boost too.
For the second straight night, the Rangers' answer to Boston speed demon
Jacoby Ellsbury
, center fielder
Craig Gentry
, was a key part of the margin of victory. It was Texas that won the battle of speed.
With two outs and the bases loaded and the game tied at 1-1 in the fourth inning, Gentry used his wheels to beat out a ground ball fielded 15 feet behind third base, scoring
Adrian Beltre
. He also forced an errant throw from the Red Sox third baseman
Will Middlebrooks
for the second game in a row, allowing
A.J. Pierzynski
to come home for a 3-1 lead.
"Speed kills," is all Rangers manager Ron Washington could say when asked about Gentry's sprint down the first baseline creating two runs.
Alexi Ogando
and the Rangers' bullpen shut down the Boston offense. The Rangers have outscored Boston 12-1 in two games. The Rangers are 27-12 against the Red Sox since 2009.
These two wins have a different feel with Boston arriving in Arlington with baseball's best record at 20-8. A Rangers' win Sunday with
Yu Darvish
facing
Jon Lester
in a marquee pitching matchup would leave both teams at 20-11.
"This is a great ballclub we're playing against," Gentry said. "They're in first place. To come in and take the first two games is a huge momentum swing."
Gentry also provided the thunder, belting a two-run home run off former teammate
Koji Uehara
in the bottom of the eighth. It was Gentry's third career home run. Yes, he's more of a speed guy than a power guy.
"With two strikes, I was just trying to slow it down," Gentry said. "He left me a fastball up and I was able to square it up."
Gentry never slows down on the base paths. He's forced two bad throws by Middlebrooks. He has two infield singles that have led to runs.
"That's how I play anyway," Gentry said. "I'm going to always run hard and run it out because that's my game. If I can beat something out, I'm going to try. That was big right there with the bases loaded and two outs and we are able to get a couple of runs right there."
July, 25, 2012
7/25/12
3:00
PM CT
By
David Collier
| ESPNDallas.com
ARLINGTON, Texas -- The
Texas Rangers
and the
Boston Red Sox
wrap up a three-game series Wednesday with LHP
Derek Holland
taking on RHP
Josh Beckett
at 7:05 p.m. on ESPN Dallas 103.3 FM/1540 AM/FSSW. A quick look at the matchup:
Holland (6-5, 4.84):
The 25-year-old will make his 15th start and 16th appearance of the season. ... It will be his fourth start since returning from the disabled list July 7. ... He is 1-1 with a 3.98 ERA in his last three starts. ... Despite spending a month on the DL, he is tied for third on the team in wins and is fourth in strikeouts with 67. ... Suffered a loss in his last start in Anaheim on Friday, giving up six runs off nine hits in 6 2/3 innings of work. ... Holds a 8-3 record with a 3.59 ERA in 16 career games (13 starts) in July. ... He has not allowed more than two walks in eight consecutive starts. ... Is 3-1 with a 2.84 ERA in four career starts against Boston. ... He has won three straight games against the Red Sox, dating to 2009. ... Gave up two runs on four hits in seven innings in the Rangers' 6-3 win in Boston on April 18.
Beckett (5-8, 4.53):
The 32-year-old is slated to make his 17th start of the season. ... He is coming off a loss to the
Chicago White Sox
on July 20, where he gave up five runs -- four earned -- on seven hits with three walks and seven strikeouts in six innings. ... He is 3-3 with a 4.88 ERA in nine career starts against Texas. ... Picked up a loss in his lone outing against the Rangers this season. He gave up three runs on seven hits in seven innings of work on April 18. ... Boasts a 3-1 career record with a 3.48 ERA in five career starts (all since 2006) at the Rangers Ballpark in Arlington. It is the fourth-best ERA for visiting starters (minimum five starts) at Rangers Ballpark during that same time frame. ... He has allowed one run or less in three of those five starts in Texas.
Hitters:
Current Rangers are 41-for-153 against Beckett. ...
Josh Hamilton
is 8-for-17 (.471) with two home runs and seven RBIs. ...
Michael Young
is 4-for-24 (.167) with a home run and three RBIs. ...
Adrian Beltre
is 5-for-26 (.192) with a double and 10 strikeouts. ... Current Red Sox are 16-for-78 against Holland. ...
Jacoby Ellsbury
is 3-for-8 (.375) with a double. ...
Adrian Gonzalez
is 1-for-9 (.111) with three strikeouts. ...
Dustin Pedroia
is 1-for-11 (.091) with an RBI.
Up Next:
Fri. vs. White Sox:
RHP
Yu Darvish
(11-6, 3.88) vs. LHP
Chris Sale
(11-3, 2.37), 7:05 p.m., ESPN Dallas 103.3 FM/1540 AM/TXA21
Sat. vs. White Sox:
LHP
Matt Harrison
(12-5, 3.02) vs. RHP
Philip Humber
(4-5, 6.25), 7:05 p.m., ESPN Dallas 103.3 FM/1540 AM/FSSW
Sun. vs. White Sox:
Roy Oswalt
(3-1, 5.22) vs. RHP
Gavin Floyd
(8-8, 4.46), 6:05 p.m., ESPN Dallas 103.3 FM/1540 AM/FSSW
July, 24, 2012
7/24/12
4:29
PM CT
By
David Collier
| ESPNDallas.com
November, 21, 2011
11/21/11
1:58
PM CT
By
Jeff Caplan
| ESPNDallas.com
Michael Young
finished eighth in voting for the American League MVP award and was one of four
Texas Rangers
to receive votes.
Detroit Tigers
pitcher and Cy Young winner
Justin Verlander
completed the rare double-double by winning the AL MVP on Monday afternoon, beating out
Jacoby Ellsbury
of the
Boston Red Sox
. Verlander garnered 13 first-place votes, nine more than Ellsbury and eight more than third-place finisher
Jose Bautista
of the
Toronto Blue Jays
.
For the complete MVP voting, click
here
.
Young, who recorded career bests with a .338 average and 106 RBIs as the designated hitter and super-utility infielder, got one first, second, third, fourth, fifth and sixth-place vote, plus four seventh-place votes, seven votes for eighth, four for ninth and two 10th-place votes. He was the only player to receive at least one vote in slots one through 10.
Second baseman
Ian Kinsler
, who completed the second 30-30 season of his career, finished 11th in the voting. He received two sixth-place votes and one fifth, seventh, eighth and ninth-place vote.
Adrian Beltre
placed 15th with two eighth-place votes and one ninth and 10th-place vote. Despite missing five weeks with a hamstring injury, Beltre hit .296 with 32 homers and 105 RBIs.
The 2010 AL MVP,
Josh Hamilton
, received one 10th place vote.
The Rangers' four players to receive votes was tied for second with the Tigers behind the
New York Yankees
' five.
Mike Napoli
, who notched career-bests with a .320 batting average, 30 home runs and 75 RBI, did not receive any votes, likely because he managed all that damage in just 369 at-bats and 113 games.
August, 31, 2011
8/31/11
3:24
PM CT
By
Richard Durrett
| ESPNDallas.com
Let's look ahead to possible October matchups for the Rangers. LHP
Mike Gonzalez
gives them a situational lefty that can come in and face the top left-handed hitters for the Yankees, Red Sox and Tigers. And all three teams have some good hitters that manager Ron Washington might want to utilize Gonzalez against.
Here are Gonzalez's numbers against some of those lefties in his career:
Curtis Granderson
, NYY: 0-for-1
Robinson Cano
, NYY: 3-for-6, 2 RBIs
Jacoby Ellsbury
, Bos: 0-for-4, 1 BB, 2 Ks
David Ortiz
, Bos: 1-for-6, 1 BB, 3 Ks
Adrian Gonzalez
, Bos: 1-for-5, 2 Ks
Alex Avila
, Det: 1-for-3, 1 RBI
He's never faced
Brennan Boesch
of Detroit.
One more scouting report on him:
He's got a sharp slider that is tough on lefties and his delivery is deceptive. It doesn't hurt that he's got some power.
June, 28, 2011
6/28/11
5:09
PM CT
By
Richard Durrett
| ESPNDallas.com
With just a few days remaining for fans to vote online, Rangers outfielder
Josh Hamilton
remains in position to make his fourth consecutive All-Star Game start. He is ahead of Boston's
Jacoby Ellsbury
by a little more than 120,000 votes.
Hamilton, who missed six weeks with a hairline fracture in a bone in his upper arm, is batting .293 with seven homers and 35 RBIs in 41 games played.
Two Rangers remain second in the balloting at their positions.
Adrian Beltre
is about 800,000 votes behind
Alex Rodriguez
at third base and
Michael Young
sits 2 million votes behind runaway DH winner
David Ortiz
.
Other Rangers in the voting:
*
Ian Kinsler
is third among second baseman and
Elvis Andrus
is third among shortstop. Both are well behind the leaders (
Robinson Cano
at second and
Derek Jeter
at short).
*
Nelson Cruz
moved past
Ichiro Suzuki
and into sixth place among outfielders. The top-3 start the game.
*
Mitch Moreland
is fourth at first base and
Yorvit Torrealba
is fifth.