Texas Rangers:

Jaime Garcia
October, 27, 2011
10/27/11
11:44
PM CT
By
Richard Durrett
| ESPNDallas.com
ST. LOUIS -- Wow. In an incredible game full of lead changes and back-and-forth action (it's easy to forget about the spotty defense thanks to the last few innings, isn't it?), the Cardinals pulled out an amazing 10-9 victory in 11 innings to extend the World Series to a seventh game.
David Freese
hit the winning home run in the bottom of the 11th after the Rangers could taste the title.


What it means:
The Rangers were one strike away twice and couldn't finish the deal in Thursday's Game 6. They had five different leads and couldn't hold them. So we'll play a Game 7 on Friday. Amazing.
Freese warms up crowd:
The St. Louis fans went crazy when Freese's home run went onto the grassy hill in center field. It came off reliever
Mark Lowe
as the Rangers were going through bullpen pitchers in an effort to keep the game going at that point.
One strike away (in ninth):
The Rangers were one strike away from the championship when Freese hit a 1-2 pitch to the wall in right.
Nelson Cruz
appeared to have a play on it (some of the Rangers players thought he was going to catch it), but was not able to get there. Two runs scored to turn a 7-5 score into a tie game. It was a blown save for
Neftali Feliz
.
One strike away again (in 10th):
Darren Oliver
came in for the 10th after the Rangers took a 9-7 lead and gave up consecutive singles and then a sac bunt by pinch-hitter
Kyle Lohse
to put runners at second and third.
Scott Feldman
came in to face right-handed hitter
Ryan Theriot
. Feldman got him to ground out as a run scored.
Albert Pujols
was intentionally walked (despite being the winning run) to bring
Lance Berkman
to the plate. Berkman delivered on a 2-2 pitch with a single to center to score two runs and tie the game again. It was the fifth time the Cardinals tied the game.
Errors and more errors:
Mistakes in the field cost both teams.
Matt Holliday
had what appeared to be an easy fly ball from Cruz in shallow left as shortstop
Rafael Furcal
backtracked as well. But there was some sort of miscommunication and the ball went off Holliday's glove. That put Cruz at second with no outs in the fourth. He scored on an RBI single by
Mike Napoli
.
In the bottom of the inning,
Michael Young
was given an error on what should have been an easy ground-ball out and flip to the pitcher to retire Berkman.
Yadier Molina
's groundout to third scored Berkman to tie the score.
But in the top of the fifth, Freese dropped a popup to third from
Josh Hamilton
. Freese was camped under it and it went off his glove. Young immediately made the Cardinals pay with a double to left-center field. That put the Rangers up 4-3.
Young had another error, bobbling a bouncer as he thought about throwing to second. That allowed Holliday to get on. The Cardinals ended up scoring yet again.
Hamilton homers:
What a great time for Hamilton's first postseason home run. After the Cardinals had tied it in the bottom of the ninth, Hamilton hit the first pitch he saw from
Jason Motte
, a 98 mph fastball. It went into the seats in right-center to give the Rangers the lead right back.
Back-to-back jacks:
With the score tied in the seventh, the Rangers' big bats came out.
Adrian Beltre
led off the inning with a home run to right-center estimated at 410 feet. Then Cruz followed with a 419-foot shot to the third deck in left field. That put Texas up 6-4. ESPN Stats & Information: The last back-to-back homers in the World Series were in Game 3 in 2008, by Phillies
Chase Utley
and
Ryan Howard
in the bottom of the sixth inning.
Cruz's postseason:
Cruz has eight home runs and 16 RBIs. He's tied with
Barry Bonds
(2002) and
Carlos Beltran
(2004) for the most homers in a single postseason.
Lewis solid:
As usual in the postseason,
Colby Lewis
did the job. He went 5 1/3 innings and gave up four runs (two earned) with three walks and four strikeouts. The numbers are misleading, though. Poor defense at times behind Lewis hurt his cause. But he was solid and gave his team a chance to win. And he was better than his counterpart.
Early run, wasted chance:
The Rangers started the game with an
Ian Kinsler
walk, an
Elvis Andrus
single (to put runners on the corners) and a Hamilton RBI single. But with a 1-0 lead, runners on the corners and no outs, the Rangers didn't plate any more runs. Young and Beltre struck out and Cruz grounded weakly to third to end the inning. As poorly as starter Jaime Garcia pitched, he was able to get out of the inning allowing just one run.
First-inning blast:
Moments after Lewis retired Pujols on a first-pitch fly ball to right, switch-hitter Berkman hit the first pitch he saw for an opposite-field homer. Berkman was 2-for-15 with six strikeouts in his career against Lewis before hitting that home run.
Short start:
Garcia lasted just three innings. He was having trouble finding the strike zone, dealt with runners in every inning and threw 59 pitches with just 35 of them strikes.
Year of the Napoli:
The Rangers' catcher got his 10th RBI of this World Series with the single that hit the chalk. Only two players in World Series history have more RBIs in a single Series than Napoli: Bobby Richardson (12 in 1960) and Mickey Mantle (11 in 1960). Napoli also had yet another big play on the bases as he picked off Holliday at third base with the bases loaded in the sixth.
Beltre's block:
Napoli made a terrific throw to pick off Holliday at third base with the bases loaded and one out in the sixth in a tie game. But give a huge assist to Beltre, who blocked third base with his right foot and then applied the tag.
October, 27, 2011
10/27/11
1:00
PM CT
By
Richard Durrett
| ESPNDallas.com
ST. LOUIS -- Game 6 of the World Series features RHP
Colby Lewis
of the Rangers against LHP
Jaime Garcia
in Busch Stadium. The game starts at 7:05 p.m. on Fox and ESPN 103.3 FM. Here's a quick look at the matchup:
Lewis (1-1, 2.95 ERA):
The right-hander is 1-1 with a 2.95 ERA in the postseason this year in three starts (18 1/3 innings). ... He has two quality starts in the 2011 playoffs, including Game 2 of the World Series. Lewis allowed one run on four hits with two walks and four strikeouts, but got a no-decision as he exited after 6 2/3 innings down 1-0. The Rangers came back with two runs in the top of the ninth to win. ... Lewis' other quality start was against Tampa Bay (one run on one hit in six innings in a 4-3 win). ... Lewis' postseason success dates back to last year. He was 3-0 with a 1.71 ERA in four starts in 2010 and pitched the clinching Game 6 of the ALCS over the Yankees.
Garcia (0-2, 3.97 ERA):
He pitched well in Game 2 of the World Series, holding the Rangers' lineup to no runs on three hits in seven innings with one walk and seven strikeouts. ... In the postseason, Garcia is 0-2 with a 3.97 ERA in four starts. He has 18 strikeouts and six walks. ... Posted career highs in innings (194 2/3), strikeouts (156), games started (32) and tied his high for wins (13). ... Has allowed only 11 extra-base hits to left-handed hitters this season and just two home runs. ... Was first in the NL in run support average at 5.92 (seventh in MLB). ... Tied for third in NL in double plays (25). ... Had a home mark of 9-4 with a 2.55 ERA in 15 starts.
Hitters:
Lance Berkman
(2-for-15) has struggled off Lewis. ...
Corey Patterson
(4-for-8, HR, 4 RBIs) has had some success. ... Garcia had only faced two Rangers batters before his last start. Only
Adrian Beltre
,
Matt Treanor
,
Michael Young
and
Ian Kinsler
have hits off him and all of them have four at-bats or fewer.
October, 25, 2011
10/25/11
5:37
PM CT
By
Jeff Caplan
| ESPNDallas.com
ST. LOUIS -- With the ominous forecast of rain hanging over Wednesday night's Game 6,
Texas Rangers
manager Ron Washington said he wants Major League Baseball to make a decisive call if the radar reveals a threat of rain delays.
In that case, Washington said he would prefer to postpone Game 6 until Thursday when there is no rain in the forecast. Washington said he does not want a situation where he risks losing starting pitcher
Colby Lewis
because of a long rain delay.
"If it's possible we can play, of course we want to play. You don't want to sit down," Washington said. "But, if the forecast says that it's going to be bad weather and we're going to play and start and stop; we have an opportunity to eliminate [the Cardinals] and they have a chance to stay in it. And we feel like we have the guy that's capable of taking us to the next step and they feel like they have the guy [
Jaime Garcia
] that's capable of taking them to the point where they get an opportunity to play an elimination game, also."
Washington is speaking from experience. Game 2 of the ALCS was called about five hours before game time because of heavy rains throughout the day and the threat of more rain that night. Game 1 was marred by two delays in the fifth inning that totaled around two hours.
Detroit Tigers
starter
Justin Verlander
did not return after the delay and Rangers starter
C.J. Wilson
got roughed up after the first 41-minute delay to end his night.
However, once MLB postponed Game 2 to the following day, the rain ceased and it never rained another drop at Rangers Ballpark.
"We want to make sure the conditions are correct, and if we have to wait a day, then we have to wait a day," Washington said. "But, if it's at all possible we can play, I want to play."
The current forecast for Wednesday shows a 50 percent chance of rain starting around 3 p.m. and throughout the night.
October, 21, 2011
10/21/11
12:14
AM CT
By
Jeff Caplan
| ESPNDallas.com
ST. LOUIS --
Colby Lewis
has never had the title of ace or been tabbed the No. 1. But there should be little debate that Lewis is the
Texas Rangers
' most trusted postseason starter.
He had his best stuff on display in a critical Game 2 on Thursday night against the
St. Louis Cardinals
and even though the win eluded him, Lewis' stellar 6 2/3 innings kept the stymied Rangers' offense against
Jaime Garcia
just one big inning away from gaining a split. It finally happened in the ninth with Lewis watching from the bench and leaving overly satisfied with a no-decision in the 2-1 Texas win.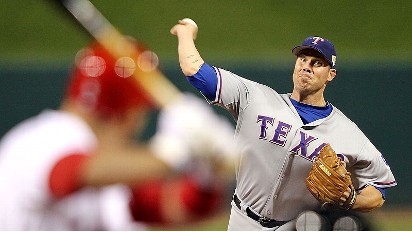 Jamie Squire/Getty ImagesDespite not getting the win, Colby Lewis may have saved the World Series for the Rangers with his quality outing.
"The biggest thing was trying to match zeroes and keep your team in the ballgame," Lewis said.
Lewis left with two outs in the seventh inning in a near-identical situation to that of
C.J. Wilson
in Game 1. With two outs and
David Freese
on second, Lewis couldn't put away pesky
Nick Punto
with a two-strike count. Punto singled off a slider to put runners at the corners.
"That's probably one pitch I'd want back in that situation," Lewis said. "Especially in the seventh, late in the game."
That guaranteed a pinch hitter for Garcia and ended Lewis' night after 96 pitches and fire still in his belly.
Out of the Cardinals dugout came Game 1 pinch-hit hero
Allen Craig
, who tagged
Alexi Ogando
for the go-ahead run. Rangers manager Ron Washington made the slow walk to the mound.
"I would have liked to stay out, but when Wash makes the decision, he makes the decision," Lewis said. "But it's strictly a managerial move and like I said, Ogando's been great and the bullpen's been outstanding this postseason."
But, for the second consecutive night Craig got the best of Ogando, singling in the go-ahead run again for a 1-0 St. Louis lead, and suddenly Lewis was a candidate for a hard-luck loss.
"It's still just 1-0. Look at our lineup, it's just one pitch from tying up the ballgame, so I wasn't real concerned," Lewis said. "Yes, it's unfortunate that we went down late, but like you saw, we did the small things without the homer."
Lewis had been the club's No. 3 starter in the first two rounds, giving him just one start in each series. But Washington decided to move Lewis up to Game 2 for the World Series. Washington downplays the notion that he has strategically lined up Lewis to pitch on the road, where his ERA during the regular season was more than two points lower than his home ERA and he had given the dreaded long ball far less frequently.
He kept everything in the park Thursday night, allowing only a third-inning, two-out double to
Rafael Furcal
, a fifth-inning single to Punto and then two singles in the seventh to Freese and a second one to Punto.
The Texas starting rotation now has two quality starts under its belt in this postseason, and Lewis has both of them. This Game 2 gem iarguably goes down as the most determined effort of his career, challenging the eight innings he threw in the ALCS clincher last season to beat the Yankees.
"Colby is that type of player," right fielder
Nelson Cruz
said. "He did that last year in the playoffs and he's doing it again in the playoffs. He's been awesome for us."
The win over the Yankees got the Rangers into the World Series. This one might have saved it.
October, 20, 2011
10/20/11
10:00
AM CT
By
Jeff Caplan
| ESPNDallas.com
ST. LOUIS -- Is it more than coincidence that
Colby Lewis
started Game 3 on the road in the last two series and now with the
Texas Rangers
opening the World Series on the road he's been bumped up to Game 2?
The numbers certainly suggest such a strategy even if manager Ron Washington isn't interested in acknowledging it as so.
"I'm sure," Lewis said. "Last year my home stats were better and this year my road stats are better. I didn't ask about it, but yeah."
Lewis was a .500 pitcher at jetstream-fueled Rangers Ballpark and 9-5 on the road. His home ERA of 5.54 is more than two points higher than his road ERA (3.43) and he gave up nine fewer home runs on the road than at home.
Today's Game 2 start will be Lewis' third consecutive on the road. He was excellent at Tampa Bay (six innings, one run, one hit -- a solo homer) and he got beat up at Detroit (5 2/3 innings, four runs, eight hits -- two homers). The Rangers will need him to be the pitcher of the 2010 postseason against the
St. Louis Cardinals
to avoid an 0-2 hole before heading home for at least two games and potentially three.
"It just was coincidence," Washington said of Lewis' road starts. "I think the fact that he has those splits, I keep getting reminded. It's not anything I look at because at this point I trust every one of my guys. And if I had to pitch Colby in Texas, he pitches in Texas. He beat the Yankees last year in Texas. I think you throw all that out the door. It may come into play at some point, but right now we're just trying to get the best pitchers we have out there. Right now Colby is one of our best. And he's throwing the second game and it so happens the next time he throws is back on the road."
That is true. Lewis is one of the Rangers' best, but that's not saying a lot so far this postseason.
After Wednesday's 3-2 loss,
C.J. Wilson
lost for the third time this postseason in a game that could have gone either way. Lewis will go against Cardinals lefty
Jaime Garcia
, who is 0-2 with 5.74 ERA this postseason. If there was ever a time for Lewis to turn in a road warrior performance, this is it.
"Last year somebody said that my splits were the exact opposite that it was this year," Lewis said. "I don't know, I think just a new year things are different. Things change year to year. I'm not really worried about it."