July, 3, 2013
7/03/13
1:30
PM CT
By
Todd Wills
| ESPNDallas.com
ARLINGTON, Texas -- The Rangers and Mariners hook up in a battle of two of the best pitchers going in the American League. Left-hander
Derek Holland
starts against Mariners right-hander
Felix Hernandez
at 7:05 p.m. on Fox Sports Southwest and ESPN Dallas 103.3 FM (Deportes 1540 AM).
PODCAST
ESPN senior MLB analyst Jim Bowden joins Fitzsimmons and Durrett for his weekly visit to discuss the latest Rangers news.

Listen

Holland (6-4, 3.14 ERA):
Holland had a two-hit shutout against the
New York Yankees
in the Bronx on Thursday to snap a personal four-game winless streak. It was his sixth career shutout, tied for seventh all time for the Rangers. He faced two over the minimum (29 batters) and retired 18 of the last 20 Yankees he faced. He needed just 92 pitches to coast through his 16th start of the season. ... Holland has five of the Rangers' last eight shutouts. ... Holland will be starting on five days' rest, and he's 5-0 with a 2.18 ERA in his nine starts this season with that amount of rest. ... Holland has a 0.40 ERA in his six wins. He has not received a single run of support in his four losses. ... Opponents are 6-for-50 against him in his past two starts. ... Holland is 8-2 with a 3.39 ERA in 14 games (10 starts) vs. the Mariners. ... He is 2-0 and hasn't allowed an earned run in 14-1/3 innings in his last two starts against Seattle.
Hernandez (8-4, 2.70 ERA):
Hernandez ranks third in the American League in ERA and is fourth with 116-2/3 innings pitched. ... He is third with 12 quality starts and fourth with 123 strikeouts. ... Hernandez had a no-decision in his last start Wednesday against Pittsburgh, allowing two runs in seven innings in a 4-2 loss. King Felix had 11 strikeouts, the 23rd time in his career he's had a double-digit strikeout game. ... Hernandez has 51 career starts in which he's pitched eight or more innings and allowed one run or fewer. ... He will make his 37th career start against the Rangers. He is 12-18 with a 3.87 ERA against Texas. ... The Rangers and Angels (7-12) are the only two teams Hernandez has a losing record against with a minimum of 10 career starts. ... He was 0-2 with a 5.84 ERA in two starts against the Rangers last season, both in Seattle. ... He will start for the first time at Rangers Ballpark since Sept. 24, 2011, when he allowed five runs in 3-1/3 innings. ... He is 5-8 with a 4.35 ERA in 16 career starts in Arlington and hasn't won here since Sept. 28, 2010.
Hitters:
Adrian Beltre
(7-for-22, 1 HR, 2 RBIs) has had some success against his good friend and former teammate Hernandez.
David Murphy
(21-for-69, 2 HRs, 13 RBIs) has gotten the better of King Felix.
Jason Bay
(3-for-11, 1 HR, 3 RBIs) has had some success against Holland.
April, 13, 2013
4/13/13
12:09
AM CT
By
Todd Wills
| ESPNDallas.com
Yu Darvish
struggled early, giving up three runs in the first inning, and the Rangers couldn't rally in a 3-1 loss to the
Seattle Mariners
on Friday night at Safeco Field.
Rough beginning:
Darvish hit
Jason Bay
with one out in the top of the first, and the inning unraveled from there. Darvish gave up singles to
Kendrys Morales
and
Raul Ibanez
. But the big blow came from Seattle third baseman
Kyle Seager
, who has owned Darvish early in his big league career. Seager came up with his fifth hit in 11 at-bats against Darvish, drilling a two-run double to give Seattle a 3-0 first-inning lead.
PODCAST
ESPN Insider Jim Bowden joins Fitzsimmons & Durrett to discuss the possibility of the Rangers trading Jurickson Profar.

Listen

Darvish settles down:
Darvish, who has been dealing with a blister issue, followed his tough first with five no-hit innings. He had eight strikeouts and a walk. Darvish has a 2.75 ERA in three starts, but he lost for the first time Friday night.
Kinsler goes deep again:
Ian Kinsler
upped his team lead in home runs to four for the season with a solo shot in the top of the fourth. Mariners starter
Hisashi Iwakuma
retired the first nine batters he faced before Kinsler's homer. Kinsler took advantage of the new dimensions of Safeco Field, just clearing the left-field wall, which was moved in during the offseason.
Sixth-inning blues:
Kinsler gave the Rangers a chance to scratch out a run trailing 3-1 in the top of the sixth. He ripped a single, stole second and moved to third on
Elvis Andrus
' ground ball to the left side. The rally died there.
Lance Berkman
, who had strikeouts in his first two at-bats, popped up to third base.
Adrian Beltre
, who is struggling to drive in runs, popped up to second base to end the inning.
Berkman struggles:
Lance Berkman, who has been the Rangers' hottest hitter, had a night to forget. He struck out in his first two at-bats, then popped up on the infield in his other two at-bats. Berkman's batting average dropped below .400 to .394 on the season.
Not clutch:
The Rangers were 0-for-6 with runners in scoring position and left seven men on base. They had a runner in scoring position in each inning from the fifth to the eighth and couldn't break through.
Focus on CF:
Leonys Martin
and
Craig Gentry
both had chances to plate runs in the fifth and seventh innings after singles by
A.J. Pierzynski
and walks by
Mitch Moreland
. Martin grounded out to second base, and Gentry was called out on strikes after fouling off two hittable fastballs.
Up next:
The Rangers and Mariners will play Game 3 of their four-game series at 8:10 p.m. Saturday night.
Alexi Ogando
(2-0, 0.77 ERA) will face
Joe Saunders
(1-1, 3.48 ERA) on Fox Sports Southwest.
April, 12, 2013
4/12/13
2:07
AM CT
By
Gregg Bell
| Special to ESPN Dallas
Fill-in starter
Justin Grimm
did just enough squirming and escaping to keep the Rangers in it against
Felix Hernandez
.
Then his teammates did the little, often-overlooked things that win scrappy games like this one on a cold Thursday night at Safeco Field – plays that make their fundamentally based manager proud.
PODCAST
Randy Galloway, Matt Mosley and Glenn "Stretch" Smith discuss the latest Rangers news, including Nolan Ryan's decision to stay with the team and Nick Tepesch's debut.

Listen

There was 37-year-old
Lance Berkman
, with chronically aching knees on which he had dual surgeries last summer when he was with St. Louis, barreling down the first-base line to beat out the back end of what would have been a double play. That extended the top of the fifth inning for
David Murphy
and
Nelson Cruz
to drive in the go-ahead runs off Hernandez.
"I didn't want to be a rally killer," Berkman said later with a smile. "I wanted to give us a chance to score. I just got down the line as fast as I could."
After Seattle had closed to 4-3 in the bottom of the eighth, reliever
Robbie Ross
charged the plate as
Brendan Ryan
put down a suicide-squeeze bunt. Ross fielded the ball, bunted hard and directly at him, on the run and in one motion flipped it option-quarterback style to catcher
A.J. Pierzynski
.
"Yeah, that's what I was trying to do, run the option," Ross joked. "Just instinct."
In a mini clinic on how to defend as a catcher, Pierzynski deftly dropped his shin guards and blocked the plate. That kept pinch-runner
Endy Chavez
from ever reaching home. Pierzynski tagged the former Ranger for the second out.
[+] Enlarge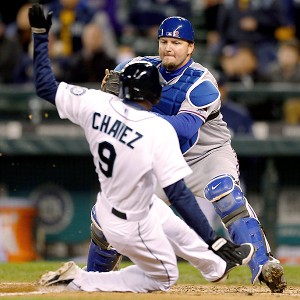 Otto Greule Jr /Getty ImagesA.J. Pierzynski's block of home plate after catching a shovel pass from Robbie Ross proved huge in the Rangers' 4-3 victory.
Ross then struck out
Franklin Gutierrez
with a man on to end Seattle's last threat.
Joe Nathan
got his 301st career save with a perfect ninth, preserving
Joe Ortiz
's first major-league victory as the Rangers won for the seventh time in 10 games to begin the season. Nathan immediately gave Ortiz the game ball.
Rangers manager Ron Washington has been drilling fundamental plays such as Thursday's since his major-league career than ended in 1990, before he began coaching in 1991.
"That's baseball, and you like to see it being executed at the highest level like that," Washington said. "It came down to us making a play.
"Robbie made a helluva play. That's all the work they put in on Field 7 in Surprise (during spring training).
"And the key play was Berk beating the back end of that double play to get two more guys to the plate. If Berk doesn't beat that out who knows what might have happened."
For one, Hernandez might have stuck around another inning or two beyond the 6 2/3 he lasted.
Instead, the Rangers spoiled the 2013 Seattle unveiling of Hernandez, who was pitching at home for the first time since signing a seven-year, $175-million contract extension this winter. The Rangers ignored the gold, "King's Court" T-shirts, matching K cards and royal chants swirling from the 22,917 fans around them – "We were all like, 'Man, this is pretty cool, the yellow signs,'" Pierzynski said.
The catcher's second home run as a Ranger began Texas' attack of "King Felix" for eight hits and four runs in the first five innings.
Murphy's two-out, RBI single in the fifth broke a 2-2 tie. Then Cruz golfed Hernandez's split-fingered fastball into the left-field corner for a double that put Texas ahead 4-2.
"We scored some runs off of Felix, which doesn't happen very often," Pierzynski said.
Indeed, the Rangers' 10 hits off Hernandez were more than they had against him in all of 2012. He allowed them one run and nine hits combined in two victories last season.
Hernandez lost for the fifth time in seven decisions against Texas.
Grimm, starting on the day he was recalled from Triple-A Round Rock and
Matt Harrison
went on the 15-day disabled list, wasn't remarkable. Yet he left the game tied on the road against the 2010 Cy Young Award winner.
"When you look at it like that, yeah, that's a positive," said Grimm, who struggled in spring training before a good start to begin the season at Round Rock.
"It was a battle. It was just a matter of trusting it. Then when I had to trust it, I did."
Eight of the first 13 batters he faced reached base. By two batters into his third inning pitching coach Mike Maddux had already visited the mound twice to try to right the 24-year-old right-hander. Veteran
Derek Lowe
, thought by some to be a candidate to fill in for Harrison, was warming up by the third.
Grimm was teetering in the second with Mariners at first and third and a 3-0 count on
Kyle Seager
, but used off-speed pitches to rally to a full count. He then got Seager to weakly chop a breaking ball back to him for the final out of the second. That kept the score tied at 2.
The first two Mariners reached to begin the third, but Grimm got Ibanez to bounce out, he struck out former Rangers first-round draft pick
Justin Smoak
with a full-count changeup and got Montero to fly out to keep the game tied.
"He just was erratic," Washington said. "He made some pitches in certain situations that he had to, because it could have gotten ugly. It's a learning experience for him."
With an off day Monday between this series and three games at the
Chicago Cubs
, the Rangers could choose to skip Grimm's next turn in the rotation.
Or they could see right away how much he learned from Thursday by starting him next week at Wrigley Field.
May, 11, 2010
5/11/10
8:00
AM CT
Someone asked me the other day if
Vladimir Guerrero
was the top offensive free agent signing this offseason. You could certainly make that argument.
[+] Enlarge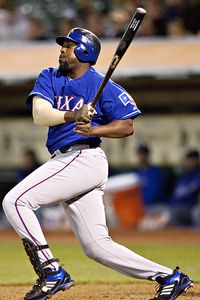 Jason O. Watson/US PresswireVlad Guerrero isn't the only free agent paying big dividends for his new team.
Guerrero is batting .339 with six homers and 26 RBIs. He even has four stolen bases and his body appears to be holding up just fine so far this season. He's making $5.5 million (the contract includes performance bonuses) this season and there's a mutual option (with a $1 million buyout) for 2011. So who else signed offseason deals that look good so far this season? ESPN Stats & Information put together a list. Here goes (all stats through Sunday):
* Arizona's 2B
Kelly Johnson
(one year, $2.35M): 10 HRs, 19 RBIs and a .282 batting average. He hit just eight HRs in 303 at-bats last season.
* Toronto SS
Alex Gonzalez
(one year, $2.75M): He's a defense-first infielder with Toronto who's added 10 HR (he hit eight all of last year) and 27 RBIs.
* Chicago OF
Marlon Byrd
(three years, $15M): The former Ranger has a .347 BA, 6 HRs, 22 RBIs.
*
New York Mets
C
Rod Barajas
(one year, $500K): Another former Ranger, he leads the Mets with nine HRs.
* New York Mets C
Henry Blanco
(one year,$750K): Backup has thrown out all five baserunners this season in limited action.
* Washington C Pudge Rodriguez (two years, $6M): .365 batting average for the catcher that turned down a one-year offer from the Rangers and got a multiyear deal in Washington.
Here are some who have struggled:
* New York Mets'
Jason Bay
(four years, $66M): one HR, 12 RBIs, .248 batting average.
* Seattle's
Chone Figgins
(four years, $36M): He's hitting just .185 for a struggling Mariners lineup.
December, 30, 2009
12/30/09
10:01
AM CT
It always helps to get a clearer picture of market value when it comes to free agents. One way to do that is to see what the "big boys" get and where they land. The two largest fish in the free agent hitting lake are Jason Bay and Matt Holliday.

One has now found a home. Bay agreed, according to an ESPN.com story, to a four-year, $66 million contract with the Mets. The deal includes a vesting option that could push it over $80 million for five years.

It will be interesting to see what happens now with Holliday, a Scott Boras client.

But maybe that will give the Rangers and other parties some more information. The club has shown interest in Jermaine Dye and Vladimir Guerrero. They'd like to get a right-handed bat, preferably on a one-year deal, to put in the middle of the lineup. They've also inquired about left-handed hitting Jim Thome as a DH.

Stay tuned.