Texas Rangers:

Jason Castro
April, 3, 2013
4/03/13
1:17
AM CT
By
Todd Wills
| ESPNDallas.com
HOUSTON --
Yu Darvish
nearly pitched the perfect game heard round the world Tuesday night.
Darvish just missed the 24th perfect game in major league history, getting within an out of perfection before
Houston Astros
shortstop
Marwin Gonzalez
lined a single through the Ranger pitcher's legs into center field.
PODCAST
The excitement of Yu Darvish's near-perfect game has Rangers fans brimming with hope. Play-by-play voice Steve Busby talks about Yu's outstanding effort.

Listen

Darvish was pulled after facing his 27th batter, and reliever
Michael Kirkman
ended up getting the final out as the Rangers settled for a one-hitter and a 7-0 victory before 22,673 fans at Minute Maid Park.
It's the 11th perfect game spoiled by the 27th hitter in major league history. It would have been the sixth no-hitter in Rangers' history and the second perfect game.
Darvish induced two ground ball outs to start the bottom of the ninth, and a ballpark half-filled with Rangers fans waited with anticipation that he would finish it off. But Darvish hung a cutter -- he threw all cutters in the ninth inning -- and Gonzalez came up with a clean single.
"You get to that point, and you think it's going to happen," Rangers catcher
A.J. Pierzynski
, who caught
Philip Humber
's perfect game with the
Chicago White Sox
last season, said. "It just wasn't meant to be."
As Darvish retired the first 15 batters he faced, Major League Baseball announced on Twitter that the Japanese pitcher was trending worldwide.
Darvish was shaking his head in disappointment in the visitor's clubhouse minutes after the game, but he was proud of himself as he talked in his postgame news conference.
"I went as far as I could go, and that was satisfying," Darvish said.
It had been 19 years since the only time a Rangers pitcher found perfection.
Kenny Rogers
tossed a perfect game on July 28, 1994, in a 4-0 victory over the California Angels. Darvish came oh-so-close to moving into the history books with Rogers.
Darvish befuddled the Astros with his array of pitches. He threw seven different pitches, Pierzynski said, with his slider and fastball the overwhelming pitches of the night.
"He had them all going," Pierzynski said.
Darvish set his career high in strikeouts with 14. He struck out the side twice, in the second inning and fourth. He had struck out 11 in a game four times, all last season as a rookie.
Darvish had an electric fastball, but it was his slider that totally confused Astros hitters. Of his 14 strikeouts, 12 of them were on sliders, 10 swinging and two looking. Darvish went to a full count four times and to a three-ball count five times overall.
Darvish had a tense moment to start the bottom of the eighth inning when Astros left fielder
Chris Carter
worked the count full. Carter fouled off three pitches, then swung through another nasty slider from Darvish.
Then came the dramatic bottom of the ninth.
Elvis Andrus
had to go to his right on a grounder that took a strange hop, then easily threw out
Jason Castro
for the first out of the inning.
Carlos Corporan
then grounded out weakly to second. That brought up Gonzalez, who had struck out and grounded out to first.
Gonzalez was looking for a fastball away, he said after the game. He got one that Pierzynski said sunk down instead of cutting.
"The first two batters, J.C. and Corporan, he threw a fastball away the first pitch to them, and I realized he was going to throw it to me, too, and I was waiting on the pitch," Gonzalez said.
April, 3, 2013
4/03/13
12:30
AM CT
By
Todd Wills
| ESPNDallas.com
HOUSTON -- The scene in the Rangers' clubhouse after Tuesday's game was one of both pride and disappointment after
Yu Darvish
's near miss of the 24th perfect game in major league history.
PODCAST
"Spanning the Globe" features the Metro New York's Kristian Dyer, ESPN LA 710's Dave Shore, ESPN Dallas' Jean-Jacques Taylor and the New York Post's Marc Berman.

Listen

Darvish was poised for history with two outs in the bottom of the ninth and the 27th batter, Astros shortstop
Marwin Gonzalez
, stepping into the batter's box. The feeling was that Darvish, who had dominated Houston all night, was going to join
Kenny Rogers
as the only Rangers pitchers to throw a perfect game.
"When you're throwing the ball as well as Yu was throwing it, you felt like he was going to get it," Rangers manager Ron Washington said. "It wasn't meant to be."
When Darvish retired the first two Astros he faced in the ninth,
Jason Castro
and
Carlos Corporan
, second baseman
Ian Kinsler
admitted that he started thinking about what the celebration would be like.
But Gonzalez had other ideas. He swung at the first pitch -- a hanging cutter that he was looking for -- and lined it through Darvish's legs for a clean single to ruin the perfect-game bid.
"Yu got a little unlucky," Kinsler said. "He definitely threw a pitch where he didn't want to."
Elvis Andrus
, who was hoping the ball would be deflected by Darvish and end up near him at shortstop, said it was one of those moments that wasn't mean to be, just like the 2011 World Series.
"That's baseball," Andrus said.
Despite an agonizing end to the game, Darvish's teammates said they were in awe of the way he dominated Astros hitters. Kinsler said it was the best pitched game he's been a part of, better than when Mark Buerhle no-hit him and the Rangers in 2007.
"It was so much fun to be a part of something like that," Kinsler said. "Whether it's completed or not. He just absolutely dominated the game."
Catcher
A.J. Pierzynski
was one of the Rangers who talked to Darvish after the game.
"He knows how good he threw the ball," Pierzynski said. "After the game, he kind of smiled and laughed, and I kind of said some bad words to him and I was upset. He was good."
April, 2, 2013
4/02/13
6:42
PM CT
By
Todd Wills
| ESPNDallas.com
HOUSTON, Texas -- Rangers manager Ron Washington is making a change in center field for Game 2 of the season, going with right-handed hitting
Craig Gentry
on Tuesday night against the Astros.
PODCAST
Welcome to the debut of the 2013 Ron Washington Show. Every Tuesday at noon, manager Ron Washington joins Fitzsimmons & Durrett to discuss the latest on the Texas Rangers.

Listen

Gentry is in the No. 9 spot in the lineup against
Lucas Harrell
, drawing a start against the Astros' right-hander. Left-handed hitting rookie
Leonys Martin
, Gentry's platoon partner, started the opener Sunday and went 0-for-3 with two strikeouts.
Washington said before the game that he had no problem giving Gentry a chance against a right-hander.
"It didn't seem to effect him in spring training," Washington said. "I have no issues whatsoever with Gentry in the lineup tonight against a righty."
Gentry batted .306 in 36 at-bats against right-handers this spring. He had five extra-base hits, including a home run, among his 11 hits. He also had five RBIs.
Gentry hit .277 against right-handers last season in 141 at-bats. He hit .344 against lefties. He did a better getting through pitches this spring, Washington said.
"Last year he would get there and cut his swing off," Washington said. "This year he's getting to the ball and staying through the ball. That's what is helping him generate the little pop he is generating."
Washington said it's his goal to get everyone on the field in the first 10 days of the season. He said he'll do that before the end of the Rangers' upcoming homestand next Wednesday against Tampa.


Rookie reliever Joe Ortiz gave up a run on a pair of two-out hits in his debut Sunday, but Washington was pleased with how the 22-year-old responded in his first Major League outing, getting the final out of the inning. "He's going to give up some hits," Washington said.

"He's going to give up some runs. The the thing about him, what we like more than anything else, is he continued to attack the zone. He didn't back down. It was nice to get him out there and let him see that if you execute, good things will happen."


Washington was invited to see a screening of the new movie "42" about the life of baseball pioneer Jackie Robinson during spring training but was unable to go because of a prior engagement. But he said he will wait and see it on Blu Ray, or maybe on the Rangers' off day in Chicago on April 15. The movie debuts Friday, April 12. Robinson broke the color barrier and played for the Brooklyn Dodgers for the first time on April 15, 1947.


Washington said that he addressed Martin about his failure to run to first base in Sunday's game after he struck out and the pitch got away from Astros catcher Jason Castro.
April, 1, 2013
4/01/13
1:00
AM CT
By
Todd Wills
| ESPNDallas.com
HOUSTON -- The strikeouts piled up for
Texas Rangers
starter
Matt Harrison
in the season opener as both pitchers dominated opposing hitters early on.
[+] Enlarge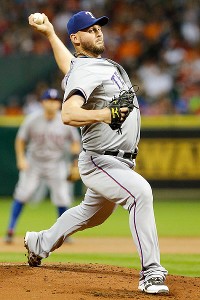 AP Photo/Pat SullivanMatt Harrison tied a career-high with nine strikeouts against the Astros.
Needing to match Houston's
Bud Norris
-- who was manhandling Rangers hitters -- Harrison was cruising along with six strikeouts through the first 12 batters he faced before the strange dimensions of Minute Maid Park and a young, aggressive
Houston Astros
team got the best of him.
On an opening night where everything that went against the Rangers was surprising, it was Harrison who blinked first in the Rangers' 8-2 loss to the Astros in front of a sellout crowd and a national TV audience.
Harrison's first opening day start started with a blaze and slowly went downhill.
It started with one out in the fourth inning. Harrison got ahead of Astros first baseman
Brett Wallace
with with a cutter for a called strike and a curveball for a swinging strike. Wallace fouled off a cutter and then was able to reach a high fastball for a single up the middle. With two outs,
Carlos Pena
, who had fanned in his first at-bat, then beat a shift for another hit with the Rangers playing three infielders on the right side.
The inning got stranger from there as the Astros' No. 1 hero in this night, center fielder
Justin Maxwell
, lofted a fly ball into left field that appeared destined for
David Murphy
's glove. Only Murphy didn't get a chance to catch it because of Minute Maid's bandbox dimensions. He looked up as the baseball bounced off the scoreboard for a 314-foot triple to give Houston a 2-0 lead.
It was that kind of night for Harrison, who was great, then unlucky and then let walks get to him (more on that coming).
"It was just a matter of not executing the pitches, especially in the at-bats to Wallace and Pena," Harrison said. "They were being very aggressive, all the guys were. I felt if I just executed the pitches better, maybe farther down in the zone, I might have got some swings and misses or weaker contact. I just have to do a better job of executing pitches when I have to."
Walks and an error by right fielder
Nelson Cruz
put Harrison and the Rangers in a deeper hole. The Astros scored twice more in the fifth inning when
Brandon Barnes
, who had been way late on fastballs in the second inning, managed to walk with one out in the fifth.
Ronny Cedeno
, the Astros' No. 9 hitter, followed with a single to right that Cruz bobbled and then kicked away to allow Barnes to score.
Jose Altuve
followed with a single for a 4-0 lead.
Walks then did Harrison and the Rangers in after the offense had battled back -- his teammates pounded out all of six singles -- with two runs in the top of the sixth to make it a 4-2 game. Harrison walked Maxwell with one out and after getting
Jason Castro
to fly out, fell behind
Matt Dominguez
and walked him, forcing manager Ron Washington to go to the bullpen.
"One hundred pitches was as far he could go," Washington said of Harrison.
Derek Lowe
came in and missed on a breaking ball to
Rick Ankiel
, who smacked a three-run home run to right field for a 7-2 Astros lead.
And Harrison's hopes for an opening day win were gone.
"They're a young, aggressive team," Washington said. "They played well tonight."
Harrison said he would spend Monday's off day with his family and try to put Sunday's start behind him.
"Just have to wipe it out of my mind and get ready for the next one," Harrison said.
March, 31, 2013
3/31/13
10:19
PM CT
By
Todd Wills
| ESPNDallas.com
HOUSTON -- The Astros scored six runs off Rangers starter
Matt Harrison
, five of them earned, in an 8-2 victory in Houston's American League debut at Minute Maid Park.


What it means:
The Rangers lost for the first time in a season opener in five tries, the four previous wins coming at home. The Rangers have lost five straight road season openers, their last win coming against the Angels in Anaheim in 2003.
Berkman's debut:
Lance Berkman
was 2-for-4 in his first game as a Ranger against his old team of 11-plus years. Berkman had a single during the Rangers' two-run rally in the sixth inning that temporarily put them back in the game.
Power outage:
The Rangers didn't produce an extra-base hit in their first game without
Josh Hamilton
,
Michael Young
and
Mike Napoli
. Berkman came the closest with line drive into left-center, but Astros center fielder
Justin Maxwell
did a nice job of holding Berkman to a single.
Harrison up and down:
Harrison matched a career high with nine strikeouts and at moments was dazzling in the season opener. But his command of the strike zone left him at times, leading to three walks, all of which came around to score. One came during Houston's two-run fifth inning and was aided by an error by right fielder
Nelson Cruz
. The others came after Harrison walked two and was replaced by
Derek Lowe
, who gave up a three-run homer.
The dropsies:
First it was Cruz, then
Ian Kinsler
who couldn't hold onto the ball as the Astros scored twice in the fifth inning. Houston shortstop
Ronny Cedeno
lined a single to right field and Cruz bobbled the ball and then kicked it away, allowing
Brandon Barnes
to score all the way from first base. Kinsler dropped the relay throw, which gave Cedeno third base. Cedeno scored on
Jose Altuve
's single as the Astros took a 4-0 lead.
Lowe point:
Ron Washington went to Lowe with two on and two out in the bottom of the sixth and the Astros hanging on to a 4-2 lead. Astros manager
Bo Porter
countered the right-handed reliever with left-handed pinch hitter
Rick Ankiel
. Porter got the win as Ankiel ripped a 3-2 slider over the right field fence in his Astros debut against Lowe in his Rangers debut.
Tough opener for Martin:
Leonys Martin
was 0-for-3 with two strikeouts in his first opening-day start. He also had a weak ground ball to third base. Martin's second strikeout came on a fastball that wasn't held onto by Astros catcher
Jason Castro
, but Martin started walking back to the dugout instead of running to first base.
Ortiz makes debut:
Reliever
Joe Ortiz
made his major league debut and allowed a run in the eighth inning. He allowed a triple to Maxwell and an infield single to
Matt Dominguez
.
Up next:
The Rangers are off Monday and will send
Yu Darvish
to the mound against Houston's
Lucas Harrell
at 7:10 p.m. Tuesday on ESPN Dallas 103.3 FM and FSSW.