Texas Rangers:

Jim Leyland
October, 22, 2013
10/22/13
10:00
AM CT
Count
Texas Rangers
manager Ron Washington among those who will miss retiring
Detroit Tigers
manager Jim Leyland. For Washington, as with so many current managers and coaches in the game, Leyland has been a mentor.
"I just sit back and hope and wish that my managing career in the game can match all that Jim has," Washington told Dallas reporters Monday. "We just lost a tremendous baseball man, an excellent manager, and I know the organization in Detroit is going to miss him. I think Jim made that decision for what was best for he and his family, and I wish him the best."
It was Leyland that looked out for Washington when the Rangers' skipper first got the Texas job, asking him before Washington's first spring training was even over if he'd join Leyland's coaching staff at the All-Star Game. It was a moment that Washington never forgot and he's been able to follow suit by asking some managers who have never coached in an All-Star Game to join him, since he's managed the game twice following consecutive World Series appearances a few years ago.
"He gave me a lesson on how to treat people," Washington said. "Jim has always been a teacher and he never stopped teaching and that was something he taught me as a young manager."
Washington asked Manny Acta to join him on the staff of the 2011 All-Star Game. It was Acta's first All-Star coaching assignment. He also tabbed John Farrell that year, in part because Farrell was new to the managing fraternity.
November, 16, 2011
11/16/11
8:11
AM CT
Quick, who won last year's Manager of the Year awards?
Exactly. Not the most interesting of the postseason awards. But here's a quick preview of the award that usually goes to the manager whose team surprised the most.
American League
Joe Maddon, Rays:
The odds-on favorite to win his second award, following Tampa Bay's miracle playoff run in September. Positives: Kept team positive after 0-6 start,
Evan Longoria
's April injury and
Manny Ramirez
's drug test/retirement; overcame two shortstops who hit under .200; mixed and matched guys like
Ben Zobrist
,
Matt Joyce
and
Sean Rodriguez
for maximum producitivity; rebuilt bullpen thrived; sent up
Dan Johnson
to pinch-hit in the ninth inning of game No. 162. Negatives: Was that a mullet?
Ron Washington, Rangers:
Remember, postseason performance doesn't come into play. Positives: Moved
Alexi Ogando
to the rotation; got a big year out of
Michael Young
by moving him around the DH role and the infield; let
Mike Napoli
eventually take over as the regular catcher. Negatives: Remember, postseason performance doesn't come into play.
Jim Leyland, Tigers:
A two-time winner with the Pirates and once with the Tigers, Leyland could be the first manager to win the award four times (the award began in 1983). Positives: Gave the ball to
Justin Verlander
and stayed out of the way. Negatives: Poor lineup construction.
Manny Acta, Indians:
The Indians ended up at 80-82, but it was a positive season as they remained in the playoff race much of the season. Positives: Hung in there despite injuries to
Grady Sizemore
and
Shin-Soo Choo
; worked in young players like
Jason Kipnis
and
Lonnie Chisenhall
; adeptly handled no-name bullpen to a nice season. Negatives: Couldn't straighten out
Fausto Carmona
; stuck with
Orlando Cabrera
way too long in No. 2 hole.
SweetSpot network voting
Joe Maddon: 114 points (21 first-place votes)
Jim Leyland: 32 points
Ron Washington: 28 points (1)
Manny Acta: 20 points (1)
Joe Girardi: 20 points (1)
Terry Francona: 1 point
Mike Scioscia: 1 point
My ballot
1. Joe Maddon
2. Manny Acta
3. Ron Washington
October, 12, 2011
10/12/11
11:49
PM CT
DETROIT -- Both managers made interesting decisions in regards to intentional walks. Let's start with Tigers manager Jim Leyland.
With
Josh Hamilton
at second base and one out, Leyland had closer
Jose Valverde
intentionally walk
Adrian Beltre
. The third baseman was 0-for-4 in the game, but has had some success off Valverde.
"I wasn't expecting it," Beltre said.
That brought up
Mike Napoli
, who hit a blooper to center to score Hamilton for what ended up being the winning run.
Nelson Cruz
put the game out of reach that same inning by belting a three-run homer into the Tigers bullpen.
Beltre said he figured Napoli would deliver.
"He's been one of our most clutch hitters all year and it turned out to be a really good at-bat," Beltre said.
Hamilton got a nice read on the ball and was able to score from second on what wasn't a hard-hit ball.
Leyland said he wanted to set up the double play and that's why he walked Beltre.
"I didn't want Beltre and Napoli to both hit against him," Leyland said. "As it turned out, he got a base hit. But to get a double play, you're out of the inning. He's not a fast runner, obviously. He's definitely a double-play guy. We just didn't get the ball on the ground. He blooped it into center field for a hit."
A few innings earlier, Rangers manager Ron Washington tried some unconventional strategy and showed the ultimate respect for
Miguel Cabrera
. With the game tied at 3 in the bottom of the eighth, Washington walked Cabrera with one out and no one on. Cabrera represented the go-ahead run.
Victor Martinez
hit a well-placed ground ball through the hole on the right side to put runners at the corners. That's when
Delmon Young
hit the fly ball to right that Cruz caught and fired home to get Cabrera to end the inning.
"We tried to pitch around Cabrera twice and he got us," Washington said. "So this time, I wasn't taking any chance. And it almost came back and bit me. But he's the best baseball player out there. I mean, this guy can do so much.
"I was not going to let him take a swing of the bat because I took the chance before and he made me pay for it both times. First time shame on you, next time shame on me. I respect Martinez a heck of a lot. Once again, he got that base hit and we almost paid for it, but I certainly wasn't going to let him have a swing of the bat there and beat us."
October, 12, 2011
10/12/11
11:19
PM CT
By
Jeff Caplan
| ESPNDallas.com
DETROIT -- In the hallway outside the
Texas Rangers
' celebratory clubhouse and away from the media horde, catcher
Mike Napoli
wrapped his burly, tattooed arms around the tall, lanky frame of flamethrower
Alexi Ogando
.
They embraced for a few moments, pulled back, smiled at each other, laughed and hugged again. Instantly, a conversation without words between two men who speak different languages needed no interpretation.
[+] Enlarge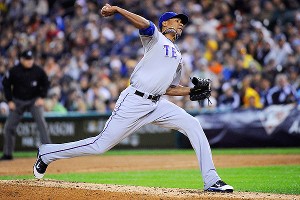 Kevork Djansezian/Getty ImagesAlexi Ogando gave up the tying home run, but the rest of the bullpen picked him up, including Scott Feldman, who was once an afterthought but picked up the win.
"It was like, 'Oh man, come on, I know, I know,' " Napoli said, referencing the 0-2, two-out fastball Ogando fired down the middle of the plate to
Brandon Inge
, who deposited the pitch over the wall to tie pivotal Game 4 at 3-3 just one inning after the Rangers rallied for the lead. "We're family. We all care for each other in here. You don't want something like that to happen."
All ended well despite Ogando's fastball not finding the outside target, his first misstep in three otherwise dominating outings in an ALCS that the Rangers now lead 3-1 with three chances to clinch a return trip the World Series.
Josh Hamilton
, Napoli and
Nelson Cruz
, who delivered another amazing moon-shot, blew the game open in the 11th for the 7-3 win, but it was six more innings of stellar relief work from a rested and near-invincible bullpen that made it possible.
Mike Adams
faced four batters in his one inning.
Darren Oliver
,
Scott Feldman
and
Neftali Feliz
all faced just three.
Of the five relievers that had a part in this huge win, none have been a member of this burgeoning family longer than Wednesday's winning pitcher, and perhaps fans tend to forget that about Feldman. The 6-foot-6 bearded wonder won 17 games as a starter in 2009, struggled in 2010 and then injured his right knee. The day after that season ended he underwent microfracture surgery, a procedure seen more in the NFL and NBA. He watched his teammates celebrate last year all the way to the World Series.
And for much of this season, Feldman was an afterthought among fans as he rehabbed in the shadows. Even later in the season as he made his return to the mound, results were sketchy and his future cloudy. Who knew if Feldman would be good enough to make the playoff roster?
"Pitching in the postseason is something new to me, and I'm having fun with it," Feldman said. "It's a lot of fun being on this team right now."
Feldman's long relief in Game 2 after starter
Derek Holland
faltered early allowed the Rangers to stay close and eventually win. His one inning Wednesday in the 10th also proved colossal as manager Ron Washington wanted to save closer Neftali Feliz for the final three outs, whenever those were to come. Tigers manager Jim Leyland didn't have that luxury and turned to
Jose Valverde
for two innings.
Valverde got through the 10th, but the Rangers shelled him in the 11th for four runs before he could get two outs.
Feldman's 10th, with a little help from his battery mate Napoli, cleared the way for the offensive fireworks.
Feldman got Inge on a bouncer back to the box for the first out. Then, on an 0-1 pitch, he inexplicably sailed one across
Austin Jackson
's chest to put the Tigers' best threat to steal -- and the potential winning run -- on first base.
"That's the last thing you really want to do there is give a guy a free pass," Feldman said, "especially with
Miguel Cabrera
lurking around there."
With
Ryan Raburn
at the plate and Cabrera, whom the Rangers walked three times and once intentionally with the bases empty, was on deck. On cue, Jackson took off for second base. He didn't make it. Napoli popped up and gunned him down for the second out of the inning, kicking the door open to get out of it without facing Cabrera, who doubled in two in the third.
"Nap bailed me out big time," Feldman said. "He made a great throw. Unbelievable throw really. That was huge."
Feldman then got Raburn to chase a fastball that tailed off the plate for his fifth postseason strikeout to end the inning.
And now Feldman, who hasn't allowed a run or a walk and has surrendered just one hit in 5 1/3 relief innings, is one win away from his first World Series.
"He's been a huge part of our team for a long time now,"
Michael Young
said. "When you have microfracture surgery that's no small thing. We all saw how good he was in 2009. He's shown many times what he means to this team. He's always been a great teammate. I think we're really happy now he's able to make contributions because he deserves it. He deserves the chance and he's capitalizing on it."
Just another family moment.
October, 12, 2011
10/12/11
11:45
AM CT
By
Jeff Caplan
| ESPNDallas.com
DETROIT -- Tigers manager Jim Leyland said designated hitter
Victor Martinez
and outfielder
Delmon Young
are receiving treatment and their status for this afternoon's Game 4 is uncertain.
"That's on hold," Leyland said.
Martinez injured his oblique on his home run swing in the fourth inning of Game 3 Tuesday night, gingerly jogging around the bases. Once in the duguot he slammed his helmet and immediately headed tot the trainer's room. He stayed in the game, drawing a walk in the fifth and flew out in the seventh.
Martinez hit cleanup in Game 3 with usual three-hole hitter Delmon Young out again with his own oblique injury suffered in Game 5 of the ALDS. Initially left off the ALCS roster, Young was added when
Magglio Ordonez
fractured his ankle and was removed from the roster after Game 2. Young played in Game 2, but was not effective at the plate and was held out of Game 3.
Other Tigers notes:
* Leyland acknowledged that ace
Justin Verlander
is "a little tired," and that's why the manager chose not to use the 24-game winner in Game 4 on short rest. Verlander will pitch Game 5 at Comerica Park on normal rest. Leyland said Verlander wanted to pitch today, and while he respects that, Leyland said the right decision for Verlander and the team is to give him another day.
"I think he's going to pitch great," Leyland said.
Rick Porcello
will start today's game. He pitched to effective innings in relief in Game 1.
* As if the Tigers don't have enough injury woes, workhorse catcher
Alex Avila
has been struggling and Leyland said, "he's pretty well banged up." But, that won't keep Avila out of the lineup it appears for today's critical Game 4.
October, 11, 2011
10/11/11
12:00
PM CT
By
Jeff Caplan
| ESPNDallas.com
ARLINGTON, Texas -- Take your pick on chances the
Detroit Tigers
had to score and failed -- particularly in the first two innings of Games 1 and 2 -- but they've got to be second-guessing the ninth-inning decision not send
Ramon Santiago
home.
With two outs in the top of the ninth of Monday's 3-3 tie, Santiago singled to bring up
Don Kelly
, who ripped a double off
Michael Gonzalez
into the right-field corner. Santiago rounded second, headed to third and looked to third-base coach Gene Lamont.
"With two outs, I'm expecting to score," Santiago said. "But I got the stop sign early, so I know it hadn't bounced around out there."
Texas Rangers
right fielder
Nelson Cruz
, the game's eventual hero with his 11th-inning grand slam, said he had bobbled it, but "Picked it up as quickly as I could."
Cruz made a strong throw to the cut-off man and had Santiago tried to score it did have the makings of a bang-bang play at the plate. However, at the rate the Tigers were producing runs this series, it might have been worth the risk.
Still, Detroit had AL batting champ
Miguel Cabrera
ready to swing the stick and that might have also figured into Lamont forcing Santiago to slam on the brakes. But, Cabrera was walked intentionally for
Neftali Feliz
to go after
Victor Martinez
, who popped out thanks to a circus catch made by
Elvis Andrus
to end the threat. In the bottom of the ninth, Detroit closer
Jose Valverde
pitched out of a bases-loaded, no-out jam.
Had Santiago made it home Detroit could have flown home with a series split.
Tigers manager Jim Leyland backed up his base coach, saying Santiago could not have scored.
"The ball came back to him," Leyland said of Cruz playing the bounce. "We were hoping it would kick back, but it didn't. It just came back to him and that's kind of the luck of the draw."
October, 10, 2011
10/10/11
11:57
AM CT
By
Jeff Caplan
| ESPNDallas.com
ARLINGTON, Texas --
Detroit Tigers
left-field and No. 3-hitter
Delmon Young
, left off the ALCS roster due to a strained left oblique, has replaced the injured
Magglio Ordonez
and will try to play in today's Game 2 against the
Texas Rangers
, who hold a 1-0 lead.
The Tigers announced this bit of surprising news Monday morning. ESPN.com's Jerry Crasnick reports that Young, who suffered his injury in Game 5 of the ALDS and had to leave the game,
is being pressed into action
because of the team'slack of alternatives in the minor leagues.
Leyland said that as it turns out, the injury is not actually the oblique, but rather soreness close to it. He said Young did not take any swings on Sunday, but that he feels OK to play.
The Tigers were down to bare bones. With
Brennan Boesch
already out for the season with a thumb injury, Detroit was down to
Austin Jackson
in center field,
Ryan Raburn
in left field, and lefty hitters
Don Kelly
and Dirks in right.
Clete Thomas
had been mentioned as a possibility to replace Ordonez, who re-injured his ankle in Game 1 and was removed after reaching first base on an intentional walk in the fifth inning. But, Thomas is a left-handed hitter and batted .251 with a .715 OPS in Triple-A.
Young worked out in Arlington on Friday and took some swings. Leyland said Young felt pretty good until he stiffened up. It prompted the Tigers to leave him off the ALCS roster hoping the Tigers could survive without him and then add Young to the World Series roster.
October, 8, 2011
10/08/11
5:28
PM CT
By
Jeff Caplan
| ESPNDallas.com
ARLINGTON, Texas --
Detroit Tigers
manager Jim Leyland has been around the big leagues a long time and he credits the turnaround of the
Texas Rangers
franchise to the club's skipper.
"Ron Washington is tremendous. He is a motivational guy. He knows what it's all about," Leyland before Game 1 of the ALCS. "In my opinion, Ron Washington is the guy that changed things around down here. I may be all wet because I don't know what goes on here, but I know him and he's all about doing things right. He's about winning. He's about holding people accountable. He's been unbelievable. He's done a fantastic job."
When Leyland managed the AL All-Star team in 2007 -- the year after he guided Detroit to the World Series, only to lose the Cardinals -- Leyland picked the rookie manager having a tough first season in Texas to be on his coaching staff.
"Ron is a friend of mine. I took him as my coach when I managed the All-Star Game a few years ago," Leyland said. "He was my first selection. I thought it would be a good experience for him. I thought he deserved it and I thought it would be good for him to be involved in something like that, and I don't think he ever forgot that.
"We're friends. We're not enemies tonight. We're friends that are managing against each other."
When Washington earned the right to coach this season's AL All-Stars, he followed the lead of Leyland and selected Toronto rookie manager John Farrell and Cleveland's second-year manager Manny Acta.
"Jim Leyland led me down this path," Washington said at the time. "When he told me he wanted me on his staff, he told me he always tried to get first-year managers because you never know if you are ever going to get back. I always remembered that."
September, 14, 2010
9/14/10
11:12
PM CT
ARLINGTON, Texas -- Crew chief Jerry Layne, the first-base umpire Tuesday, said he saw
David Murphy
's long fly ball go over the top of the foul pole and that's why he ruled it a home run.
He and two others on the umpiring crew looked at the replay, which is video sent from New York, and upheld the home run call.
"There was no evidence it was any different from what I had seen on the field," Layne said. You need reversible doubt to change the call. It's where the ball is going out of the ballpark, straight over the fence, that matters. And it basically went over the foul pole."
There was a lengthy delay, which didn't help starting pitcher
Jeremy Bonderman
, who ended up giving up four runs in the inning as the Rangers offense got going on the way to an 11-4 win.
Tigers manager Jim Leyland was not happy with the call and asked for the umpires to review it.
"What did you guys see?" Leyland said after the game. "You guys all saw it? Fair or foul? Foul ball? Then you don't have to ask me. You guys should write what you saw instead of asking me and you should voice your opinion and you should voice yours on the TV.
"You don't have to ask me because you saw it," Leyland said. "It's as simple as that. Why should I get involved in it and get in trouble over it when you guys saw it? Write it. Put it on TV and write it. It's that simple. You don't need my opinion. You guys saw it. It was a foul ball, so say it was a foul ball."
Murphy said he couldn't tell what the ball did because it started so far left. He thought it could have gone behind the pole, in front of the pole or over it.
But it ended up as his 10th homer and his first at home since Aug. 10 against the Yankees.