Texas Rangers:

Joaquin Benoit
October, 14, 2013
10/14/13
10:00
AM CT
By
Richard Durrett
| ESPNDallas.com
It was a memorable finish to Game 2 of the American League Championship Series at Fenway Park on Sunday night and a few former Rangers factored majorly in the outcome.
With Boston down 5-1 with two outs in the eighth inning and the bases loaded,
David Ortiz
came to the plate. Tigers manager Jim Leyland decided not to go with the left-hander
Phil Coke
and put closer
Joaquin Benoit
in the game to get four outs. Benoit, who made his big league debut with Texas in 2001 and played parts of eight seasons for the Rangers, gave up a game-tying grand slam to Ortiz on the first pitch he threw him.
Jarrod Saltalamacchia
, traded to the Red Sox for prospects
Chris McGuiness
and Roman Mendez prior to the trade deadline in 2010, hit a single to left (after fouling off a ball that was not caught by
Prince Fielder
near the seats down the first-base line earlier in the at-bat) to score the winning run in the bottom of the ninth.
When the Rangers acquired Saltalamacchia, he was the headliner of the
Mark Teixeira
deal with Atlanta. He was the name folks knew, at least. But the Rangers also got
Elvis Andrus
,
Neftali Feliz
and
Matt Harrison
(and Beau Jones) as part of that trade. Saltalamacchia never found his groove in Texas and, in fact, went through a period of the yips as a catcher before he was traded to Boston. (
You can read my story about that from a few years ago here.
)
I was glad to see Saltalamacchia come up with the big hit Sunday. He's worked hard and has overcome a lot to get where he's contributing on a contending team. And while Benoit gave up the pitch to Ortiz, he's established himself as the closer on a bullpen that has spent the entire season in flux.
It will be interesting to watch these two former Rangers in the ALCS as this series moves forward.
October, 15, 2011
10/15/11
4:29
PM CT
By
Jeff Caplan
| ESPNDallas.com
ARLINGTON, Texas -- Tigers manager Jim Leyland on Saturday afternoon first ruled out any chance that ace
Justin Verlander
could be available to pitch to even a single batter in a potential Game 7. Verlander threw 133 pitches in 7 1/3 innings in the Tigers' Game 5 victory.
"If you see Verlander pitch again this year it will be a good thing because we will be in the World Series," Leyland said. "He's done."
Leyland then laid out ideal Game 6 plans for his pen assuming starter
Max Scherzer
doesn't go a full nine for the first time in his career.
Rick Porcello
, who went 6 2/3 innings as the Game 4 starter, could be first up, followed by lefty
Phil Coke
, who dug himself a hole in the ninth inning before ending Game 5. Leyland would then turn to bullpen stalwarts
Joaquin Benoit
and closer
Jose Valverde
, both of whom have not pitched since Wednesday's Game 4.
Valverde remains perfect on the season in save situations, but he has been roughed up in other appearances, including allowing four runs in the Rangers' key Game 4 victory, capped by
Nelson Cruz
's three-run homer in the 11th inning.
October, 13, 2011
10/13/11
8:27
PM CT
By
Jeff Caplan
| ESPNDallas.com
DETROIT -- If
Koji Uehara
believed his manager had lost faith in him after Game 3, a third gopher ball served up in his third postseason appearance Thursday likely sealed his fate.
[+] Enlarge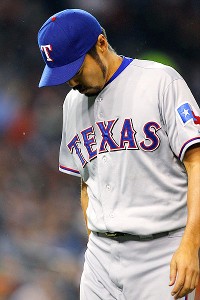 Rick Osentoski/US PresswireKoji Uehara is the first pitcher in major league history to allow a home run in three straight playoff relief apperances.
Ron Washington could have given
Yoshinori Tateyama
the ball in the seventh inning with the
Texas Rangers
trailing the
Detroit Tigers
, 6-2, in a wild Game 5 that turned upside-down in the sixth with four Tigers runs. Washington, though, went back to Uehara, whose psyche at this point might be as damaged as his fastball.
"I gave up a home run, so I'm not convinced of that pitch," Uehara said of the 90 mph fastball that
Ryan Raburn
hit out. "I'm struggling right now."
Which makes it a bit of a mystery as to why Washington went back to the right-hander acquired in a deadline deal from Baltimore. The call for Uehara became even more debatable as the Rangers clawed back to 7-4 in the eighth and then 7-5 in the ninth -- the eventual final score -- with the go-ahead run at the plate.
Clearly, Washington preferred not to employ
Mike Adams
,
Scott Feldman
or
Alexi Ogando
at that point with a four-run deficit, even though the teams get a travel day Friday before the ALCS resumes with Game 6 on Saturday night in Arlington.
So the struggling Uehara got the call, maybe a last hope for Washington that the reliever would snap back. He got
Austin Jackson
to swing-and-miss for strike three. But then came the psyche crusher: Ryan Raburn jumped on Uehara's first-pitch fastball and it was 7-2.
Then came a five-pitch walk to
Miguel Cabrera
. Uehara got
Victor Martinez
to pop up and then Washington came to the mound and called for the left-hander
Mike Gonzalez
to pitch to left-hand-hitting
Don Kelly
, a defensive replacement in the top half of the inning for
Delmon Young
.
Uehara has allowed a home run in all three of his postseason outings. According to the Elias Sports Bureau, he is the first pitcher in major league history to allow a home run in three consecutive postseason relief appearances.
"Obviously, Washington gave me three chances to prove myself, but I haven't been able to produce," Uehara said. "I feel badly."
Uehara said he will always be ready, but it would seem the Rangers' bullpen will consist of one less option for Game 6 and, if necessary, a do-or-die Game 7 on Sunday.
The Rangers should be in good shape. Adams pitched a quick eighth inning, allowing a one-out base hit, but induced a double-play ball to get off the field in 10 pitches. So it sets up a rested Feldman, Ogando, Adams and closer
Neftali Feliz
for a second shot at clinching the AL pennant.
How those four are used will depend upon how deep starter
Derek Holland
can go.
The Tigers' bullpen should also return to full strength. Manager Jim Leyland did exactly what he said he wanted to before the game: let
Justin Verlander
go as long as he could and finish up with
Phil Coke
. It played out as scripted, perhaps with a bit more late drama than Leyland would have liked, but it allowed
Joaquin Benoit
and closer
Jose Valverde
to now have full days to recover from a heavy workload through the first four games.
"We did exactly what we felt we had to do to give ourselves any chance to win the series," Leyland said.
As the former Rangers pitcher Benoit said after Game 3, this series will go how the bullpens go.
October, 13, 2011
10/13/11
12:09
PM CT
By
Jeff Caplan
| ESPNDallas.com
DETROIT -- Tigers manager Jim Leyland ruled workhorse relievers
Joaquin Benoit
and closer
Jose Valverde
out for today's crucial Game 5, a potential damaging blow to Detroit's hopes of staying alive.
"Truthfully," Leyland said, "I want to try to get through this game today with Verlander and Coke."
Leyland wasn't smiling.
Detroit's skipper is putting full faith in ace
Justin Verlander
, a 24-game winner who has proved mortal so far this postseason, can take it deep enough to hand off to
Phil Coke
to finish the job and return the series back to Texas.
Coke has allowed one hit in 1 2/3 innings of work in the ALCS. He retired both batters he faced in Game 4.
Verlander is just hoping he can pitch a game without it being interrupted and then shortened by rain. He pitched eight innings in Game 3 of the ALDS, but lost a 4-2 lead before the Tigers' offense came through for the 5-4 lead with Verlander wearing his heart on his sleeve and throwing 120 pitches.
Benoit has thrown four innings over the last three games, including two in Game 4. Valverde also pitched in the last three games totaling 4 1/3 inning. That burden caught up to him in the top of the 11th Wednesday night as the Rangers struck four four runs, including Nelson Curz's three-run blast that busted the game open.
October, 11, 2011
10/11/11
11:43
PM CT
By
Jeff Caplan
| ESPNDallas.com
DETROIT -- With heavy eyes and a soft voice, beleaguered
Texas Rangers
reliever
Koji Uehara
sounded like a man who doesn't expect to pitch again in the postseason.
"I have to say there's no confidence from the dugout, from Wash," Uehara said, explaining through a translator how he believes manager Ron Washington must feel after another disappointing outing in Tuesday's 5-2 loss in Game 3. "I have to say that."
Uehara is probably right. Called upon with two outs in the sixth inning to prevent further damage after the
Detroit Tigers
took a 3-1 lead and knocked starter
Colby Lewis
out, the Japanese right-hander immediately coughed up an RBI single to
Austin Jackson
on a 1-2 fastball. Uehara got the third out and Washington, knowing the heavy lifters in his bullpen had plenty of burn in the first two games, stuck with Uehara in the seventh.
[+] Enlarge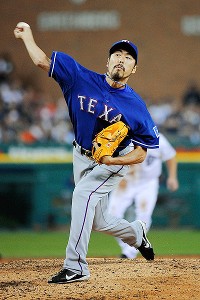 Kevork Djansezian/Getty ImagesKoji Uehara lasted just 2/3 of an inning and inflated his postseason ERA to 13.50.
Miguel Cabrera
led off and likely sealed Uehara's fate. The AL batting champ crushed Uehara's 83 mph splitter, a moon-shot high and deep that disappeared into the Comerica Park lights. Long gone. 5-1. Series lead slit to 2-1.
For the first time, the ballyhooed Rangers bullpen that came into Tuesday's game boasting a dozen-plus innings of scoreless ball, didn't come through. For Uehara, a blaze of smiles and high-fives when pitching well, such failures have become a recurring nightmare, and he feels the pain.
"Everything went wrong. That's why the result came out the way they did," Uehara said of his outing that lasted just 2/3 of an inning and inflated his postseason ERA to 13.50. "The results tell me that ever since I came here I haven't been able to produce."
Worse, he doesn't know why.
"If I knew; I wish I knew," Uehara lamented.
Washington opted not to turn to
Alexi Ogando
in the sixth inning and trailing. Ogando had pitched 3 2/3 innings in the first two games and with the prospect of two more games on consecutive days, Washington knew he will need his highly effective flamethrower.
Scott Feldman
pitched four-plus innings of scoreless relief in Monday's Game 2 and was unavailable.
By the time the seventh and eighth innings rolled around, the score dictated that Washington leave
Mike Adams
and closer
Neftali Feliz
untouched. A full bullpen should be rested and ready for Wednesday's critical Game 4.
The Tigers, meanwhile, again received the better starting performance from the former Seattle Mariner
Doug Fister
, who allowed two runs in 7 1/3 innings. Former Rangers reliever
Joaquin Benoit
and closer
Jose Valverde
, who remained perfect in save situations this season finished the job in orderly fashion.
"I don't see any difference," Benoit said in comparing the two pens. "When the game is on the line, they have their guys and we have our guys. Whatever the bullpens do is how these games are going to go."
October, 26, 2010
10/26/10
11:31
AM CT
By
Jeff Caplan
| ESPNDallas.com
SAN FRANCISCO -- Getting the
Barry Bonds
treatment off the field could lead to a Congressional hearing, legal red tape and various other headaches and health ailments. Getting the Barry Bonds treatment on the field, however, is the ultimate sign of respect.
In the 2002 World Series between
Bengie Molina
's Angels and the
San Francisco Giants
, the Angels, burned one too many times by a Bonds home run, chose to intentionally walk him instead of giving him a chance to rip another.
In the ALDS, the
Tampa Bay Rays
didn't go that far, but they did refuse to give him anything good to hit. They threw Hamilton mostly off-speed pitches and almost all out of the zone. The strategy worked as Hamilton went fishing too often and finished the five game series with two hits.
Rangers president Nolan Ryan remembers watching in awe as Rays reliever
Joaquin Benoit
threw Hamilton five consecutive changeups.
"I was sitting here thinking, 'Have I ever seen another hitter in the game get five straight changeups?' And I thought, 'Not that I could recall.' So, I think that shows the respect and attitude of the opposing teams towards him."
In the ALCS, the
New York Yankees
went full-on Barry Bonds with Hamilton. In Game 6, the Yankees intentionally walked Hamilton three consecutive times, preferring to face clean-up hitter
Vladimir Guerrero
instead. Hamilton said he didn't expet to get the Bonds treatment from the Yankees.
"No," Hamilton said. "But then again I don't get paid to manage a ballclub, probably never will. They did what they thought was the right move."
The second intentional free pass backfired. Guerrero blasted a double to deep center to score two to break a 1-1 tie and ignite a four-run inning the ALCS clincher.
"I knew Vladdy was going to get them," Hamilton said. "You can't do it to him too many times. He's going to get upset as far as wanting to show them he can do it. That drive that Vladdy has has got him through a long career."
How strange would it be if the Giants of all teams give Hamilton the Bonds treatment?
February, 16, 2010
2/16/10
3:34
PM CT
By
Richard Durrett
| ESPNDallas.com
I've always been a
Joaquin Benoit
fan. He's a good guy and, at times, certainly showed some great stuff. It was disappointing that after such a solid 2007 season (he was named Rangers' pitcher of the year by the Dallas-Fort Worth chapter of the BBWAA that year). He was 7-4 with a 2.85 ERA and 87 strikeouts in 82 innings. It helped him get a new contract (2 years, $6 million).
But a shoulder injury slowed him in 2008 and he didn't play in 2009. The Tampa Bay Rays are taking a chance on him for $750,000 if he makes the roster. He could earn another $500,000 in bonuses,
according to this story in the St. Petersburg Times.
Let's hope Benoit bounces back with a great season.