Texas Rangers:

John Danks
August, 25, 2013
8/25/13
9:30
AM CT
By
Todd Wills
| ESPNDallas.com
The Rangers go for the series win on Sunday afternoon as right-hander
Matt Garza
faces
Chicago White Sox
left-hander
John Danks
at 1:10 p.m. on Fox Sports Southwest and ESPN Dallas 103.3 FM and 1540-AM.
Garza (9-2, 3.59):
The Rangers are 5-1 in Garza's six starts, even though he has allowed four earned runs or more in his last four outings ... Garza will have his fourth season of his career with 10 victories if he wins Sunday ... It will be his first since going 10-10 in 2011 ... He is 8-1 with a 2.74 ERA for 12 starts for the Rangers and Cubs going back to June 16 ... Garza is 2-1 with a 5.60 ERA for August ... He allowed five earned runs in 6 2/3 innings in a 16-5 victory over Houston ... He did give up four runs with the Rangers leading 15-1 in the seventh as he tried to save the bullpen from throwing an extra inning ... Garza beat the White Sox at U.S. Cellular Field in July pitching for the Cubs, allowing on earned run in seven innings ... He allowed a solo home run to
Josh Phegley
, who had the walk off winner Saturday night ... Garza is 3-0 with a 2.89 for five career starts at U.S. Cellular.
Danks (3-10, 4.22):
Danks, a former Rangers' first-round pick from Austin, had eight shutout innings Tuesday against the
Kansas City Royals
... He allowed seven hits and issued one walk in a 2-0 victory over the Royals ... He didn't allow a base runner to reach third base ... Danks is 1-2 with a 3.18 ERA in August ... He's allowed 22 home runs in 111 innings ... Danks is 2-4 with a 4.04 at home ... He will make his first start this season against the Rangers.
Hitters:
Paul Konerko
is 7-for-15 with three home runs and seven RBIs against Garza. The current White Sox are batting .299 against the Rangers' right-hander.
April, 7, 2012
4/07/12
5:13
PM CT
ARLINGTON, Texas -- Rangers manager Ron Washington knew he wanted
Craig Gentry
and
Josh Hamilton
in the outfield with Texas protecting a one-run lead in the final few innings.
But it was Hamilton and Gentry that decided who played where Friday. And that was just fine with the manager. Hamilton told Washington that Gentry was more comfortable in center and that he had no problem playing left. That's what happened as the Rangers won, 3-2.
"I said, 'Thanks, Hamilton. I love you,'" Washington said. "I wasn't going to move Hamilton out of center field. I'm glad he made the decision; he and Gentry."
Washington said he was pleased that Hamilton and Gentry took it upon themselves to make sure they were comfortable where they were. He wanted both of them in the outfield and didn't feel strongly enough about where they were positioned to alter what they discussed.
"I'm not going to overrule my players when they think something is best," Washington said. "They thought that was best. I love them for it."
Washington added that he wants his players in positions where they are most comfortable when that's possible. And that was the case with Gentry and Hamilton on Friday.
Washington said Gentry and Hamilton will probably be in the game late with a slim lead when Murphy starts, as long as Murphy doesn't have an at-bat coming up.
"If we go into the eighth and Murphy has already hit, I'm going to go with the defense," Washington said. "If Murphy still has an at-bat, I'll let him hit and then pinch-run with Gentry."
Other notes:
* Washington wants to try to get every player involved in the game in the first week, if possible. That doesn't mean every player will start, but bench players will get in the game when Washington feels like he can make it happen.
"Everyone can get the jitters out, the butterflies out," Washington said. "When I came to the big leagues, I remember every year the manager got me in the game at some point the first week. I might have sat for another two weeks, but I got in there the first week. It's important for every guy that's here to at least get out there and get a feel."
*
Elvis Andrus
bunted on his own in the first. Washington said he was giving Andrus a chance to get the runner to third by hitting to the right side, but Andrus decided the best way to do that was bunting.
"What a team player," Washington said. "When you're facing a [John] Danks, a
Cliff Lee
, a
Roy Halladay
, the best in the business, when you're facing those kind of guys, I'm all for it."
* Washington said he's comfortable going consecutive days with any of the three relievers he used on Friday --
Alexi Ogando
,
Mike Adams
and
Joe Nathan
. He wanted to be sure they lined up in the opener with the game on the line and by pitching all three, they are ready for today because none of them pitched more than one inning.
* The Rangers get their rings tonight for winning the AL for a second straight year.
"Not winning the World Series doesn't dampen what that ring represents," Washington said. "We're still champions."
April, 6, 2012
4/06/12
10:00
AM CT
ARLINGTON, Texas -- Each day, as we have for the past two seasons here on ESPN Dallas, we'll give you just a brief look at the pitching matchups. Here's some information on the two Opening Day hurlers for the
Texas Rangers
and
Chicago White Sox
:
Colby Lewis:
The 32-year-old makes his first Opening Day start after being a solid, veteran anchor the past two seasons. Lewis has pitched at least 200 innings in each of the past two seasons and has been the club's top postseason starter (4-1, 2.34 ERA in eight playoff starts). ...Lewis is the 23rd different Opening Day starter in club history. ...He's 2-3 with a 5.93 ERA in eight career games (41 innings) against the White Sox, including a 2-3 mark and a 6.16 ERA in six starts. ...He had just one start against Chicago last season and pitched a five-hit, complete-game shutout at U.S. Cellular Field on May 16. ...He was 1-2 with a 6.00 ERA in four Cactus League starts.
John Danks:
The former Ranger (and Austin native) says he'll have plenty of fans at the park on Friday. ...He was 8-12 with a 4.33 ERA in 27 starts in 2011. He has made at least 26 starts in all five of his seasons in Chicago and won 15 games in 2010. ...Danks is 1-4 with a 3.81 ERA in eight starts (52 innings) in his career against Texas. He's got a 4.68 ERA in Arlington. ...In three starts in 2011 against the Rangers, Danks was 0-1 with a 3.38 ERA. He allowed four home runs in those 21 innings.
Hitters:
2B
Ian Kinsler
has had plenty of success off Danks, hitting .360 (9-for-25) with three homers and five RBIs. ...RF
Nelson Cruz
(6-for-17) and CF
Josh Hamilton
(5-for-14) have also had success against Danks. ... C
A.J. Pierzynski
is 5-for-15 off Lewis. ...
Paul Konerko
is just 3-for-19 against him.
Up next:
Saturday vs. CWS (7:05 p.m., FSSW): LHP
Derek Holland
vs. RHP
Jake Peavy
Sunday vs. CWS (7:05 p.m., ESPN): LHP
Matt Harrison
vs. RHP
Gavin Floyd
Monday vs. SEA (7:05 p.m., FSSW): RHP
Yu Darvish
vs. RHP
Hector Noesi
Tuesday vs. SEA (7:05 p.m., FSSW): RHP
Neftali Feliz
vs. RHP
Blake Beavan
Wednesday vs. SEA (7:05 p.m., FSSW): RHP Colby Lewis vs. RHP
Kevin Millwood
Thursday vs. SEA (1:05 p.m., FSSW): LHP Derek Holland vs. LHP
Jason Vargas
NOTE: All games are on ESPN Dallas 103.3 FM and we will be chatting live on ESPN Dallas as well.
April, 6, 2012
4/06/12
8:00
AM CT
ARLINGTON, Texas -- There was a time, back when
John Danks
was a celebrated member of "DVD" -- Danks,
Edinson Volquez
and
Thomas Diamond
, a trio of Rangers pitching prospects before the club reached contender status -- that he dreamed of wearing a Rangers uniform and pitching in front of a sellout crowd at Rangers Ballpark in Arlington.
He's been back, of course, many times in his five years since being traded to the
Chicago White Sox
as part of the deal that brought
Brandon McCarthy
to the Rangers in 2006, one of GM Jon Daniels' early -- and unsuccessful -- moves. McCarthy was the Opening Day starter for the Oakland A's this season.
"That's the only team I knew at the time and I wanted to be a Ranger at that time," Danks said. "I wanted to get to the big leagues. Never did I imagine being traded to Chicago. That's not just something you think about."
Danks doesn't know too many folks that are with the Rangers anymore. It's been five years, after all. And the club has gone from a bottom-dweller in the AL West to the two-time defending AL champions. Still, Texas is home for Danks and he'll have lots of family and friends in Arlington to see him pitch Friday afternoon. He grew up in the Austin area and attended Round Rock High School. Texas drafted him ninth overall in the first round of the 2003 MLB Draft.
For Danks, it was a chance to play for the team he grew up rooting for as a kid. He said he attended many games at Rangers Ballpark in Arlington.
"I love it," Danks said about the park. "We came here a lot as a kid. It's always exciting coming here as a kid, and it's been exciting for me to come here as a player, just because I'm so close to home, there's always people up here, and like I said, I'm hoping to throw well."
Danks is hoping to reverse of trend of struggles against the Rangers in Arlington. He is 1-4 with a 4.68 ERA in five starts. He has 26 strikeouts and eight walks and allowed five homers in those starts.
April, 5, 2012
4/05/12
8:00
AM CT
FRISCO, Texas --There is one more pitching outing left for the Rangers prior to the start of the 2012 regular season.
Weather permitting, the Rangers expect starter
Neftali Feliz
to pitch a simulated game, 60-65 pitches, at the Ranger Ballpark this morning. The session should end around 9:30 a.m., and then Feliz will join his teammates at a banquet.
Feliz is scheduled to pitch Tuesday vs. Seattle.
Manager Ron Washington said the young starter's simulated game should be the finishing touches to make sure he's ready for the 2012 season.
"Yes because last time he did close to 90 [pitches] and we got him where we wanted to get him," said Washington, alluding to Feliz's last start of the spring. "I think he did a good job of making adjustments. He's coming along. The first inning, last time out, he had out there was rough. He got out of it with minimal damage, and then the next three innings he [looked] pretty good using his stuff."
Here's the rotation to start the season, with the opposing pitcher:
Friday-Saturday, Rangers vs. White Sox
Monday-Thursday, Rangers vs. Mariners
December, 22, 2011
12/22/11
4:06
PM CT
A couple of pitchers the Rangers had interest in before they posted the winning bid for Yu Darvish made some news today. That starts with
Gio Gonzalez
, perhaps the top pitcher on the trade market.
The young left-handed pitcher, who is under team control through the 2015 season,
is reportedly heading
to the
Washington Nationals
in a five-player deal. The A's receive: RHPs A.J. Cole and
Brad Peacock
, LHP Tom Milone and C Derek Norris.
So Gonzalez is out of the AL West (and the AL as a whole), but the A's continue to build up their minor-league system.
As for Danks,
a source tells ESPNChicago.com's Bruce Levine
that he's agreed to a five-year contract extension with the White Sox. The former Rangers first-round draft pick (No. 9 in 2003) agreed to a deal worth $65 million.
December, 15, 2011
12/15/11
12:20
AM CT
[+] Enlarge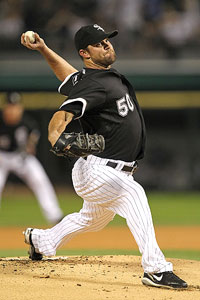 Jonathan Daniel/Getty ImagesJohn Danks has a track record of success against the AL West.
We continue our offseason look at possible trade targets or free agents still on the market that might interest the Rangers. One player they have some interest in is pitcher
John Danks
. So let's take a quick look at him.
Danks, 26 (and an Austin native), was hampered a bit in 2011 by a strained right oblique muscle. He was 8-12 with a 4.33 ERA last season with 135 strikeouts and 46 walks in 170 1/3 innings. That included two complete games.
In the three previous seasons, Danks steadily increased his win total with 12 in 2008, 13 in 2009 and 15 in 2010 with ERAs all under 3.80. He had a .237 opponent batting average in 2010, which was 11th best in the AL.
Why he makes sense:
The club knows him, having drafted him ninth overall in 2003. He's a left-handed pitcher and is 15-13 with a 2.97 ERA against the AL West in his career. It drops to 2.75 when you take out the Rangers. He has three solid seasons under his belt (even before last year) and pitched at least 195 innings from 2008 to 2010.
Why he might not make sense:
The question the Rangers have to ask is whether a pitcher they are acquiring is significantly better than what they have now. Does Danks fall into that category? He's got more of a track record than the four youngters on the staff, but several of them are in the same spot that Danks was a few years ago. Texas might prefer to see how the young staff does rather than replace one of them with Danks. Also, Danks is arbitration-eligible this season and then becomes a free agent, so he's not someone that is under club control for a while.
August, 20, 2011
8/20/11
1:00
PM CT
The second game of the Rangers' three-game set with the White Sox features RHP
Alexi Ogando
and LHP
John Danks
. A quick look at the matchup:
Ogando (12-5, 3.33 ERA):
He's trying to become the first Rangers starter to reach 13 wins this season and just the ninth Rangers right-hander to reach that mark over the last 10 seasons. ... He got a win Monday at Los Angeles, allowing four runs on eight hits in 6 1/3 innings with two walks and two strikeouts. Ogando benefited from the Rangers' big fifth inning (six runs scored). ... Ogando is eighth in the AL in opponent on-base percentage (.286). ... He has allowed a season-high eight hits in three straight starts. ... He is 1-0 with a 0.00 ERA (11 innings) in three games against the White Sox, including one complete-game shutout in his lone start this season against them.
Danks (5-9, 3.95 ERA):
The 26-year-old Austin native and former Rangers farmhand is coming off a solid start against Kansas City. He allowed two runs on four hits in six innings with four walks and six strikeouts in a 6-2 victory. ... Danks has quality starts in six of his last nine outings since the beginning of June. ... Danks made two starts against the Rangers in May and had one loss and one no-decision. He gave up seven runs (six earned) on 13 hits in 14 1/3 innings with five strikeouts and eight walks. ... Danks has a 3.13 ERA at home and 4.95 on the road.
Hitters:
Several Rangers hitters have had success off Danks, including
Elvis Andrus
(5-for-11),
Josh Hamilton
(5-for-11),
Nelson Cruz
(5-for-14) and
Ian Kinsler
(6-for-22). ...
Mike Napoli
is just 3-for-18 with nine strikeouts against Danks. ... The White Sox are just 6-for-32 off Ogando.
Gordon Beckham
is the only Chicago player with more than one hit. He's 2-for-2 with a walk.
May, 23, 2011
5/23/11
9:14
PM CT
By
Randy Jennings
| ESPNDallas.com
ARLINGTON, Texas--
Josh Hamilton
and
Nelson Cruz
each homered in their respect returns from the disabled list as the Rangers defeated the White Sox, 4-0, Monday night in front of 30,861 at Rangers Ballpark.
The fans gave Hamilton, the reigning American League MVP, a standing ovation when he was introduced. They had barely settled into their seats when his home run in the first inning had them right back up again.
Hamilton's first home run of the season carried 358 feet over the right-field wall off left-hander
John Danks
.
Cruz answered Hamilton in the sixth with a 402-foot blast into the seats in left field with
Adrian Beltre
aboard. It was No. 8 on the season for Cruz.
Hamilton doubled in the eighth and scored the final run on Beltre's sacrifice fly.
* Excellent starts are something Rangers fans have come to expect from
Alexi Ogando
(5-0.)
Ogando did his best pitching with men on base. The White Sox put their leadoff man on base in four of the first five innings but got nowhere.
Ogando follows a recent trend of strong pitching by Rangers starters. It is the eighth straight game the Rangers starter has gone at least 6.2 innings. And that's 12 straight games the Rangers have allowed no more than four runs.
Ogando stranded runners at first and third in the fifth by getting a soft comebacker from
Juan Pierre
for the third out. That turned out to be the most serious threat of the night -- Ogando allowed five hits and struck out six.
It was Ogando's first career shutout and the first at home by a Rangers pitcher since 2008.
*
Michael Young
, making his 12th> start at first base, started a snappy double play in the third inning. Young was holding runner
Gordon Beckham
and grabbed a one-hopper off the bat of Pierre. He stepped on first to get Pierre and made an accurate throw to
Elvis Andrus
in plenty of time to apply a tag on Beckham.
Young had trouble on a couple of foul popups in the fourth and sixth innings.
* No matter where the Rangers put
David Murphy
in the outfield, he seems to do an above-average defensive job.
Getting the chance to play center tonight, Murphy made an outstanding play in the fourth inning.
He raced to his right to cut off a ball hit by
Paul Konerko
, made a spin and released a perfect throw to
Ian Kinsler
, covering second. Konerko was trying to stretch the single and was called out.
May, 23, 2011
5/23/11
10:00
AM CT
After salvaging something of their three-game series in Philadelphia, the Rangers come to the ballpark looking to extend their winning streak after ending a three-game slide overall. The return of
Josh Hamilton
and
Nelson Cruz
from the disabled list on Monday should help the lineup.
Alexi Ogando
, who takes on Austin native
John Danks
, hopes to benefit. Here's the matchup:
Alexi Ogando (4-0, 2.13):
While he's undefeated overall, the right-handed throwing Ogando is 3-0 with a 1.48 at the ballpark. In relief last year, he pitched two scoreless innings vs. the White Sox. ... In his last five outings, Ogando is 2-0 with a 2.01 ERA where he's allowed just seven earned runs over 31 1/3 innings. ... He threw a career-high 116 pitches in a no-decision vs. Kansas City last Wednesday. Ogando had retired 14 consecutive batters between the second and seventh innings. .... Ogando said he's solved his blister problems by taking a supplement.
John Danks (0-6, 4.32):
In his last start, Tuesday vs. Texas, Danks walked a career-high six batters and gave up three runs on four hits in 6 1/3 innings. Despite the issues, the White Sox's won the game, 4-3. It was the first time this season the team won a game in Danks' nine starts. ... Danks has thrown at least 100 pitches in eight of his nine starts. He threw a season-high 113 in his last outing vs. the Rangers. ... The White Sox had scored a total of nine runs in his five previous starts until last week when they earned the victory by getting four.
May, 17, 2011
5/17/11
9:57
PM CT
By
Bryan Dolgin
| ESPNDallas.com
CHICAGO -- The Rangers lost to the
Chicago White Sox
, 4-3, on Tuesday night as the teams split a two-game series.
Three of the six Rangers who drew a walk off of White Sox starting pitcher
John Danks
came in to score. For Danks, those six free passes (one intentional) were a season high and matched his career high (third time).
Endy Chavez
led off the game with a free pass, and he later scored on a double play hit into by
Ian Kinsler
. Danks later walked the lower third of the lineup with two outs in the second inning, and
Mike Napoli
scored when shortstop
Alexei Ramirez
mishandled a Chavez grounder.
David Murphy
drew a lead-off walk in the fourth, and he scored on Yorvit Torrealba's sacrifice line drive to left. Danks, a Rangers first-round pick in 2003, pitched 6.1 innings and remains winless in 2011.
Matt Harrison
cruised through four. In the fifth,
Brent Morel
hit a 1-2 pitch for three-run home run that was a line drive to left-center. Morel was the No. 9 hitter, and it was his first home run of the season. Two walks contributed to the six-batter inning for Harrison. The lefty worked seven innings without a decision.
Cody Eppley
pitched in relief of Harrison, but he walked the lead-off man in the eighth -- Gordon Beckham. One out later, he moved to third base on the first hit for
Dallas McPherson
as a White Sox. Then, Eppley uncorked a wild pitch for a 4-3 White Sox lead. Eppley took the loss and dropped to 1-1.
* Chavez began this major league season going 0-for-9. Since then, he is 5-for-9 with one walk, two doubles, three singles (two on bunts) and three runs scored.
* Michael Young's single in the eighth extended his road hitting streak to 17 games. In the base-running department, Young advanced to second on the
Beltre
fly out to deep right field.
* Torrealba is 3-for-23 with runners in scoring position this season. He popped to short to end the seventh with runners at the corners.
*
Mitch Moreland
, who has endured soreness in his left leg, pinch-hit in the ninth inning and grounded out to second. He hadn't played since Saturday.
* The Rangers were 0-for-6 with runners in scoring position Tuesday night.
July, 3, 2010
7/03/10
11:05
PM CT
By
Jeff Caplan
| ESPNDallas.com
ARLINGTON, Texas -- Rangers manager Ron Washington paid pitcher Tommy Hunter the ultimate compliment after he improved to 5-0 and dropped his ERA to 1.98 on the season with another efficient outing, this time a 3-1 victory Saturday night over the Chicago White Sox.

"He's a pitcher," Washington said.

Hunter, who faced the White Sox for the first time in his career, said he didn't have command of his cutter early on, so he went to his four-seam fastball until his cutter came back later in the ballgame. Whatever he was throwing, he was in command, giving up nine hits, all singles in seven-plus innings, while never really facing any threatening situations. The lone run charged to him scored after he left and was aided by a balk called on Frankie Francisco that moved the runners to second and third.

Then Hunter paid pitching coach Mike Maddux the ultimate compliment.

"Mike puts together a really good game plan. He knows exactly what we can do. We go in there at 6 o'clock and he goes over each and every hitter and he tells you exactly what you can do," said Hunter, who also celebrated his 24th birthday Saturday. "And if you go out there and do exactly what he says, it works."

Hunter said newly acquired catcher, veteran Benjie Molina, asked him if he planned to ever veer from Maddux's game plan.

"I said, 'No, just do exactly that.' He said, 'You're serious?' I said, 'Yeah, it works, I promise you,'" Hunter said. "He [Molina] knew it tonight and he just went out and kept doing it, and kept doing it. He kept doing the same thing over and over, repetitively; just mixed in a few different pitches and the end result, what Mike says to do, nine times out of 10 it's going to work."

Hunter has won five of his six starts and he's won all five games at Rangers Ballpark allowing just seven earned runs in 34 innings. He didn't join the club until June 5 because of a left oblique strain he sustained in spring training. He's not an overpowering pitcher, but he's making batters work and he's not giving them free passes. Hunter walked one and struck out three on Saturday.

"He's pounding the strike zone, not making mistakes in the middle of the plate, executing his pitches," Washington said. "When you do that you get the results he's getting. Right now, he's executing very well, throwing strikes, keeping the ball in play. He's doing everything you like to see a pitcher do."

After allowing the first two batters in the eighth inning to get on base, Washington ended Hunter's night after 94 pitches. The 25,986 in attendance gave Hunter a standing ovation.

"It's fun, hell yeah, it's awesome," Hunter said of the standing-O. "I remember the worst standing ovation I ever got was in Boston when I gave up 11 runs. So, it's a lot better when you're doing well than when you absolutely suck and give up 11 runs to the other team. It's always fun, especially when the fans give you appreaciation. They're good fans, real good fans. I like Texas."

And the Texas hitters like Hunter. The 6-foot-3, pudgy 280-pounder outdueled Chicago lefty John Danks, who shut down the Rangers' meat of the order. Michael Young, Ian Kinsler, Vladimir Guerrero and Josh Hamilton combined to go 1-for-12 at the plate. The Rangers eeked out two runs on ground outs and a third on Elvis Andrus' bloop beyond the shortstop.

"He attacks the zone with all his pitches. When he's doing that he's keeping hitters off-balance," said second baseman Ian Kinsler, who was 0-for-2 with a pair of walks. "That's basically what it comes down to. He's not scared and he trusts his stuff."

*Hunter did have one thing not go his way. For the first time in his six starts, Josh Hamilton failed to hit a home run.

*Hunter called Molina a "game-changer" behind the plate: "He's good. He receives well, like really well. He got some strikes called tonight that probably weren't strikes."

*Manager Ron Washington argued the balk called on Francisco in the eighth inning by home plate umpire Fieldin Culbreth: "I wasn't sure if he balked. When he explained it to me, [he told me] exactly what happened. He picked up his feet, put it back down in front of the rubber and then twisted."

*The Rangers were outhit 10-6, they hit into three double plays and their Nos. 2, 3, 4, and 5 hitters went a combined 1-for-12. Yet, the Rangers still managed to get the victory. Texas got two runs on ground outs, both from the eight-hole hitter. Joaquin Arias, who started at first base, grounded out to shortstop that scored the runner from third, and in the seventh inning, pinch-hitter Justin Smoak grounded one close enough to the third-base line that third baseman Dayan Viciendo couldn't throw home and had to get the double play while surrending the run that might it 2-0.

"It's huge," Washington said of squeezing runs out of the bottom of the order. "It doesn't matter how you get them as long as you get them."

July, 3, 2010
7/03/10
10:30
AM CT
ARLINGTON, Texas – Saturday's pitching matchup provides evidence that the Rangers no longer have problems developing pitchers.
The starters for the White Sox and Rangers are both successful products of the Rangers' farm system.
LHP
John Danks
(7-6, 3.62 ERA): The Danks-for-
Brandon McCarthy
deal just keeps looking worse for Jon Daniels every year, huh? The lefty former Rangers first-round pick has established himself as a legitimate middle to top-of-the-rotation starter over the last three years. However, he's coming off a rough start. Danks allowed six runs on seven hits in five innings during a loss to the
Chicago Cubs
. It was only the third time this season that he gave up more than three runs. Danks hasn't been dominant on the road this season (3-2, 4.50 ERA).
RHP
Tommy Hunter
(4-0, 2.15 ERA): The rotund righty has had four quality starts in five appearances since being called up from Triple-A. The exception came when he had to leave a start early due to a minor hip injury. Hunter, who got an extra day of rest, has yet to allow more than two earned runs in a major league start this season. He has excelled at Rangers Ballpark in Arlington, going 10-3 with a 2.81 ERA in his last 10 home starts.
Hitters:
Alex Rios
is the only member of the White Sox who has faced Hunter. He is 1-for-2 with an RBI single against Hunter. …
Vladimir Guerrero
has only four hits in 18 at-bats against Danks, but two of those were home runs. …
Elvis Andrus
is 3-for-3 with a walk against Danks. …
Michael Young
hasn't had much success against the lefty: 2-for-10 with five strikeouts.