Texas Rangers:

Johnny Damon
July, 19, 2012
7/19/12
11:00
PM CT
By
Richard Durrett
| ESPNDallas.com
We're less than two weeks away from the July 31 trade deadline and the
Texas Rangers
are in position to make some moves if they choose. But with any deadline, the club must prioritize, get prepared and decide what kind of value it places on the prospective pieces on the market. With an additional playoff team in the mix, things may go even more down to the wire than normal as certain clubs could decide very late that they are sellers or buyers. And with the changes in compensatory picks, it could alter the value of rental players.
So let's pretend that I'm general manager Jon Daniels (he's way smarter than I am, but I'm taller and better looking) and I'm trying to figure out which deals I should do and which ones I shouldn't. Here are five things to consider at the deadline:
[+] Enlarge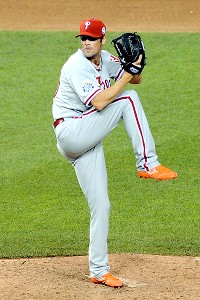 Denny Medley/US PresswireIf the Rangers decide to trade for a starter, it needs to be someone like Cole Hamels who will slot in at the top of the rotation in the postseason.
1. If the Rangers trade for a starting pitcher, make it an impact one.
You'll hear the names of
Ryan Dempster
and
Matt Garza
this time of year. Maybe even
Wandy Rodriguez
. But it doesn't make sense for the Rangers to deal decent prospects for pitchers who aren't going to make the rotation appreciably better.
Should Texas decide to get a starter, it needs to be someone who slots in at the top come the postseason. The two biggest names that could be out there are
Zack Greinke
and
Cole Hamels
. Personally, I like Hamels more than Greinke. And we'll see if he even becomes available now that
the Phillies and Hamels' agents are intensifying talks
. But this is where things get interesting. It's going to take a big package of premium prospects (and maybe even some major league players) to get it done. That would likely mean Mike Olt. I'm normally a guy who advocates dealing prospects for sure things. After all, they are called prospects for a reason. They might pan out, they might not. But with no draft picks coming back to Texas if Hamels (or Greinke) leaves, I think Olt (notice I'm not even mentioning Jurickson Profar, someone I can't imagine the Rangers even considering trading for a rental) is too high a price to pay to be included in the deal. If I'm Texas, I want Hamels. And I'm willing to fork over some solid prospects (
Martin Perez
, Cody Buckel or
Justin Grimm
, maybe even a combination) and even some big league pieces (yes, I'd consider dealing
Neftali Feliz
). But you don't trade the entire farm for someone who is here for a few months.
This is different from the
Cliff Lee
trade of 2010. With Lee, the Rangers not only knew they would get compensation picks if he left, but they knew they had to have someone at the top of that rotation to help them get over the hump of never winning a playoff series. Texas does not beat the
Tampa Bay Rays
without Lee, so the trade was a success (no matter what
Justin Smoak
does in the future). But the Rangers got something in return, too. Hamels is not the Lee of 2010, either. But he's the closest facsimile, if he's available. I'll pay a high price, just not as high as Olt. If that's not good enough to get Hamels, I'm not "settling" for Garza or someone else who doesn't have a big impact. It's just not worth it. So get a pitcher that can win Game 1 in the playoffs or don't get one at all and go with this current rotation, which I still believe is good enough, especially with the Rangers' bullpen, to win a title.
2. Get a right-hander for the bench.
The AL's loss in the All-Star Game only reinforces this need. It means that if the Rangers return to the World Series, they open on the road without a DH and could play the deciding game -- should it go the distance -- in the NL park. St. Louis' bench was a big difference in last year's World Series and manager Ron Washington didn't have enough weapons at his disposal. There are some names that are intriguing, but contract situations may make it unlikely.
Josh Willingham
seems like a good fit, but the contract calls for him to make $7 million next year and the year after. But there are other, cheaper options that could help the bench.
Carlos Quentin
's asking price is likely to be too much. What about
Shane Victorino
? It's the final year of his deal at $12.5 million this season and he's hitting .254 overall. But the 31-year-old switch-hitter is batting .322 against lefties.
There are some bats out there and the Rangers need to try to see if they can find one to help that bench down the stretch and into the postseason.
[+] Enlarge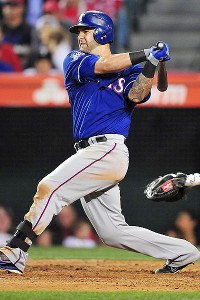 Gary A. Vasquez/US PresswireCatcher Mike Napoli is doing a nice job with the pitching staff but hasn't been producing at the plate.
3. Keep an eye on the catching market.
Honestly, I'm not sure there are reasonable upgrades to the club's catchers on the market, but the club has to at least do some digging.
Mike Napoli
and
Yorvit Torrealba
have done a nice job with the pitching staff and that's the first priority. However, the position is giving the club nothing at the plate.
The Rangers are one of the best teams in the league at checking on everything and leaving no stone unturned. That means at least seeing if there's anything worth pursuing on that front that can increase the offensive production at that spot.
4. See if there's a left-handed specialist for the bullpen.
It might seem odd to do anything with one of the best bullpens in baseball, but let's not forget what
Mike Gonzalez
did for this club in the postseason last year. He got two very big outs -- one in the ALDS and the other in the ALCS -- that helped the Rangers win games in those series. He struck out
Johnny Damon
with two runners on in the eighth inning of Game 3 of the ALDS, a pivotal game in that series. The Rangers won that game by one run. He also came in late in Game 1 of the ALCS with the bases loaded and the Rangers up by a run and got
Alex Avila
to end the threat. Those two outs alone made the trade worth it. Texas has a strong left-handed pitcher in
Robbie Ross
, but he's someone they utilize for a full inning or two and is actually better against righties than lefties (though neither can hit the rookie these days). Still, the idea of having a veteran left-handed pitcher who can get a key out is appealing. It's worth noting that the Rangers picked up Gonzalez at the August trade deadline, so it's not something they have to do right now.
5. Keep an open mind for a trade no one expects.
One thing this team does so well is that it stays prepared for anything and everything. That needs to be the case this year, too. Sure, it's unlikely that the Phillies would make Lee available or that the
Seattle Mariners
would put
Felix Hernandez
on the block (or want to deal him to Texas), but you never know. Maybe there's another impact player out there that Texas could get that no one expects right now. While we talked about not giving up Profar or Olt for a rental player, if there's a big-name pitcher with some years left on his contract, that's when those names might be discussed (still can't see Profar going unless it was something really big). Be ready to pull the trigger if that special opportunity (that Cliff Lee 2010-like chance) comes up.
What am I missing? What other deals would you try to make? What deals should the Rangers make?
May, 8, 2012
5/08/12
12:00
PM CT
By
Richard Durrett
| ESPNDallas.com
BALTIMORE -- Each week we take a look at a decision Rangers manager Ron Washington made and analyze why he made it, and discuss it. Here are a few of them, including his call to put
Brandon Snyder
in the lineup on Monday:
* Washington said he wasn't even thinking about the fact that Snyder would be playing against his old team Monday. Washington just felt that Snyder could hit left-hander
Brian Matusz
. So with
Adrian Beltre
not ready to play third base with his strained left hamstring, Washington opted to go with his gut and play Snyder at third and
Michael Young
at first. The result was Snyder's career-high six-RBI game in the Rangers' 14-3 win.
A few decisions in Cleveland over the weekend worth noting:
* Washington stuck with
Colby Lewis
on Friday night to pitch to
Johnny Damon
despite having left-handed reliever
Robbie Ross
warmed up and ready. Washington made the decision because Lewis had retired Damon on three previous at-bats. But Damon hit a triple off an 0-1 curveball to give the Indians some breathing room in the seventh inning.
Washington took the blame after the game.
"That one's on me," Washington said. "I was one batter too late."
* The next day, Washington decided to pinch hit Beltre in the 11th inning despite the fact that Beltre's hamstring wasn't healthy enough for him to start. The skipper knew Beltre had a good swing in him. Cleveland manager Manny Acta had reliever
Joe Smith
intentionally walk
Mitch Moreland
with two outs to have right-handed pitcher go up against Beltre (who was already on deck, so Acta knew that's who Smith would face).
Beltre, hitting for
Alberto Gonzalez
, blasted a three-run home run and the Rangers won the game, ending a three-game losing streak. Washington clearly picked the right time in the game to use Beltre.
May, 4, 2012
5/04/12
8:59
PM CT
By
Bryan Dolgin
| ESPNDallas.com
The
Texas Rangers
's losing streak reached three games with a 6-3 loss at Cleveland to begin a three-games series Friday night. The Rangers have their longest skid since Aug. 23-25, when they lost three straight to the
Boston Red Sox
. The Rangers are 1-3 on the current road trip.


The seventh inning marked the difference. After the first batters reached for the Rangers,
Ian Kinsler
hit into a double play and
Elvis Andrus
grounded out to end the inning. In the bottom of the frame,
Johnny Damon
's two-out, two-RBI double gave the Indians the 6-3 lead and ended
Colby Lewis
' night.
Untouchable no more:
Lewis entered this start with opposing hitters 0-for-21 against him with runners in scoring position. That stretch reached 0-for-23 before an infield hit by Asdrubel Cabrera in the sixth. The 23 at-bats was the highest total without a hit in the majors.
The long ball:
Lewis gave up a two-run home run to Shin Soo Choo in the bottom of the second. It was the first home run of the season for Choo. Lewis also gave up a leadoff homer to
Jack Hannahan
in the third. It was originally ruled a triple, but the umpires reviewed it and gave him the home run. That was the second home run of the game given up by Lewis and the sixth of the season. Five of the six home runs have been hit by a left-handed hitter, including both Friday.
Napoli nabs two:
Mike Napoli
caught
Michael Brantley
trying to steal second base in the second and Cabrera in the sixth, the first two runners thrown out by Napoli in 2012. He is 2-for-6 in catching potential base thieves. Teammate Yorvit Torealba has caught three of seven would-be base stealers.
Fundamentals:
After
Mitch Moreland
led off the third with a double,
Alberto Gonzalez
moved him to third with a groundout to second base. Then, Ian Kinsler brought Moreland home with a sacrifice fly to right field. Kinsler has driven in 16 on the season. That sac fly cut the Rangers' deficit to 2-1.
PODCAST
Ron Washington discusses missed opportunities, Colby Lewis and Nelson cruz following a 6-3 loss at Cleveland.

Listen

Beating the drum:
David Murphy
was a .478 hitter (11-for-23) against the Indians last season. He singled in the second inning Friday and brought the Rangers to within a run with an RBI double in the fourth. Murphy finished 2-for-4.
Cruz control?:
Nelson Cruz
was 1-for-13 on this trip before Friday. He grounded into a double play in the second, flied out center in the fourth to advance Murphy to third base and singled home the tying run in the sixth to make the score 3-3. If you go back further, Cruz entered this game 6-for-40 in the last 11 games without a home run.
Hits keep coming?:
Elvis Andrus has hit safely in each of the first 24 games he has played against the Indians. According to the Elias Sports Bureau, this is the longest start of a career streak by a any player against any team. He extended the streak to 24 with a 1st inning infield single off righty
Jeanmar Gomez
.
He's back:
Josh Hamilton
returned to the starting lineup. He's been day-to-day since leaving the game Sunday with a back issue. Hamilton did not play in the three games in Toronto but finished Friday 1-for-4 with a single.
Adrian Beltre stayed out of the starting lineup for the third consecutive day. He pinch-hit for Gonzalez in the ninth, but he flied to right to end the game.
October, 5, 2011
10/05/11
7:37
AM CT
Ron Washington uses Michael Young, Mike Napoli and Mitch Moreland at first base. Moreland, who has just six errors in 1,096 chances in two seasons, is the only one of the three who's a first baseman by trade.

Moreland helped the Rangers advance to the ALCS for the second consecutive season with a couple of nifty plays in the sixth inning, while the Rangers clung to a 3-2 lead.

If you want to see how much the Rangers have evolved over the years, consider Moreland started the last two games at first base. Moreland is not nearly as good an offensive player as Young or Napoli, but he's clearly the better defensive first baseman.

He proved it in the sixth inning.

First, he ranged to his right to snag a roller by Johnny Damon, who was leading off the inning. Then he realized Derek Holland wasn't going to beat Damon to the bag because he landed on the third base side of the mound after his delivery and he stumbled running to first base.

Moreland dove headfirst and touched the bag with his glove just before Damon, sliding headfirst, got to the bag to record the first out of the inning.

With two outs in the sixth, Moreland made another nice play, scooping up Casey Kotchman's roller to his right. This time, he flipped the ball to Holland for the out.

It's not always about offense. These Rangers understand that.
September, 30, 2011
9/30/11
8:27
PM CT
By
Jeff Caplan
| ESPNDallas.com
ARLINGTON, Texas --
Matt Moore
and
Kelly Shoppach
will get the hero's treatment, and rightfully so in the
Tampa Bay Rays
' 9-0 victory in Game 1 of the ALDS. But, don't overlook the contributions of second baseman and cleanup hitter
Ben Zobrist
.
He played a key role in Tampa's three-run second and three-run third innings. In the second, he led off and took a 92-mph
C.J. Wilson
cutter off his right arm and trotted to first in obvious pain. Wilson then got behind
Johnny Damon
, 3-1, before the 37-year-old designated hitter jerked Wilson's fifth pitch a row or two into the right-field bleachers for a quick 2-0 lead.
In the third, Zobrist caught the
Rangers
by surprise. Zobrist, with 20 home runs on the season, took advantage of third baseman
Adrian Beltre
playing deep and laid a perfect bunt down the line that put runners at first and second with no outs.
"That's something he does," Rangers catcher
Mike Napoli
said, shrugging his shoulders. "He got a bunt down and got a hit."
It also set up Shoppach's second home run of the game, a three-run shot to left that broke the game wide open, 6-0, in the third inning.
"That's definitely his call, but I don't think there's too many cleanup hitters in the league that do drop that bunt," Damon said. "We have a very athletic team that can run, that can bunt. That's the kind of stuff that we need. We are a small-ball team with the occasional pop. It came at a good time."
September, 30, 2011
9/30/11
4:45
PM CT
By
Jeff Caplan
| ESPNDallas.com
ARLINGTON, Texas --
Johnny Damon
took
C.J. Wilson
deep and nine-hole hitter
Matt Joyce
managed to squib a two-out grounder into right field as the Rays have jumped out to an early, 3-0 lead with Rangers coming to bat in the bottom of the second.
After a nine-pitch, 1-2-3 first inning, Wilson labored in the second, hitting
Ben Zobrist
to lead off what would become a 33-pitch inning. Damon, who had 16 homers in the regular season, deposited Wilson's fifth pitch, a 91 mph fastball, into the front rows of the right-field bleachers. Fort Worth's
Kelly Shoppach
sharply singled to left before Wilson got the next two outs.
Joyce then sent a roller between
Michael Young
at first and
Ian Kinsler
at second to score Shoppach.
The Rangers got a hit from
Josh Hamilton
in the first.
September, 29, 2011
9/29/11
6:19
PM CT
By
Jeff Caplan
| ESPNDallas.com
ARLINGTON, Texas -- Evan Longoria, the hero of Tampa Bay's miraculous comeback Wednesday to get the Rays back into the postseason, knows one thing when it comes to
Texas Rangers
Game 1 starter
C.J. Wilson
.
"I want to figure out a way to not come into the locker room after the game and not talk about how good C.J. was," Longoria said late Thursday afternoon after the Rays arrived at Rangers Ballpark. "He's been a thorn in our side from last year all the way to this year. I don't know, maybe we have to go back and re-look at the film. I've looked at it enough to know what the back of his head looks like with my eyes closed.
"I don't know what it is, but there has to be something there and we have to figure it out sooner rather than later."
Wilson won Game 2 in last season's ALDS to give the Rangers a 2-0 series lead. He pitched a shutout through 6 1/3 innings, allowed two hits, two walks and struck out seven.
In three starts against the Rays this season, Wilson is 2-0, including a complete game, with a 2.08 ERA (five runs in 21 2/3 innings). He's allowed 10 hits and walks and struck out 24.
Wilson said even though it took about as long as it could to find out who he would throw against it won't affect his preparation.
"They are going to have the same lineups pretty much they had in the regular season against me," Wilson said. "So knowing that -- even though we found out at the last minute -- I have all my notes and video and that stuff to go through and I feel prepared."
Rays manager Joe Maddon acknowledged that he could make some adjustments to his lineup to face Wilson, a hard-throwing lefty who can throw varying speeds and to a variety of locations. He said he wasn't prepared to make any pronouncements before talking to his players. Maddon doesn't have much maneuverability in terms of right-handed bats he could throw into the lineup, so perhaps the Rays re-evaluate their approach against Wilson.
One left-handed batter who figures to remain in the lineup no matter what is
Johnny Damon
, who is just 2-for-11 for his career off Wilson.
"He's definitely matured in front of everybody's eyes. He was a very reliable reliever for years and took on the starting role. He's matured. He can sink the ball well, throws that cutter, has a nice curve ball and just his mound presence is just so much better now. That's that maturing process that pitcher's go through. he's learned how to pitch. He's not just a thrower any more, he's got a plan. And it helps being able to throw as hard as he does, too, from the left side."