October, 21, 2014
Oct 21
12:00
PM CT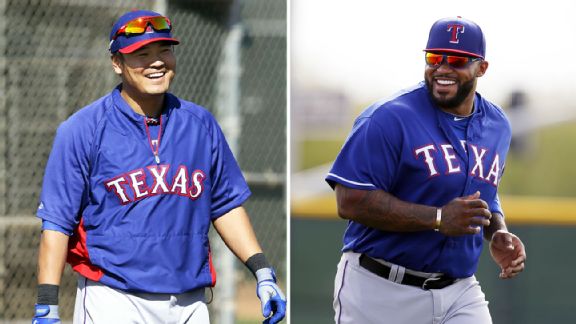 AP PhotosTexas is counting on Shin-Soo Choo and Prince Fielder to be healthy and make an impact in 2015.
Rangers GM Jon Daniels is pretty direct in his expectations for his club in 2015: Win. Rebuilding isn't an option.
In four consecutive seasons, the Rangers won at least 90 games. In that span, they also made it to the World Series twice.
In 2012,
Josh Hamilton
losing that fly ball in the California sun was symbolic of the Rangers' late season swoon.
The next season, a mid-September slump cost the the Rangers first-place and they tried to play catchup, but it was too late.
In 2014, after revamping the roster, injuries decimated the club.
What happens now?
The Rangers have a new manager and changes are likely coming to the starting rotation. They hope injured players, such as Prince Fielder and Shin-Soo Choo, recover and play a majority of the games in 2015. Daniels lost Ron Washington as his manager suddenly. He didn't want to seek a new manager, but when it happened, the GM said there was some excitement in the front office because someone new was joining the team.
"Somebody that can help us and re-establish a winning culture," Daniels said. "We had a rough year here, but this is a winning organization, a championship organization, and we want somebody that feels that passion for winning and can re-establish that after a rough year."