Texas Rangers:

Jorge Posada
October, 22, 2010
10/22/10
8:47
PM CT
By
Jeff Caplan
| ESPNDallas.com
ARLINGTON, Texas -- Colby Lewis lost his no-hit bid and the shutout in the fifth inning. The two doubles by Alex Rodriguez and Jorge Posada were legitimate. The Yankees' run, however, might not have come across had replay been in use.

With Rodriguez on third, Lewis' pitch to Nick Swisher bouned in the dirt and then glanced off Swisher's shin, sending the ball to the backstop. The umpire did not signal that Swisher had been hit by the pitch and Rodriguez scored easily.

Rangers manager Ron Washington came out to argue with home plate umpire Brian Gorman, who clearly never realized the ball hit Swisher. The proper ruling should have sent Rodriguez back to third and Swisher down to first for Jorge Posada.

Instead, Swisher bounced back to Lewis for the second out. Posada then doubled down the first-base line.



October, 22, 2010
10/22/10
3:51
PM CT
By
Jeff Caplan
| ESPNDallas.com
October, 21, 2010
10/21/10
7:30
AM CT
By
Jeff Caplan
| ESPNDallas.com
NEW YORK --
Texas Rangers
right fielder
Jeff Francoeur
said he didn't believe he had a play at the plate on lumbering
Lance Berkman
so he tried to get
Jorge Posada
at third instead. But, everything went bad from there, putting the Rangers in a 3-0 hole in the second inning.
"I know Berkman's not the fastest guy in the world, but at the same time, I did look up right when the ball was hit and I saw he took off right away," Francoeur said. "So, I thought I actually had a better chance at Posada at third. And to be honest, if I had a good throw I think I would have had him. But, the ball kind of skipped and went to the left and kind of just led to a crappy inning."
With Berkman at second and Posada at first, Curtis Granderson singled into right-center. Francoeur's momentum to make the play took him toward center to throwing home would have required him to turn and fire. He scooped it up and, without hesitation, launched a line-drive throw to third. It landed in front of Young, kind of darting to the side and skidded past him, finally bouncing off the dugout facing.
"I don't know if it the lip or hit a rock. I don't know what it hit, but it kind of took a left turn," Young said. "It [the throw] was a little off, but I still think I had time to get the ball and come back with a tag. It would have been bang-bang regardless. I'm not sure if we would have had him or not, but, yeah, it definitely took a weird kick at the end. He definitely had to come to third with that play. Going to his right so much, I think Lance is going to cruise into the plate pretty easily. The play was at third."
Pitcher
C.J. Wilson
said he thought Francoeur was going to try to nail Berkman at the plate. Wilson backed up the play, gathered the loose baseball as Posada chugged home, but Wilson's toss to catcher
Matt Treanor
sailed high and away, allowing Posada to score easily for a 3-0 Yankees lead. Francoeur was charged with an error and Posada's run was unearned.
Treanor said he didn't believe Francoeur had a great shot at Berkman at the plate.
"I guess it would have had to have been a perfect throw. It would have been bang-bang," Treanor said. "But, early in the game like that, yeah, go to third. I thought he had a shot over there, too. The ball took a funky hop on Michael."
October, 20, 2010
10/20/10
8:59
PM CT
NEW YORK -- On a day that he struggled to locate the strike zone,
C.J. Wilson
at least managed to find his sense of humor for a few seconds.
What frustrated him most about his Game 5 performance?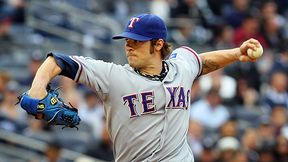 Jim McIsaac/Getty ImagesC.J. Wilson's pitches against the Yankees lacked bite Wednesday, leaving the Rangers still a win short of a World Series trip.
"How much time you got?" Wilson deadpanned.
There was a lot not to like about Wilson's worst start of the postseason, which came in a 7-2 loss to the Yankees when the Rangers had a chance to close out the American League Championship Series. The best thing you can say about it is that he grinded out five innings to spare the bullpen of two straight days of extra-heavy-duty workloads.
As far as what went wrong, well, there's a long list. That tends to be the case when a pitcher allows six runs (five earned) on six hits and four walks in five innings.
Wilson's problems, as usual when he isn't sharp, started with his wildness. He didn't throw enough strikes (48 of 93 pitches). The strikes that he did throw weren't where he wanted them, as was the case on home runs by
Nick Swisher
and
Robinson Cano
and doubles by
Jorge Posada
and
Alex Rodriguez
.
"Stuff-wise, I wasn't really there," Wilson said. "I'd go for the corner, I'd miss. I'd go for the corner again, throw it down the middle. It was just weird.
"I was losing curveballs. My cutter was too low. My cutter was too far in, didn't cut enough. Every pitch had three little wrinkles on it. I threw some good curveballs down, I hung some curveballs, threw some curveballs up and away. Each pitch had one or two layers of mistakes."
Oh, and he didn't much like the Yankee Stadium mound, which he compared to muddy divot-replacement sand at a golf course. He felt like he was slipping and sliding with dirt caught in his cleats.
"Then just mechanically, I got a little out of whack," Wilson said.
When that happens, the walks come for Wilson. They are the "poison to the mojo," as the free-spiritied southpaw says. He led the American League in that category (93) but still went 15-8 with a 3.35 ERA.
The fact that he was so successful despite his high walk total is a tribute to Wilson's stuff. But he was flat Wednesday, and the Yankees made him pay when he gave them a pair of four-pitch free passes in the second. Alex Rodriguez and
Lance Berkman
scored on RBI singles by Jorge Posada and
Curtis Granderson
.
Then Wilson couldn't even make an accurate throw from just in front of the Rangers' dugout to the plate. Posada scored when Wilson, who had to hustle to retrieve the ball after a throwing error by right fielder
Jeff Francoeur
, threw high over catcher Matt Treanor's head.
Those were all the runs the Yankees needed on a day that the Rangers' offense failed repeatedly with runners on base. But Swisher and Cano led off the bottom of the third with back-to-back homers -- matching the highest dinger total for Wilson this season -- to make the outing go from bad to worse.
"It just looked like a feel thing for a minute there," Treanor said. "He was just searching. He tried other pitches, but it just didn't seem like he was feeling it. He grinded it out as much as he could. It just didn't happen."
October, 19, 2010
10/19/10
2:40
PM CT
By
Jeff Caplan
| ESPNDallas.com
October, 18, 2010
10/18/10
3:00
PM CT
By
Jeff Caplan
| ESPNDallas.com
October, 16, 2010
10/16/10
8:42
PM CT
By
Jeff Caplan
| ESPNDallas.com
ARLINGTON, Texas -- To finally get the franchise's first home playoff win, the
Texas Rangers
attacked on the base paths from the onset and, once again, it was
Elvis Andrus
leading the charge and taking home at the front end of a double steal.
Andrus gave the Rangers a 1-0 lead in the first inning, a critical run to jump in front of the
New York Yankees
after the demoralizing Game 1 loss the night before. The All-Star shortstop opened the game against New York starter
Phil Hughes
by banging a chopper off Hughes' glove for an infield hit. Andrus took second on a wild pitch and stole third.
With
Josh Hamilton
on first and
Nelson Cruz
at the plate, Hamilton took off for second. Yankees catcher
Jorge Posada
threw down to Robinson Cano, who stepped in front of second base to cut throw off. Andrus bolted for home. Hamilton, meanwhile, stopped dead in his tracks out of Cano's reach to force Cano to throw home. He did, but Andrus easily beat the throw for a 1-0 lead.
"It was a great play for Josh to stop and let me take home plate," Andrus said. "As soon as you see him make the throw to second you got to go. I knew Josh was running on that play and it was a great play by him."
Manager Ron Washington explained the play as something as a no-brainer: "Had speed. I had Hamilton on first and I had Elvis at third base. Opportunities seemed right, so I took a chance. That's the way we play. It worked. Got us going."
October, 15, 2010
10/15/10
3:12
PM CT
September, 13, 2010
9/13/10
1:30
PM CT
By
Jeff Caplan
| ESPNDallas.com
Forgetting that little three-game sweep at Yankee Stadium way back in April, a mostly young
Texas Rangers
team that smiles, makes antler and claw hand signs and dons rally caps in the dugout, have learned to go toe-to-toe with those poised professionals in pinstripes.
After Sunday's 4-1 win at Rangers Ballpark to conclude a dramatic series -- and the last series of the regular season between the two clubs -- each team has gained a home sweep while they split a two-game series in Arlington a month ago. Add it up: Eight games, four wins each.
But, if the Rangers and
New York Yankees
meet in the American League Division Series -- and the Yankees must hold off the stubborn
Tampa Bay Rays
for that to happen -- how will the Rangers, with only designated hitter
Vladimir Guerrero
, relief pitcher
Darren Oliver
and ace
Cliff Lee
(plus recent acquisitions
Cristian Guzman
and
Jeff Francoeur
) boasting postseason experience handle the defending champs? After all, Yankees and postseason is practically synonymous.
Newly acquired Yankee and former Houston Astro
Lance Berkman
believes there's no equivalent for postseason experience.
"For guys like
Michael Young
, it won't matter one iota. He's one of the best hitters in the game. That's not going to bother him at all," Berkman said. "But I do think, for us in Houston -- I went to the postseason in '01 and I was actually on the team in '99, but they didn't put me on the playoff roster -- but in '01 we got swept by the Braves and I remember I was overwhelmed by really the whole postseason environment. I felt very, very uncomfortable."
As a franchise, the Rangers have advanced to three postseasons -- 1996, 1997 and 1999. They played the Yankees all three times and lost all but one game in the three best-of-5 series. No one on today's Rangers roster played in any of those mismatches. It would take too long to list the number of current Yankees with World Series rings, not to mention the guys with multiple rings.
"I think experience is one of the greatest things you can have," said Yankees outfielder
Nick Swisher
," who has played in three postseasons with three different teams, including last season's triumphant Yankees. "If you look at our guys, we have a core of four guys. Just the things these guys have been able to do throughout their careers and the names that they've made for themselves, not only in the Yankee organization, but generally in the game of baseball --
Andy Pettitte
,
Mariano Rivera
,
Jorge Posada
,
Derek Jeter
. Then you've got A-Rod [
Alex Rodriguez
], who's been doing it for 15 years. You got guys like
Kerry Wood
,
Javy Vazquez
. I mean these guys have been in the league for a long time. We've got a lot of veteran guys on this team and you can tell."
Swisher didn't even mention Cy Young Award candidate
CC Sabathia
, who hasn't faced the Rangers' lineup since that April series in New York.
There's no doubt that if the two clubs meet in October that the Yankees will be favored. They'll have homefield advantage and in a five-game series that can be huge, especially playing the first two in the Bronx (a couple of Lee-Sabathia matchups could make for some riveting baseball). And the New Yorkers will easily have the experience factor on their side. There's just nothing the upstart Rangers can do about that.
"The second time we went [to the postseason], I felt a lot better because I had kind of been in it and at least seeing what it was all about, so I do think it can definitely be a factor," said Berkman, who led the Astros to the 2004 NLCS and then the 2005 World Series. "Our organization had never won a playoff series and you just don't know you can do it. Having that breakthrough in '04 against the Braves was huge. We won that NLDS in five games at their place. The next year when we came back we expected to win. It's a totally different mindset that you can only get from having done it.
"But, at some point, they're [the Rangers] going to have to break through. At some point they're going to win and then they're going to develop a sense that they can do this, it's not this impossible mountain. It seems like it before you climb that it's that way."
As the Rangers' 2010 motto goes: "It's Time." According to Berkman, 2011 might be more their time.
We'll see. If the Yankees win the East, Game 1 is Oct. 6 at Yankee Stadium.