Texas Rangers:

Jose Altuve
May, 10, 2013
5/10/13
8:00
AM CT
By
Todd Wills
| ESPNDallas.com
Don't look now, the
Houston Astros
are hot.
Well sort of hot.
PODCAST
Jim Bowden joins Fitzsimmons & Durrett for his weekly visit and wastes no time sounding off on MLB umpire Angel Hernandez.

Listen

On pace to lose 122 games before Tuesday, the Astros won a series this week, taking two out of three games from the struggling
Los Angeles Angels
of Anaheim. Houston was on the verge of a sweep Thursday night but blew a 5-3 lead in the seventh inning and lost 6-5 to the Halos.
Here's some storylines to watch for this weekend as the Lone Star Series continues:
1. Rotation changes in H-Town:
The Astros overhauled their starting rotation on Wednesday as rookie manager
Bo Porter
put left-handers
Dallas Keuchel
and
Erik Bedard
in the rotation and moved slumping right-hander
Philip Humber
in the bullpen. Porter admitted that part of the reshuffling has to do with a Rangers' lineup that is stacked with left-handed hitters. Though with catcher
A.J. Pierzynski
's trip to the 15-day disabled list and
David Murphy
's prolonged slump, the Rangers' should only have one left-handed batter in the lineup Friday and Saturday, first baseman
Mitch Moreland
. Keuchel, who makes his first start of the season Friday, is 0-1 with a 4.96 ERA in relief, but did limit the Rangers to a run in five innings in his only other career start last June.
2. Altuve an All-Star:
Astros second baseman
Jose Altuve
looks like a lock to be the Astros' lone All-Star representative. He's fifth in the American League in batting with a .336 average. He has eight doubles and a slugging percentage of .453. He also has 17 RBIs, fourth among Al second basemen behind the Yankees'
Robinson Cano
(20), the Rangers'
Ian Kinsler
(20) and Tampa Bay's
Kelly Johnson
(18).
3. Strikeout kings:
The Astros are still running away with the Major League lead in strikeouts with 353. That's 49 more than their closest pursuers, the
Atlanta Braves
. Houston is averaging just over 10 strikeouts per game. They had 33 Ks in the season-opening series against the Rangers, including 14 by
Yu Darvish
in his near perfect game.
Alexi Ogando
is pitching Friday's series opener and he had 10 strikeouts while opening night starter
Matt Harrison
, who is on the disabled list, had nine strikeouts in the Astros' lone win of the first series.
4. How about Marwin?:
Astros shortstop
Marwin Gonzalez
broke up Yu Darvish's perfect game bid you might remember with a single under the pitcher's glove with two outs in the bottom of the ninth back on April 2. Gonzalez maintained a strong start for a while but has dipped to .253 for the season and only played in one of three games against the Angels. Gonzalez is 2-for-19 for May with two RBIs. He had his average as high as .321 on April 27.
Rangers domination:
The Rangers are 16-4 against the Astros since 2010 and have won six of the last seven games against Houston. It should be a favorable setting for the Rangers at Minute Maid Park with Texas fans sure to turn out for Yu Darvish in droves on Saturday night, hoping for another magical night.
April, 3, 2013
4/03/13
6:31
PM CT
By
Todd Wills
| ESPNDallas.com
HOUSTON -- There wasn't a day-after celebration of
Yu Darvish
's near-miss perfect game Wednesday afternoon. Just more strikeouts -- a lot of them -- for Rangers pitchers.
Five Rangers took the ball against Houston and all of them drew off of Darvish's spectacular effort Tuesday night, adding to a record-breaking strikeout haul in the first three games of the season.
PODCAST
The excitement of Yu Darvish's near-perfect game has Rangers fans brimming with hope. Play-by-play voice Steve Busby talks about Yu's outstanding effort.

Listen

Rangers pitcher had 15 more strikeouts in
Wednesday's 4-0 victory
over the young, aggressive Astros lineup, with
Alexi Ogando
starting the swings and misses with 10 strikeouts.
Four relievers combined for five more strikeouts as the Rangers set the major league record for most strikeouts in the first three games of the season with 43. That was one more than the 1966
Cleveland Indians
.
Darvish came within an out of a perfect game Tuesday night and a trip into the record books. Ogando, back in the rotation after a year in the bullpen, said that gave him a path to follow Wednesday.
"It was a spectacular game," Ogando said. "It really motivated me to pitch strong today."
Ogando gave up a double to the first hitter he faced, so he didn't threaten to have a night like Darvish's. The no-hit bid was out of the way. But it was the first of two crucial innings for Ogando. The Astros, who didn't score in the final 18 innings of the series, had their best opportunity to scratch out a run in the bottom of the first.
Brett Wallace
grounded out to second base, moving
Jose Altuve
to third with one out and setting up a chance to score if veteran
Carlos Pena
could put a ball in play.
Ogando got ahead of the free-swinging Pena with a slider, then reached back for a little extra on a fastball for a key strikeout. He fanned
Chris Carter
on three pitches to end the inning.
Ogando said he wasn't trying to get strikeouts in the inning. They just happened.
"I just focused on throwing quality pitches," Ogando said. "I managed to strike them out. I was able to execute my pitches and I had pretty good results."
Ogando needed a Ron Washington pep talk -- they type Washington has reserved for
Derek Holland
in the past -- to get through the third inning. Washington usually saves trips to the mound for pitching coach Mike Maddux unless he is making a change. But after No. 9 hitter
Ronny Cedeno
had a one-out single, moved to second on a walk and Wallace drew a two-out walk, Ogando had already made the inning worse.
Then when Ogando fell behind Pena with two straight balls, the manager felt like he needed to deliver a special message. Wallace and Pena had combined for 11 strikeouts in 16 at-bats before Ogando walked Wallace. Not tolerable.
"I went out there and let him know he has one of the best defenses in baseball behind him," Washington said. "And if these guys are going to make a charge at him, let them make a charge at him swinging the bats."
Darvish threw one pitch -- a 93-mph fastball located where he wanted it -- and Pena rolled it over to second base for the third out. They say a trip to the mound is only successful if it brings positive results. This one worked.
Washington said he won't do it a lot, but ...
"Only when I feel like there is something that I need to say," Washington said. "I'm no miracle worker. I just felt like there was something I had to say."
Ogando went on to retire nine hitters in a row, holding the Astros at bay as the Rangers held onto a 1-0 lead. He turned the game over to the bullpen in the seventh inning.
With a runner on first base,
Robbie Ross
got a ground ball for the second out, moving Houston's
Justin Maxwell
up to second base. Washington played the matchup game, bringing in right-hander
Tanner Scheppers
to face
Matt Dominguez
. Scheppers threw a sinker and was able to induce a popup to second base.
It was the first big moment for the Rangers' new-look bullpen and the Ross-Scheppers combination. It made an impression on designated hitter
Lance Berkman
.
"Looks good to me," Berkman said. "We knew coming in that we had some guys who have terrific stuff, and you saw that. Even with Tanner coming in and he throws 96-mph sinkers; it was a good start for everybody."
Berkman had a clutch hit in the top of the eighth, ripping a double to the left-center field gap to score
Elvis Andrus
from first base for a 2-0 lead. The Rangers added two more runs in the inning for a 4-0 lead.
That meant
Joe Nathan
time -- after
Michael Kirkman
had two strikeouts in the bottom of the eighth -- and even though it wasn't a save situation, it was important to get the closer into the game after four days without pitching.
Nathan did OK, you might say, fanning all three batters he faced in the ninth inning to set the record and finish off a historic three days of strikeouts.
Not everyone can do what Darvish does, with his array of pitches, Nathan said. But with a tone-setter like the Japanese ace, it can start a trend. And sometimes the strikeouts come with it.
"When you see him do it, it's something he does on a regular basis, so you just don't want to think because he's doing it that everyone can do it," Nathan said. "This series we were able to take advantage of some aggressive (batters). More importantly, like we said, we're trying to get outs. If they're going to be aggressive, try and start them off with something other than a fastball. If we can get out of the zone to get them out, even better."
April, 1, 2013
4/01/13
1:00
AM CT
By
Todd Wills
| ESPNDallas.com
HOUSTON -- The strikeouts piled up for
Texas Rangers
starter
Matt Harrison
in the season opener as both pitchers dominated opposing hitters early on.
[+] Enlarge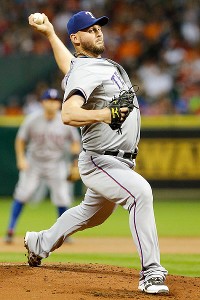 AP Photo/Pat SullivanMatt Harrison tied a career-high with nine strikeouts against the Astros.
Needing to match Houston's
Bud Norris
-- who was manhandling Rangers hitters -- Harrison was cruising along with six strikeouts through the first 12 batters he faced before the strange dimensions of Minute Maid Park and a young, aggressive
Houston Astros
team got the best of him.
On an opening night where everything that went against the Rangers was surprising, it was Harrison who blinked first in the Rangers' 8-2 loss to the Astros in front of a sellout crowd and a national TV audience.
Harrison's first opening day start started with a blaze and slowly went downhill.
It started with one out in the fourth inning. Harrison got ahead of Astros first baseman
Brett Wallace
with with a cutter for a called strike and a curveball for a swinging strike. Wallace fouled off a cutter and then was able to reach a high fastball for a single up the middle. With two outs,
Carlos Pena
, who had fanned in his first at-bat, then beat a shift for another hit with the Rangers playing three infielders on the right side.
The inning got stranger from there as the Astros' No. 1 hero in this night, center fielder
Justin Maxwell
, lofted a fly ball into left field that appeared destined for
David Murphy
's glove. Only Murphy didn't get a chance to catch it because of Minute Maid's bandbox dimensions. He looked up as the baseball bounced off the scoreboard for a 314-foot triple to give Houston a 2-0 lead.
It was that kind of night for Harrison, who was great, then unlucky and then let walks get to him (more on that coming).
"It was just a matter of not executing the pitches, especially in the at-bats to Wallace and Pena," Harrison said. "They were being very aggressive, all the guys were. I felt if I just executed the pitches better, maybe farther down in the zone, I might have got some swings and misses or weaker contact. I just have to do a better job of executing pitches when I have to."
Walks and an error by right fielder
Nelson Cruz
put Harrison and the Rangers in a deeper hole. The Astros scored twice more in the fifth inning when
Brandon Barnes
, who had been way late on fastballs in the second inning, managed to walk with one out in the fifth.
Ronny Cedeno
, the Astros' No. 9 hitter, followed with a single to right that Cruz bobbled and then kicked away to allow Barnes to score.
Jose Altuve
followed with a single for a 4-0 lead.
Walks then did Harrison and the Rangers in after the offense had battled back -- his teammates pounded out all of six singles -- with two runs in the top of the sixth to make it a 4-2 game. Harrison walked Maxwell with one out and after getting
Jason Castro
to fly out, fell behind
Matt Dominguez
and walked him, forcing manager Ron Washington to go to the bullpen.
"One hundred pitches was as far he could go," Washington said of Harrison.
Derek Lowe
came in and missed on a breaking ball to
Rick Ankiel
, who smacked a three-run home run to right field for a 7-2 Astros lead.
And Harrison's hopes for an opening day win were gone.
"They're a young, aggressive team," Washington said. "They played well tonight."
Harrison said he would spend Monday's off day with his family and try to put Sunday's start behind him.
"Just have to wipe it out of my mind and get ready for the next one," Harrison said.
March, 31, 2013
3/31/13
10:19
PM CT
By
Todd Wills
| ESPNDallas.com
HOUSTON -- The Astros scored six runs off Rangers starter
Matt Harrison
, five of them earned, in an 8-2 victory in Houston's American League debut at Minute Maid Park.


What it means:
The Rangers lost for the first time in a season opener in five tries, the four previous wins coming at home. The Rangers have lost five straight road season openers, their last win coming against the Angels in Anaheim in 2003.
Berkman's debut:
Lance Berkman
was 2-for-4 in his first game as a Ranger against his old team of 11-plus years. Berkman had a single during the Rangers' two-run rally in the sixth inning that temporarily put them back in the game.
Power outage:
The Rangers didn't produce an extra-base hit in their first game without
Josh Hamilton
,
Michael Young
and
Mike Napoli
. Berkman came the closest with line drive into left-center, but Astros center fielder
Justin Maxwell
did a nice job of holding Berkman to a single.
Harrison up and down:
Harrison matched a career high with nine strikeouts and at moments was dazzling in the season opener. But his command of the strike zone left him at times, leading to three walks, all of which came around to score. One came during Houston's two-run fifth inning and was aided by an error by right fielder
Nelson Cruz
. The others came after Harrison walked two and was replaced by
Derek Lowe
, who gave up a three-run homer.
The dropsies:
First it was Cruz, then
Ian Kinsler
who couldn't hold onto the ball as the Astros scored twice in the fifth inning. Houston shortstop
Ronny Cedeno
lined a single to right field and Cruz bobbled the ball and then kicked it away, allowing
Brandon Barnes
to score all the way from first base. Kinsler dropped the relay throw, which gave Cedeno third base. Cedeno scored on
Jose Altuve
's single as the Astros took a 4-0 lead.
Lowe point:
Ron Washington went to Lowe with two on and two out in the bottom of the sixth and the Astros hanging on to a 4-2 lead. Astros manager
Bo Porter
countered the right-handed reliever with left-handed pinch hitter
Rick Ankiel
. Porter got the win as Ankiel ripped a 3-2 slider over the right field fence in his Astros debut against Lowe in his Rangers debut.
Tough opener for Martin:
Leonys Martin
was 0-for-3 with two strikeouts in his first opening-day start. He also had a weak ground ball to third base. Martin's second strikeout came on a fastball that wasn't held onto by Astros catcher
Jason Castro
, but Martin started walking back to the dugout instead of running to first base.
Ortiz makes debut:
Reliever
Joe Ortiz
made his major league debut and allowed a run in the eighth inning. He allowed a triple to Maxwell and an infield single to
Matt Dominguez
.
Up next:
The Rangers are off Monday and will send
Yu Darvish
to the mound against Houston's
Lucas Harrell
at 7:10 p.m. Tuesday on ESPN Dallas 103.3 FM and FSSW.
May, 19, 2012
5/19/12
10:29
PM CT
HOUSTON --
Derek Holland
said he was frustrated but everything he tried failed.
The
Texas Rangers
left-handed starter lost a four-run lead, gave up a season-high three home runs and was taken out after just five innings.
He took the loss in a 6-5 victory for the
Houston Astros
on Saturday night.
It was Holland's first start since May 10, but he pitched one inning of relief Monday against Kansas City and had one bullpen session before the team arrived here.
So with all the rest, what happened?
"The first two innings, he was real sharp," manager Ron Washington said. "Then all of a sudden he couldn't get the ball to his arm side, which means he had to come to the middle of the plate or inside, and he didn't get there and those right-handed hitters just turned him around. When the first two innings started, I thought he was on his way to having a pretty good game, it just didn't turn out that way. He got the ball up and got into some wrong spots and those right-handed hitters didn't miss it."
Holland (3-3) allowed five runs, all earned, on five hits and two walks. He struck out six while throwing 100 pitches. In the first three innings, Holland struck out three and only allowed two hits, an infield single by
Jed Lowrie
and a home run to the No. 8 hitter
Chris Snyder
.
It unraveled in the fourth when he walked
Justin Maxwell
to start things and gave up a home run to cleanup hitter
Carlos Lee
to cut a 4-1 deficit to one. In the fifth, he gave up a two-out single to
Jose Altuve
and Maxwell hit what Washington called a "bomb" to left that gave the Astros a 5-4 lead.
Washington said his young starter has to finish the deal when given a lead.
"It's obvious I was supposed to put that away," Holland said. "But I couldn't get my fastball down and a couple of pitches got away and they hit them."
Holland said he didn't really know what was going on with his lack of command after the second inning.
"To be honest, I couldn't really tell you exactly what it was," he said. "I just know my fastball command went erratic all of a sudden. I couldn't locate down, everything was up. Just fell behind a lot so it made it predictable what to sit on, too."
May, 19, 2012
5/19/12
9:16
PM CT
HOUSTON -- The
Texas Rangers
blew an early four-run lead and had a rally fall just a run short in a 6-5 loss to the
Houston Astros
on Saturday night at Minute Maid Park.


Lefty
Derek Holland
, in his first starting appearance in eight days, had a four-run lead, but gave up a season-high three home runs and took the loss. The Rangers' biggest highlight was a
David Murphy
inside-the-park home run in the third that drove in three runs to give the Rangers a 4-0 lead.
Holland loses lead:
Holland last started May 10 at Baltimore. He then pitched one inning in relief May 14 and had a bullpen session a few days later. Holland said he wasn't working on anything specifically and the extended rest shouldn't bother him. He pitched well early until the middle innings. With a 4-1 lead, Holland walked
Justin Maxwell
to start the fourth inning.
Carlos Lee
hammered a fastball to left for a home run to cut the deficit to 4-3. In the fifth, Holland gave up a two-out single to
Jose Altuve
and Maxwell hit a homer off a belt-high pitch to left, giving the Astros a 5-4 lead. Holland left after five innings. He gave up five earned runs on five hits and two walks. He struck out six.
Late rally shut down:
The Rangers cut a two-run deficit to one when
Josh Hamilton
drove in
Elvis Andrus
on a sacrifice fly to right in the seventh inning. The Rangers tried to get a rally going in the eighth.
Michael Young
and
Brandon Snyder
reached on singles to start the inning. Reliever
Brandon Lyon
was brought in to minimize the damage. He got
Nelson Cruz
to fly out to right and
Mike Napoli
hit into what was almost a 4-6-3 double play. Instead, Napoli was ruled out at first but Snyder was safe at second when shortstop
Jed Lowrie
came off the bag too early on the relay throw from second baseman Altuve. Pinch hitter
Craig Gentry
ended the inning with a flyout to center.
The bullpen:
Closer
Joe Nathan
appeared to be unavailable after pitching four consecutive days for the first time since undergoing Tommy John surgery in 2010. Setup man
Mike Adams
was also unavailable because he's still recovering from a respiratory infection. It left manager Ron Washington to use
Alexi Ogando
,
Mark Lowe
and
Koji Uehara
as the setup men.
Robbie Ross
was available for at least one hitter after pitching Friday night. Ogando appeared in the sixth inning, relieving Holland. He allowed one run on two hits in two innings of work. Lowe pitched a scoreless eighth. He's allowed just one run the last nine games.
Hamilton in homerless string:
Hamilton hasn't hit a home run the last seven games, his longest drought of the season. No biggie. Hamilton still leads the majors with 18 home runs. Hamilton had a six-game stretch where he hit nine home runs. When his night was over, Hamilton was 0-3.
Murphy hits inside-the-park home run:
Murphy's third-inning inside-the-park home run was the first of his career and the 23rd in franchise history. Murphy sent a shot to right-center field where right fielder Maxwell missed a diving catch. Murphy beat the throw home easily. It was Murphy's first inside-the-park homer of his career and first for the Rangers since Gentry did it Sept. 23, 2011.
Notes:
The Rangers started the season 15-4 but since then have gone just 10-12, including a 8-10 mark in May. ... Because of pinch hitters, the Rangers moved Hamilton to right field in the ninth inning.
Next:
The Rangers and Astros play the finale of the Silver Boot series at Minute Maid Park.
Colby Lewis
takes on
Jordan Lyles
at 1:05 p.m.