Texas Rangers:

Jose Valverde
May, 16, 2013
5/16/13
11:00
AM CT
By
Todd Wills
| ESPNDallas.com
ARLINGTON, Texas -- It's all about
Yu Darvish
versus
Justin Verlander
on Thursday.
PODCAST
Randy Galloway, Matt Mosley and Glenn "Stretch" Smith discuss the latest Rangers news, including the Yu Darvish-Justin Verlander matchup.

Listen

But the matchup between the Rangers and
Detroit Tigers
also features two American League powerhouses. It should be an entertaining four-game series.
The Rangers have a seven-game lead in the AL West and the best record in the AL. The Tigers are a half-game ahead of Cleveland in the AL Central.
Here's what to watch for as these two titans clash in Arlington:
Failing to sweep Houston:
The Tigers arrive in Texas following a missed opportunity: They didn't sweep the Astros at home. While Texas swept the Astros in Houston over the weekend, the Tigers couldn't finish their series off against baseball's worst team Thursday. Detroit lost 7-5 to Houston as
Miguel Cabrera
's near walk-off grand slam fell just short in the bottom of the ninth. Houston had scored two runs in the top of the ninth against the Tigers' bullpen to take the lead.
Getting started:
The Tigers are getting great starting pitching. Detroit's rotation leads the AL with 19 wins, a 3.32 ERA, 252 strikeouts and 26 quality starts. It doesn't get any tougher in baseball than Verlander (4-3, 1.93 ERA),
Rick Porcello
(1-2, 6.68),
Anibal Sanchez
(4-3, 2.05) and
Doug Fister
(5-1, 3.06). And the Rangers are missing the Tigers' No. 2 starter, flamethrower
Max Scherzer
(5-0, 3.98).
Valverde is back:
The Tigers struggled to find a closer early in the season, even turning to former Ranger
Joaquin Benoit
for a spell. They believe they've solved their issue by returning to old closer
Jose Valverde
. The 35-year-old missed all of spring training before re-signing with Detroit, so he's not in pitching shape just yet, Tigers manager Jim Leyland told reporters this week. Valverde has converted three of his four save opportunities and has a 1.29 ERA in seven games. It will be interesting to see how things go this time around with Valverde. He was already one the most erratic closers in the game, almost always pitching himself into trouble and getting out of it.
Out of the Anaheim mess:
How happy are
Torii Hunter
and
Vernon Wells
right now? They're out of Anaheim, where the Angels are off to an abysmal start. Meanwhile, Wells has double-digit home runs with the Yankees and Hunter already has 15 multihit games for the Tigers and is batting .325. He is two home runs shy of 300 for his career. Hunter has been as good as any hitter in baseball against Darvish, with six hits in 18 at-bats, tying him with the Angels'
Alberto Callaspo
for the most career hits against him.
Versus the West:
The Tigers are 10-6 against the AL West but haven't played the Rangers yet. That includes a 6-1 mark against the Astros. The Rangers are 3-4 against the AL Central, splitting a four-game road series at Minnesota and losing two of three to the White Sox in Arlington.
May, 13, 2013
5/13/13
12:40
PM CT
By
Todd Wills
| ESPNDallas.com
The week will reach a pinnacle Thursday night with
Yu Darvish
facing off against
Justin Verlander
.
PODCAST
Nolan Ryan joins Galloway & Company to discuss his role with the Rangers. Ryan says that he has not been in contact with the Astros about a possible opening and he doesn't think that he would be interested anyway.

Listen

But before that comes a three-game showdown with the Oakland A's, the team that stole the American League West division title from the Rangers last season.
Here's a look at the week ahead:
A's dominating the AL West:
Oakland is 14-5 against the AL West even after losing two of three games over the weekend to Seattle. They are 5-15 against the rest of baseball. The Rangers and A's will play for the first time this season starting Monday and also have three games next week in Oakland. The A's are 6-0 against Houston and 5-1 against the
Los Angeles Angels
.
High-scoring A's:
Oakland had led the majors in runs scored before Sunday's games and the A's are now third with 187 runs, trailing Detroit (190) and Baltimore (188). Oakland leads the league with 165 walks. They've also been shut out four times, tied with Houston and Toronto for the most in the American League.
Darvish-Verlander:
It's as good of a pitching matchup as you'll find. These two could be the top contenders for the AL Cy Young. Darvish picked up his sixth victory Saturday against Houston while Verlander got knocked around Saturday by Cleveland, allowing three earned runs with five walks in five innings. Verlander is 4-3 with a sparkling 1.93 ERA.
Tigers on the road:
Detroit is just 9-9 on the road starting the week but still is tied with Cleveland with the AL Central lead. That includes a four-game sweep of lowly Houston at Minute Maid Park. Detroit has lost four of its last five road games against Washington and Cleveland. The Tigers are home for three games with the Astros before starting a four-game series in Arlington.
Tigers usually finish:
Detroit is 17-2 after eight innings, with one of those losses coming on Sunday against Cleveland.
Jose Valverde
, who was re-signed to be the Tigers' closer, gave up a run in the top of the ninth and the Tribe went on to score again in the top of the 10th off
Darin Downs
to win 4-3.
November, 26, 2012
11/26/12
11:15
PM CT
By
Richard Durrett
| ESPNDallas.com
Editor's note: We continue our look at some of the needs the Texas Rangers hope to address at the winter meetings next week in Nashville.
Today's position:
Relievers
It seems like an annual rite of winter for the Rangers: Go out and reassemble a bullpen. But that's by design. This front office has shown the past few years that they can find bargains, promote young pitchers (see
Robbie Ross
) or make key acquisitions at the deadline.
They'll be on the lookout for how to put together that relief corps again this offseason, and some of that could come into focus in Nashville. The good news for the Rangers: They've got their closer. By pouncing on the closer market early last offseason (even before the winter meetings), the Rangers signed
Joe Nathan
to a two-year deal and he showed he's healthy and productive after his surgery.
But questions remain about who bridges the gap between the starters and Nathan.
Mike Adams
is a free agent and is hoping for a multi-year offer on the open market. So he could get too expensive to retain.
Alexi Ogando
has moved to the rotation and
Mark Lowe
,
Scott Feldman
and
Koji Uehara
are also free agents. Ross is poised to return and currently is the only lefty in the pen.
UPDATE (10 a.m.):
Feldman has signed a
one-year deal with the Chicago Cubs
.
The Rangers have already started to look at that part of the club. They acquired
Tommy Hottovy
from the
Kansas City Royals
and put him on the 40-man roster with the thought of seeing what he's got at spring training. They'll have other candidates, too, that could work their way into that mix (like
Neal Cotts
).
Uehara is likely to be a priority. He really showed what he can do near the end of the season. He was great against left-handed batters with that splitter and performed well after missing part of the season with a lat muscle strain. He'll have some suitors, but expect the Rangers to attempt to bring him back. Perhaps Texas looks at the Japanese market again and Kyuji Fujikawa. The club has scouted the 32-year-old righty. What about
Jason Grilli
? I'm intrigued after his solid 2012, but he may be too expensive.
The club could choose to look at someone with closing experience to use in a setup role (names like
Jonathan Broxton
or even
Jose Valverde
are out there). But this could be a type of hole the club fills last, after figuring out some other pieces. In the past, they've found a way to take care of their bullpen needs without breaking the bank. Since they don't have to pay a closer, that's an option again this offseason. So they might stay away from some bigger names that might want a chance to close again or seek multi-year deals in the hopes of assembling a bullpen without paying big bucks or keeping players to short-term deals. But we'll see.
Anyone in particular you'd like to see the club grab for the bullpen?
October, 15, 2011
10/15/11
4:29
PM CT
By
Jeff Caplan
| ESPNDallas.com
ARLINGTON, Texas -- Tigers manager Jim Leyland on Saturday afternoon first ruled out any chance that ace
Justin Verlander
could be available to pitch to even a single batter in a potential Game 7. Verlander threw 133 pitches in 7 1/3 innings in the Tigers' Game 5 victory.
"If you see Verlander pitch again this year it will be a good thing because we will be in the World Series," Leyland said. "He's done."
Leyland then laid out ideal Game 6 plans for his pen assuming starter
Max Scherzer
doesn't go a full nine for the first time in his career.
Rick Porcello
, who went 6 2/3 innings as the Game 4 starter, could be first up, followed by lefty
Phil Coke
, who dug himself a hole in the ninth inning before ending Game 5. Leyland would then turn to bullpen stalwarts
Joaquin Benoit
and closer
Jose Valverde
, both of whom have not pitched since Wednesday's Game 4.
Valverde remains perfect on the season in save situations, but he has been roughed up in other appearances, including allowing four runs in the Rangers' key Game 4 victory, capped by
Nelson Cruz
's three-run homer in the 11th inning.
October, 13, 2011
10/13/11
8:27
PM CT
By
Jeff Caplan
| ESPNDallas.com
DETROIT -- If
Koji Uehara
believed his manager had lost faith in him after Game 3, a third gopher ball served up in his third postseason appearance Thursday likely sealed his fate.
[+] Enlarge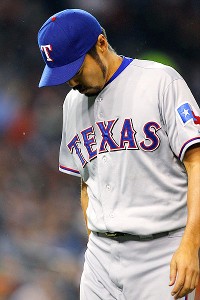 Rick Osentoski/US PresswireKoji Uehara is the first pitcher in major league history to allow a home run in three straight playoff relief apperances.
Ron Washington could have given
Yoshinori Tateyama
the ball in the seventh inning with the
Texas Rangers
trailing the
Detroit Tigers
, 6-2, in a wild Game 5 that turned upside-down in the sixth with four Tigers runs. Washington, though, went back to Uehara, whose psyche at this point might be as damaged as his fastball.
"I gave up a home run, so I'm not convinced of that pitch," Uehara said of the 90 mph fastball that
Ryan Raburn
hit out. "I'm struggling right now."
Which makes it a bit of a mystery as to why Washington went back to the right-hander acquired in a deadline deal from Baltimore. The call for Uehara became even more debatable as the Rangers clawed back to 7-4 in the eighth and then 7-5 in the ninth -- the eventual final score -- with the go-ahead run at the plate.
Clearly, Washington preferred not to employ
Mike Adams
,
Scott Feldman
or
Alexi Ogando
at that point with a four-run deficit, even though the teams get a travel day Friday before the ALCS resumes with Game 6 on Saturday night in Arlington.
So the struggling Uehara got the call, maybe a last hope for Washington that the reliever would snap back. He got
Austin Jackson
to swing-and-miss for strike three. But then came the psyche crusher: Ryan Raburn jumped on Uehara's first-pitch fastball and it was 7-2.
Then came a five-pitch walk to
Miguel Cabrera
. Uehara got
Victor Martinez
to pop up and then Washington came to the mound and called for the left-hander
Mike Gonzalez
to pitch to left-hand-hitting
Don Kelly
, a defensive replacement in the top half of the inning for
Delmon Young
.
Uehara has allowed a home run in all three of his postseason outings. According to the Elias Sports Bureau, he is the first pitcher in major league history to allow a home run in three consecutive postseason relief appearances.
"Obviously, Washington gave me three chances to prove myself, but I haven't been able to produce," Uehara said. "I feel badly."
Uehara said he will always be ready, but it would seem the Rangers' bullpen will consist of one less option for Game 6 and, if necessary, a do-or-die Game 7 on Sunday.
The Rangers should be in good shape. Adams pitched a quick eighth inning, allowing a one-out base hit, but induced a double-play ball to get off the field in 10 pitches. So it sets up a rested Feldman, Ogando, Adams and closer
Neftali Feliz
for a second shot at clinching the AL pennant.
How those four are used will depend upon how deep starter
Derek Holland
can go.
The Tigers' bullpen should also return to full strength. Manager Jim Leyland did exactly what he said he wanted to before the game: let
Justin Verlander
go as long as he could and finish up with
Phil Coke
. It played out as scripted, perhaps with a bit more late drama than Leyland would have liked, but it allowed
Joaquin Benoit
and closer
Jose Valverde
to now have full days to recover from a heavy workload through the first four games.
"We did exactly what we felt we had to do to give ourselves any chance to win the series," Leyland said.
As the former Rangers pitcher Benoit said after Game 3, this series will go how the bullpens go.
October, 13, 2011
10/13/11
12:09
PM CT
By
Jeff Caplan
| ESPNDallas.com
DETROIT -- Tigers manager Jim Leyland ruled workhorse relievers
Joaquin Benoit
and closer
Jose Valverde
out for today's crucial Game 5, a potential damaging blow to Detroit's hopes of staying alive.
"Truthfully," Leyland said, "I want to try to get through this game today with Verlander and Coke."
Leyland wasn't smiling.
Detroit's skipper is putting full faith in ace
Justin Verlander
, a 24-game winner who has proved mortal so far this postseason, can take it deep enough to hand off to
Phil Coke
to finish the job and return the series back to Texas.
Coke has allowed one hit in 1 2/3 innings of work in the ALCS. He retired both batters he faced in Game 4.
Verlander is just hoping he can pitch a game without it being interrupted and then shortened by rain. He pitched eight innings in Game 3 of the ALDS, but lost a 4-2 lead before the Tigers' offense came through for the 5-4 lead with Verlander wearing his heart on his sleeve and throwing 120 pitches.
Benoit has thrown four innings over the last three games, including two in Game 4. Valverde also pitched in the last three games totaling 4 1/3 inning. That burden caught up to him in the top of the 11th Wednesday night as the Rangers struck four four runs, including Nelson Curz's three-run blast that busted the game open.
October, 12, 2011
10/12/11
11:19
PM CT
By
Jeff Caplan
| ESPNDallas.com
DETROIT -- In the hallway outside the
Texas Rangers
' celebratory clubhouse and away from the media horde, catcher
Mike Napoli
wrapped his burly, tattooed arms around the tall, lanky frame of flamethrower
Alexi Ogando
.
They embraced for a few moments, pulled back, smiled at each other, laughed and hugged again. Instantly, a conversation without words between two men who speak different languages needed no interpretation.
[+] Enlarge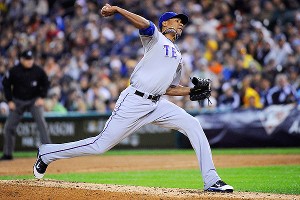 Kevork Djansezian/Getty ImagesAlexi Ogando gave up the tying home run, but the rest of the bullpen picked him up, including Scott Feldman, who was once an afterthought but picked up the win.
"It was like, 'Oh man, come on, I know, I know,' " Napoli said, referencing the 0-2, two-out fastball Ogando fired down the middle of the plate to
Brandon Inge
, who deposited the pitch over the wall to tie pivotal Game 4 at 3-3 just one inning after the Rangers rallied for the lead. "We're family. We all care for each other in here. You don't want something like that to happen."
All ended well despite Ogando's fastball not finding the outside target, his first misstep in three otherwise dominating outings in an ALCS that the Rangers now lead 3-1 with three chances to clinch a return trip the World Series.
Josh Hamilton
, Napoli and
Nelson Cruz
, who delivered another amazing moon-shot, blew the game open in the 11th for the 7-3 win, but it was six more innings of stellar relief work from a rested and near-invincible bullpen that made it possible.
Mike Adams
faced four batters in his one inning.
Darren Oliver
,
Scott Feldman
and
Neftali Feliz
all faced just three.
Of the five relievers that had a part in this huge win, none have been a member of this burgeoning family longer than Wednesday's winning pitcher, and perhaps fans tend to forget that about Feldman. The 6-foot-6 bearded wonder won 17 games as a starter in 2009, struggled in 2010 and then injured his right knee. The day after that season ended he underwent microfracture surgery, a procedure seen more in the NFL and NBA. He watched his teammates celebrate last year all the way to the World Series.
And for much of this season, Feldman was an afterthought among fans as he rehabbed in the shadows. Even later in the season as he made his return to the mound, results were sketchy and his future cloudy. Who knew if Feldman would be good enough to make the playoff roster?
"Pitching in the postseason is something new to me, and I'm having fun with it," Feldman said. "It's a lot of fun being on this team right now."
Feldman's long relief in Game 2 after starter
Derek Holland
faltered early allowed the Rangers to stay close and eventually win. His one inning Wednesday in the 10th also proved colossal as manager Ron Washington wanted to save closer Neftali Feliz for the final three outs, whenever those were to come. Tigers manager Jim Leyland didn't have that luxury and turned to
Jose Valverde
for two innings.
Valverde got through the 10th, but the Rangers shelled him in the 11th for four runs before he could get two outs.
Feldman's 10th, with a little help from his battery mate Napoli, cleared the way for the offensive fireworks.
Feldman got Inge on a bouncer back to the box for the first out. Then, on an 0-1 pitch, he inexplicably sailed one across
Austin Jackson
's chest to put the Tigers' best threat to steal -- and the potential winning run -- on first base.
"That's the last thing you really want to do there is give a guy a free pass," Feldman said, "especially with
Miguel Cabrera
lurking around there."
With
Ryan Raburn
at the plate and Cabrera, whom the Rangers walked three times and once intentionally with the bases empty, was on deck. On cue, Jackson took off for second base. He didn't make it. Napoli popped up and gunned him down for the second out of the inning, kicking the door open to get out of it without facing Cabrera, who doubled in two in the third.
"Nap bailed me out big time," Feldman said. "He made a great throw. Unbelievable throw really. That was huge."
Feldman then got Raburn to chase a fastball that tailed off the plate for his fifth postseason strikeout to end the inning.
And now Feldman, who hasn't allowed a run or a walk and has surrendered just one hit in 5 1/3 relief innings, is one win away from his first World Series.
"He's been a huge part of our team for a long time now,"
Michael Young
said. "When you have microfracture surgery that's no small thing. We all saw how good he was in 2009. He's shown many times what he means to this team. He's always been a great teammate. I think we're really happy now he's able to make contributions because he deserves it. He deserves the chance and he's capitalizing on it."
Just another family moment.
October, 11, 2011
10/11/11
11:43
PM CT
By
Jeff Caplan
| ESPNDallas.com
DETROIT -- With heavy eyes and a soft voice, beleaguered
Texas Rangers
reliever
Koji Uehara
sounded like a man who doesn't expect to pitch again in the postseason.
"I have to say there's no confidence from the dugout, from Wash," Uehara said, explaining through a translator how he believes manager Ron Washington must feel after another disappointing outing in Tuesday's 5-2 loss in Game 3. "I have to say that."
Uehara is probably right. Called upon with two outs in the sixth inning to prevent further damage after the
Detroit Tigers
took a 3-1 lead and knocked starter
Colby Lewis
out, the Japanese right-hander immediately coughed up an RBI single to
Austin Jackson
on a 1-2 fastball. Uehara got the third out and Washington, knowing the heavy lifters in his bullpen had plenty of burn in the first two games, stuck with Uehara in the seventh.
[+] Enlarge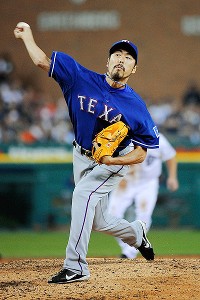 Kevork Djansezian/Getty ImagesKoji Uehara lasted just 2/3 of an inning and inflated his postseason ERA to 13.50.
Miguel Cabrera
led off and likely sealed Uehara's fate. The AL batting champ crushed Uehara's 83 mph splitter, a moon-shot high and deep that disappeared into the Comerica Park lights. Long gone. 5-1. Series lead slit to 2-1.
For the first time, the ballyhooed Rangers bullpen that came into Tuesday's game boasting a dozen-plus innings of scoreless ball, didn't come through. For Uehara, a blaze of smiles and high-fives when pitching well, such failures have become a recurring nightmare, and he feels the pain.
"Everything went wrong. That's why the result came out the way they did," Uehara said of his outing that lasted just 2/3 of an inning and inflated his postseason ERA to 13.50. "The results tell me that ever since I came here I haven't been able to produce."
Worse, he doesn't know why.
"If I knew; I wish I knew," Uehara lamented.
Washington opted not to turn to
Alexi Ogando
in the sixth inning and trailing. Ogando had pitched 3 2/3 innings in the first two games and with the prospect of two more games on consecutive days, Washington knew he will need his highly effective flamethrower.
Scott Feldman
pitched four-plus innings of scoreless relief in Monday's Game 2 and was unavailable.
By the time the seventh and eighth innings rolled around, the score dictated that Washington leave
Mike Adams
and closer
Neftali Feliz
untouched. A full bullpen should be rested and ready for Wednesday's critical Game 4.
The Tigers, meanwhile, again received the better starting performance from the former Seattle Mariner
Doug Fister
, who allowed two runs in 7 1/3 innings. Former Rangers reliever
Joaquin Benoit
and closer
Jose Valverde
, who remained perfect in save situations this season finished the job in orderly fashion.
"I don't see any difference," Benoit said in comparing the two pens. "When the game is on the line, they have their guys and we have our guys. Whatever the bullpens do is how these games are going to go."
October, 8, 2011
10/08/11
8:00
AM CT
By
Jeff Caplan
| ESPNDallas.com
ARLINGTON, Texas --
Neftali Feliz
and
Jose Valverde
combined for 81 saves during the regular season and have five in the teams' six wins this postseason. The Dominican closers are two of the best in the business and the first one to blink in the American League Championship Series could cost their team the pennant.
That's pressure of being the closer.
While the
Texas Rangers
' Feliz managed 32 saves in 38 opportunities, he needed a strong second half in which he gained confidence in his off-speed stuff to complement his ferocious fastball and turn in a sensational second half of the season. Still, it couldn't match what the Detorit Tigers' Valverde accomplished -- perfection.
The tubby, goggle-wearing righty was a perfect 49-of-49 in save attempts during the regular season, and although he was spotty in the ALDS, he notched saves in his two opportunities. Feliz, 23 and who is 10 years younger than Valverde, said he has followed his countryman throughout his career and forged a relationship with him about three years ago.
"It's exactly what we try to do in the offseason, try to prepare and try to be perfect once the season comes around," said Feliz, who allowed one run on two hits in 3 1/3 innings in notching three saves in the ALDS. "I would love to be able to do that, to be able to be perfect in every save opportunity, but that's something I'm totally shooting for in the future."
Feliz said he's not surprised that Valverde put up such eye-popping numbers. Valverde, who mixes a mid-90 mph fastball and mid-80s splitter, has twice posted 40-plus saves in his nine big-league seasons (47 of 54, 2007 with Arizona; 44 of 51, 2008 with Houston).
Also not surprised is Dominican slugger
Adrian Beltre
, who has long known Valverde, but has never faced him.
"He had the stuff to do it," Beltre said. "He's had good years before, not the perfection like this year, but he had the stuff to do it. I'm not surprised at all because he works hard and he has the stuff."