October, 12, 2012
10/12/12
8:00
AM CT
By
Richard Durrett
| ESPNDallas.com
Editor's Note: This is the fifth of a five-part series looking at the issues surrounding Josh Hamilton and free agency as it pertains to the Texas Rangers.
Today's topic:
Mental approach and attitude
Many of you have expressed your disappointment in Hamilton and much of it seems to be that he appears like he doesn't care at times. The image that is seared into many fans is Hamilton's drop in shallow center field against Oakland. If he comes in for that ball, gets in the proper athletic position and misses it, that's one thing. But he flipped his glove up and appeared to take a way too relaxed approach to the ball. He overran it and the error turned a 5-5 game into a 7-5 A's lead. Oakland went on to win the division and the Rangers' season ended two days later.
Hamilton did stand up and take responsibility after the game, saying he messed up the play. I thought that was important. But he also admitted that he was not in the proper, fundamental position to make the play. How was it possible that he wouldn't be in that correct position in Game No. 162 with the division on the line?
Hamilton has tremendous gifts. We've talked about many of them this week here on the blog. One that wasn't mentioned was he is a good outfielder, has a solid arm and can really run the bases. But to do all of that takes focus. At times, Hamilton shows that focus. Few pitchers in baseball could throw a fastball by Hamilton in April and May. But when they quit trying, Hamilton had trouble laying off the breaking stuff outside of the strike zone. When he did show plate discipline, he took walks and would then force pitchers to at least try to throw something close to the zone. If they did, Hamilton made them pay.
The problem was that those types of at-bats didn't happen enough down the stretch. He was 0-for-4 in the regular-season finale and saw eight pitches. He swung at six of them and never saw a ball. He came up late in the game representing the tying run with a change to erase the memories of his error or missing five games of a crucial road trip because of an odd injury that impacted his vision and instead struck out on an at-bat where he didn't look close to being in sync.
I know that at times it seems like Hamilton doesn't care. He appears to give away at-bats and doesn't take the approach that he's going to fight up there. He's aggressive by nature and will swing at the first pitch more often than most players in the league. But I also think that part of reason Hamilton looks like he doesn't care is that his personality allows him to quickly forget about things and attempt to move on.
Perhaps that was something he developed when dealing with his daily fight against a drug and alcohol addiction. How many times did we see Hamilton look absolutely lost in a couple of at-bats and then hit a tough pitch for an RBI double or deliver a big homer? That would happen in the same game. He had two of the best months you'll ever see this year and then two of the worst. After a terrible July, some players might have spiraled down offensivley and never figured it out. Hamilton had a great August and helped lead the Rangers' offense back from a two-month slump. Then, when the games counted the most, he was out for five games ocular kerotitis, dropped a routine fly ball and couldn't hit in the final week of the season.

He's impressive and maddening at the same time. That's Hamilton.

Where the Rangers have an edge over everyone else in terms of doing homework on Hamilton is they know what kind of personality he is and the drama that surrounds him. The question is how much of it they are willing to put up with and for how long. And, of course, what that's worth to them in terms of how it impacts any offer they may choose to give him.

How much does attitude play in your minds when it comes to whether Hamilton should return for next season and beyond?
October, 11, 2012
10/11/12
8:00
AM CT
By
Richard Durrett
| ESPNDallas.com
Editor's Note: This is the fourth of a five-part series looking at the issues surrounding Josh Hamilton and free agency as it pertains to the Texas Rangers.
PODCAST
Ben and Skin tell you how Josh Hamilton will be remembered through an unbiased, unemotional point of view.

Listen

Today's topic:
Popularity
We've looked at what a contract offer for Hamilton might look like and how he's done in terms of health and at the plate. But what about his popularity?
That topic does matter when you consider the overall picture of Hamilton and what he means to not only the Rangers, but another team. For general managers, this topic isn't important. You decide if Hamilton can help you on the field, how long you think he'll be on the field and what his overall worth is to obtain him. Whether he's popular with fans is very secondary.
But in the overall context of Hamilton as a business, it matters. Ask owners of some of the teams that might go after him and they'll wonder if getting a player with Hamilton's fame won't help them put more people in the seats. All you had to do was take a walk around Rangers Ballpark in Arlington and there was never a question as to the jersey name and number you'd see the most. I'll bet even some of the people booing Hamilton down the stretch have his jersey at home somewhere.
Yu Darvish
and
Ian Kinsler
have made runs at Hamilton in terms of popularity, but they still can't catch him. Last week, MLB and the MLBPA released a list of the top-20 selling jerseys (Majestic Athletic jerseys) since the All-Star break.
Derek Jeter
was No 1. Hamilton was No. 2.
Darvish ended up No. 7 on that list, but you figure that his breakout season and the fact that he's a rookie should put him high up on the list (not unlike
Mike Trout
, who was No. 5). Kinsler, by the way, was 14th.
But Hamilton seems to always show up on these lists near the top, no matter what. Just imagine how he'll do if he's not in a Rangers jersey in 2013. Fans will be rushing to get that one, won't they?
It's difficult to quantify what Hamilton might mean to ticket sales and sponsorships, where his 2013 club wouldn't be sharing any of those profits with other big league clubs. But it's clear that he's still a popular player and one who fans want to see. You don't know what you might see from him. Ask the
Baltimore Orioles
fans who were there that night in May when Hamilton hit four home runs. He has incredible athletic gifts and he's one of those athletes that fans want to see. Combine his talent with a tremendous comeback story and you have a perfect storm of popularity. We'll see how that may impact his value this offseason.
October, 10, 2012
10/10/12
10:00
AM CT
By
Richard Durrett
| ESPNDallas.com
Editor's Note: This is the third of a five-part series looking at the issues surrounding Josh Hamilton and free agency as it pertains to the Texas Rangers.
PODCAST
Matt Mosley joins Ben and Skin to discuss, debate and analyze the current state of the Texas Rangers.

Listen

Today's topic:
Hamilton at the plate
We've talked about what kind of offer the Rangers might consider for Hamilton and what all that entails and we've discussed his injury history. Now, let's focus in on just what he does in the batter's box in terms of production.
When the Rangers made the decision to trade for Hamilton, it wasn't an easy one. The club didn't have a ton of pitching prospects following the 2007 season and obtaining Hamilton meant shipping
Edinson Volquez
to the
Cincinnati Reds
. But there were scouts in the room as general manager Jon Daniels discussed it with his group that insisted Hamilton had MVP talent. And 2010 was proof they were right.
When talking about Hamilton's production, you have to look at what he's done to at least provide a guide as to what he might do in the future. So a brief history. Hamilton didn't waste any time making an impact in Texas. In 2008, his first full year in the big leagues, he played in 156 games, still a career-high, and hit .304 with 32 home runs and 130 RBIs, also tops in his career. He introduced himself to a nation with an incredible display at old Yankee Stadium in the 2008 Home Run Derby and got a chance to tell his remarkable story of overcoming drug and alcohol addiction to become a star in the big leagues.
Injuries dominated his 2009 season, allowing him to play in just 89 games. But he still managed 10 homers and 54 RBIs to go along with a .264 batting average. It was his worst statistical year thanks in large part to lengthy time on the DL. In 2010, Hamilton returned ready and hungry to show what he could do. And it all came together for him in an MVP year. He was so good -- .359 batting average, which led the league, 32 home runs and 100 RBIs -- that when he fractured his ribs and missed all of September, he still earned the MVP award.
Hamilton became a truly feared hitter in 2010. Just ask
New York Yankees
manager Joe Girardi, who either intentionally walked him or had his pitchers try to pitch around him. Hamilton was named MVP of that ALCS, going 7-for-20 with four homers, a double, seven RBIs and eight walks, five of them intentionally in six games. He set an ALCS record for intentional walks, tying the most in LCS history.
In 2011, Hamilton and the Rangers started the season off hot, but then the slugger tried to tag up on a foul ball down the third-base line in Detroit and had a nondisplaced fracture in his right humerus bone that sidelined him nearly six weeks. Still, Hamilton produced when healthy the rest of the year. He batted .298 with 25 homers 94 RBIs. He played part of the end of the regular season and the playoffs with a sports hernia (not to mention torn adductors) and hit .271 with seven doubles, a homer and 13 RBIs in 17 playoff games.
This season, Hamilton was up and down. And when he was up, he was way up. He was AL player of the month for April and May. He joined
Matt Kemp
as the seventh and eight players since 1921 to have at least nine homers, 25 RBIs, 20 runs and 34 hits in an April. He was just the third player in Rangers history with at least 12 homers and 32 RBIs in May. But while the highs were high, the lows were low too. He hit just .223 in June and .177 in July, hitting just 11 homers and driving in 39 runs in the two months combined. That coincided with the Rangers' offensive woes as well. As a team, the club had the fewest number of runs in July of any AL team.
Hamilton came back with a good August, hitting .310 and driving in 28 runs. The Rangers scored the most runs of any AL team that month. Is all of that a coincidence?
Hamilton finished 2012 with a 2-for-13 showing in a huge three-game series in Oakland and he missed most of a crucial road trip because of vision issues. It was not the ending he wanted has he went 0-for-4 and faced eight pitches in the Rangers' 5-1 loss to Baltimore in the AL wild-card game.
But put it all together and you're talking about a player who has produced when healthy. If you go purely by the numbers, there have been few players to show as much power and ability to drive in runs the last three seasons than Hamilton. At 31, he's one of the top middle-of-the-order bats in the lineup.
So any talk about what to offer Hamilton starts with the idea that he's the best hitter on the market. And if he can stay healthy, history says he'll be a producer. Of course, that's not the entire package that is Hamilton (and we've already talked about some of that and will discuss more tomorrow), but teams will be paying Hamilton to give them big offensive numbers in the middle of the order. His brief history says he will do that. What teams don't know is for how long.
October, 9, 2012
10/09/12
8:00
AM CT
By
Richard Durrett
| ESPNDallas.com
Editor's Note: This is the second of a five-part series looking at the issues surrounding Josh Hamilton and free agency as it pertains to the Texas Rangers.
Today's topic:
Health
When any team -- whether it's the Rangers or somebody else -- discusses what kind of parameters to consider for Hamilton, injury history has to be at or near the top of the list. And in Hamilton's case, with his history and age -- 31 -- it's an important factor.
Hamilton managed to both help and hurt his value in this area this season, if you ask me. First, he played 148 games, his most since playing 156 games in 2008. He avoided the big injury, which cost him time in previous years. He played just 121 games in 2011 after sliding into home plate in April in Detroit tagging up on a fly ball in foul ground and missed nearly six weeks with a fracture in his right humerus bone. In 2010, he missed nearly all of September with hairline fracture in his ribs, and multiple injuries caused him to play just 89 games in 2009.
This season, though, Hamilton did miss games with back stiffness, an intestinal virus and ocular keratitis. The last one came at a bad time for the Rangers, with the club on one of its biggest road trips of the season in late September. Turns out that Hamilton was consuming too much caffeine, which was causing him vision issues. He got off the sports drinks and the extra cups of coffee at home and said he felt better. Still, what does it say to prospective teams that you missed a critical part of the season for what Hamilton himself admits is a "weird" reason?
But in my opinion, it's the injuries (more than the fear of any kind of alcohol relapse), that have teams worried about giving Hamilton huge years. Well, at least it should concern them to give him more years. How healthy will he stay during the life of a contract that's any more than three years? Is that a risk worth taking when you're talking about a player that could command at least $20 million a year?
The difference in the deals that
Prince Fielder
and
Albert Pujols
is that both of those players have a longer track record of high production and staying healthy than Hamilton. Pujols had played at least 158 games in seven of his 11 seasons in St. Louis (and the fewest games he'd played in a season was 143 in 2006) before getting a 10-year deal from the Angels (I still can't believe he got 10 years, but he was a top hitter for a long time before he got it). Fielder played at least 157 games in all six of his seasons in Milwaukee before inking his nine-year deal in Detroit. He was also 27 when he signed.
When he's on the field, Hamilton is a productive player overall. I know that's tough for some Rangers fans to admit after he struggled in all facets the final few weeks of the season. But in his big league career, Hamilton is batting .304. He has hit at least 32 home runs in three of his seasons in Texas, including a career-high 43 this year. He's had at least 100 RBIs in three seasons as a Ranger, as well. When Hamilton gets in a groove, there are few in the game like him (see parts of his 2010 MVP year and April and May this year).
How confident teams are that Hamilton can stay healthy will dictate how willing they are to go out and give him a handful of guaranteed years. So his injury history -- and what those injuries were -- will certainly play an impact in his overall value.
Can Hamilton stay healthy and play most of the season for each of the next three years? What about five? Seven?
October, 8, 2012
10/08/12
8:00
AM CT
By
Richard Durrett
| ESPNDallas.com
Editor's note: This is the first of a five-part series looking at the issues surrounding Josh Hamilton's free agency and how the Rangers should handle it.
Today's topic:
Contract
[+] Enlarge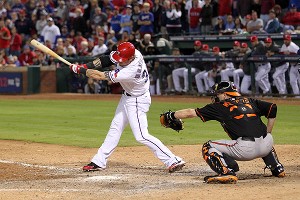 Tim Heitman/US PresswireJosh Hamilton couldn't deliver when it most mattered, but his regular-season numbers are worthy of a look for teams looking to sign him.
I'll bet that there was a fairly large group of you that read that question and immediately answered $0. That's understandable with the season's last two weeks fresh in everyone's mind. Hamilton missed one of the biggest road trips of the season -- one in late September against the
Los Angeles Angels
and
Seattle Mariners
with the Rangers trying to build their AL West lead -- because of ocular keratitis. Perhaps only Hamilton could miss five full games because of too much caffeine in his system. He returned and finished the season with a terrible error in shallow center field in Oakland in the division-deciding game and then went 0-for-4 in the wild-card loss to the Orioles, including a three-pitch strikeout late in the game. He saw eight pitches, swung at six of them, and never took a ball. Hamilton didn't deliver when it mattered most in those final games, and that's the final image of him.
But the other side of Hamilton is that he gave the club 43 homers and 128 RBIs. He hit .285 and managed to play in 148 games, his most since 2008. There were games when Hamilton looked completely out of it at the plate and yet found a way to hit a home run or deliver some sort of RBI hit that helped the club. What he didn't seem to do was take the offense on his back in the second half of the season the way we've seen in previous years. We'll get to more of Hamilton's overall numbers later in the week here on the blog.
Put all of that together -- the bad finish, the odd injuries, the whole Josh Hamilton package -- and the Rangers have to figure out what, if anything, they want to offer him. We've seen this front office take different approaches over the past few years to their own free agents. They fought hard on
Cliff Lee
, but in the end Lee chose Philadelphia. They had certain parameters on
C.J. Wilson
and never really made a formal offer because they knew those weren't close to what a few other teams were offering.
So if they decide to at least discuss parameters with Hamilton and make some sort of offer, what makes sense? I really think this comes down to the term of the contract, not the dollar amount. I could argue that the last two weeks have hurt Hamilton's overall value, but he's still in the $25 million range, isn't he? It could be more or less depending on those guaranteed years. But how many do you give Hamilton, who has had an injury history and is now 31 years old? I think three guaranteed years is all I'd go. Maybe there's a vesting option for a fourth year based on whether he stays healthy. But you don't want to get into a situation where you're paying a player that kind of money and not getting a return on the investment.

Does any other team give Hamilton more than that? I'd say the odds are good just because it takes one owner or one team to take that extra step out there. And I just don't think the Rangers will do that. I think they'll decide what they're comfortable with -- and it may not be what I've suggested -- and stick to it. If the market doesn't open up for Hamilton, the Rangers would have a shot. And one reason it might not open up like crazy is that teams could get scared off by the unknown of Hamilton. The Rangers know all about him and what it takes to have him on the team -- the support he needs, the patience when the strange injuries happen (even he acknowledges that "weird" things happen to him) and what to expect. The other clubs don't.
What Hamilton's final week did, though, was give the club plenty of cover with fans. This staff doesn't make decisions based on public opinion polls anyway, but if Hamilton doesn't return, my guess is that many fans won't be as upset as they would have been just a few months ago. Remember when many felt the Rangers should have given Hamilton the big deal after his April and May? But for those who think the Rangers shouldn't even bother with Hamilton, keep in mind the team needs to figure out how to get those 40-plus homers and 100-plus RBIs from someone else (or maybe a few folks).
Should the Rangers offer Hamilton a contract? What do you think is the right offer? How many
guaranteed
years are you willing to give him?