Texas Rangers:

Juan Uribe
November, 1, 2010
11/01/10
3:58
PM CT
By
Jeff Caplan
| ESPNDallas.com
ARLINGTON, Texas --
Pat Burrell
, who struck out four times in Game 3 and is hitless in the World Series (0-for-9), returns to the
San Francisco Giants
' lineup as the designated hitter for tonight's Game 5. After taking a seat to clear his head and work on his swing, Burrell will hit seventh against the
Texas Rangers
.
Game 4 hero
Aubrey Huff
, who hit a two-run homer in the second inning, drops from third to sixth in the order.
Aaron Rowand
will also make his first start of the World Series in center field, which moves
Cody Ross
to left field and
Andres Torres
to right field.
Here's the Giants' lineup:
RF Andres Torres (S)
2B
Freddy Sanchez
C
Buster Posey
LF Cody Ross
3B
Juan Uribe
1B Aubrey Huff (L)
DH Pat Burrell
SS
Edgar Renteria
CF Aaron Rowand
P
Tim Lincecum
(3-1, 2.79 ERA)
November, 1, 2010
11/01/10
1:29
AM CT
By
Jeff Caplan
| ESPNDallas.com
ARLINGTON, Texas – Unfortunately for young
Texas Rangers
starter
Tommy Hunter
, his most joyous moments this postseason amounted to twice dousing TBS sideline reporter Craig Sager with exploding beer.
Otherwise, it's been a disappointing playoff run for the 24-year-old righty. In his third postseason start, this one being crucial Game 4 of the World Series on Sunday night, Hunter again didn't pitch terribly, and he again left a close game. But, for the third time he failed to see the fifth inning and put back to work a sputtering bullpen.
Done in by 21 pesky San Francisco foul balls -- including 12 in the third inning alone -- that helped to drive up his pitch count, and by a first-pitch, 404-foot two-run homer by local product
Aubrey Huff
in the second inning, Hunter found himself again trying to explain how he felt good on the mound but couldn't get the job done.
Huff's homer stood as the Giants rode their young lefty,
Madison Bumgarner
, to a 4-0 victory. The Giants will now hand the ball to ace
Tim Lincecum
on Monday for the first of three elimination chances for the Giants. Of course, the Rangers will grasp to hope knowing they'll have
Cliff Lee
going in his final start for the Rangers of 2010.
As for Hunter, he disappointingly ends his postseason with a 0-2 record and a 5.56 ERA. The two losses amount to half his total during the regular season when he won 13 of his 22 starts and never saw his ERA rise above 3.99
"It's been tough when you don't go out and do what you're supposed to do. It's tough," Hunter said. "I felt pretty good tonight. There's not too many things I would take back."
Except for one: Huff's towering home run into the right-field seats.
"He hit a pitch that didn't do what it was supposed to do. It was a mistake," Hunter said. "That's what good hitters do. They hit mistakes."
Hunter's night might have turned out differently with just a smidgeon of help from his offense. But the Rangers' mighty bats, bolstered by the designated hitter being in effect in their home ballpark, were befuddled by Bumgarner, who was nothing short of brilliant in his first World Series appearance.
Coming in, this matchup was billed as a toss-up: Two youthful arms with no postseason experience and nerves that might fray under pressure. Bumgarner watched fellow lefty
Jonathan Sanchez
get roughed up and leave early in the Rangers' Game 3 win, but 21-year-old simply filed that away, came out and pitched the game of his brief big-league career.
He shut down Texas on just three hits, all singles. He struck out six and allowed one baserunner to reach scoring position.
The disparity in the two starters' efficiency was drastic. Bumgarner threw 106 pitches and faced 27 batters over eight innings. Hunter, in just four innings, threw 83 pitches to 18 batters.
"He did great," Hunter said of his counterpart. "He did what everybody's supposed to do. He limited baserunners, he threw the ball well. Tip your cap. Probably the most potent lineup in baseball, he shut them down."
Having to win three in a row, the Rangers will need their starters to go deep. Their bullpen situation is messy after
Alexi Ogando
exited the game during a second impressive inning of work with a left oblique strain. He will undergo exams Monday morning, but he is not expected to be available for Game 5 or beyond.
That removes the best right-handed arm outside of closer
Neftali Feliz
, who went a third World Series game Sunday without making an appearance. Trusted bullpen hands to get games to the ninth have dwindled to seemingly lefty
Darren Oliver
and, to an extent, lefty
Derek Holland
.
Washington's confidence in
Darren O'Day
has to be somewhat shaken after he offered up a home run to
Buster Posey
in the eighth to make it 4-0. It was the second time in the series that O'Day has given up a blast to the first batter he's faced.
Juan Uribe
tagged him for a three-run shot after O'Day relieved Lee in Game 1.
Of the seven relievers on the World Series roster, four own astronomical ERAs. O'Day and Kirkman are on the low end at 13.50 each. Holland is at 27.00, and
Mark Lowe
is at a mind-blowing 67.50. Ogando had yet to give up a run in 3 2/3 innings pitched, but he's now out of service.
Oliver (3.38) and Feliz (0.00) are the only relievers that haven't completely folded in pressure situations.
"I don't think they're going to need us [Monday]," O'Day said. "A guy like Cliff doesn't have two bad games in a row. [The Giants] have got to go through him to win tomorrow, so maybe they won't need us. That'd be nice."
October, 31, 2010
10/31/10
11:47
PM CT
By
Jeff Caplan
| ESPNDallas.com
ARLINGTON, Texas -- After Darren O'Day got Buster Posey to ground out in Game 3, the Texas Rangers' reliever acknowleged that the San Francisco Giants' rookie catcher is a pretty darn good hitter and that he'll surely face him again.

For O'Day, Game 4 turned out to be sooner than he would have liked.

O'Day replaced Darren Oliver specifically to pitch to the right-handed-hitting Posey. The youngster battled O'Day for seven pitches, fouling off three, but the seventh landed on Green's Hill in dead center to give the Giants an insurmountable 4-0 lead.

"We threw him everything. We mixed it good," Molina said. "We had a good sequence. He just missed with the ball kind of middle-up and he [Posey] took advantage of it."

Said O'Day: He fouled off a lot of good pitches, you've got to give him credit for that and battled me and waited for his pitch. He got it up in the air and it got out of here. [The pitch] was away, it was just a little up."

In two of O'Day's four relief appearances, he's surrendered a home run to the first batter he faced. After relieving Cliff Lee in Game 1, Juan Uribe jacked a three-run shot to turn a 5-2 deficit into 8-2 in the fifth inning. In Sunday's Game 4, the Giants already led 3-0 behind a sensational pitching effort from lefty Madison Bumgarner.

O'Day, who has a 13.50 ERA in the World Series, said that fact doesn't faze him.

"I've been coming in most of the year and facing tough guys the first at-bat and I've been fine," O'Day said. "That was more him [Posey] putting a great at-bat on me. You've got to give him credit for sure."


October, 31, 2010
10/31/10
4:07
PM CT
October, 30, 2010
10/30/10
11:18
PM CT
By
Jeff Caplan
| ESPNDallas.com
ARLINGTON, Texas – The count went from 0-and-2 all the way to 3-and-2 and an all-time Rangers Ballpark record crowd of 52,419 rose as one, sweating a tidal wave of nervous energy that could have swept sidewinder
Darren O'Day
into early retirement.
A faulty cog in the
Texas Rangers
' consecutive bullpen meltdowns by the Bay, O'Day called out catcher
Bengie Molina
to discuss pitch selection to dangerous rookie catcher
Buster Posey
, who, with a runner on first, could have tied it up with one crack of the bat.
"I had an idea what I wanted to throw," O'Day said. "And he [Molina] had a better idea of what I wanted to throw. I went with Bengie."
[+] Enlarge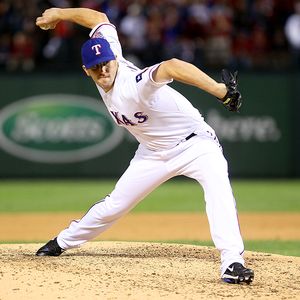 Elsa/Getty ImagesDarren O'Day opted to listen to Bengie Molina before getting Buster Posey to ground out to end the eighth inning. "I had an idea of what I wanted to throw, and [Molina] had a better idea of what I wanted to throw," O'Day said. "I went with Bengie."
O'Day executed the pitch, a slider away, and Posey got on top of it, softly rolling it up through the box. Shortstop
Elvis Andrus
charged it, scooped it and threw out Posey in plenty of time.
Inning over. Crisis averted.
"I wasn't worried at all," starter
Colby Lewis
calmly said in the happy postgame clubhouse.
That meeting at the mound was the biggest single moment of the World Series for the Rangers. Whether it becomes a series-altering is to be seen, starting with Sunday's Game 4.
But, Lewis' second consecutive brilliant start, following up his eight-inning gem that clinched the American League pennant, spared the bullpen from another long night and pulled the Rangers back into the World Series. The 4-2 victory leaves them trailing the
San Francisco Giants
, 2-1, with two more to go at home and under AL house rules.
Lewis gave up a second solo home run to
Andres Torres
in the eighth inning with one out. After
Nelson Cruz
made a terrific running catch on Freddy Sanchez's missile to left, Lewis got to 0-2 on
Aubrey Huff
and appeared poised to get out of the eighth on his own terms, as he did against the Yankees.
But, then Lewis plunked Huff. That triggered manager Ron Washington to the mound. Lewis exited to a standing ovation. Posey stood in the on-deck circle representing the tying run.
"I brought in O'Day to face Posey," Washington said. "I wanted to give him [Posey] that funky [side-arm] look. If Posey gets a hit, I'm bringing in [Neftali] Feliz."
More on the young flamethrower in a moment. First, O'Day had to walk through fire as the right-hand-hitting Posey laid off three straight pitches to take the count full. Molina and O'Day met on the mound.
O'Day, Molina said, wanted to throw Posey a slider on the inside of the plate. Molina shook him off and recommended, if not demanded, a slider away.
"Seeing as Bengie's been playing since I was maybe in the sixth grade, and he played for that team and that [Posey] was his replacement," O'Day said, "I figured he probably had a better idea of what he wanted me to throw."
[+] Enlarge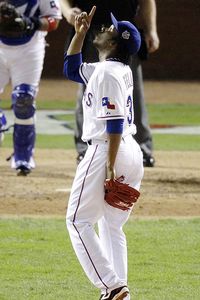 AP Photo/Eric GayNeftali Feliz made his first appearance of the World Series, blowing away the Giants in the ninth inning to earn the save.
Said Molina: "It's a no-brainer because I think the only chance you give [Posey] is to have something middle-in and then he hits it out. I don't mean that Posey cannot hit the ball the other way. I don't mean that at all. I'm just saying you go with that because it's a lot harder -- with O'Day pitching -- it's a lot harder to go the other way."
Retiring Posey finally allowed Washington to to go the 22-year-old Feliz for a postseason save situation in his first World Series appearance. It took 14 games, but was well worth the wait. A tad nervous and wild during the ALDS, Feliz blistered fastball after fastball. He threw 12 heaters among 13 pitches in the 1-2-3 ninth.
"I was mentally prepared," Feliz said. "I was trying to keep all my pitches low and do my job."
After a third-pitch slider to lead-off man
Pat Burrell
, Feliz threw nothing but smoke, all clocked between 97 and 99 mph. Burrell swung at a high one and whiffed.
Cody Ross
, who broke up Lewis' shutout bid with a solo homer in the seventh, sailed a 99 mph fastball to the warning track in right.
Juan Uribe
had no chance to catch up to a 99 mph riser.
"Just blowin'," Lewis said. "It was awesome."
Feliz became the second-youngest pitcher in World Series history to record a save behind only Bob Welch in 1978 against the
New York Yankees
. Who'd the 22-year-old pass? Nolan Ryan. The Rangers team president and co-owner saved Game 3 for the 1969
New York Mets
. He, too, was 22, but about three months older.
Asked about passing Ryan, Feliz smiled as he spoke in Spanish to team interpreter Eleno Ornelas. A contingent of Latin press suddenly laughed out loud as Feliz answered the question.
"Of course, I am very happy and I have to take advantage of what life gives me, the chance to save a game," Ornelas translated.
Perhaps something was lost in translation. Not lost was the uplifting performance by a bullpen that desperately needed one.
"It's huge, especially for [O'Day]," the staff's elder statesman,
Darren Oliver
said. "He's been doing it all year anyway, but to do it in a big situation like this, because everybody's watching, every pitch is so important, I'm sure his phone is blowing up with a bunch of text messages.
"It's good for him. At least he'll get some good sleep tonight."
October, 29, 2010
10/29/10
12:37
AM CT
By
Jeff Caplan
| ESPNDallas.com
SAN FRANCISCO --
C.J. Wilson
deserved better. On a night when the lefty came to deal on the heels of
Cliff Lee
's surprising Game 1 tumble, a ruptured blister on his middle finger, an impotent offense and an imploding
Texas Rangers
bullpen turned a Game 2 pitchers' duel into a 9-0 San Francisco romp.
Wilson pitched superbly, matching the Giants' stellar starter,
Matt Cain
, for all but one pitch. San Francisco shortstop
Edgar Renteria
launched a fifth-inning Wilson fastball high into the left-field bleachers for a 1-0 lead. In the top half of the fifth, Rangers second baseman
Ian Kinsler
missed giving Texas the lead first with a blast that smacked off the top of the center-field wall, just inches from going over, and somehow stayed in play.
Kinsler settled for a leadoff double, but another round of failed hitting with runners in scoring position left him standing on second.
[+] Enlarge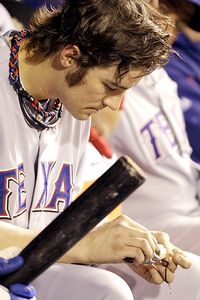 AP Photo/David J. PhillipRangers starter C.J. Wilson went toe-to-toe with the Giants' Matt Cain, but his solid outing was ruined by a blister and his bullpen.
The rapidly moving game remained 1-0 in the bottom of the seventh when the blister on Wilson's left middle finger ruptured during a 10-pitch at-bat to
Cody Ross
, resulting in a walk, and the beginning of the end. The bloody blister left Wilson incapable of gripping the seams of the baseball, and he removed himself from a game that would put the Rangers in a 2-0 hole as the World Series shifts to Texas.
"Cain and I had a good pitching battle all the way through," said Wilson, who allowed three hits. "I made that one mistake to Renteria and other than that I was in complete control the whole way. ... You never want to come out of the game, but I did what I thought was right for the team at that point. It didn't work out as well as anybody drew it up."
Spinning out of control is the Rangers' bullpen.
Darren Oliver
couldn't finish off the Giants in the seventh, allowing one run. But, it was a mind-numbing eighth that ended any hope of a comeback. After Darren O'Day struck out the first two batters,
Buster Posey
singled.
Rangers manager Ron Washington pulled the righty O'Day in favor of young lefty
Derek Holland
, a success story against the Yankees in the ALCS, to pitch to the left-hand-hitting
Nate Schierholtz
.
O'Day, a spot pitcher whom Washington tends to pull rather than face a left-handed hitter, was upset he couldn't punch out Posey to end the inning.
"Obviously, yeah, it's tough to watch for sure. You want your teammates to succeed. You want your team to succeed. We just didn't get the job done, including myself. Schierholtz was coming up. Derek Holland was warming up and if you look at what he did last series against the Yankees, he's obviously a pretty damned good pitcher."
Unfortunately for Holland, he'll need a short memory to soon forget what happened next.
"I was in the bullpen hitting my spots," Holland said. "And then I come out of the bullpen and couldn't hit the broad side of a barn."
Holland threw 13 pitches to three batters; one for a strike. Schierholtz walked on four pitches. Then Ross watched four go by to load the bases.
Aubrey Huff
ran the count to 3-0 before Holland finally landed one in the strike zone. The fifth pitch, a fifth consecutive fastball, missed and a run came home.
As the balls kept coming, Rangers manager Ron Washington and pitching coach Mike Maddux never got the bullpen warming. Washington said he thought Holland would correct his fastball, but he never could.
"Very frustrating. I'm happy with what he did," Holland said of Washington sticking with him. "He had confidence in me. It's my fault. I let him down. I let the team down in that situation. This is a very serious time."
Finally,
Mark Lowe
got up. He came in and promptly walked a fourth consecutive batter,
Juan Uribe
, on five pitches. Suddenly, Wilson's hard-fought battle against the near-perfect Cain was a 4-0 deficit. The Giants would make it 9-0 by the end of the inning.
Wilson helplessly watched his work unravel.
"No, I'm not surprised at all," said Wilson, who got a no-decision in Game 1 against the Yankees after a strong start followed by an epic bullpen failure. "When you walk a metric-ton of people, they're going to score."
The Rangers obviously miss the services of injured eighth-inning set-up man Frankie Francisco, who remains with the club. He was almost teary-eyed when asked how badly it hurts to be out of commission and watch the bullpen spiral.
Francisco had been a valuable bridge to get to rookie closer
Neftali Feliz
, who has still not pitched in a save situation. Feliz hasn't pitched since the ALCS clincher last Friday night and could have been an option to stop the bleeding in the eighth, but Washington said he never considered going to his 22-year-old fireballer.
"No, I didn't," Washington said. "I didn't at all."
Now the Rangers head home for a possible three games and needing to win four of the final five to capture the franchise's first World Series. Nothing is predictable, as the first two games at AT&T Park have shown. Lee proved mortal and when Wilson gave everything he had, a tiny, but debilitating injury, a dead-bat offense and a bungling bullpen did him in.
"Trust me," Holland said sternly. "The bullpen is going to be fine come Friday [for Game 3]. It's a new day. We're not going to sit and dwell on it. This game's over and we're going to come back and help this team win."
October, 28, 2010
10/28/10
11:31
PM CT
By
Jeff Caplan
| ESPNDallas.com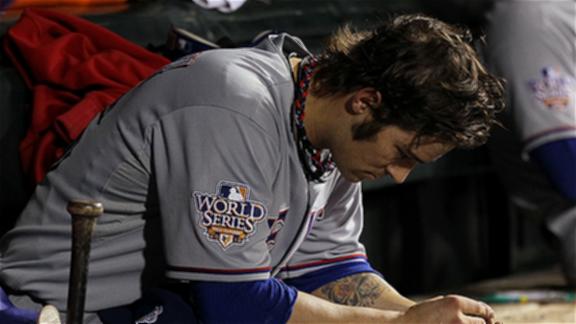 SAN FRANCISCO -- A blister on
C.J. Wilson
's left middle finger ruptured during a 10-pitch duel with
San Francisco Giants
hitter
Cody Ross
, forcing him out of the game in the seventh inning trailing, 1-0.
"My finger ripped open," Wilson said of a blister he's dealt with for a couple of weeks now. "Usually it's not as bad, but I've been super-gluing it the last couple of weeks to keep it together and it just kind of ruptured in that at-bat with Cody Ross. I couldn't throw anything beside the curveball for a strike so that's why I threw him like seven [curveballs]."
Of the 10 pitches, Wilson threw just two fastballs, one for a ball and the other Ross fouled away. On the final pitch, a curve ball, Ross walked and Wilson's strong outing was over. He would then watch the Rangers' bullpen fall apart as the Rangers dropped into a 2-0 hole in the World Series after 9-0 loss in Game 2.
The
Texas Rangers
' lefty battled Giants starter
Matt Cain
throughout, allowing just a fifth-inning solo home run to
Edgar Renteria
. Wilson has dealt with the blister for a couple weeks, basically glueing the skin together to keep it from opening. But, it came undone during Ross' at-bat and took away Wilson's ability to grip the seams of the baseball.
He said he felt "a fold developing" early in the game and he glued the skin in the second game. In the seventh inning, he said, "that little cork must have just popped out and it was gushing all over the place."
"It ripped open on the side and that's where the blood came out of," Wilson said. "If it would have happened between innings, then maybe I could have super-glued it, but they're not going to let you super-glue your finger because maybe that's a performance-enhancer or some crap like that. [Pitching coach] Mike Maddux came out and I said, 'Hey, if you're going to go with somebody go with Ollie [
Darren Oliver
] right here because I can't throw a four-seamer for a strike."
Juan Uribe
singled in Ross to make it 2-0. But, the Giants blew it open in the eighth with seven more runs against the Rangers' cratering bullpen.
Wilson said the blister would not affect his next start, which would be Game 6 back in San Francisco if the Rangers can bring it back.
October, 28, 2010
10/28/10
10:16
PM CT
SAN FRANCISCO -- The Rangers head back to Arlington down 0-2 in the World Series after the Giants pitched well and got more than enough offense to win, 9-0, in Game 2 courtesy of a late bullpen meltdown. Some quick thoughts on the game (more to come on the blog from the clubhouse):
*
Matt Cain
put on a pitching clinic. He worked quickly and found a nice rhythm from the start. He had excellent fastball command and was able to get nice movement on his breaking pitches. He seemed to pitch ahead of nearly every hitter and when he got into trouble, he got out of it. His slider and changeup were particularly effective. He didn't lose his cool out there and went deep into the game.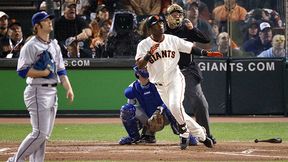 Elsa/Getty ImagesC.J. Wilson's only mistake of the night, to Edgar Renteria, was enough for the Giants to control the Rangers and win Game 2.
*
C.J. Wilson
nearly matched Cain pitch for pitch. His breaking stuff was also effective and he moved his fastball around. He left one pitch up to
Edgar Renteria
in the fifth, but was solid otherwise. He started the seventh inning, his last with his spot due up in the bottom half, with a walk to
Cody Ross
. Pitching coach Mike Maddux went to the mound and then called out athletic trainer Jamie Reed. If I read Maddux's lips correctly: "We've got a blister here." The official word was a blister on his left middle finger. Wilson mentioned a blister after his last start against the Yankees, saying it bugged him some.
* Wasted chances. The Rangers had two golden opportunities to score and didn't.
Ian Kinsler
hit a long fly ball to center that went off the top of the wall -- and I mean the top -- and came back into play for a double to start the fifth. It was inches from a homer. Instead, Kinsler was at second with a leadoff double and never moved.
David Murphy
hit a soft liner to short and
Matt Treanor
grounded to short for the second out. That's when the fact that Game 2 was in a National League park helped the Giants in the fifth. With Kinsler still at second base and two outs, the Giants smartly walked
Mitch Moreland
to pitch to Wilson, who chopped out to first.
* Texas had an even better chance to score an inning later.
Michael Young
and
Josh Hamilton
hit singles to right (Cody Ross was fortunate on a diving attempt at Hamilton's ball that the ball bounced up and hit him in the chest and didn't roll far away, forcing Young to stay at second). Cain then threw a wild pitch that allowed Young and Hamilton to move up as the Rangers showed off their ability to get aggressive on balls in the dirt.
With
Nelson Cruz
up, the Giants played the infield back conceding a run. But Cruz popped up to first baseman
Aubrey Huff
in foul territory. Ian Kinsler then flied out to shallow right field to end the inning. The escape certainly fired up the Giants fans.
* In the eighth inning,
Elvis Andrus
walked and stole second base with one out. Michael Young then flied out to right and Andrus couldn't advance. The Giants changed pitchers as Cain exited and lefty
Javier Lopez
came in to face Josh Hamilton and got him to fly out, ending yet another threat with runners in scoring position.
* The Rangers bullpen again had trouble. With one on and two out in the eighth, Washington turned to
Derek Holland
against the left-handed hitting Schierholtz. But Holland walked him on four pitches. He then walked Ross on four pitches to load the bases. He stayed in to pitch to the left-handed hitting Aubrey Huff, but walked him on five pitches to give the Giants a 3-0 lead. So Holland's day: 13 pitches, 12 balls, three walks.
*
Mark Lowe
, who warmed up at warp speed after Holland's second walk, came in and walked Uribe on a 3-2 pitch to plate another run. Then, with a 3-2 count that had the runners moving, Renteria hit a two-RBI single to make it 6-0.
*
Michael Kirkman
then came in and gave up a triple to right off the bat of
Aaron Rowand
to score two more runs. Then Torres hit a double to left to score the ninth run of the game and the seventh off the inning. All of them with two outs.
* Matt Treanor made a nice block on a breaking ball in the dirt with Ross at third base and Uribe up in the second inning. Treanor kept the ball in front of him, preventing any chance of Ross advancing to home with the game's first run.
* Cruz was in right field for Game 2 with
Vladimir Guerrero
on the bench. And he made a play in the third that Guerrero might not make, racing to the gap in right-center and catching a fly ball hit by
Andres Torres
(with a runner at first and one out). Cruz certainly seemed more comfortable out there than Guerrero did. He made a nice adjustment on Aubrey Huff's liner to right with one on and two outs in the fourth to end the inning.
* While Kinsler's fly ball was close to a homer in the top of the fifth, there was no doubt about Edgar Renteria's blast in the bottom half. Wilson hung a 91 mph fastball and Renteria turned on it, hitting it 20 rows up in left field. Renteria has had big World Series hits before, winning Game 7 for the Marlins against the Indians with a single up the middle in 1997.
* Give Bruce Bochy credit. Before the seventh inning, he moved Ross to left and inserted
Nate Schierholtz
in right field, putting
Pat Burrell
on the bench to get a better defensive setup for the final three innings. The move paid immediate dividends. Schierholtz caught Murphy's fly ball to left and Schierholtz made a nice running catch to get to Treanor's deep fly ball to right. He also brought in Lopez to face Hamilton and got the out.
* Celebrity watch: Joe Montana was in attendance at the game, getting huge cheers from the San Francisco crowd when he was shown on the big screen before the seventh inning. So were Wayne Gretzky and Rob Schneider.
October, 28, 2010
10/28/10
9:15
PM CT
By
Jeff Caplan
| ESPNDallas.com
SAN FRANCISCO -- San Francisco Giants pitcher Matt Cain got a significant bonus run in the bottom of the seventh after C.J. Wilson left the game with a blister on his finger.

Wilson walke Cody Ross to lead off the inning. Pitching coach Mike Maddux made a visit to the mound and immediately signaled to the dugout that something was wrong. Wilson, who made one mistake in the game, a high fastball that Edgar Renteria deposited over the left-field wall, had to leave.

Left-hander Darren Oliver came in and quickly got Aubrey Huff on a grounder to first, but Ross advaned to second, which proved costly. Juan Uribe then dropped a looper into right that scored Ross for a 2-0 lead.

Cain, who has allowed just four hits, is back on the mound for the top of the eight, six outs away from giving the Giants a 2-0 lead in the World Series.
October, 27, 2010
10/27/10
10:35
PM CT
SAN FRANCISCO -- The Rangers fell 11-7 to the Giants in Game 1 of the World Series on Wednesday. Some thoughts on the game:
*
Cliff Lee
was due for a struggling postseason start, and unfortunately for the Rangers, it came in Game 1 of the World Series. Lee's fastball didn't stay down, and the Giants took advantage. Lee seemed out of sorts. He hit a batter on an 0-2 count, something he hadn't done since Aug. 19, 2009. He gave up five doubles, something he hadn't done since becoming a Ranger. And he left the game with two runners on and the score 5-2.
Darren O'Day
came in and gave up a three-run homer to
Juan Uribe
to give the Giants a comfortable 8-2 lead.
*
Tim Lincecum
wasn't great, but after surviving some early runs (and the Rangers didn't put together bigger innings), he settled down and got the job done. The Giants were up 8-2 before he began to show signs of tiring and gave up two more runs. Still, it's strange that in a game featuring Lee and Lincecum that the starters would give up a combined 11 runs.
[+] Enlarge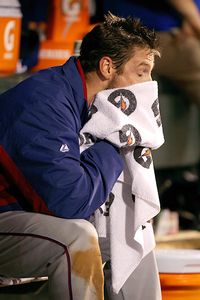 Jed Jacobsohn/Getty ImagesCliff Lee didn't make it through the fifth inning in Game 1, as the Giants handed him his first career postseason loss.
* The
Vladimir Guerrero
experiment in right field failed. It's a big right field at AT&T Park, and Guerrero didn't approach balls with confidence. He bobbled a few down the line, allowing runners to advance. He had two errors in the eighth inning alone. I would think the Rangers will make a lineup change in right field for Game 2.
* The Rangers had four errors total, very unlike them. They looked nervous and unsure of themselves, which is not how they've played all postseason.
* Once again, the first inning was a productive one for the Rangers. Texas now has scored first in nine of the 12 postseason games it has played this year. The Rangers have scored in the first inning in six of those 12 games. Texas got a run when Guerrero's line drive hit Lincecum just below the left knee and bounced toward second, allowing
Elvis Andrus
to score. But the Rangers could have had more.
* Andrus setting the table has been critical for this team. He's managed to get on base in the first inning seven of the past nine games, and when he does, he has a tendency to make things happen. He scored on a ground ball to give Texas the lead.
*
Michael Young
has had some good at-bats in the postseason, and he had another in the first inning. Lincecum was ahead in the count 1-2 with a runner at first, and Young fouled some pitches off, watched others fall out of the strike zone and took a walk. That put runners at first and second with no outs as the Rangers eventually scored.
* Lee got his first hit of 2010 in the second inning, and it helped score a run. He was squaring to bunt but, on a 1-1 count, brought the bat back and hit a ball to left-center that rolled toward the gap for a double. It was his first extra-base hit since 2009. That put runners at second and third, and
Bengie Molina
scored on Andrus' sacrifice fly. Lee talked the other day about enjoying hitting, and he sure had to enjoy that one. It was the first extra-base hit by an American League pitcher since Cleveland's Chad Ogea doubled in the 1997 World Series Game 6 at Florida. It was just the fourth extra-base hit by an AL pitcher in a span of 36 years (1975-2010).
* The Giants hurt themselves with some mistakes early. Lincecum got to
Nelson Cruz
's ground ball up the middle and had Young in a rundown in the first, but he didn't throw the ball to third base. So everyone was safe and the bases were loaded with one out for
Ian Kinsler
. Fortunately for Lincecum, he got a double play to keep the score 1-0, but it was a strange play. In the bottom of the first,
Freddy Sanchez
hit a one-out double. But he was too far off the bag when Kinsler caught
Buster Posey
's bloop to right and was easily doubled off at second to end the inning. In the third, Lincecum tried to bunt
Edgar Renteria
to second and instead popped it straight up to Molina.
* Mistakes hurt the Rangers in the third. Young tried to field a ball to his left but bobbled it, putting the leadoff batter (Renteria) on. Lincecum couldn't bunt him over, but Lee then hit
Andres Torres
on an 0-2 pitch, a big no-no. A double and a single later, both of those runners scored to tie the game.
* The Giants sure did show off their defensive skills as the game progressed. Renteria gloved all three outs in the fourth, including a nice play behind second base complete with a spin around and throw to first to get Kinsler. In the fifth, third baseman Uribe made a nice play to his left to get Young.
* Kinsler led off the eighth inning in an 8-4 game with an infield single. Kinsler thought the wide throw had gone into the dugout and turned toward second. First baseman
Aubrey Huff
made a nice diving stop to get to it and simply tagged Kinsler. That ended any chance at a good start to the inning and an effort to claw back into it.
*
Alexi Ogando
pitched well in his World Series debut. He gave up one hit in two innings and had four strikeouts. The outing might give Washington confidence to use him more.
*
Mark Lowe
, making his postseason debut, had trouble. He gave up three runs on three hits in two-thirds of an inning. He was added to the playoff roster Wednesday morning, but we'll see how often Washington uses him now.
* Bengie Molina, in his return to San Francisco, had a double and a single, scoring two of the Rangers' runs. He also threw out Huff trying to steal second in the seventh. Molina got some
nice cheers during the player introductions
as the crowd saluted him for what he did while in San Francisco. He saluted them as he warmed up Lee in the bullpen.
* I was surprised that San Francisco manager Bruce Bochy decided to go with closer Brian Wilson with a seven-run lead in the ninth. The bases were loaded for Guerrero and Cruz, certainly a dangerous proposition. Wilson got Guerrero to fly out to right for the second out. But with two outs, Cruz hit a double to right to score two more runs and make the score 11-7. It might not seem like a big deal, but getting some runs off Wilson could help the Rangers get some confidence against him later in the series.
* It's not often that you hear Tony Bennett sing "I Left My Heart In San Francisco" in the middle of a baseball game. But there he was, singing after the first inning on the field. He also sang "God Bless America" during the seventh-inning stretch.