Texas Rangers:

Kenny Rogers
November, 26, 2013
11/26/13
4:15
PM CT
By
Richard Durrett
| ESPNDallas.com
The
Texas Rangers
are well represented in the 2014 Hall of Fame ballot released today, headlined by one of the newest names on the list,
Greg Maddux
, who has consulted with the team the past two seasons. Maddux's brother, Mike, is the pitching coach for the Rangers. Greg is a four-time Cy Young Award winner.
Of course, there are plenty of former Ranger players on the ballot, too. That includes left-handed pitcher
Kenny Rogers
and power-hitters
Rafael Palmeiro
and
Sammy Sosa
, who are hurt by their connections to PEDs.
Eric Gagne
, who pitched for the club in 2007 and was traded to Boston in the deal that brought
Engel Beltre
and
David Murphy
(along with
Kason Gabbard
), is also on the ballot.
There are about 600 voters this year. To cast a ballot, you must have been a Baseball Writers' Association of America member for 10 consecutive years. Ballots must be in by the end of the year and the results will be announced Jan. 8.
March, 1, 2013
3/01/13
1:49
PM CT
By
Ron Matejko
| ESPNDallas.com
SURPRISE, Ariz. -- The latest chapter in the battle for the
Texas Rangers
' fifth spot in the rotation will be written today when
Randy Wells
makes his first start and second appearance of the spring.
PODCAST
Ron Washington joins Galloway & Company to discuss his decision not to rest starters last seaon, what Lance Berkman brings to the Rangers and much more.

Listen

A number of players are in contention for the spot, but Wells and
Kyle McClellan
are the only ones with more than two major league starts. McClellan is yet to pitch due to a sore shoulder.
Fellow candidates
Martin Perez
and
Robbie Ross
have impressed during the early portion of the 2013 Cactus League season and Wells aims to keep pace with a strong outing during his three innings of work today against the
Seattle Mariners
.
"This competition is going to be pretty tough, but it is a good position to be in," Wells said. "It's tough because you don't want to feel like every pitch you make or every mistake is going to determine whether or not you make the team. I just have to go out there and relax and have fun."
Wells had a good spring debut in his first outing since undergoing elbow surgery last July. The right-hander pitched two innings and allowed one run but wasn't hit especially hard. The only run he allowed was manufactured. Wells finished strong by ending the threat of a bigger inning with a double play.
The 30-year old signed a minor league deal with Texas in December after spending parts of the last three season with the
Chicago Cubs
. He owns the most major league experience among the candidates with 86 starts in five MLB seasons. While that experience will aid Wells in knowing how to perform as a starter, it won't necessarily give him in edge in earning the fifth spot.
"He is out there trying to impress just like everyone else," said manager Ron Washington. "Of course his experience does come into play but when it comes down to it, it is going to be a group evaluation and we'll all get in on the decision. We know what he did, but there is competition for that spot and it will be the best guy we give it to."
Wells owns a career record of 28-32 with a 4.08 ERA and has struck out 345 batters in 529 innings pitched.
Other notes:
Mike Olt remains in the Texas lineup but will return to third base after making his spring debut in right field Thursday.


Lance Berkman is receiving a scheduled off today. He is on an every-other-day schedule while Texas officials monitor him after returning Thursday from a week layoff due to a sore calf. Berkman is slated to play three innings Saturday.


Elvis Andrus returns to the lineup and will bat second after a two-day layoff, including a missed day on Thursday from arm soreness due to a new tattoo.


Texas has scored 18 runs in its last two games after plating 17 in its first four spring games.


Rangers Hall of Famers Rusty Greer and Kenny Rogers, along with Mark McLemore, joined the team today as special instructors for a week.
August, 6, 2011
8/06/11
10:30
AM CT
By
Richard Durrett
| ESPNDallas.com

ARLINGTON, Texas -- No one has won more games at Rangers Ballpark in Arlington than Kenny Rogers.

The newest member of the Rangers Hall of Fame, set to be inducted tonight in a pregame ceremony, was 54-27 with a 3.99 ERA in 113 starts at Rangers Ballpark. He pitched a total of 748 innings, most of them in a Rangers uniform, of course.

"I did try to learn any kind of changes I needed to make to my game," Rogers said. "If you give up a lot of fly balls, you're in trouble. You have to be able to pitch down in the zone and with a little bit of movement to get off the sweet part of the bat. I think I learned that after a while, but early on I was just a guy that threw the ball and throw it by you."

Not bad for a guy who was drafted in the 39th round as an outfielder and then converted into a pitcher. When he made that conversion, Rogers simply tried to overpower batters with his fastball and a changeup that had some movement and became a real weapon for him. When he became a starter he added the curveball and said he threw in a few other breaking pitches later in his career.

"I was a mop-up man, setup man, closer," Rogers said. "That helped me a lot because I understood the mentality, but also the differences between each role too. It helped me become a pretty good pitcher knowing how to pitch in any situation. Texas was difficult. Hardly anybody comes here and nobody comes back. I did that. That tells you how smart I am."

Rogers said he knew the conditions bothered the opposing pitcher and he tried to take advantage of that.

"The wind, the heat and you add those two components and there could be an offensive explosion if you get the ball up," Rogers said. "The climate is so hot that it's not a lot of fun to have to endure. The guys going through it now, it's hard. You know the offensive output here is higher than most of the others in the league. That keeps people from wanting to pitch here. I knew how much everybody hated it. I knew that was something they didn't like, so I was going to find a way to like it. If I liked it, it could be a benefit to me and I could win some games if I didn't let it mentally beat me."

Rogers never thought he'd be a top-flight starting pitcher when he was drafted by the Rangers near the end of the 1982 draft after scout Joe Marchese saw Rogers' arm one day when he was playing center field and thought he could pitch.

"He had a crystal ball," Rogers said. "It was the best, most amazing scouting job I've ever heard of. He was looking at a guy that was nothing. I had not even a speck of an idea of what he was talking about. He was going to make me a pitcher, but he saw me play right field one game in high school and made the effort to see me pitch in a senior league game and my coach at the time wouldn't let me pitch. So I was playing shortstop. I thought my chance was gone. But he drafted me anyway."

Rogers said he was 130 pounds, 5-foot-9 at age 17. Marchese told him he'd get bigger and throw harder and was left-handed, so it was worth the risk. Can you imagine a scout seeing a left-handed shortstop and figuring out he could pitch?

So the guy who lived on a strawberry farm in central Florida and didn't even play baseball until his senior year of high school was in professional baseball and pitching on a mound for the first time in a game other than a few times in Little League.

The Rangers didn't rush Rogers, letting him hone his craft in the minors with a steady rise through the system. It took Rogers seven years to break through to the majors.

"The Rangers organization was the perfect place for me to be," Rogers said. "It afforded me the luxury to take time to learn the things that I had to. I was starting below zero. You can't start with less than I had to try to be a pitcher. I was a professional pitcher and basically had never been on a mound before. Nobody would believe that if all the things were told. I was throwing my fastball and had no idea where it was going. I didn't even know what a slider was."

Rogers soaked up knowledge wherever he could, talking to players, coaches and scouts about what he needed to do and how to become a better pitcher. He assembled all of that knowledge and, like Marchese predicted, got bigger and stronger. He was a good athlete, becoming one of the better fielding pitchers in the game too.

"I didn't have anything to lose by trying things," Rogers said. "I was just some kid from a strawberry field. I wasn't afraid to fail. I was always open to learning something new."

His solid career has earned him a spot in the Rangers Hall of Fame, something he said means a great deal to him. He'll be inducted tonight with the first pitch backed up to 7:15 p.m. for the ceremony.
June, 8, 2011
6/08/11
3:22
PM CT
By
Richard Durrett
| ESPNDallas.com
ARLINGTON, Texas -- Kenny Rogers will become the newest member of the Texas Rangers Baseball Hall of Fame in an induction ceremony on Aug. 6.
Rogers pitched in more games than any other player in club history over the course of his 12-year career in Texas, the longest tenure of any pitcher. He is the Rangers' all-time leader with 528 appearances and second with 133 wins and 1,909 innings, third in games started at 252 and strikeouts at 1,201. The left-handed pitcher went to three All-Star Games with Texas (1995, 2004-05) and won three Gold Gloves (2002, 2004-05). He joins an elite group of Rangers that includes pitchers Nolan Ryan, Charlie Hough and Ferguson Jenkins in the club's Hall of Fame.
"My first thought is that I don't belong there," Rogers said in a conference call with reporters on Wednesday to announce his selection. "Those names are up on a pedestal to me. I was fortunate to play with Nolan for a few years and watch and learn and understand what he did. Charlie was a fantastic teammate and Fergie coached with us for a while. Those guys were true Hall of Fame representatives. I never thought I'd be included in any kind of way with those guys in that caliber."
But Rogers admitted that he had some regrets about his final season in Texas. Much of that stems
from his outburst with a couple of camera operators
on June 29, 2005, which included an injury to Larry Rodriguez of KDFW. Rogers wrestled Rodriguez's camera away from him twice and ended up kicking it. Rodriguez was taken to a local hospital with injuries and Rogers was sent home by the club. Rogers later apologized and appealed Major League Baseball's 20-game suspension. It was reduced to 13 games and he was fined $50,000. The club decided not to offer him arbitration after the season and he finished his career with the Detroit Tigers.
When asked Wednesday if he regretted the way he departed, Rogers said, "I think anybody would."
"I'm not perfect in any way, shape or form," Rogers said. "If I had known then what I know now, I would make different choices. I am who I am. I'm an emotional guy. I think people saw I was by myself on that pitcher's mound and I was still a maniac.
"I'm aggressive. I'm emotional. I'm hyper. I think that benefitted me in a lot of ways to become a pitcher that lasted this long. But you live and learn. I never stop learning. Whatever times I've been through that were tough, when I got through them I was better."
Rogers shared a few memories of his time with the Rangers, noting that pitching in Rangers Ballpark in Arlington and with some tremendous firepower in the lineup, he could give up three or four runs and win games. He recalled the calm that he felt on July 28, 1994, when he pitched his perfect game in Arlington against the Angels. It was the 11th perfect game in history and the first for an American League left-hander.
Rogers said he felt comfortable the whole night and was in a groove.
"I never had one millisecond of a negative thought through the whole game," Rogers said. "That is an accomplishment in itself. I have multiple thoughts that aren't conducive to success whether it's golf or any sport. But in that game I was right where I needed to be. That's what sticks with me the most is the focus and the complete control of what I wanted to do. My concentration level was so good. It's extremely hard to get there. Luckily, I was able to stay in it as long as possible."
Rogers joins the Hall of Fame for the club that drafted him in the 39th round of the1982 draft out of Plant City High School in Florida. He was an outfielder in high school and spent seven seasons in the minors before making the big leagues as a reliever in 1989. He pitched in various bullpen roles before becoming a full-time starter in 1993.
June, 8, 2011
6/08/11
1:04
PM CT
Kenny Rogers, who pitched in more games than any player in club history, has been elected as the 14th member of the Texas Rangers Baseball Hall of Fame.

Rogers will be inducted into the Rangers Hall of Fame during pre-game ceremonies on Saturday, August 6 before the Rangers 7:05 p.m. game with the Cleveland Indians.

More to come.
February, 22, 2010
2/22/10
8:00
AM CT
By
Richard Durrett
| ESPNDallas.com
SURPRISE, Ariz. -- Our positional outlooks continue all week with the five starting spots. For the purposes of this assignment, we'll slot some guys in spots where they could end up. In fairness,
Scott Feldman
was the club's top starter last season, though
Kevin Millwood
was considered the No. 1 starter. But for this outlook, the No. 1 spot goes to
Rich Harden
. He's expected to seize that role this season. Feldman will be featured on Tuesday.
[+] Enlarge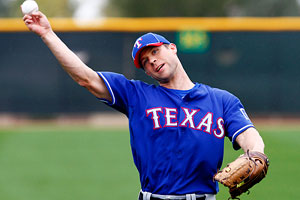 AP Photo/Charlie NeibergallRich Harden has had seven stints on the disabled list in the past five seasons and has pitched more than 148 innings just once in his career.
Part of general manager Jon Daniels' offseason work included trading Millwood to Baltimore to free up the money necessary to sign Harden, a free agent. The Rangers believe that Harden is worth what is $6.5 million in base salary in 2010 (he has some incentives) and a mutual option for 2011 at $11.5 million. Why? Because when Harden is healthy, he's shown ace-like stuff. He made 25 starts in 2008 between the Cubs and A's and was 10-2 with a 2.07 ERA. He made 26 starts last season and had a 4.09 ERA, but also 171 strikeouts in 141 innings.
The reason the signing is a big risk: Harden has made seven trips to the disabled list in the last five seasons. He's pitched more than 148 innings in a season only once. And that was 2004.
But Harden arrived in Surprise committed to showing he can become a durable starter. The Rangers certainly need that. How important is a true No. 1 starter? Well, there are certainly examples of teams that have made the postseason with an overall solid rotation, but no true ace. But, as Michael Lynch at ESPN Stats & Information points out, three of the last four AL West titles for the Angels were won with a starter that had a 3.50 ERA or lower and who pitched at least 175 innings. In the entire decade of the 2000s (2000-2009), the Rangers had only one pitcher accomplish that feat:
Kenny Rogers
in 2005.
I have a column online now that talks about Harden's health and his focus on decreasing his pitch count per inning. Because he's a big strikeout guy, he throws a lot of pitches. That can hurt his ability to go deeper into games. Of pitchers that threw at least 140 innings last season, Harden had the fifth-most pitches per inning at 17.7.
That's what you would expect from a strikeout pitcher. And he has sure had a bunch of those. Of the pitchers that threw at least 100 innings in 2009, no one had a higher strikeout rate per nine innings than Harden's 10.9. The list:
1. Rich Harden (10.9)
2.
Tim Lincecum
(10.4)
3.
Justin Verlander
(10.1)
4.
Jon Lester
(10.0)
5.
Yovani Gallardo
(9.9)
So Harden comes in with the expectation that he can be a stalwart in this rotation. He's worked hard this offseason (in Arizona, actually) with his conditioning to be in position to throw a bunch of innings at the top of the Rangers rotation this season.
Will he do it?