Texas Rangers:

Koyie Hill
August, 14, 2012
8/14/12
4:49
PM CT
By
Mike Mazzeo / ESPNNY.com
NEW YORK --
Texas Rangers
catcher
Mike Napoli
has been anything but 100 percent healthy this season.
"I've been banged up," Napoli, currently on the disabled list with a strained left quadriceps, said prior to Tuesday night's game against the New Yankees. "It's been a grind this year."
Napoli will hit Tuesday for the first time since he landed on the DL. He still cannot do any throwing, squatting or running, though he did some leg exercises with the training staff.
Napoli doesn't foresee any reason why he won't be able to come off the DL when he's eligible to be activated Aug. 26, but wasn't willing to make any guarantees.
"We're gonna take our time and try not to rush anything," he said. "I want to be out there playing, but it'll be nice to get behind the plate and feel healthy again."
Napoli is hitting just .223 this season with 17 homers and 40 RBIs. Since July 1, he's hitting .180 with five homers and 10 RBIs. He hit .320 last season with 30 homers.
"My No. 1 thing is to get pitchers through the game and keep us in games," he said. "I feel like I can be a good hitter, but my No. 1 thing is to get that pitcher deep into the game and hand it over to the bullpen."
Napoli had been dealing with the injury for about a month and hoped to play through it. He also dealt with a sprained left ankle in spring training.
"He's been banged up the whole year, but this is the first time that he's said anything about it, so we decided we'd better get him healthy," manager Ron Washington said. "Normally, Mike just straps it on and doesn't make any excuses."
* The Rangers announced that they've signed catcher
Koyie Hill
to a minor-league contract. He'll be assigned to Triple-A Round Rock. Hill was released by the
Washington Nationals
on Aug. 3 after hitting .163 with two homers and nine RBIs in 31 games for Triple-A Syracuse.
* Washington announced the rehab schedule for reliever
Koji Uehara
. Uehara (ribs) will throw live batting practice at Double-A Frisco on Wednesday and Friday. He'll then do a pair of rehab innings at Triple-A Round Rock on Aug. 21 and 24. If all of that goes well and he doesn't have any setbacks, he could be activated from the DL on the Aug. 26.
* Backup catcher
Luis Martinez
is excited about making his first start of the season.
"It's my first time playing in Yankee Stadium, so I'm gonna try to make the most of it," he said.
* Washington has been elected to the Arizona Fall League Hall of Fame in a 2012 class that also includes former Ranger
Mark Teixeira
of the Yankees and pitcher
Derek Lowe
.
* A report in the Fort Worth Star-Telegram, citing a source, said ex-Ranger
Yorvit Torrealba
is close to signing with the
Toronto Blue Jays
. A source close to Torrealba told ESPNDallas.com that "it's a possibility and we're working on it."
May, 23, 2010
5/23/10
6:07
PM CT
By
Jeff Caplan
| ESPNDallas.com
ARLINGTON, Texas -- The Rangers gave
Chris Davis
48 at-bats before shipping him to the minors with a .188 average. His replacement,
Justin Smoak
, after a 1-for-21 homestand, is batting .165 in 97 big-league plate appearances
How much longer can Texas stand the pain of getting no offensive production from their first baseman?
"I think you'll find that out when we know," manager Ron Washington said after Sunday's 5-4 loss to the
Chicago Cubs
. "Right now, we're with Smoak."
The 23-year-old had been on a modest upswing a couple of weeks ago, taking his average from .067 to .197. But, in his last 15 games, Smoak is 6-for-47. He was 0-for-10 in the Cubs series and 0-for-4 Sunday when he struck out in his final at-bat in the eighth inning and he didn't make good contact in any of his first three at-bats.
As the Rangers begin an eight-game road trip in Kansas City on Tuesday, Smoak said he's simply trying to focus while trying to allow his mind not to grind on his slump.
"When things aren't going good, you always try to think about something you can do better, something you can do to get right," Smoak said. "Right now, it's just been one of those things where I'm hitting the ball, but I'm not squaring anything up. I've said it a million times, but I've just got to do it, is just slow the game down. I've had a hard time with just trying to do too much."
Smoak is the No. 7 hitter in the bottom third of the lineup that is struggling mightily. On Sunday, nine-hole hitter
Julio Borbon
offered up the only two hits among 11 at-bats among he, Smoak and catcher
Matt Treanor
, who was 0-for-3 with a walk. Smoak, who has four home runs and 11 RBIs on the season, flied out to left with one on and no outs in the second inning, bounced into a fielder's choice in the same situation in the fourth, popped out to shortstop in the sixth and struck out in the eighth with Texas needing a run to tie.
"I don't think it's that big of a deal, he's a rookie," said
Michael Young
, who, conversely, is blistering at the plate with a .483 homestand. "I think what he's finding out right now is the big leagues is really hard. I went through it, everyone went through it. It's not easy up here. The guys who are the most mentally tough are the ones who are going to survive and ultimately play really well. We have a lot of confidence in the world that he's going to be one of those guys. I'm sure it's a frustrating part for him, but he knows his teammates are here and, fortunately, we have a strong lineup where he doesn't feel like he has to do all of the work."
That's of little consolation to Smoak, who isn't interested in swapping spots with Davis, who was hitting .327 at Triple-A Oklahoma City through Saturday. Smoak, who has shown patience at the plate and has drawn 17 walks, said after seeing a steady diet of fastballs when he first arrived, he's having trouble hitting offspeed pitches. He refused to use it as an excuse for his sinking average.
"Nothing's different. In college and the minor leagues I saw a lot of offspeed pitches and early on when I first got here I was getting a lot of heaters," Smoak said. "I think I've proven that I can hit a fastball, now it's just going back and getting the offspeed pitches. I've got to find an approach where I see the ball better."
That begins Tuesday at Kansas City.
"If I could do anything to help this team win," Smoak said, "that's what I should be doing."
**
C.J. Wilson
got ahead 0-2 on three batters in the Cubs' four-run first inning and gave up hits to all of them. The worst in Wilson's mind was the two-run homer
Alfonso Soriano
sent into the left-field bleachers to give the Cubs a 4-0 lead after five batters.
In the sixth inning, one which Wilson would not complete, nine-hole batter
Koyie Hill
hit Wilson's first pitch into right field for what turned out to be the deciding run.
"He fisted a ball to right field. It wasn't like he hit it over the fence. It wasn't like the Soriano ball. That's the one I want back," Wilson said. "One run on a single with two outs, the runners going on contact, that's going to happen. Obviously, the walk to Soriano started the whole thing, but it wasn't like really anything else selection-wise or anything like that I would change. The only pitch I would take back is the Soriano pitch, but that's a lesson learned for the rest of the season."
**Reliever
Frank Francisco
is on a roll. He extended his scoreless innings streak to eight with one inning of perfect relief. After striking out Alfonso Soriano,
Xavier Nady
and
Jeff Baker
in order -- all swinging -- in the eighth, Francisco recorded 15 of 22 outs by way of strikeout during the seven-game homestand.
"I just had two bad games at the beginning [of the season] and just like that I'm the same guy," said Francisco, referring to a couple of blown saves early on that ousted him from his closer spot.
Francisco said he was having placement issues with his fastball early in the season and that his other pitches weren't breaking coming out of spring training. He said he feels like everything is coming together as he seems to be entrenched as a set-up man for
Neftali Feliz
.
"I just want opportunity to go out there and pitch and whatever happens, happens," Francisco said. "I just want to go in any situation. That's the only way I can help my team to win."
**In the bottom of the eighth inning, Washington pinch-hit left-handed hitter
David Murphy
for lefty Borbon to face Cubs southpaw
Sean Marshall
with Treanor on first and two outs. Borbon had two singles in the game, but with the Rangers trailing, 5-4, and down to four outs, Washington said he was looking for the long ball.
"I was looking for a bomb," Washington said. "Of all the guys I have, I felt like he [Murphy] was the one that could catch something, and if he didn't catch it he could do what he did, get the count close and maybe draw a walk, get to the top of the lineup."
Washington said he preferred Murphy to bat against the lefty rather than pinch-hit with right-handed
Max Ramirez
, which Washington felt would have prompted Cubs manager Lou Piniella to go to right-handed closer
Carlos Marmol
.
Murphy, however, struck out swinging to end the eighth inning.
That Washington had to go the lefty Murphy against a lefty shows the depth issue the Rangers face.
**Washington argued the safe-at-home call made by home plate umpire Jerry Meals in the sixth inning. Nady barely beat the throw from Rangers right fielder
Nelson Cruz
, scoring the Cubs' final run on Hill's single.
"He got his hand in there," Washington said Meals told him.
It did appear on replay that Nady got his hand across the plate before Treanor could get his glove down.
**Left-hander
Matt Harrison
(shoulder tendinitis) will head to Double-A Frisco and pitch Monday and Wednesday. If he's ready, he'll join the Rangers on the road Friday as part of the bullpen, Washington said.
May, 23, 2010
5/23/10
4:13
PM CT
By
Jeff Caplan
| ESPNDallas.com
ARLINGTON, Texas -- It's back to the drawing board for
C.J. Wilson
.
Vaulted to the perch of staff ace after a team-record seven consecutive "quality starts" to open the season, Wilson on Sunday suffered through his second consecutive short outing in a 5-4 loss to the
Chicago Cubs
. The Rangers ended their seven-game homestand 5-2, but after starting it with five straight wins, they know they let a big opportunity go by with an eight-game road trip starting Tuesday at Kansas City.
[+] Enlarge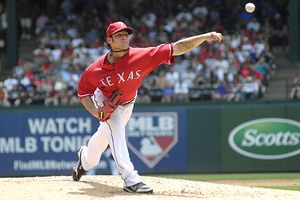 AP Photo/Ralph LauerC.J. Wilson turned in his second-shortest start of the season against the Cubs on Sunday.
Wilson, tabbed with the loss to fall to 3-2, got into trouble immediately, giving up a leadoff hit to
Ryan Theriot
, a bunt hit to
Starlin Castro
and an RBI single to Derrick Lee. After
Marlon Byrd
got the second run home on a fielder's choice, former Ranger
Alfonso Soriano
roped Wilson's 0-2 pitch -- he fouled off the first three pitches -- into the left-field bleachers for a 4-0 lead after five batters.
Wilson settled down after Soriano's ninth homer of the season, retiring 14 of the next 17 batters. He got into hot water again when he allowed the first two batters to reach base in the top of the sixth with the Rangers trailing 4-3. He nearly got out of the jam, but with two outs, catcher and nine-hole hitter
Koyie Hill
sent a liner to right to score the fifth run and that was it for Wilson.
After going 4 1/3 innings in his previous start -- a no-decision in the 8-7 win over the Angels -- Wilson lasted 5 2/3 innings Sunday, giving up five earned runs on seven hits with three walks and five strikeouts. Soriano's homer was the third off Wilson in a span of 2 1/3 innings going back to his last start. He entered that game having not allowed a long ball in 87 2/3 innings.
Wilson, who threw 108 pitches -- 66 for strikes -- has allowed 12 runs on 14 hits in 10 innings spanning his last two starts.
**The Rangers sent the top of the order to the plate in the bottom of the ninth inning against Cubs closer
Carlos Marmol
, who entered with a 1.66 ERA.
Elvis Andrus
and
Michael Young
both struck out before
Ian Kinsler
worked a walk to bring up
Vladimir Guerrero
, who was batting a team-leading .341 when he came to the plate.
Guerrero took ball one, fouled back the next pitch and took a 93 mph strike for a 1-2 count. Kinsler stole second on ball two. Guerrero fouled off the next two pitches to keep the count at 2-2 and then was caught looking at 93 mph pitch that caught the outside corner to end the game.
**The announced crowd for Sunday's game was 37,777, bringing the series total to 122,900, the largest three-game attendance at Rangers Ballpark since the
New York Yankees
came to town on July 24-26, 2006, and drew 128,910.
**Young is on fire at the plate. With a two-run homer in the third and an RBI double in the seventh, Young accounted for three of the Rangers' four runs. He extended his hitting streak to 10 games and wrapped up the seven-game homestand batting .483 (14-for-29). After a slow start, Young has pushed his season batting average to .317.
**
Josh Hamilton
's struggles in the daylight continued Sunday with a 1-for-4 outing, including a line-drive out hit right at second baseman Ryan Theriot with the bases loaded and the Rangers down a run in the bottom of the seventh. Hamilton grounded out to second to end the first inning with runners at first and second. He singled to center with out in the sixth and was left stranded.
Hamilton had a good homestand at the plate, going 10-for-24, but he had just two RBIs over the seven games despite four doubles and a home run.
**First baseman
Justin Smoak
is in a serious funk. He was hitless in four plate appearances Sunday and never really hit the ball hard. He weakly grounded out to first in the fourth inning, popped out to shortstop in the sixth and struck out looking in the eighth with one out and the Rangers down a run.
Before Sunday's game, manager Ron Washington expressed confidence in the youngster playing in his first extended big-league action since the Rangers sent light-hitting
Chris Davis
to the minors. But Smoak is now batting .165 after a 1-for-21 homestand.
**Guerrero didn't get the chance to tie or give the Rangers a lead when he came to the plate in the seventh inning with runners on second and third and two out. He was intentionally walked to bring up left-handed hitting Hamilton. Cubs manager Lou Piniella countered with southpaw
Sean Marshall
, who got Hamilton to line out to second.
**The bottom third of the Rangers' batting order went 2-for-11 with a walk.
Julio Borbon
picked up both hits, including an RBI in the third inning. However, the left-handed hitting Borbon was lifted for lefty pinch-hitter
David Murphy
in the eighth inning with a runner on first and two outs to go against Marshall. Borbon doesn't hit lefties well, but Murphy struck out swinging.
**Reliever
Frank Francisco
exntended his scoreless streak to eight innings after striking out the side in the eighth inning. Opponents have gone 4-for-28 against him during the stretch.
** Washington went to closer
Neftali Feliz
in the top of the ninth even though the Rangers trailed by a run. Feliz last worked on Friday night when he picked up his 12th save of the season. The Rangers have an off-day on Monday, so Washington likely didn't want his young closer, who retired the side in order, to be off the mound for three consecutive days.