Texas Rangers:

Lewis Brinson
January, 30, 2014
Jan 30
10:45
AM CT
ESPN.com's Keith Law, our MLB prospect guru and a very busy man these days, chatted with me for a few minutes this morning about his top-10 Rangers list and what he expects from some of the club's prospects in 2014.
You can see Law's top-10 here (insider) and read what he wrote about it
(these questions are about some of the guys that he didn't really go into detail about in his write-up).
RD: It seems the Rangers take a broad view of collecting as many high-end assets as they can, regardless of position. Do you like that approach?
Law:
I do. I like the fact that they "go for it" in the farm system. They have a good big league club without a ton of holes and they build wherever they can at the farm level. I had a GM tell me one time that his team was looking for stars because they were a competitive team. I think it's the same for the Rangers. You can't just be OK and play for the Rangers. They have too good a team. You have to be exceptional.
They've focused on guys that can be exceptional. That's why you get Joey Gallo. I know his flaws and I've seen his flaws, but if he clicks, it's a monster. He could hit 40 homers and drive in 100 runs for you. He can do so many things with his bat. That's the kind of player the Rangers should go after. They shouldn't target low-ceiling guys. They won't play for the Rangers in the big leagues otherwise and their trade value isn't that high. If you're a high-revenue, high-payroll team, you should be going for high-ceiling guys. The Rangers do that.
RD: It appears that the Rangers got even better value in the Craig Gentry trade than I thought. I'll admit that I didn't expect to see Chris Bostick in your top-10 at No. 6. He wasn't a guy you had in the A's top-10 lists the past few years.
Law:
I've loved him when he was in the A's system and I had him as a sleeper prospect a few years ago. He's got a great swing, good approach at the plate, can really run and is an above-average defender at second base. In the Rangers' system, they have
(Jurickson) Profar
and (Rougned) Odor ahead of him, but it's an asset with value. Maybe he becomes a tradable guy for them because he's blocked and could be a good player for someone else. He's got the swing discipline, the swing and attitude to end up an above-average second baseman.
RD: Who will you be keeping your eye on in particular this year, outside of Jorge Alfaro and Odor, who made your top-100 overall list (Alfaro is 44 and Odor is 64)?
Law:
Lewis Brinson is a guy I'm interested in seeing this year. He's done such a great job of cleaning up his swing. He needed a lot of work when he came in, and they did so much with him in such a short period of time. You can't teach that kind of hand speed at the plate. He went to (Low-A) Hickory, and I know the strikeouts were high, but the Rangers decided to send him and Gallo there and see what they could do and challenge them. I like that. They didn't fail. Brinson and Gallo have things to work on, but there was production. I'm dying to see what both of these kids will do.
I think they (the Rangers) did it right. They did well enough that I'd send them up a level this year. I wouldn't send them back to Hickory, I'd push them up. Be mindful: There may be a point where you have to slow them down. But let's see what they do.
Brinson is the one where I may look at every year until he's 25 years old and think that it's going to happen. You bet on kids with that kind of athleticism and the fact that he has the aptitude in center. When guys show feel in one aspect of the game, I feel like they'll pick it up in another aspect.
RD: Should Rangers fans expect Cody Buckel to bounce back? (He was No. 3 on your Rangers' top-10 prospects list last year and No. 90 overall)
Law:
Who was the last guy to have the yips and come back? I think
Mark Wohlers
had it and came back a little bit afterwards, but it doesn't happen often. I feel terrible for the kid. You hear that about a young pitcher and it's tough to hear. It's tough to know where it comes from and there are so many theories. I hope he's an exception. I wouldn't even put him in a top-20 list right now because history says he's got a tough go.
August, 20, 2013
8/20/13
6:04
PM CT
By
Todd Wills
| ESPNDallas.com
ARLINGTON, Texas -- All that fretting over what would happen to the
Texas Rangers
' offense when
Nelson Cruz
was lost because of his suspension proved to be wasted energy.
The Rangers are averaging a major league-best 6.6 runs per game since Cruz, who was leading the team in home runs and RBIs, was suspended Aug. 5 for being linked to the Biogenesis clinic. Repeat that, best in baseball, by half a run over Arizona.
Pleasant surprise?
"If Nelson was in that lineup, I think the same thing would have happened," manager Ron Washington said. "I really do. Maybe more because he probably would have produced some of those runs. But the way things set up and got going, the game presented that to us and we rose to the occasion."
The Rangers' blueprint for offense has changed. That's well-documented. But it becomes clearer when analyzing the numbers.
They are third in the majors with a .402 on-base percentage (Cruz had a .330 OBP). They are also third in walk rate with 10.2 bases on balls per nine innings.
Cruz has been missed from a power standpoint. The Rangers have hit six home runs in 13 games, tied for the least in the league.
But it hasn't mattered. The Rangers have scored 15 and 16 runs in two of their past three games on just one home run. They had an 11-run inning in Monday's 16-5 victory.
They have 24 stolen bases with the top two hitters in the lineup,
Leonys Martin
and
Elvis Andrus
, combining for 15 of them.
"That's how you can become consistent," Washington said. "
A.J. Pierzynski
says sometimes the home run can stop momentum. So if guys can go up there and put the ball in play and find a hole and go from first to third, that's the kind of baseball we want to play."
Waking up Pierzynski:
Twice on Monday night, the Astros intentionally walked
Adrian Beltre
to get to Pierzynski. Houston paid for it the second time.
Pierzynski ripped a two-run single in the third inning for a 4-1 lead, igniting an 11-run inning. He also had another RBI single in the inning and the Rangers' first home run in 46 innings later in the game.
"All you're doing is waking up a sleeping dog," Washington said. "If you want to walk Beltre, then wake up Pierzynski."
Piezynski has 15 RBIs in August. He has nine hits in 17 at-bats with runners in scoring position. That's producing in the clutch.
Pierzynski had a season-high four hits Monday, the most by a Rangers catcher since
Mike Napoli
in 2011. It was the first four-hit game by a Ranger since Cruz did it July 13 in Detroit.
No move anticipated:
The Rangers will continue to look at the trade market with Houston's
Erik Bedard
and Washington's
Dan Haren
among starting pitchers who have cleared waivers, but don't look for a move to be made.
Texas appears ready to go with
Travis Blackley
and
Alexi Ogando
when he comes off the disabled list to fill in as the No. 5 starter.
"I am comfortable with what we've got, always looking around but I don't anticipate anything," Rangers general manager Jon Daniels said. "There are a few guys who have cleared waivers but I'm not optimistic that there's going to be the right fit between somebody we have interest in that is truly available at a price we think is worth it. So we are fully expecting to go with this group, and I don't mean that in a negative way -- we like our team."
Following the plan:
Washington said his players executed a handful of plays that weren't called from the dugout Monday night, and he's OK with that.
Washington said he didn't have a hit-and-run on when Andrus ripped a single through the right side of the infield in the first inning. Martin has the green light to run and Andrus was swinging if the pitch was a strike.
"They might have had a plan," Washington said. "It looked like he was certainly trying to hit the hole."
Second baseman
Ian Kinsler
also bunted on his own with two on in the third inning, getting credit for a sacrifice bunt to move Martin and Andrus to second and third. It gave the Astros a chance to walk Beltre with first base open, and Pierzynski made them pay.
"I don't see anything wrong with those two issues right there," Washington said. "I love the hit-and-run. When I put it on, they don't execute. If they can put and execute it, I'm all good with it. That's the type of baseball I like to play."
Short hops:
Beltre is batting .422 since Cruz was suspended Aug. 5. Beltre, who was in the lineup as the DH on Tuesday, is batting .400 for the month. ...
Neftali Feliz
pitched a scoreless inning for Triple-A Round Rock on Monday night, throwing 17 pitches. Feliz may be in line to throw two innings in his next outing, and Daniels said the target is for him to be ready Sept. 1. ... Daniels also said DH
Lance Berkman
will return Sept. 1 barring an injury. ... Triple-A Round Rock had 21 hits in a 20-2 victory over Nashville on Monday night. Outfielder
Engel Beltre
, a likely September call-up for the Rangers, was 4-for-7 with a grand slam and five RBIs. Left fielder
Aaron Cunningham
hit two homers and also had five RBIs. ... Low A Hickory outfielder Lewis Brinson had a go-ahead two-run home run in the ninth inning Monday for a 5-3 victory for the Crawdads. Brinson, the 29th overall pick in the 2012 MLB Entry Draft, is the first player with 20 home runs and 20 stolen bases in Hickory franchise history.
June, 20, 2013
6/20/13
3:33
PM CT
ESPN.com's Jim Bowden, a weekly guest on Fitzsimmons & Durrett on ESPN Dallas 103.3 FM, has a couple of trade proposals involving the
Texas Rangers
.
You can read his post here (insider).
He mentioned one of them on the air. Here's that proposal:
PODCAST
ESPN Insider and senior baseball analyst Jim Bowden joins Fitzsimmons & Durrett to discuss some interesting trade ideas for the Rangers.

Listen

Justin Grimm
, Joey Gallo, Lewis Brinson and Jorge Alfaro for
Jake Peavy
and
Alex Rios
. Bowden's thought is that the Rangers get a piece for their rotation in Peavy, who isn't just a half-season rental and should return soon from a rib injury, and they get Rios to plug in to the outfield (especially important should MLB end up suspending
Nelson Cruz
, which is still a big unknown).
I can't see this ever happening simply because from a Ranger perspective it's way too much to give up for those two players, even though both are under contract next season too. We're talking about three of the club's top lower-level prospects. That's not going to happen. But as Bowden points out, consider it more of a starting point in that the White Sox want to rebuild and could use the Rangers' farm system to do it with a package that might not include all of those players, but some of them. If you're Chicago, you're trying to get as much as you can. It just won't be all four of those players.
Bowden also mentions the possibility of
Jurickson Profar
for
Cliff Lee
. As we've talked about on this blog and on Fitzsimmons & Durrett, the Rangers should be able to make a strong play for Lee without giving up Profar. And there's no way they're making that deal if it means trading Profar. Not for a 34-year-old pitcher on the back end of a large contract. How good the prospect package is to Philadelphia is probably based on how much of the $25 million a year the Rangers have to absorb of Lee's deal. He's got two more years on the deal plus another season that can vest. He doesn't come cheap, even before you talk prospects.
Your thoughts? Any interest in Peavy or Rios? What package would you put together to get them?
June, 6, 2013
6/06/13
1:48
PM CT
By
Todd Wills
| ESPNDallas.com
BOSTON -- The Rangers have the 23rd and 30th picks in the first round of the 2013 first-year player draft which begins Thursday night.
Rangers director of amateur scouting Kip Fagg said last week that the draft board is deep in pitching, particularly left-handed pitching.
"I think pitching is going to be what's most on your board," Fagg said. "I think this is a deep pitching draft with a lot of left-handed pitchers. There are some players, too, probably a little light on the top-end type player, but the depth is in the pitching."
Here's what to watch for in the draft:
The 23rd pick:
The Rangers have leaned toward high school pitchers in the early rounds of the draft since Jon Daniels became general manager in 2006. They have taken 10 high school pitchers among their 25 picks in the first, supplemental and second rounds.
ESPN Insider Keith Law's draft board is heavy with high school pitchers right around the Rangers' first of two picks. Law has right-hander Hunter Harvey (Catawba, N.C) at No. 22
on his board
and left-handers Rob Kaminsky (Montvale, N.J.) and Matt Krook (Hillsborough, Calif.) at No. 24 and 25.
Law has the Rangers pegged for Winder, Ga. high school shortstop Travis Demeritte. The Rangers drafted state of Georgia products with their top selections in 2010 and '11 -- outfielder Jake Skole and left-handed pitcher Kevin Skole.
The Rangers also could look to shore up their catching depth at the minor league level. Law has three catchers ranked from No. 21-27, both high school players -- No. 21 Nick Cuiffo (Lexington, S.C), who Law writes is the best receiving catcher in the draft, and No. 27 Jon Denney (Yukon, Okla.).
For what the Rangers' draft needs are, they sit in a good spot at No. 23.
The 30th pick:
The sentimental pick would be to grab Plano West High School outfielder Billy McKinney, a left-handed hitter with great bat speed.
They might find right-hander Kyle Serrano (Farragut, Tenn.) sitting there, as well as Denney or another high school arm.
The Rangers got this pick when the Los Angeles Angels signed Josh Hamilton, adding insult to injury to the Angels.
Does first-round success matter?:
The Rangers have two first-round draft picks on their current 25-man roster, neither of whom they drafted -- designated hitter Lance Berkman and left-fielder David Murphy.
Berkman was the 16th overall pick by the Houston Astros in 1997. Berkman, who played at Rice University, obviously was a big draft hit with a .296 career batting average with 360 home runs.
The Rangers had the foresight to trade for Murphy. He was the 17th overall pick by Boston out of Baylor in 2003.
The Rangers have one supplemental first-round pick on the current roster -- setup man Tanner Scheppers, who has had a breakthrough season and deserves All-Star consideration. Scheppers was the 44th pick in the 2009 draft out of Fresno State.
Finding pitching:
Don't fall asleep on the second day of the draft. Two-fifths of the Rangers' current rotation is made up of college pitchers selected after the first round in 2010.
Justin Grimm, who leads American League rookies with five wins, was a fifth-round pick in 2010 out of Georgia. The Rangers met with him before the draft to discuss some mechanical issues with his delivery.
"It was a special arm," Fagg said of Grimm. "It was a great makeup kid. He was a competitive kid. It was an easy choice to make, personally."
Right-hander Nick Tepesch, who has four wins, slid because of signability issues and was picked in the 14th round out of Missouri. The Rangers snatched him after a poor junior season.
"We took a chance," Fagg said. "We knew the makeup. So we thought it was a steal where we got him."
Reviewing the 2012 draft:
The Rangers selected high school outfielder Lewis Brinson with the 29th overall pick of last year's draft. The Fort Lauderdale product is batting .246 with 11 home runs and 24 RBIs in Class A Hickory. He was batting .354 with four stolen bases over his last 10 games entering Thursday.
Third baseman Joey Gallo, a supplemental pick between the first and second rounds, has 14 home runs and 29 RBIs. Gallo's batting average has dipped to .210 with six hits in his last 37 at-bats.
Left-fielder Nick Williams, a second-round pick, is batting .308 with nine home runs and 29 RBIs. He homered and had three RBIs Wednesday night and fell a triple shy of the cycle.
The Hickory Crawdads, loaded with the the club's top young prospects, have hit 80 home runs, 30 more than any team in the South Atlantic League.
May, 31, 2013
5/31/13
10:00
AM CT
On Thursday, ESPN.com contributor Jim Bowden threw out an interesting "darkhorse" trade candidate for the
Texas Rangers
. He was asked, on ESPN Dallas 103.3 FM's Fitzsimmons and Durrett show about possible starting pitchers who could be available come July 31. And he gave a surprising possibility:
Hisashi Iwakuma
. Bowden admits it's a deep sleeper, but threw it out there anyway.
PODCAST
ESPN Insider and senior MLB analyst Jim Bowden joins Fitzsimmons & Durrett to discuss former Ranger Chris Davis' hot streak, Ian Kinsler's injury, Jurickson Profar's performance and some trade possibilities for the Rangers.

Listen

I'll be honest: I can't see the
Seattle Mariners
parting with Iwakuma. But what if the Rangers blew them away with a prospect package? Could they make them at least think about it?
First, let's look at Iwakuma's contract. He is making $6.5 million this year, $6.5 million next year and the contract includes a club option for $7.5 million in 2015 (there's also a $1 million buyout on that option). Iwakuma could make $1.1 million in incentives during the life of the contract.
So the fact that Iwakuma is under team control for potentially 2 1/2 seasons would certainly intrigue the Rangers. But it also adds to what it will cost to get him. He's 32 years old and is 5-1 with a 2.35 ERA in 11 starts. He has 69 strikeouts to 11 walks and a 0.84 WHIP. He's third in the AL in ERA, first in WHIP and tied for sixth in innings pitched. He's pitched like an All-Star and top-flight pitcher so far.
PODCAST
Chris Davis joins Fitzsimmons & Durrett to discuss his hot start to the season with Baltimore, if he could have found his groove with the Rangers and the difference between Ron Washington and Buck Showalter.

Listen

Imagine how he would look at the top of the rotation with
Yu Darvish
. No, this isn't the top of deal that includes
Jurickson Profar
. That won't happen. But the Mariners would have to get some young pitching in return, along with some bats that could produce for them in the future, I would think. What might that include?
It wouldn't shock me if they insisted on something at the big league level now. Perhaps
Justin Grimm
, for instance? If
Mike Olt
returns to Double-A Frisco and starts hitting to increase his value, he could be an option as well. What about Joey Gallo or Lewis Brinson? Seattle needs bats and both of those young players have high ceilings. Gallo's season average has dipped to .211, but he's shown good power with 13 homers and 27 RBIs for Class A Hickory. Brinson, a center fielder, is also in Hickory and hitting .235 with 10 homers and 21 RBIs. He's got seven stolen bases, but has also struck out 84 times in 196 at-bats.
Is
Alexi Ogando
in this discussion? I'd include him if that's what it took. There are others, I'm sure, that could factor in.
Sure, it's a real long shot. But since Bowden brought it up, why not talk about it? What kind of package would you put together for Iwakuma? Remember, you've got to entice the Mariners to move a pitcher who has a favorable contract, so it's got to be a really good package that helps them now and in the future.
February, 6, 2013
2/06/13
2:30
PM CT
PODCAST
ESPN Insider Keith Law joins Ben and Skin to discuss the Texas Rangers and his MLB Prospect Rankings, which features Jurickson Profar at No. 1.

Listen

ESPN.com's Keith Law ranked the
top 10 players in each organization in the American League today
(insider) with write-ups on each team. To see his full story, you'll have to be an insider and can
click here
.
But he noted that outfielder Lewis Brinson, who he ranks fifth among the Rangers' top 10 prospects, is a sleeper. Here's part of what he said about Brinson:
[+] Enlarge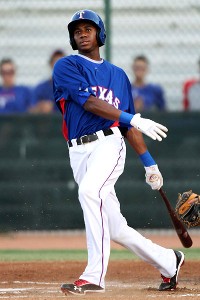 Larry Goren/Four Seam Images/AP ImagesESPN.com's Keith Law ranks OF Lewis Brinson fifth among Rangers prospects.

I was blown away by the changes Lewis Brinson made to his swing over the summer, setting up his hands a little lower and further back while shortening his stride, significantly improving his bat speed through the zone without any loss of power.

Brinson played in the Arizona League in 2012 and hit .283 with seven homers and 42 RBIs with 14 stolen bases in 54 games. He turns 19 in May.
Law had four Rangers in his top-100, as we discussed on Tuesday. Here's Nos. 6-10 in the Rangers' system, according to Law:
6. OF Nomar Mazara
7. 3B Joey Gallo
8. C Jorge Alfaro
9. SS Luis Sardinas
10. RHP Luke Jackson
There's a lot more in Law's report. If you're an insider,
you can read it here
.
June, 12, 2012
6/12/12
8:55
PM CT
By
Clint Foster
| ESPNDallas.com
ARLINGTON, Texas -- The
Texas Rangers
' top five picks from the 2012 MLB Draft were introduced together at a news conference Tuesday as the newest members of the organization.
OF Lewis Brinson (Coral Springs HS, Fla.), 3B Joey Gallo (Bishop Gorman HS, Nev.), RHP Colin Wiles (Blue Valley West HS, Kan.), OF Jamie Jarmon (Indian River HS, Del.) and OF Nick Williams (Galveston Ball HS, Texas) all received their honorary Rangers jerseys as a symbol of their new contracts.
The five high school prospects talked about how excited they were to be Rangers and grow together as players.
"Just to be a Texas Ranger, that's what drove me," Brinson said. "I view it as a chance to get better and to push each other to get to the big leagues."
Many of the top five draftees spurned attractive offers from college programs to go pro. They all said that the competitive position of the Rangers organization these last few years was too good to turn down.
The top five picks represent a snapshot of the entire Rangers 2012 draft class. The Rangers went heavy on pitchers and athletic outfielders with upside. Jarmon, who quarterbacked his high school to a 12-0 season and a state championship, was one of many football players selected.
Rangers GM Jon Daniels said that talent level and signability played the biggest roles in the Rangers' 2012 selections.
"We're excited about the whole draft, but it's unique to have five highly desirable athletic kids who want to sign and get their careers going," Daniels said. "We don't have everyone done at this point, but my expectation is to get them all done and under the cap point."
With the ink drying on the contracts of these top five picks, Texas has come to terms with 26 of its 43 selections this year. This is good news for the Rangers because new MLB rules have made signing players quickly more important than ever.
Third-round pick Patrick Cantwell is the Rangers' only top-10 draft pick that has not yet signed. The Stony Brook catcher is preparing for the College World Series and will most likely sign once his school's run ends. The Rangers don't anticipate any issues signing Cantwell.
June, 12, 2012
6/12/12
2:36
PM CT
By
Bryan Dolgin
| ESPNDallas.com
Outfielder Lewis Brinson has agreed to terms with the
Texas Rangers
. The Rangers' first-round pick (29th overall) in last week's draft is signing for $1.625 million, the amount the Rangers had slotted for this selection per the new draft budget rules in the collective bargaining agreement.
Brinson was the first of 43 selections by the Rangers in this draft, and the top five selections agreed to terms today.
PODCAST
Scout Frankie Thon joins Rangers Magazine to give the inside scoop on first-round pick Lewis Brinson.

Listen

"With this year's draft, the thing is we have to make sure like 99.9 (percent) that they were going to sign, and that was the case with Lewis Brinson," said Frankie Thon, the Rangers' amateur scout who recommended Brinson. "Nowadays, you can't afford to draft a first rounder and don't sign him because you are going to lose the money. You can't use it for another round. You can pay less (than slot) and use the remainder of it for another round, but if you don't sign him then you lose the money."
This seems to be the new challenge in scouting. The Rangers, just like every other team, must conform to the new draft budget guidelines or incur penalties. That means finding the best on-field abilities and character makeup, but also making sure to include a player's willingness to sign for a specific dollar amount. Otherwise, there's no point in drafting the player.
Brinson is a 6-foot-4, 180-pounder who bats and throws right-handed. He was an Under Armour All-American at Coral Springs (Fla.) High School, where he batted .394 his senior season.
"He's very athletic. Physically, he looks like a skinny
Cameron Maybin
, Dave Winfield-type of body. Winfield got stronger later on, but that type of body. Very, very impressive," Thon said of the center fielder who has a plus-arm.
"He can run 3.9-4.0 from home to first, which is very, very good," Thon continued. "He's got a gun for an arm. He can steal. He can run. I've been scouting for 26 years ... if not the best, he is one of the best running from first to third. He can glide. He has a lot of power."
In addition to Thon, the Rangers' cross-checker scouts, A.J. Preller (senior director of player personnel) and Don Welke (special assistant to Jon Daniels, scouting) did their due diligence off the field. They met with Brinson and his mother on numerous occasions to get to know the family.
Brinson, who turned 18 in May, was committed to playing baseball and getting his college education at the University of Florida, but now he is expected to begin his professional career in the Arizona Rookie League.
Thon also recommended the Rangers' 16th-round selection, second baseman Janluis Castro from Puerto Rico. He also has signed with the Rangers. Thon's scouting coverage areas are South Florida and Puerto Rico. He's been scouting more than 20 years, nearly a decade for the Rangers. His brother Dickie played for the Rangers in 1992.
Frankie Thon was a guest on Sunday's edition of Rangers Magazine (ESPN Dallas 103.3 FM). We also discussed Brinson's current and projected skill set, getting to know Brinson off the field, additional insight on the new draft rules, why this is the best time he's had as a scout, his coverage area and if he has ever compared a player to his brother. Listen to the podcast.
Bryan Dolgin is the Rangers radio pre and postgame show host on the Texas Rangers ESPN radio network. He also is the host of Rangers Insider and Rangers Magazine on ESPN Dallas 103.3 FM. Follow him on Twitter @RangersRadioBD.
June, 12, 2012
6/12/12
2:07
PM CT
The
Texas Rangers
have agreed to terms with their top five selections of the 2012 Major League Baseball First Year Player Draft, including outfielder Lewis Brinson, the 29th overall selection.
Brinson, a 6-4, 180-pound center fielder, batted .394 with four doubles, four triples, four home runs, 21 RBI, and 11 stolen bases as a senior for Coral Springs (Fla.) High School. He had committed to the University of Florida. Sources said he signed for $1.625 million.
Also agreeing were: 3B Joey Gallo, Bishop Gorman High School, Henderson, Nev. (compensation round, 39th overall); RHP Collin Wiles, Blue Valley West High School, Overland Park, Kan. (compensation round, 53rd overall); OF Jamie Jarmon, Indian River High School, Dagsboro, Del. (second round, 83rd overall); and OF Nick Williams, Ball High School, Galveston (second round, 93rd overall).
Gallo signed for $2.25 million, while the others signed for slot.
June, 7, 2012
6/07/12
11:30
AM CT
By
Bryan Dolgin
| ESPNDallas.com
What's the best way to determine if the
Texas Rangers
had a good draft? I think one way is to listen to Kevin Goldstein of Baseball Prospectus talk about the three-day Major League Baseball event that resulted in the Rangers making 43 selections in 40 rounds.
PODCAST
Kevin Goldstein of Baseball Prospectus joins Rangers Insider to discuss Texas' unique draft situation.

Listen

"Right now, you can pontificate about a draft but to really grade a draft you do need, at times, five years and maybe even more sometimes," Goldstein said. "The Rangers are in a really unique situation when it comes to the draft. They have arguably the best team in baseball, and, arguably, if not one of the best systems in baseball when it comes to minor league talent. They are in a perfect place to just take risks. Just buy lottery ticket after lottery ticket, and they took a lot of high-ceiling kids early."
Goldstein was a guest on Rangers Insider, which preceded Wednesday night's network pregame show on ESPN Dallas 103.3 FM. He liked the Rangers' draft strategy and spoke about certain "lottery tickets" that could lead to some major power ball in the future.
If you are curious about the current Rangers, their home-grown draftees on the major league roster include second baseman
Ian Kinsler
(17th round in 2003), righty
Scott Feldman
(30th in 2003), outfielder
Craig Gentry
(10th in 2006), lefty
Derek Holland
(25th in 2006) and first baseman
Mitch Moreland
(17th in 2007). Home grown is defined as being drafted and developed by the Rangers.
Colby Lewis
could be considered to be a part of that category as he was the 38th overall selection in the 1999 draft, but he has played for other teams before returning to Texas.
Goldstein also discussed the the Rangers' first selection this year, Lewis Brinson -- "the most interesting" pick -- a local find, the Rangers' scouting effort and whether the revised draft rules make sense. We also shifted gears and talked about a couple of current minor leaguers at Double-A Frisco -- Mike Olt and Barrett Loux. Listen to the podcast.
Bryan Dolgin is the radio pregame and postgame show host on the Texas Rangers ESPN Radio Network. He is also the host of Rangers Insider and Rangers Magazine on ESPN Dallas 103.3 FM. Follow him on Twitter: @RangersRadioBD