Texas Rangers:

Luke Hochevar
September, 6, 2012
9/06/12
11:57
PM CT
By
Robert Falkoff / Special to ESPNDallas.com
KANSAS CITY, Mo. -- It's stretch drive time for the Rangers and
Michael Young
is right in the middle of it all.
On Monday and Tuesday, he was the designated hitter. On Wednesday, he was the second baseman. On Thursday, he was the shortstop.
Whatever it takes, Young is up for the challenge. The veteran capped off a strong series with a game-winning single in the 10th inning Thursday as the Rangers nipped the Royals 5-4 to take three of four and win their sixth consecutive series.
With Kansas City closer
Greg Holland
on the mound,
Ian Kinsler
led off the 10th with a triple. That brought up Young, who was hitting in the No. 2 slot with
Elvis Andrus
not in the starting lineup. Young promptly lined a single to center and
Joe Nathan
came on to close it out with his 30th save.
"We played really well here and so did they," Young said. "They gave us a good challenge. We scored when we had to, made plays when we had to and came out of here with three wins."
With the infield in, Young wanted to make sure he didn't hit a grounder right at somebody on his crucial at-bat in the 10th.
"You try to use the middle of the field and stay as short and quick to the ball as you possibly can," Young said. "I wanted to get something up in the zone that I could hit on a line or higher."
Young, who homered twice in the series, wasn't the guy Kansas City wanted to see at the plate in a key situation. It was also Young who started a three-run rally in the fourth with the first Texas hit after
Luke Hochevar
had retired the first 10 batters.
"Michael Young has been grinding since Day 1," Texas manager Ron Washington said. "There's no change in him. The only thing is, things are working now. I believe in Michael Young and I'm going to play Michael Young."
Young's game winner Thursday was the 2,201st hit of his career. And Washington is convinced that there are plenty of hits left in Young's bat.
"He has done a lot of things in 11 years," Washington said. "I'm on his ship."
September, 6, 2012
9/06/12
10:42
PM CT
By
Robert Falkoff / Special to ESPNDallas.com
KANSAS CITY, Mo. --
Michael Young
snapped a tie with a run-scoring single in the 10th inning to lift the Rangers to a 5-4 victory over the Royals on Thursday night at Kauffman Stadium. Young's hit came after a leadoff triple by
Ian Kinsler
off Royals closer
Greg Holland
.


What it means:
The Rangers, 82-55, moved 27 games over .500 for the first time this year and 5 ½ games ahead of Oakland in the American League West. By taking three of four in Kansas City, the Rangers have won their last six series.
Strategy foiled:
Manager Ron Washington played the percentages in the seventh inning when he lifted starter
Scott Feldman
for lefty
Michael Kirkman
with lefty-hitting
Eric Hosmer
at the plate and Texas leading by one. Hosmer foiled the strategy with a homer to left-center that tied the game at 4-4 and ended Feldman's chance of getting a win for the first time since Aug. 4. Nevertheless, Feldman can reflect on a positive outing. He allowed six hits and three earned runs over 6 1/3 innings.
Twice as nice:
Back-to-back homers are becoming standard operating procedure for the Rangers. They did it again Thursday, with
Josh Hamilton
and
Adrian Beltre
going back-to-back in the fourth inning. It's the ninth time this year that Texas has had back-to-back homers and the second time in the Kansas City series. On Monday, Beltre and
Nelson Cruz
went back-to-back.
Select company:
When Beltre hit his 30th homer Thursday, it marked the second consecutive year in which he has hit reached that plateau. Beltre, 33, joins a short list of players who posted back-to-back seasons with 30 homers or more at 32 or older. That list includes Harmon Killebrew, Mike Schmidt and
Alex Rodriguez
.
Royal defense:
When they face the Royals next year, the Rangers may be somewhat leery about taking daring leads. That's because Kansas City catcher
Salvador Perez
has made an impression in this series with his throwing ability. Perez picked off Kinsler at third Tuesday night and picked off
Craig Gentry
at first Thursday. Perez leads the Major Leagues in pickoffs with four this season. Kansas City used more good defense to thwart the Rangers in the eighth. With two on and two out, Cruz hit a liner to deep center, but
Lorenzo Cain
raced back for a lunging catch to take away two RBIs from Cruz. In the ninth, Hosmer leaned over the first base railing for an acrobatic grab of Geovany Soto's foul popup.
Soto delivers:
Soto doesn't have a high batting average, but he came through with some big hits at the start and finish of the series. Soto got Texas off and running with a three-run homer in the series opener and blasted a go-ahead RBI double off
Luke Hochevar
in the seventh inning of the series finale. The Rangers can only hope it's a glimpse of things to come.
September, 6, 2012
9/06/12
1:00
PM CT
By
Robert Falkoff / Special to ESPNDallas.com
KANSAS CITY, Mo. – The
Texas Rangers
conclude their four-game series with the
Kansas City Royals
tonight at Kauffman Stadium. The game starts at 7:10 p.m. on ESPN Dallas 103.3 FM and FSSW. Here's a look at the pitching matchup featuring RHP
Scott Feldman
vs. RHP
Luke Hochevar
:
Feldman (6-11, 5.01 ERA):
He is scheduled to make his 200th career appearance and 99th career start. He will be trying to snap a drought in which he has lost in his last five starts. Feldman hopes that September will be as productive for him as July. He was the Rangers' Player of the Month for July when he went 3-0 with a 1.96 earned run average. ... Feldman defeated the Royals 4-2 on Aug. 4 for his sixth straight win, but hasn't been able to break through in the victory column since. In that outing against the Royals, he went 7 2/3 innings and allowed six hits and two runs.
Hochevar (7-13, 5.34 ERA):
He is coming off the shortest stint of his career last Saturday against Minnesota. Hochevar lasted just 1 2/3 innnings after allowing a three-run homer by
Chris Parmelee
in the first and a grand slam by
Joe Mauer
in the second. Prior to that disappointment, Hochevar had turned in three starts of at least seven innings. He worked eight shutout innings in a 1-0 victory over Tampa Bay on Aug. 21. ... Hochevar is 2-0 with a 2.78 ERA in five career starts against Texas.
Hitters:
Michael Young
is 5-of-10 lifetime against Hochevar and
Adrian Beltre
is 5-of-13. ... Hochevar has limited
Josh Hamilton
to a 2-of-11 plate performance. ...
Billy Butler
is 5-of-21 against Feldman with a homer, and
Alex Gordon
is 4-of-12.
Up next:
Fri. at TB:
LHP
Derek Holland
(10-6, 4.79 ERA) vs. RHP
Jeremy Hellickson
(8-10, 3.41 ERA), 6:10 p.m., ESPN Dallas 103.3 FM/1540 AM/TXA21
Sat. at TB:
RHP
Yu Darvish
(14-9, 4.29 ERA) vs. LHP
David Price
(17-5, 2.54 ERA), 6:10 p.m., ESPN Dallas 103.3 FM/1540 AM/FSSW
Sun. at TB:
LHP
Matt Harrison
(15-9, 3.37 ERA) vs. RHP
James Shields
(3-8, 3.88 ERA), 12:40 p.m., ESPN Dallas 103.3 FM/1540 AM/FSSW
March, 28, 2012
3/28/12
11:50
PM CT
By
Richard Durrett
| ESPNDallas.com
SURPRISE, Ariz. --
Texas Rangers
manager Ron Washington was not happy with
Julio Borbon
's inability to get a squeeze bunt down in the 10th inning of the Rangers' 7-6 win over the
Kansas City Royals
.


It's rare that you get an opportunity like that in a spring training game with a player at the plate that would need to do it at times in the regular season (should he make the club). So Washington tried to take advantage and put the squeeze play on. Borbon bunted the first pitch foul. After taking a ball, he bunted the 1-1 offering foul, as well, and eventually struck out with
Matt Kata
at third and one out.
Washington said sometimes the first attempt goes foul.
"The second time, that's no excuse," Washington said. "You get a second shot, you're not supposed to miss it."
Washington talked to Borbon about it right after the play, clearly frustrated that the outfielder couldn't execute.
"[There's] no excuse for not bunting," Washington said. "That's their job. And if they can't do that..."
Borbon wasn't the only player on the field Wednesday vying for a spot on the 25-man roster.
Craig Gentry
started in center field and batted second. Gentry has battled injuries and ailments this spring and has not been able to get in any kind of rhythm. But after feeling light-headed and coming out of Sunday's game in Tempe, Gentry played the second-half of Tuesday's game and started Wednesday.
Manager Ron Washington talked to Gentry this week, encouraging him to run the bases with more aggression and get himself in gear for the season. The 28-year-old beat a relay throw on a double play in the fourth and didn't waste any time stealing second base. But in his attempt to stay aggressive, Gentry tried to go to third with two outs on a ball in the dirt (with
Michael Young
at the plate) and was thrown out.
Gentry came up with two outs and two runners on in the sixth and wasn't able to do anything, grounding out to second base. He's expected to get some more chances at center in the next few games. He was the favorite to get the right-handed center field spot going into spring, but he has not seized the position. It's possible Gentry and Julio Borbon both make the roster.
As for utility infield,
Alberto Gonzalez
got a chance to play shortstop with
Elvis Andrus
resting his tight hip flexor muscle. And Gonzalez took advantage. He had a single in the second and a double and a run scored in the fourth. Batting ninth, he came up with the bases loaded in the sixth inning and hit a fly ball to the wall in left. It was caught by
Alex Gordon
for a long sacrifice fly.
Gonzalez also made the routine defensive plays hit to him Wednesday.
Holland says he was better than numbers:
Rangers starter
Derek Holland
said that despite the line (5 IP, 9 H, 6 ER, 2 BBs, 3 Ks, 99 pitches, 66 strikes), he was pleased with the way he threw.
"I was throwing a lot of sinkers on both sides of the plate, and that was the plan to work on the ride back," Holland said.
Holland gave up two home runs, including one to
Billy Butler
that flew over the fence at the top of the berm and onto Bullard Avenue.
"He hit it about 800 feet," Holland said.
Washington said he wasn't sure it was that long, but it "seemed like it was shot out of a cannon."
Holland said he threw a sinker, and Butler blasted it.
The two walks were the first two free passes Holland has thrown all spring.
"My velocity was there and I felt good," Holland said. "If this was the regular season, I would have been upset. But I'm working on the sinker and doing some things."
That hurts:
Michael Young tried to glove a low throw by Holland as
Jason Bourgeois
ran through the first-base bag. Young wasn't able to get to it, and in the process appeared to hurt his hand. He took his glove off and was shaking it off. Athletic trainer Jamie Reed came on the field briefly, but Young was fine. ...
Nelson Cruz
was hit in the hand by a pitch that was close to his chin in the third. He stayed in the game (after Reed once again got a chance to trot onto the field), but then left after the fifth.
Triple-homer-triple:
David Murphy
hit what appeared to be a home run in the second, though it wasn't called that way, and he slid into third. It was then called a homer, and Murphy trotted home. But after an umpire's conference, Murphy was sent back to third with a triple. I'm still not sure exactly where the ball hit in straightaway center, but it was a nice shot by Murphy. He scored one pitch later on
Yorvit Torrealba
's single.
Oops:
Ian Kinsler
charged a ground ball and slipped, falling forward as
Brayan Pena
made it to first base safely. Kinsler was smiling as he got up. It was scored an infield hit. After the game, Kinsler laughed when asked about it (Young laughed, too). "I don't even know where to start in describing that play," Kinsler said. "That's a play that happens in Arizona."
Gentry on the run:
Washington wanted to see Gentry run the bases more and he let his center field candidate know that this week. Gentry beat out a relay throw on a double play (1B
Eric Hosmer
was off the bag) and then stole second. Gentry then tried to get to third on a ball in the dirt and was thrown out. Still, Gentry was trying to be aggressive on the bases, and that's what he needs to be doing. He came up with two on and two outs in the sixth and couldn't do much, grounding to second to end the inning.
Walk in the park:
Mike Napoli
, the DH on Wednesday, walked three times. He has a team-high 13 walks in Cactus League games and now leads the Cactus League in that category.
Nice bunt:
Yorvit Torrealba came up with runners and first and second and no outs in the sixth and put down a perfect bunt toward third base. The ball stayed on the grass and Torrealba was able to record a hit and move the runners up, loading the bases.
Odds and ends:
Brad Hawpe
hit a double in the ninth and the Rangers ended up tying it on a passed ball (after Hawpe was removed for a pinch runner). ...
Mike Adams
retired all three batters he faced. ...Every starter in the lineup for the Rangers got on base at least once. ...Matt Kata made a great defensive play, diving to make a stop and then throwing the runner out from his back. He then had the go-ahead double in the 1oth.
May, 19, 2011
5/19/11
8:54
PM CT
Chris Davis' home run has held up as the Rangers protect a 1-0 lead over the Royals after six.

Starters Luke Hochevar and Derek Holland are cruising -- neither has allowed more than six hits. Holland has benefited from a 6-3-6 double play started by Mitch Moreland that ended the fifth inning. The sixth ended when the Royals' Jeff Francoeur was throw out at second trying to stretch a single.

One batter earlier, Adrian Beltre dove to snag Alcides Escobar's grounder to third and appeared to throw him out one one knee. The throw drew Moreland to stretch in foul territory, and Escobar was called safe. Replays appeared to show that Moreland kept his foot on the bag.

DH Chris Davis, in for a resting Michael Young, has two of the Rangers' four hits.
May, 9, 2010
5/09/10
6:59
PM CT
By
Randy Jennings
| ESPNDallas.com
So who needs an off day?
With a four-game winning streak under his belt after after Sunday's 6-4 win over the
Kansas City Royals
, the
Texas Rangers
' Ron Washington sounded like a manager who prefers to keep playing.
"It seems like when we started playing every day, that's when things started falling in place,'' said Washington.
The Rangers went 13-7 playing 20 games in 20 days. That stretch, which included trips to Boston, Seattle and Oakland, ends with Monday's off day. The Rangers open a three-game series at home against Oakland on Tuesday.
"We're playing good baseball,'' Washington said. "We're playing Texas Rangers baseball, playing the game the way it ask you to play it, doing the little things. Today we had a sacrifice fly, a double steal, and the bullpen got the job done again.''
[+] Enlarge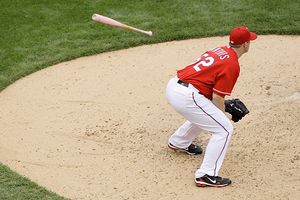 AP Photo/Tony GutierrezDoug Mathis, who was the winning pitcher with two innings of scoreless relief, eludes the pink Mother's Day bat that slipped out of Jason Kendall's grasp.
* The bullpen provided five scoreless innings a day after turning in four innings without allowing a run. That came after a shaky performance Thursday and Friday's complete game by
C.J. Wilson
, and it allowed the Rangers to sweep the four-game series.
"Sweeping a team is tough enough let alone a four-game series,'' said reliever
Darren Oliver
. "Nine scoreless innings is pretty good.''
*
David Murphy
went 3-for-4 with two RBIs and raised his batting average 32 points to .229.
His two-run double in the third gave the Rangers their first lead.
"That was one of my best swings and at-bats of the season,'' Murphy said. "It was a fastball in, and that's a pitch you have to stay with to drive.''
Murphy pulled what turned out to be the final pitch by Royals starter
Luke Hochevar
into the wall in right center.
* Pitcher
Scott Feldman
said he was frustrated with his performance, which lasted only four innings.
"I'm just not pitching well,'' he said. "I've got to get better. I'm in a bit of a slump and I've got to get myself out of it. We've got a good team here and I know I can do better than this.''
Feldman's manager is sticking with his 27-year-old Opening Day starter.
"We've got to keep giving him the ball until he figures it out,'' Washington said. "He had a good breaking ball today and his pitches had movement. But he didn't throw his change very well.''
*
Neftali Feliz
continues to look more comfortable in the closer's role. He worked a 1-2-3 ninth, with help from center fielder Julio Borbon's diving catch, for his ninth save. He came into the game tied for the league lead in saves.
"I've never been uncomfortable about using Feliz in back-to-back games,'' Washington said.
May, 9, 2010
5/09/10
3:35
PM CT
By
Randy Jennings
| ESPNDallas.com
Not a good pace to today's game, mainly because neither pitcher has been sharp.
Scott Feldman
has only issued two walks, both to Royals cleanup hitter
Jose Guillen
, but has constantly been behind in the count. He's needed 66 pitches to record nine outs.
The Royals'
Luke Hochevar
walked four and didn't make it out of a four-run third after throwing 70 pitches.
The Rangers lead, 4-2, through three innings. It has taken 1 hour, 20 minutes to make it this far.
Feldman has really slowed down with runners on base and at times appears to have trouble with catcher
Max Ramirez
on pitch selection.
May, 9, 2010
5/09/10
10:00
AM CT
By
Jeff Caplan
| ESPNDallas.com
ARLINGTON, Texas --
Kansas City Royals
RHP
Luke Hochevar
squares off against
Texas Rangers
RHP
Scott Feldman
in today's 2:05 p.m. finale of the four-game weekend series. A look at the matchup:
Hochevar (3-1, 5.03 ERA):
All four of Hochevar's decisions this season have come on the road and the last two show how erratic he can be. He earned a win in his last start, a 7-2 decision at the Chicago White Sox, working 6.0 innings and allowing one uneraned run on three hits with four walks and three strikeouts. His previous start was a clunker at Tampa Bay in which he allowed a career-high nine earned runs on 11 hits over 2 2/3 innings, rocketing his ERA from 3.55 to 6.11. This will be his second career start against the Rangers and the first in Arlington. He was a 6-3 winner over Texas last July 25 at Kauffman Stadium, working 7.0 innings and allowing three runs, two earned, on five hits with no walks and a career-high 13 strikeouts.
Feldman (1-3, 5.45 ERA):
Control is Feldman's big issue heading into the weekend finale. he's issued 11 walks over his past three starts after walking just three batters over his first three starts. Feldman allowed seven earned runs in just seven innings in his last start, just the fifth time in the last 15 seasons a Rangers starter has done that. But, he retired the final 12 batters he faced. He is winless in his last four decisions, matching his longest winless drought from his banner 2009 season (June 8-25). The Royals might be his tonic. Feldman is 2-0 with a 1.20 ERA in his two career starts against Kansas City. He threw eight shutout innings in his lone start last season at Kansas City, defeating Royals ace Zack Greinke, who allowed one run over seven innings.
Hitters:
Royals lead-off hitter
David DeJesus
is reallythe lone batsman with any track record against Feldman with five hits in seven at-bats and three RBIs. Only
Yuniesky Betancourt
(.286, 4-of-14) and light-hitting
Chris Getz
have averages better than .200 against Feldman.
Michael Young
is the lone Rangers batter available for Sunday's game who got a hit of Hochevar in last season's meeting.
Nelson Cruz
had a hit, but he's injured and awaiting a rehab assignment.