Texas Rangers:

Lyle Overbay
July, 22, 2013
7/22/13
11:08
PM CT
By
Todd Wills
| ESPNDallas.com
ARLINGTON, Texas --
Rangers
ace
Yu Darvish
threw only 90 pitches in his return from the disabled list on Monday night.
That was more than enough to beat the
New York Yankees
, as the Rangers ended a five-game losing streak with a much needed 3-0 victory.
Darvish had a no-hitter going into the fifth inning, before
Lyle Overbay
broke it up with a bloop hit. Darvish allowed two hits in 6⅓ sharp innings.
[+] Enlarge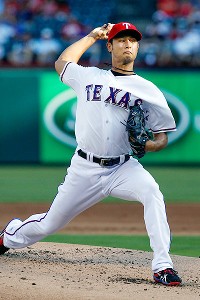 Jim Cowsert/USA TODAY Sports
Despite an early exit, Yu Darvish had more than enough stuff Monday to dismantle the Yankees.
Afterward, Rangers manager Ron Washington said not to panic about the low pitch count.
Wash saw a hot Texas night getting to Darvish in the sixth inning, prompting him to get reliever
Robbie Ross
up in the bullpen. After two Yankees reached base in the top of the seventh, the manager decided to go to a rested bullpen.
Ross got a double-play ball to end the inning, and
Tanner Scheppers
and
Joe Nathan
closed out the 11th win by a Rangers' starting pitcher since June 1.
"[Darvish] was throwing the ball well, and you could see he was fresh," Washington said. "Just as we got into that seventh inning, you could also see that the heat may have gotten him a little bit, and he quit driving the ball through the catcher. But he was certainly sharp."
Darvish had been on the 15-day disabled list with a strained muscle in his back, forcing him to miss pitching in the All-Star Game. The Rangers put him on the DL as a precautionary move, knowing how much they need him to be fresh heading into the final two months of the season.
Darvish hit the first batter he faced,
Brett Gardner
, then retired 11 straight Yankees before Overbay's single to start the fifth inning.
"I was able to locate my fastball for strikes, so even early in the count I was able to throw all of my pitches," Darvish said through an interpreter. "So I think it went smoothly overall."
Darvish appeared to be upset about getting taken out at 90 pitches. But he insisted after the game that he understood.
"It was a little bit earlier than I thought," he said, "but I had about 15 days with a break, and I think Wash was thinking about my body and how I felt, so I really appreciated what he's done."
June, 14, 2012
6/14/12
11:29
PM CT
By
David Collier
| ESPNDallas.com
ARLINGTON, Texas -- Tough luck and inconsistent pitching have combined to put
Scott Feldman
in an 0-6 hole.
His most recent start was a loss at the hands of the
Arizona Diamondbacks
, who came away with an 11-3 win in their series finale against the
Texas Rangers
. Feldman gave up six runs, four earned, in just five innings of work in the loss.
The right-hander got off to a good start, striking out the side in the first, but he used 20 pitches to do so. Opponents are just 2-for-22 off Feldman in the opening frame, but unfortunately for him, baseball is more than a one inning game.
In the second, Feldman's night took a turn for the worse when he allowed a two-out single to
Lyle Overbay
on an 0-2 count. The next batter,
Jason Kubel
, crushed a two-run homer to give the Diamondbacks a 2-1 advantage.
He allowed two more runs in the third with two outs.
Justin Upton
beat out an infield single before an error by
Mitch Moreland
kept the inning alive. Overbay, then, delivered a two-run double to extend the Arizona lead.
"Maybe we made some mistakes behind him," manager Ron Washington said of Feldman's outing. "But just because we made mistakes, that doesn't mean you let the flood gates open. You've got to stop it. They make mistakes, you pick them up. They pick you up."
The Rangers have struggled on defense with Feldman on the mound, totaling eight errors in his starts, but he knows he has to battle through that.
"That kind of stuff happens, and I just have to get the next guy out," Feldman said. "I didn't do that tonight."
Standing at 0-6, Feldman holds the longest season-opening losing streak since
C.J. Wilson
lost his first six decisions in 2005. It is also the longest losing streak by a starter since John Dettmer in 1994.
Feldman has yet to get deeper than 5 1/3 innings this season, which he did against San Francisco on June 9, and a lot of that has to do with his pitch count. The 29-year-old has struggled to get guys out in a timely fashion, throwing 100 pitches, including 68 strikes, in his five innings on the mound.
"I got ahead of a couple of guys tonight, I just wasn't able to put them away," Feldman, who's ERA has risen to 6.50, said. "It was basically just lack of fastball command on all of those."
It's been no secret that Feldman has been the weak link in an already beaten up starting rotation, and he admitted it's frustrating.
"The last couple of games, I thought I threw the ball pretty well," he said. "Obviously tonight, I didn't make some pitches with two outs or two strikes. I feel like I'm very close to being good. ... I didn't think it would take me this long to start clicking and stuff, but I just feel like I'm so close to getting there."
June, 14, 2012
6/14/12
10:04
PM CT
By
Clint Foster
| ESPNDallas.com
ARLINGTON, Texas-- A sweep eluded the
Texas Rangers
as they dropped the final game of their three-game series with the
Arizona Diamondbacks
, 11-3, at Rangers Ballpark in Arlington on Thursday. Some quick thoughts:


What it means:
The Rangers took the series against the D-backs, 2-to-1. The loss Thursday drops the Rangers' lead to three games in the AL West as the Angels were idle.
Bats hot early:
Unlike Wednesday night's pitching battle, the Rangers and D-backs both got on the board early in Thursday's game. The Rangers scored first when
Elvis Andrus
doubled and was then driven home by an RBI single from
Adrian Beltre
in the first inning. The D-backs took the lead in the second inning on a two-run homer from
Jason Kubel
. Arizona scored again in the third on a two-RBI double from
Lyle Overbay
with two outs.
The quest continues:
Scott Feldman
is still searching for his first win of the season. Despite striking out the side in the first inning, the D-backs got up on Feldman early. The score was 5-1 Arizona when Feldman left the game in the sixth inning. Feldman allowed six runs on eight hits (one home run) with no walks and six strikeouts. He is 0-6 on the season. Two of the runs were unearned.
Give me five:
Feldman still has yet to complete six innings this year as a starter. He completed five innings for only the second time this season with the first coming in his previous start against San Francisco.
Not-so-merry go round:
The Rangers struggled in the sixth inning, allowing the D-backs to bat around. After Feldman gave up back-to-back doubles to start the inning,
Tanner Scheppers
got one out before Arizona got on a roll. Two singles and a home run later, Scheppers got the second out. The Rangers allowed one more single before Scheppers struck out the ninth batter of the inning,
Justin Upton
.
Lone Ranger:
Andrus carried the Rangers offense for most of the game, hitting a double and single in his first two at bats. He was the only Ranger other than Beltre to have a hit through the first six innings. Andrus finished 2-for-4.
Seventh-inning surge:
The Rangers bats finally woke up in the seventh inning. Beltre belted a double to leadoff the inning and then with two outs,
David Murphy
drove him in with a two-run homer to cut the lead to six. It was Murphy's second home run in three days. Murphy finished 1-for-3 and Beltre finished 2-for-3. Only three Rangers had a hit.
Welcome back:
Michael Kirkman
saw his first major league action of the season when he pitched one inning in the seventh. The lefty tossed back-to-back strikeouts and allowed one walk. ...
Alberto Gonzalez
also saw action, making his first appearance at the plate since May 30. He grounded out in his lone at-bat.
Using the pen:
Scheppers, Kirkman,
Mark Lowe
, and
Yoshinori Tateyama
each pitched an inning. Only Scheppers and Tateyama allowed a hit. Scheppers allowed four hits and three runs, while Tateyama allowed a controversial single that led to a two-run homer in the ninth.
You're outa here:
Ian Kinsler
was ejected in the bottom of the sixth for arguing a called third strike with home plate umpire Eric Cooper. Kinsler finished 0-for-3 with two fly outs and a strikeout.
Heads up:
For the third night in a row, one of
Josh Hamilton
's bats flew into the Rangers stands. Hamilton's bat shattered in his third at-bat, sending the largest piece of bat shrapnel careening into the first-base stands. It's becoming a good idea for fans to wear a helmet to the Ballpark.
Still not himself:
Two days removed from a virus,
Nelson Cruz
has yet to get things going. He had three straight strikeouts, including his lone at-bat in Wednesday's game and finished Thursday 0-for-3.
Up next:
The Rangers begin a three-game series against the rival
Houston Astros
to finish out this homestand. The first game of the series features RHP
Yu Darvish
(7-4, 3.72) vs. RHP
Jordan Lyles
(1-2, 5.40) at 7:05 p.m.on ESPN Dallas 103.3FM/TXA-21.
September, 6, 2010
9/06/10
1:01
PM CT