Texas Rangers:

Madison Bumgarner
November, 2, 2010
11/02/10
1:17
AM CT
By
Jeff Caplan
| ESPNDallas.com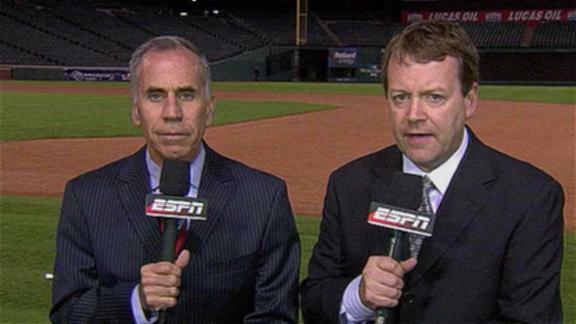 ARLINGTON, Texas – As crazy as it sounded for an American League underdog and first-time World Series entrant, the
Texas Rangers
crashed the Fall Classic as the favorite to win it all.
With bats blazing after a demolition of the
New York Yankees
, the light-hitting
San Francisco Giants
from that mediocre other league figured to be a walk in Golden Gate Park.
Sure, the Giants had
Tim Lincecum
and the National League's most dominant staff across the board, but so what? The Rangers had
Cliff Lee
and eccentric
C.J. Wilson
and steady
Colby Lewis
. If they could hold their own on the mound, the team that carried the majors' best batting average into the postseason and had cranked nearly twice as many postseason homers as anyone else would deliver the franchise its first-ever world championship.
And then something happened to the Rangers' vaunted offense that poured 38 runs on the Bronx Bombers.
"Their pitching happened," Rangers second baseman
Ian Kinsler
said of the Giants' tremendous pitching in the World Series. "Obviously, we pride ourselves on beating anyone offensively, but in this series we couldn't do it."
The Giants, hitting .231 entering the World Series, did. Edgar Renteria's three-run homer off Cliff Lee in the seventh inning of a scoreless game stunned the sellout crowd at Rangers Ballpark and all but ended Texas' hopes of taking the series back to the Bay. San Francisco went on to a 3-1 victory Monday night, taking the World Series, 4-1.
Michael Young's .250 batting average in the five-game seriers tells the story. Not because it represents anything in particular, but because it serves as an eye-popping divider.
Mitch Moreland
, the nine-hole hitter who hit a team-best .462, is the lone Ranger to finish north of Young's average.
[+] Enlarge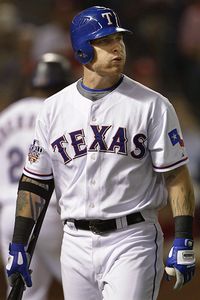 AP Photo/David J. PhillipAfter winning the ALCS MVP, Josh Hamilton was held to a .100 batting average in the World Series.
Everybody else finished well south. In fact, only
Nelson Cruz
hit .200, and he hit exactly that. Just get a glimpse of these averages:
Elvis Andrus
, .176;
Vladimir Guerrero
, .071;
Josh Hamilton
, .100; Kinsler, .188;
Bengie Molina
, .182;
David Murphy
, .143. It all adds up to .190 as a team, the third-lowest batting average in World Series history. In Games 4 and 5, the Rangers scratched out just three hits in each.
"I caught those guys. I know what they're capable doing. I just thought we could hit them," said Rangers catcher Bengie Molina, a San Francisco Giant the past 3 1/2 years until traded to Texas on July1. "I just thought that this group is a great group of guys that can hit and I thought they could hit them. But, like they say, pitching beats hitting, right?"
Consider this: Those light-hitting Giants matched the Rangers' 29 hits in the series with 29 runs.
"It's tough you know?" Cruz said. "They got great pitching and when you got pitching the offense shuts down. It's simple."
Simple, yet still utterly confounding. The Rangers blew an opportunity in Game 1 to open a four- or five-run lead on Lincecum, but settled for a 2-0 lead after two innings. Lee couldn't hold it and by the time the fifth inning was over, the Giants led, 8-2.
In Games 2 through 5, the Rangers' offense managed five runs. They were shut out twice, once by
Matt Cain
, which is not a terrible crime since he finished the postseason without allowing a run. But insult came against 21-year-old lefty
Madison Bumgarner
and his poised Game 4 shutout.
Cruz's solo home run in the seventh inning of Monday's finale ended an 18-inning scoreless skid that went all the way back to the sixth inning of Game 3.
"We feel that we can hit anybody at any time," Hamilton said. "Their pitchers threw well, I'll give them credit, even though I don't like to. They threw well, but we just weren't swinging the bats well. But they beat us, fair and square."
Hamilton had come off a poor ALDS to win the ALCS MVP a monster performance that led the Yankees to intentionally walk him three times in the Game 6 clincher. Later this month, he could very likely take home the AL MVP. But, in the World Series, he vanished, save for a solo shot in the Game 3 victory.
In Game 5, he didn't get the ball out of the infield. Hamilton, who hit .359 in the regular season, tapped one to first in the first. After Young reached to lead off the fourth, Hamilton struck out swinging. He ended a 1-2-3 sixth inning with a dribbler to second and started the 1-2-3 silent ninth looking at Brian Wilson's 95 mph fastball.
"I felt great. It would be different if I felt terrible, felt lost, didn't know what I was doing up there. I felt good," Hamilton said. "That's just the way baseball works. Sometimes you feel good and you just don't get hits. You hate for it to happen in the World Series, but it did. I'm not going to be disappointed or be upset about it because I didn't have bad at-bats."
Guerrero, the cleanup hitter who a week ago was voted the AL Comeback Player of the Year by his peers, produced almost nothing during the playoffs. Manager Ron Washington stuck by his prized free-agent pickup and refused to move him out of the four-hole in favor of Cruz, who swung perhaps the hottest bat of the playoffs, up until the World Series.
Guerrero produced one hit against the Giants and two RBIs. He struck out three times in Game 4, the first time he'd done that all season and the first time ever in his playoff career. In Game 5, he reached once on a fielder's chance and was quietly retired three other times.
For one of the game's great free swingers, the first World Series of his Hall of Fame-caliber career did not go as planned.
"I feel happy because in 14 years I haven't been able to get to the World Series. But, of course, being my first World Series and waiting so long I was a little anxious when I was at the plate," Guerrero said through a translator. "I think that is the reason why I couldn't produce like I usually do during my career."
In the end, great pitching beat good hitting. Good might be too complimentary to describe the Rangers' plate performance.
"I can't put my finger on one particular thing. Fact is we didn't play how the Rangers play," Hamilton said. "They're pretty good, but baseball is baseball. Even the best pitcher can have a bad day or a pitcher that's not so hot can I have great day. Say they had the best staff in the league, they still can be beat.
"I give them credit, they threw the ball well," Hamilton continued. "I just don't like giving pitchers a lot of credit. I just don't."
After these five games, the Rangers have little choice.
November, 1, 2010
11/01/10
1:29
AM CT
By
Jeff Caplan
| ESPNDallas.com
ARLINGTON, Texas – Unfortunately for young
Texas Rangers
starter
Tommy Hunter
, his most joyous moments this postseason amounted to twice dousing TBS sideline reporter Craig Sager with exploding beer.
Otherwise, it's been a disappointing playoff run for the 24-year-old righty. In his third postseason start, this one being crucial Game 4 of the World Series on Sunday night, Hunter again didn't pitch terribly, and he again left a close game. But, for the third time he failed to see the fifth inning and put back to work a sputtering bullpen.
Done in by 21 pesky San Francisco foul balls -- including 12 in the third inning alone -- that helped to drive up his pitch count, and by a first-pitch, 404-foot two-run homer by local product
Aubrey Huff
in the second inning, Hunter found himself again trying to explain how he felt good on the mound but couldn't get the job done.
Huff's homer stood as the Giants rode their young lefty,
Madison Bumgarner
, to a 4-0 victory. The Giants will now hand the ball to ace
Tim Lincecum
on Monday for the first of three elimination chances for the Giants. Of course, the Rangers will grasp to hope knowing they'll have
Cliff Lee
going in his final start for the Rangers of 2010.
As for Hunter, he disappointingly ends his postseason with a 0-2 record and a 5.56 ERA. The two losses amount to half his total during the regular season when he won 13 of his 22 starts and never saw his ERA rise above 3.99
"It's been tough when you don't go out and do what you're supposed to do. It's tough," Hunter said. "I felt pretty good tonight. There's not too many things I would take back."
Except for one: Huff's towering home run into the right-field seats.
"He hit a pitch that didn't do what it was supposed to do. It was a mistake," Hunter said. "That's what good hitters do. They hit mistakes."
Hunter's night might have turned out differently with just a smidgeon of help from his offense. But the Rangers' mighty bats, bolstered by the designated hitter being in effect in their home ballpark, were befuddled by Bumgarner, who was nothing short of brilliant in his first World Series appearance.
Coming in, this matchup was billed as a toss-up: Two youthful arms with no postseason experience and nerves that might fray under pressure. Bumgarner watched fellow lefty
Jonathan Sanchez
get roughed up and leave early in the Rangers' Game 3 win, but 21-year-old simply filed that away, came out and pitched the game of his brief big-league career.
He shut down Texas on just three hits, all singles. He struck out six and allowed one baserunner to reach scoring position.
The disparity in the two starters' efficiency was drastic. Bumgarner threw 106 pitches and faced 27 batters over eight innings. Hunter, in just four innings, threw 83 pitches to 18 batters.
"He did great," Hunter said of his counterpart. "He did what everybody's supposed to do. He limited baserunners, he threw the ball well. Tip your cap. Probably the most potent lineup in baseball, he shut them down."
Having to win three in a row, the Rangers will need their starters to go deep. Their bullpen situation is messy after
Alexi Ogando
exited the game during a second impressive inning of work with a left oblique strain. He will undergo exams Monday morning, but he is not expected to be available for Game 5 or beyond.
That removes the best right-handed arm outside of closer
Neftali Feliz
, who went a third World Series game Sunday without making an appearance. Trusted bullpen hands to get games to the ninth have dwindled to seemingly lefty
Darren Oliver
and, to an extent, lefty
Derek Holland
.
Washington's confidence in
Darren O'Day
has to be somewhat shaken after he offered up a home run to
Buster Posey
in the eighth to make it 4-0. It was the second time in the series that O'Day has given up a blast to the first batter he's faced.
Juan Uribe
tagged him for a three-run shot after O'Day relieved Lee in Game 1.
Of the seven relievers on the World Series roster, four own astronomical ERAs. O'Day and Kirkman are on the low end at 13.50 each. Holland is at 27.00, and
Mark Lowe
is at a mind-blowing 67.50. Ogando had yet to give up a run in 3 2/3 innings pitched, but he's now out of service.
Oliver (3.38) and Feliz (0.00) are the only relievers that haven't completely folded in pressure situations.
"I don't think they're going to need us [Monday]," O'Day said. "A guy like Cliff doesn't have two bad games in a row. [The Giants] have got to go through him to win tomorrow, so maybe they won't need us. That'd be nice."
October, 31, 2010
10/31/10
10:31
PM CT
ARLINGTON, Texas -- The
San Francisco Giants
shut out the Rangers for the second time in this World Series, 4-0, to take a 3-1 lead into Game 5 on Monday. Some quick thoughts (we'll have reaction from the Rangers clubhouse soon):
*
Madison Bumgarner
was the hero of the night. It was a sensational performance by the rookie as he went eight shutout innings and gave up just three hits. He pitched efficiently and got ahead. In fact, he used a similar strategy to what
Colby Lewis
did in Game 3: He got ahead in the count and stayed aggressive. Bumgarner threw first-pitch strikes to all but five of his 24 batters. He benefitted from good defense behind him, but he allowed the Rangers to put just one runner into scoring position. It's tough to believe that Bumgarner walked his first batter on four pitches. But he sure did settle down after that.
* Bumgarner's slider was an effective out pitch.
Tommy Hunter
didn't have an out pitch, which caused lots of foul balls with two strikes. He was unable to finish, helping drive up his pitch count.
* Hunter was taken out after four innings. He's now made three postseason starts and hasn't pitched past four innings. He had thrown 83 pitches and given up two runs on five hits. Long at-bats wore Hunter down and he wasn't particularly sharp, but he was able to keep his team in the game until he left. Interestingly, he's exited in close games in all three playoff starts (Rangers were down 3-0 to the Rays in Game 4 and tied at 2 with the Yankees in Game 4, which the Rangers won).
*
Josh Hamilton
made a spectacular diving catch in shallow right-center to save a run and keep the game scoreless in the second inning. The catch came with runners on the corners and two outs.
* Umpire Jeff Kellogg missed a close call at first base in the second inning. He called
Travis Ishikawa
save on a double-play attempt and the replays showed
Mitch Moreland
had the ball in his glove and Ishikawa's foot was not yet on the bag (I had started to write the double play in my scorebook). Hunter then had to throw 11 more pitches than he should have, and Hamilton's catch kept a run from scoring. That had to make Kellogg feel better (once he sees the replay).
* Not to be outdone,
Freddy Sanchez
made a great defensive play to end the bottom of the second inning.
Jeff Francoeur
hit his hardest ball of the World Series and Sanchez jumped high in the air and snagged it. The Rangers had a runner on base with two outs at the time.
* Hunter pitched out of a jam in the first inning.
Andres Torres
hit an infield single (
Ian Kinsler
made a nice play to get to it and attempt the throw, but Mitch Moreland wasn't able to scoop the throw out of the dirt) and then stole second on a breaking pitch to Sanchez with no outs. But Sanchez grounded to third, not allowing Torres to move over. With one out, Hunter got
Aubrey Huff
to ground out to first and
Buster Posey
to ground out to short to end the frame.
*
Elvis Andrus
started the game with a four-pitch walk (maybe Bumgarner was nervous), but the Rangers couldn't do much after that. With a runner on first and one out, Hamilton hit a hard ball but right at second baseman Sanchez, who made a nice play on a high hop to start a double play to end the inning.
* Huff, who went to Brewer High School in Fort Worth, blasted a home run down the right-field line with a runner on to give the Giants an early 2-0 lead. It was estimated at 404 feet, which means it was well into the seats. It's just 349 feet to the wall down that line. Torres was on second when Huff hit the homer. He got there after his hard ground ball hit the first base bag and bounded down the line for a leadoff double.
* Hunter can thank Torres, Sanchez and Kellogg for driving up his pitch count. Torres and Sanchez combined to see 31 of Hunter's 83 pitches (37 percent of them). Kellogg added 11 to that count with the missed call at first.
* Rangers like to get aggressive on the bases, but were they over-aggressive in the fourth? With two outs and Hamilton at first base with the powerful
Nelson Cruz
up, Hamilton tried to steal second and was thrown out by catcher Posey. It's not easy to steal on Bumgarner or Posey, and I'm not sure doing it with two outs with Cruz up in a close game was the smartest play.
*
Alexi Ogando
came in to relieve Hunter and got the first five batters he faced. But after his second pitch to
Juan Uribe
, Ogando grabbed his left side. He was taken out with a strained left oblique muscle. Ogando has a 1.50 ERA this postseason and pitched well in the World Series, getting six strikeouts in 3 2/3 innings pitched. Ogando can be replaced on the roster. Is
Dustin Nippert
the frontrunner for that spot? Or do they go with lefty
Clay Rapada
or
Matt Harrison
?
* Double plays ended two Ranger innings, and both were started by Sanchez at second base. Hamilton hit into one in the first and Andrus hit into one in the sixth. Andrus is not easy to double up, hitting into just six ground ball double plays in 2010.
* The Giants got an important insurance run in the seventh.
Edgar Renteria
was on the move at first base on an 0-1 count with two outs to Torres, who smacked the ball to the right-center gap. The ball nearly bounced and went over the wall, but didn't, allowing Renteria to score easily since he was running on the play. That made it 3-0 Giants.
*
Darren O'Day
came in to relieve
Darren Oliver
in the eighth and face Posey, whom O'Day struck out to end the eighth in Game 3. But in Game 4, Posey hit a 2-2 changeup that kept going to straightaway center and landed on Green's Hill. It was the second time in this series that O'Day gave up a homer to the first batter he faced.
* Holland came in for the first time since walking three straight batters in Game 2. He walked his fourth straight as Ishikawa went to first on a 3-2 pitch. But Holland settled down and struck out Renteria and got
Nate Schierholtz
and Torres to end the ninth inning.
* Closer
Brian Wilson
came in for the Giants and finished the game. It was not a save chance because the score was 4-0 heading into the ninth.
* Former presidents George W. Bush and his father, George H.W. Bush, came on the field in a golf cart (George W. Bush drove) and posed on the mound with Rangers president Nolan Ryan. The younger Bush then threw out the ceremonial first pitch with Ryan catching. Both Bushes received huge cheers from the sellout crowd. A handful of Giants stretching on the field as the cart came in also stopped to say hello.
October, 31, 2010
10/31/10
9:38
PM CT
By
Jeff Caplan
| ESPNDallas.com
ARLINGTON, Texas -- Andres Torres launched a double to the right-center field gap to score Edger Renteria with two outs, giving the San Francisco Giants an insurance run to lead 3-0 heading to the bottom of the seventh.

Renteria notched his third single of the game with one out. He was running on the Torres' double, allowing him to score easily from first.

The Rangers have Michael Young, Josh Hamilton and Vladimir Guerrero due up. They are a combined 1-for-6 tonight. Young had an infield hit in the fourth. Giants starter Madison Bumgarner has allowed just two hits.
October, 31, 2010
10/31/10
8:57
PM CT
By
Jeff Caplan
| ESPNDallas.com
ARLINGTON, Texas -- Tommy Hunter's Game 4 start ending prematurely like his previous two in the postseason. He lasted just four innings, throwing more than 80 pitches, but he managed to limit the damage to two runs on an Aubrey Huff homer in the third inning.

Hard-throwing Alexi Ogando took over in the top of the fifth and retired the Giants in order for the first time in the game.

Hunter surrendered five hits, walked one and struck out one.

Giants starter Madison Bumgarner has allowed just one hit through four innings.


October, 31, 2010
10/31/10
12:31
PM CT
By
Jeff Caplan
| ESPNDallas.com
ARLINGTON, Texas -- The youngest of the
Texas Rangers
' starting pitchers has a chance to put "Big Game" back in Hunter.
Tommy Hunter
, the 24-year-old right-hander who has had a tough go of things in the postseason, will start Game 4 of the World Series on Sunday with his team needing a clutch performance. The Rangers can even up the series with the win. The flip side is a 3-1 deficit to the
San Francisco Giants
.
Hunter (0-1, 6.14 ERA) will face fellow youngster
Madison Bumgarner
(1-0, 3.55 ERA) at 7:20 p.m.
"This is what you've played your whole life for," Hunter said. "But inside the lines nothing has changed. It's all outside the lines is when things change. It's still a baseball game. The plate is still 60 feet, 6 inches away from you. Basepaths are 90 feet. Nothing changes. It's baseball. That's the best time of the day for us. Once you get in between the lines."
Hunter went 13-4 with a 3.75 ERA during the regular season. But in two postseason starts, he's lasted a combined 7 1/3 innings, giving up five earned runs and 11 hits. He's getting the ball over the plate, having struck out 12 and walked none, but he said part of his problem might be that he's throwing too many strikes.
"Maybe at times. That's why they're hitting the ball," Hunter said. "It's just a thing to attack them, go after them, and that's what I do, and that's what I'm going to continue to do. I'm not going to change the game plan just because this is the World Series. I'm going to continue to go after them and pound the zone."
The importance of his outing isn't lost on anyone. A win ties the series and sets up Game 5 for a second battle between
Cliff Lee
and
Tim Lincecum
. Heading into Game 5 tied at 2-2 instead of down 3-1 could make all the difference in the world.