Texas Rangers:

Masahiro Tanaka
January, 27, 2014
Jan 27
12:00
PM CT
By
Richard Durrett
| ESPNDallas.com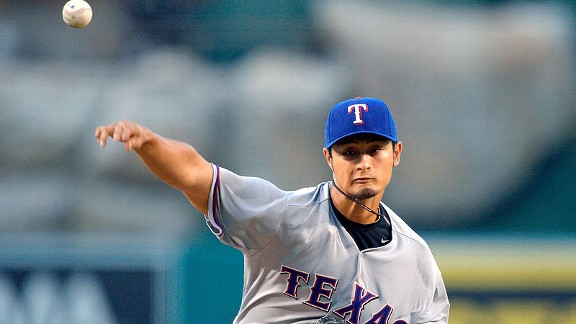 AP Photo/Mark J. TerrillYu Darvish finished second in AL Cy Young voting last season.
ARLINGTON, Texas -- We've seen some big-time contracts given out to pitchers this offseason.
Clayton Kershaw
, fresh off his second NL Cy Young Award, agreed to a seven-year, $215 million deal, the richest ever handed out for a pitcher. Yes, that's a stout $30.7 million on average per year.
Heck,
Masahiro Tanaka
, who has not thrown a pitch in the majors and isn't considered by most scouts to be as good as
Yu Darvish
, was handed a seven-year, $155 million deal by the
New York Yankees
, who then paid his Japanese team another $20 million.
Both contracts, along with a host of others, make Darvish look like a huge bargain at six years and $56 million guaranteed. The Rangers, of course, invested another $51.7 million in a posting bid (and could give Darvish another $4 million if he's healthy in the final years of the deal). But the posting fee went to Darvish's team. Darvish could end up with 99 million fewer dollars in his pocket than Tanaka. That's incredible.
The Rangers hope Darvish uses that as motivation to continue to be one of the top pitchers in the league and, subsequently, end up making top dollar because of it.
All this contract talk brings up the inevitable question: When should the Rangers start talking contract extension with Darvish?
January, 22, 2014
Jan 22
10:00
AM CT
By
Richard Durrett
| ESPNDallas.com
The
Texas Rangers
' top pitcher,
Yu Darvish
, was already a nice bargain for the club even before this week. But now that we know the details of Masahiro Tanaka's deal with the
New York Yankees
, Darvish looks like something straight out of Groupon.
[+] Enlarge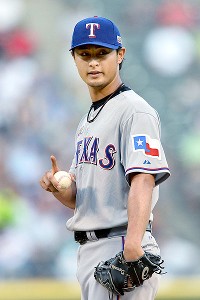 Brian D. Kersey/Getty ImagesYu Darvish's deal with the Rangers looks like a bargain compared to the one Masahiro Tanaka received from the Yankees.
It was just a little over two years ago that Darvish agreed to a six-year, $56 million deal (Darvish gets $4 million more if he stays healthy in the final years of the deal) with the Rangers after the club paid the $51,703,411 million posting bid to Darvish's Japanese team. But with the changing system, Tanaka got to negotiate with every team and secured a more lucrative deal. His Japanese team gets $20 million from the Yankees. Tanaka got $155 million over seven years, if he stays in New York long enough to complete the contract (he has an opt-out clause after four years).
But if you glance around the league and see what prices teams are paying for top-notch pitching, you realize just how big a bargain Darvish has become.
Clayton Kershaw
's deal will pay him more than $30 million per year.
Justin Verlander
will make $25.7 million per year, just a bit more than
Felix Hernandez
's $25 million a season.
David Price
, still arbitration-eligible, got $14 million for this upcoming season. Those are just a few of the best in the league. No, I don't think Darvish is Kershaw. But he's one of the elite pitchers in the AL. Would you rather have Darvish or
CC Sabathia
? Sabathia's remaining contract goes through 2016 at $23 million a year.
So no matter how you look at it, Darvish's $10.25 million average annual salary is a terrific value. Even if you add in the posting fee, you're talking about $18.5 million on average for Darvish. Still a steal. But the Rangers always considered the posting fee an extra expenditure paid by ownership and not something that is included in the yearly budget.
Is Tanaka as good as Darvish? The scouts I've talked to say no. They believe Tanaka is a solid pitcher whose stuff will translate to the big leagues. But he doesn't have Darvish's repertoire. Here's how one scout, who has seen plenty of Tanaka in Japan, described him to me:
He's a grinder with good stamina and focus. He competes and is all business on the mound. His fastball can touch 96 and he mixes a curve, slider, cutter and splitter with the splitter being the separator. Overall has good command and pitchability. But he has a flat plane and there's not much deception there. The splitter is a plus pitch, but the others aren't really plus pitches. His stuff and ceiling [are] below Darvish, but a solid pitcher that is ready for the big leagues.
In other words: Tanaka is good, but not Darvish.
But he's getting paid at a much higher rate. Consider that Tanaka will make an average of $22.1 million each year of his contract. Darvish has $41 million left on his contract for the next four years. Yep. Tanaka will be making more than double what Darvish, who finished runner-up in the AL Cy Young balloting this past season, is slated to make on average per year.
The Rangers still invested nearly $111 million (if you include the posting fee and the additional $4 million that Darvish will likely get before the contract is out) to get Darvish. But they got exclusive negotiating rights to do it and Darvish himself only gets $60 million of that. The Yankees invested $175 million to get Tanaka on a seven-year deal, so that's one more year than Darvish's contract. But that's if Tanaka doesn't opt out after four years. If he does, the Yankees will have ended up investing nearly the same as the Rangers (if you add in the $20 million posting fee) for just four years of Tanaka as opposed to six of Darvish.
But remember: Darvish could end up voiding the final year of his deal if he wins the Cy Young in the next three seasons or finishes in the top four in two of the next three seasons. (By the way, Darvish got a $200,000 bonus for finishing second in the Cy Young in 2013.)
Still, the Yankees had to pay a big premium to outbid every other team interested in Tanaka. And in doing so, it sure makes the Rangers' deal look like a steal. Remember when that $51.7 million posting bid seemed outlandish?
January, 22, 2014
Jan 22
9:20
AM CT
By
Richard Durrett
| ESPNDallas.com
ARLINGTON, Texas -- There was no last-minute jump into the Masahiro Tanaka sweepstakes for the
Texas Rangers
as the Japanese pitcher signed with the
New York Yankees
for $155 million over seven years on Wednesday morning
.
General manager Jon Daniels said as much Tuesday, reiterating that the club is looking at lower-priced arms rather than the top-dollar guys.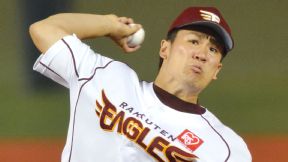 AP PhotoJon Daniels said the Rangers aren't pursuing top-of-the-market guys, which would include Masahiro Tanaka.
"Our offseason goals, first and foremost, were to address the offense," Daniels said. "We were pretty aggressive in spending our resources there. You can always add depth."
Daniels watched as some of the organization's young pitchers threw off the mound for pitching coach Mike Maddux and bullpen coach Andy Hawkins, among others. It was a chance to see some of the internal options for the recently-opened rotation spot and get a look at the future.
Derek Holland
's injury -- no word on how boxer Wrigley is holding up after tripping Holland on the stairs of his home a few weeks back -- means the club is in need of more arms.
That can come from the organization, but also from outside.
"We're looking at guys we think can come in and provide us with depth and maybe competition in camp," Daniels said. "There are always guys signed this time of year that end up playing big roles on good clubs. You have to trust your scouts, trust your people and make good evaluations."
Baseball's hot stove has been chilly the past few weeks. Tanaka was probably the reason. There are a group of pitchers out there that could help the Rangers from a short-term, low-risk, incentive-based perspective. But those players were waiting to see where Tanaka goes and how much he gets.
"We're not really pursuing the top-of-the-market guys, but I think as some of those guys sign, I'm hoping we'll see it thaw out a little bit," Daniels said.
Now that Tanaka has signed, look for things to pick up a bit on the rest of the pitching market. There are some arms out there that can compete for a rotation spot on the back end and we've talked about them here on this blog. That includes
Paul Maholm
,
Jerome Williams
,
Bronson Arroyo
,
Ubaldo Jimenez
and others. Stay tuned.
January, 10, 2014
Jan 10
5:52
PM CT
By
Richard Durrett
| ESPNDallas.com
It isn't even February and the
Texas Rangers
' pitching staff is already dealing with injuries. And this one is a big one. No. 2 starter
Derek Holland
is out, likely until midseason
, after falling on some stairs at his home. He had arthroscopic surgery on his left knee to repair torn cartilage and will have limited activity for the next six weeks.
[+] Enlarge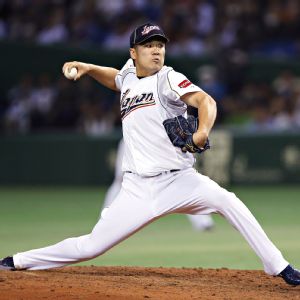 AP Photo/Toru TakahashiThe Rangers will have to closely monitor the Masahiro Tanaka situation after losing Derek Holland for an extended period.
One thing you can count on with Holland: He'll do everything and more that's asked of him at rehab. But even knowing that, the club is going with the midseason timeline.
Naturally, the question has to be asked: Do you replace Holland with
Robbie Ross
or
Nick Tepesch
or another internal candidate? Or, after trading for
Prince Fielder
and paying big bucks to get
Shin-Soo Choo
, do you go all-in and acquire the best pitcher left on the free-agent market in Masahiro Tanaka?
Rangers general manager Jon Daniels indicated signing a big name wasn't likely. But he never completely closes doors.
"I expect we will add some [starting pitching], but I expect it will be more in the depth category than really replacing somebody at the front end of the rotation," Daniels said Friday afternoon.
Notice the word "expect."
The club has had internal conversations on Tanaka, as it would with any free agent. Daniels mentioned at Choo's news conference that the Rangers would do their due diligence on everybody. And co-chairman of the board Bob Simpson said it would be "a tough thing" to sign Tanaka.
But that was before a key cog in the rotation went down for at least half of a season in which this club has a bunch invested. And if you question how important Holland is, glance again at his numbers from last season. He made 33 starts and never missed his turn in the rotation. No other Rangers starter can say that. He had a career-best 3.42 ERA. He was consistent and put a rough 2012 in his rearview mirror. Now, his 2014 campaign probably won't even get going until the All-Star votes have been tabulated.
December, 26, 2013
12/26/13
10:00
AM CT
By
Richard Durrett
| ESPNDallas.com
December, 19, 2013
12/19/13
7:50
AM CT
By
Richard Durrett
| ESPNDallas.com
The baseball world, including the Texas Rangers, is waiting to see if Japanese pitcher Masahiro Tanaka will be posted. If he is, it would put another big name on the free agent market, one that is not tied to draft-pick compensation, but instead would include a $20 million posting fee to the team that ends up signing him.
But will the Rangers or any other MLB team actually get a chance to negotiate with him?
The New York Times, citing "several Japanese newspapers" late Wednesday night,
reports that Tanaka is not expected to be posted
. Tanaka's team, the Rakuten Golden Eagles, has made no public statement yet, but the newspapers are reporting that Tanaka will stay in Japan for another year.
Earlier this week, Tanaka made it clear he wanted to get to the big leagues now.
"I informed my team that I would like them to allow me to test my abilities in Major League Baseball next season,"
Tanaka said to reporters
.
But Tanaka's team, according to the New York Times report, could offer the star pitcher a salary of double or triple the $4 million he made last year, making him the highest-paid Japanese pitcher ever. It would help the team better compete in 2014 and it won't hurt ticket sales. The team could then allow Tanaka to post next year, getting the $20 million then before he becomes a free agent after the 2015 season.
Rangers general manager Jon Daniels was asked about the new posting system on Wednesday and said he feels it "seems equitable" to the big league clubs and says it's a "more transparent way to go about it."
"It more closely mirrors traditional free agency while still respecting the Japanese club's effort and investment in developing the player and giving them a return," Daniels said. "It gives the player more choice with more of the money going to the player. I'm sure on some level from a Japanese team standpoint, capping it means it's a trade-off for them. But on the whole, it addresses a few different things."
Daniels admits that he was glad this new system wasn't in place when his club attempted to sign Yu Darvish. Under the old system, the Rangers, by virtue of their $51.7 million posting fee, got an exclusive 30-day window to sign Darvish. They weren't having to compete with all the other teams at that point.
"As long we didn't screw-up the negotiations, we were going to get the player," Daniels said. "That's what we were concerned about. It worked out pretty well for us."
December, 16, 2013
12/16/13
3:21
PM CT
By
Richard Durrett
| ESPNDallas.com
MLB announced that it has reached agreement with NPB (Nippon Professional Baseball) on a new posting system after MLB's executive council agreed to it today. This should pave the way for Masahiro Tanaka to get posted, should his team agree to do so.

Here are the main tenants of the deal, according to MLB's release (the new posting system is for three years or longer, depending on whether one side wants to terminate the deal and renegotiate):

* If an NPB Club wishes to make one of its players available to Major League Clubs, the NPB shall notify the Office of the Commissioner of the NPB player's potential availability and the "release fee" that a Major League Club must pay to the NPB Club in order to secure the NPB player's release. The NPB Club may not set the release fee at an amount higher than $20 million and the fee cannot be changed once it has been set by the NPB Club.

* The Office of the Commissioner shall then "post" the NPB player's availability by notifying all Major League Clubs of the NPB player's availability and the release fee sought by the NPB Club.

* All "postings" of NPB players must be made between November 1 and February 1.


December, 10, 2013
12/10/13
7:00
PM CT
By
Richard Durrett
| ESPNDallas.com
LAKE BUENA VISTA, Fla. -- As of now, it's still uncertain whether Japanese pitcher Masahiro Tanaka will be posted.

Rakuten Golden Eagles president Yozo Tachibana arrived at the Winter Meetings on Tuesday and said he was disappointed with the new proposed posting system and that he isn't sure whether Tanaka will post before the 2014 season. He said no decision has been made.

Tachibana spoke with reporters in English and then Japanese, and told the Japanese media that he won't stop Tanaka from posting if that's what Tanaka wants. Tachibana added that he plans on meeting with Tanaka next week.

Assuming the new posting system is ratified, the maximum bid would be $20 million. If more than one team bids that amount, Tanaka can negotiate with all of them and determine where he wants to play. Because the Japanese club only gets $20 million as opposed to last year, when Yu Darvish's club received a $51.7 million posting fee, it's possible Tanaka could stay for one more year. That way the Golden Eagles would get another season of Tanaka to market and then they'd still get the $20 million when he's posted.

But it sounds as if Tanaka will discuss it with his club officials, including Tachibana, next week and reach a decision.

If you're the Rangers and Tanaka is posted, why not make a bid? Only the team that ends up signing Tanaka has to pay the $20 million fee. So why not see what happens? Tanaka could add another arm on a long-term deal to the rotation and give the Rangers even more depth. If the bidding gets too high for the Rangers, they can back out. But I'd expect them to at least put in the bid and explore it, though the price may not be something they can end up doing.

Stay tuned.
December, 9, 2013
12/09/13
7:30
AM CT
By
Richard Durrett
| ESPNDallas.com
Texas Rangers
general manager Jon Daniels and his staff didn't waste any time jumping into the fray of this offseason. They traded for power-hitting first baseman
Prince Fielder
, agreed to terms with two catchers (
J.P. Arencibia
's deal isn't done until he passes a physical) and acquired
Michael Choice
from the Oakland A's, giving them another option in left field should nothing else materialize.
But the club still has money in the bank and some assets in the minor leagues, meaning that the Rangers can go shopping for items still on the shelves. With the baseball world descending to Disney World, though, those shelves aren't what they were a month ago. Heck, they're not what they were just a week ago. It's been an active offseason with more early signings (and even trades) than normal.
Possibilities still remain, though. Choice is a young player with high potential, but the Rangers continue to search for another bigger bat for the lineup. The question is whether they'll find the prices to their liking this week. Now that
Jacoby Ellsbury
and
Carlos Beltran
are off the market
Shin-Soo Choo
becomes a player to watch. There are some that expect Choo to get close to Ellsbury's seven-year, $153 million deal. If that's where it ends up, I'm not sure the Rangers will be the team that signs him. They must decide if Choo is worth that many years.
Nelson Cruz
is available, though Texas appears hesitant for anything past two or three years for the outfielder, who may want to see if he can get a four-year deal elsewhere. If he does leave, the Rangers would receive a draft pick in return (and if they sign Choo, for instance, they would lose one).
Disney World isn't a bad spot to discuss trades and those teams with a surplus of outfielders might at least check in with Texas to see if there's anything that makes sense. The Rangers could also look to fill some bench spots and add to the club's starting pitching depth.
David Price
's name could be circulated and the Rangers would have to at least discuss the possibility, but if that's not in the cards, they could grab some more arms to bring to spring training and see what happens.
One other thing to keep an eye on: the posting situation with Masahiro Tanaka. If he is posted and the deal agreed upon is a maximum of $20 million posting fee per team with Tanaka choosing the team if there are more than one with that fee, why not jump in if you're Texas and see what happens? It's a long shot, but you never know.
We'll be keeping an eye on all of it.
December, 5, 2013
12/05/13
9:50
AM CT
By
Richard Durrett
| ESPNDallas.com
The answer, now that we know a little more about the posting system, is yes. According to
The Japan Times
, NPB (Nippon Professional Baseball) and MLB have reached an agreement on a
posting system that allows for a maximum posting bid of $20 million
. If more than one team bids the maximum, the player posted would have the right to negotiate with all of those teams.
Masahiro Tanaka, who plays for the Tohoku Rakuten Eagles, is expected to be posted. And the new rules, assuming they are made official soon, would mean that more teams could jump in the fray for him. Only the team that eventually signs Tanaka would have to pay the posting fee.
So how does this apply to the Rangers? Well, if you're Texas, you might as well put in the $20 million bid. It took a bid of $51,703,411 to negotiate with Yu Darvish (if you'll remember the last four digits were the uniform numbers for Nolan Ryan and Darvish) and then another $56 million guaranteed (with another $4 million easily attainable if Darvish stays healthy) to sign him. It was an investment of $111 million to land the pitcher. But Darvish's portion is a little shy of $10 million per season. So if Tanaka gets something close -- or slightly above that -- the overall investment still wouldn't hit Darvish's number. That is, of course, as long as one team doesn't drive up the bidding.
It's still a large investment for the Rangers to make. But Tanaka is 25 years old and was 24-0 with a 1.27 ERA in 28 starts this past season. This story, in the
New York Daily News
, describes Tanaka
as someone who can touch 97 mph and that his fastball and splitter are his best pitches
.
But if Tanaka gets to choose his next team, why not put in a bid and negotiate (and increase the club's starting pitching depth and open up even more options in terms of trade possibilities)? The Rangers have worked hard to scout Japan in recent years, and the signing of Darvish likely has Texas in Tanaka's mind at the very least. Perhaps it's all about taking the most money. But you don't know until you negotiate. So I'd expect to see a fair number of teams put in that max bid and see what happens. The Rangers should be among them.
November, 11, 2013
11/11/13
9:30
AM CT
By
Todd Wills
| ESPNDallas.com
Note: This is part of our Hot Stove Talk series, which profiles free agents and looks at possible trades the Texas Rangers could make this offseason.
Today's player:
Masahiro Tanaka
The Rangers would love to pair another front-line starter with
Yu Darvish
, and there is an opportunity to go back to Japan for that pitcher. His name is Masahiro Tanaka.
Much will be said about Tanaka in the coming weeks. Unnamed scouts will say he's better than Darvish. Others will say he's not. It's up to the Rangers and other clubs bidding for Tanaka to decide if he's worth $100 million or even more two years after the Rangers spent $110 million on Yu Darvish. Well spent dollars we might add.
Tanaka had a superb regular season in Japan, going 24-0 with a 1.27 ERA for Tohoku Rakuten Golden Eagles in the Japan's Nippon Professional baseball league. One American League scout that covers the Pacific Rim said Tanaka has one of the best split finger fastballs he's ever seen. Tanaka is a strike thrower.
But overall Tanaka isn't considered to have the talent or the flair of Darvish. Do the Rangers put up big dollars for another Japanese pitcher and get involved in the posting system and the bidding war that could ensue. That's a decision general manager Jon Daniels and Co. will have to make in the coming days and weeks.
Why he makes sense:
The Rangers signing of Darvish has been a success and Tanaka looks to be another talented pitcher who should do well in the major leagues. The success of
Hiroki Kuroda
and
Hisashi Iwakuma
also lends credibility to the ability of Japanese pitchers to make the transition to the big leagues where lineups are deeper. Tanaka to go with Darvish,
Derek Holland
,
Martin Perez
and
Matt Harrison
would give the Rangers one of the top rotations in baseball.
Why he doesn't make sense:
The bidding for Tanaka could and likely will be higher than for Darvish. The
New York Yankees
,
Boston Red Sox
,
Los Angeles Angels
and
Arizona Diamondbacks
are considered to be potential suitors. Tanaka is considered to be a No. 3 starter -- maybe a No. 2. That could be to high a price to pay when a No. 1 starter, such as
David Price
, is expected to be on the trade market.
Bottom line:
The Rangers should pass on Tanaka and go after Price. From the talk in the media, it appears the price will surpass what they paid for Darvish. The Rangers would be better off spending their free-agent dollars on offense.
November, 3, 2013
11/03/13
11:46
AM CT
By
Richard Durrett
| ESPNDallas.com
One name you'll hear plenty about this Hot Stove season is Japanese pitcher Masahiro Tanaka, who is expected to go through the posting system (if MLB and the NPB ever decide on one). If you thought
Yu Darvish
was expensive, wait until you see what Tanaka could bring.
He completed his season in Japan by snapping a 26-game win streak Saturday. Tanaka, the ace of the Tohoku Rakuten Golden Eagles, threw 160 pitches in a 4-2 complete-game loss to the
Yomiuri Giants
. That means Game 7 of the Japan series will be played today.
Tanaka was 26-0 this season (including the postseason) going into Game 6 and had won a record 30 consecutive decisions dating back to August of last year. The 25-year-old had a 1.27 ERA in the regular season in 28 starts (212 innings) and allowed just six home runs. In his career in Japan, Tanaka has 99 wins with 1,238 strikeouts (and 275 walks) before his Game 6 start.
The Rangers have scouted Tanaka, but they don't have the interest in him like they did Darvish.
(A quick plug: As the Hot Stove season heats up, we'll be profiling a bunch of potential free agents and trade candidates for the
Texas Rangers
starting Wednesday.)
October, 18, 2013
10/18/13
8:00
AM CT
By
Todd Wills
| ESPNDallas.com
Editor's Note: This is the last in a 10-part series that focused on questions the Texas Rangers must answer this offseason. These questions are in no particular order.
Today's question:
Do the Texas Rangers have enough rotation depth?
[+] Enlarge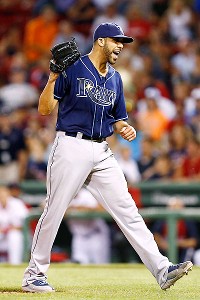 Mark L. Baer/USA TODAY SportsMight the Rangers be able to pull off an offseason trade for David Price?
Here's what we know about the Rangers' 2014 rotation --
Yu Darvish
,
Derek Holland
,
Martin Perez
and
Matt Harrison
will be in it.
That's provided general manager Jon Daniels doesn't pull a stunner and trade either Holland and Perez -- that seems highly unlikely -- and that Harrison is 100 percent recovered from two back surgeries that limited him to only only two starts in 2013.
That leaves the Rangers needing a fifth starter. Is that guy
Alexi Ogando
? We've already discussed Ogando's situation in this series. The mere fact that Ogando was on the disabled list three times last season should make the Rangers pause and put the lanky right-hander back in the bullpen where he belongs.
Which means the Rangers are back to needing a fifth starter. Does that pitcher come from within the system, via trade or in free agency?
Let's start with the system. The Rangers are likely to bring back their own free agent,
Colby Lewis
, who spent all of last season trying to recover from elbow surgery and other ailments. Lewis is 34, the Rangers' best postseason pitcher of all time and deserves another chance with the team. But he can't be counted on in any way. If he makes it, that's a bonus.