Texas Rangers:

Matt Brown
March, 29, 2010
3/29/10
6:35
PM CT
By
Jim Reeves
| ESPNDallas.com
SURPRISE, Ariz. --
Neftali Feliz
got the message over the weekend. He then delivered it, at 101 miles per hour, to the
Colorado Rockies
in a 7-6 Rangers victory Monday afternoon at Surprise Stadium.
On Saturday, Feliz had been summoned to manager Ron Washington's office.
"He thought we were sending him down," Washington said. "It scared him."
Sending him down was the furthest thing from their minds. Instead, Washington and pitching coach Mike Maddux wanted Feliz to understand what they wanted from him when he's called from the bullpen.
On Friday, Feliz had served up a three-run homer to
Jake Fox
, the fourth time in four A game appearances he'd surrendered runs. His normally supersonic fastball was nestling in the vicinity of 91-94 mph. He'd seemingly forgotten what got him to the big leagues in the first place.
"We told him if he's going to be out there for multiple innings," Washington said, "it was OK to pitch a little. But when we need one inning out of him, we want him to leave it all out there."
In other words, bring back the howitzer.
Feliz did that in the ninth inning against the Rockies, striking out the side for the save and, in the process, hitting 100 mph or higher on the radar gun with at least half a dozen of his pitches. Colorado minor leaguer Chris Nelson could only wave futilely at Feliz's last pitch, a 101-mph beauty. Two of the triple digit pitches tickled the 101 mark.
Earlier in the day, Washington had been asked what concerned him about Feliz.
"That he doesn't take how good he is for granted," Washington said. "That he keeps the fire burning in his belly."
Feliz got the message and he passed it on to the Rockies, just as Washington had hoped he would.
Other Monday notables:
*
Darren Oliver
kept his Cactus League ledger squeaky clean -- no runs allowed in an A game -- but only because
Michael Young
and newcomer
Andres Blanco
turned an eye-opening bases-loaded double play to bail him out in the top of the eighth.
*How much does Washington love Blanco? Said general manager Jon Daniels, "I think Wash wants to adopt him." That's OK. Washington knows infielders like Maddux knows pitchers.
*Hmmm. Maybe Wash should re-think his plan to hit
Nelson Cruz
seventh in the Rangers' lineup. Cruz crushed his fifth home run of the spring onto the grassy hill in center, then hit another moonshot that caromed off the centerfield wall for a double. He might drive in 100-plus runs if he hits fourth or fifth.
*
Jarrod Saltalamacchia
appeared in an A game for the first time since suffering muscle spasms in his shoulder area over a week ago and caught the first six innings without any problems.
*Daniels ranks the chances of the Rangers making a deal for a right-handed hitting first baseman for a bench role at about 50-50. He said if the Rangers do opt to break camp with one of their young players there -- say
Matt Brown
-- it doesn't mean that they couldn't add a veteran later. My guess: If the Red Sox don't decide to move
Mike Lowell
, the Rangers will go with Brown. Rangers brass doesn't seem terribly enthralled by the other options on the trade market, including the Mariners'
Mike Sweeney
and the Cubs'
Kevin Millar
.
March, 28, 2010
3/28/10
1:31
PM CT
By
Jim Reeves
| ESPNDallas.com
SURPRISE, Ariz. – Ron Washington's patience is growing thin.
He had hoped one of the Rangers' young players would have stepped up by now to fill the role of backup first baseman/third baseman on a team with championship aspirations.
It hasn't happened, so the Rangers are scouring other camps to try to find that right-handed hitting role player Washington would like to have by the time the season opens on April 5 in Arlington.
The Rangers scouts, one team source said, keep coming back to Boston's
Mike Lowell
, the player the Rangers were ready to trade for this past winter until questions about his injured thumb and surgically-repaired hip resurfaced.
With the acquisition Saturday of defensive whiz
Andres Blanco
from the Cubs, Washington even seems willing to refine the requirements for his second bench infielder. Washington said he's confident Blanco could fill in at third – though he's never played there in the majors – for the few games
Michael Young
might miss. That narrows the focus on the second infielder to a right-handed hitter who can occasionally spell
Chris Davis
at first against tough left-handers.
The club source said the Rangers believe they can still basically get Lowell for the player they were willing to give up over the winter,
Max Ramirez
.
There are other players on the Rangers' watch list, like
Kevin Millar
, a non-roster invitee with the Cubs. But Millar may be in the process of earning that same bench/pinch-hitter role for Lou Piniella.
Wes Helms
with the Marlins and
Fernando Tatis
with the Mets are a couple of others who would seem to fit the description of what the Rangers are hoping to find. They've accepted the fact that super-utility types like
Geoff Blum
with Houston and
Willie Bloomquist
with Kansas City are probably unavailable for the price they're willing to spend.
The Rangers had hoped one of their youngsters like
Matt Brown
or Ramirez might have stepped up this spring, but that hasn't happened and both have been struggling at the plate as the pitching has become tougher.
"Because nobody is trying to seize the opportunity, it makes it difficult," Washington said.
Washington wants to see production and know that it'll be there when the Rangers need it this summer.
"With where we're at and what we're trying to accomplish, we're not talking suppositions any more," he said. "Somebody has to show us."
Even better, in Washington's mind, would be an experienced player with a track record of producing when called upon.
That's why, in the Rangers' final week in Arizona, the team's scouts are busier than ever.
March, 20, 2010
3/20/10
6:13
PM CT
SURPRISE, Ariz. -- The mound once again took center stage on Saturday for the Rangers as
Colby Lewis
and
Derek Holland
pitched back-to-back in preparation for the season.
While Holland is fighting for a starting spot, Lewis already has a slot in the rotation. But it was important for Lewis to put together a solid outing after struggling in his prevous start.
"I don't want to go out and get knocked around and give them second-guesses about me," Lewis said, referring to club officials.
Lewis was better on Saturday, bouncing back from wobbly start. Lewis gave up one run on two hits and a walk to the first four batters he faced, but then settled down. He got 13 of the next 16 batters with his only blemish a 3-2 pitch left up to
Jason Repko
, who hit it for a solo homer.
"I felt things were working a lot better than the last time," Lewis said. "Everything was a lot sharper than my last outing, that's for sure. I was able to command my fastball down and away, which was big for me. I feel like I'm getting the innings I need to get in. I feel I'm getting on track, definitely."
Lewis had some trouble the first time he faced the top of the Dodgers order, which on Saturday featured five lefties in a row. Lefties have had some success against Lewis during his time in the majors, but he played the last two years in Japan, so it's tough to put much stock in the previous numbers. We'll just have to see. Lewis got through them the second time out, putting together a solid outing.
"It's been fun to watch and see how he competes and he competes," manager Ron Washington said. "He's got good stuff. He moves the ball around a little bit and throws strikes."
Holland came in for his four innings of work after Lewis in an effort to keep pace for one of the final two rotation spots. Holland allowed plenty of ground balls and faced some tough luck, making his line misleading. But he'd like to have couple of pitches in the seventh inning (his second inning) back.
The 23-year-old committed a baseball no-no by walking the leadoff hitter in the seventh, Jason Repko. He then got ahead 0-2 on
Chin-lung Hu
before falling behind 3-2 and giving up a ground ball single. Holland benefitted from the ball hitting Repko for an automatic out. But he couldn't get out of trouble. Lucas May hit the first Holland pitch he saw for a double to drive in a run. Holland faced four more batters and got out of the inning allowing two runs. He got some ground balls, but his fielders had some difficulties or dealt with strange hops that kept the inning going. Holland ended up throwing 30 pitches in the inning.
"Other than that one inning where the hard ground helped some stuff out and the double he gave up, I thought Derek did well," Washington said. "His second inning of work, he started using his changeup a little bit more, but he was mainly fastballs, sinkers and changeups. He threw a few breaking balls. He's getting there. He came in and gave us four."
Holland said he feels like he's just about caught up after a minor knee injury near the beginning of spring training set him back a week. And he was pleased overall with his Saturday outing.
"I feel good about it," Holland said. "I got the ball down and got the ground balls and I made my pitches when I needed to. But the only bad thing I see was I fell behind a couple of times and that cost me. One pitch cost away from me and they got some runs from it."
That was the double by May (on a 2-0 changeup that Holland said he threw a little too hard) that
David Murphy
said he thought he could have played a little deeper on.
Other game observations:
* Big day at the plate for OF David Murphy with a first-inning homer to right field on a 1-1 pitch and a triple off the wall in right-center in the fourth. Murphy is third on the team in number of Cactus League at-bats and was hitting .216. One of manager Washington's challenges this season will be finding at-bats for Murphy. To Murphy's credit, it's something he isn't worried about. He was just glad to hit the ball on Saturday after struggling some this spring.
"It's a timing thing," Murphy said. "My timing is very finite to the point where if I'm a little late, I'm going to be struggling. The timing was good in the cage today and I was able to carry that into the game."
Murphy admitted he is "slightly uncomfortable" at center, but is getting better. Washington said he would be OK with playing Murphy in center sparingly if needed, but that
Josh Hamilton
is his backup center fielder to
Julio Borbon
.
* 3B
Matt Brown
worked with Washington before Saturday's game on finding his balance before making throws. He did that nicely on a ball hit to him in the second inning, getting to a tough hop and throwing to
Chris Davis
, who made a nice dig to get the out. Brown also had a home run to left, fighting back from an 0-2 count to get it full before hitting his second long ball of the spring. He's in competition for one of those final roster spots and is playing well of late.
* C
Taylor Teagarden
caught
James Loney
at second base on what appeared to be a busted hit and run in the fourth.
* SS
Joaquin Arias
made a good throw to get a runner in the sixth and nearly had another nice play two pitches later, except that he couldn't get the ball out of his glove on a tough grounder.
* 2B
Esteban German
did not have a good relay throw on a double hit by Lucas May. Holland was alert and was able to get to the ball, which was thrown between third and home.
* C
Max Ramirez
threw the ball high to second on what should have been an easy out. The runner stopped, thinking he was going to be caught, and Ramirez ran toward him, double clutched and couldn't make the play.
March, 15, 2010
3/15/10
11:04
PM CT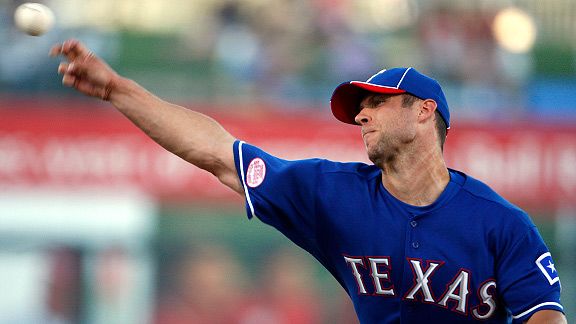 AP Photo/Lenny IgnelziRich Harden's line didn't look to good, but his fastball was better than in his last outing.
SURPRISE, Ariz. -- In the effort of full disclosure, I did not see parts of Monday's game because I was in the clubhouse talking to
Rich Harden
and
Josh Hamilton
about their respective nights. But from what I did see, here are some random thoughts:
* Rich Harden said it best: "I threw some good pitches today and I threw some bad ones." Still, the thing most fans were watching on Monday were the radar gun readings. And they showed a pitcher that threw his fastball consistently at 90-92 mph, which is much faster than previously this spring. Harden was never worried about the velocity and chuckled at the hubbub about it. His line doesn't look good -- 5 runs on 5 hits with three walks and four strikeouts -- but he's not concerned about it. He was working on off-speed stuff for much of the outing and was happy with that.
Manager Ron Washington was pleased with Harden's changeup.
* CF
Julio Borbon
made a nice diving catch toward the wall as he tracked down a two-out fly ball with two men on base. Borbon got a huge hand and plenty of congratulations from his teammates. He also had a walk and a hit that was taken away by a nice stab on a line drive down the third-base line.
* RHP
Doug Mathis
struggled with his command. He had four walks and two strikeouts in two innings of work coming on in relief of Harden.
* RF
Nelson Cruz
hit his first spring homer. It came on the first pitch he saw on Monday and was a shot to straightaway center field. He showed some patience in his next at-bat, drawing a 5-pitch walk. Cruz is batting .417 this spring.
* DH
Vladimir Guerrero
went the other way in the third inning for a sacrifice fly. Guerrero did what he needed to do to score a run, flying out in foul territory. But he didn't have a hit in the game.
* The more I see of
Matt Brown
, the more I like him. He isn't flashy, but he gets the job done. He had two hard hits on Monday, including one the other way. He plays hard and finds a way to get hits. He's worth keeping an eye on.
* Utility infield candidate
Esteban German
got a chance to play shortstop for the final three innings of the game. It was the third or fourth time he's had some mop-up duty there. He made a great play, diving to his right to snag a ball in the hole and then flip it to second base to get a force out (it would have been a double play if not for a Marcus Lemon throw that pulled Justin Smoak off the bag). German was also was alert on cut off throws.
* Enwar Ramirez made his Rangers debut on Monday and gave up one run on three hits. But he had no walks and three strikeouts and showed some life on his fastball in 1 1/3 innings of work.
* Mitch Moreland drew a walk and Justin Smoak pounded a double to the wall in right-center to score him in the eighth. Smoak needed that. He's been struggling some this spring.
* C
Max Ramirez
was 2-for-2 with an RBI.
* RHP
Darren O'Day
's delivery looked fine. He got a few pitches up, but pitched two innings and allowed one run on two hits with two strikeouts and no walks.