Texas Rangers:

Michael Morse
July, 31, 2013
Jul 31
6:06
PM CT
By
Todd Wills
| ESPNDallas.com
ARLINGTON, Texas -- The Rangers didn't add that right-handed bat -- or any bat -- that they coveted at the trade deadline, signaling that the club will try to make the playoffs again in a very different manner.
They will lean heavily on a strong starting rotation and a deep bullpen the final two months of the season and hope an offense that came alive in Tuesday night's 14-11 extra-inning victory over the
Los Angeles Angels
finishes strong.
"We're going to have to get to the point where the mentality is can we get to four runs?" Daniels said. "Can we score four-plus runs every night? What are we, 47-9 when we score four runs? That has to be the mentality of our club."
Daniels said the lack of a market for free-agent-to-be offensive hitters had the biggest impact on the Rangers not making a deal. The most experienced bat to move in the final 24 hours before the deadline was Angels third baseman
Alberto Callaspo
, who was dealt to division rival Oakland.
The Rangers did exchange names in a few discussions, but that was it. There was just wasn't a deal that appealed to them, Daniels said.
"You saw the names that were moved," Daniels said. "The offensive players that were moved, maybe I'm missing something, I don't know that there was one. That was kind of indicative of the market for a variety of reasons that have all been thrown out there. The extra wild card, the general landscape of the game right now, the revenues in the game have increased when people are signing players long term.
"The same caliber of guys aren't reaching free agency and those rental players that are free agents-to-be are typically the guys that get moved in July, and when you have what is perceived as a weaker free agent crop coming up you're going to have a weaker rental crop here in July."
Daniels said the club will look at things in August during the waiver period. Maybe a right-handed bat like Minnesota's
Josh Willingham
or Seattle's
Michael Morse
, a couple of the names that were on the Rangers radar before the deadline, will be options.
Daniels did acknowledge that the post-All Star break stretch in which the Rangers lost eight of 10 games and lost four games in the standings to first-place Oakland might have played a small role in a deal not getting done.
"The change in the standings was real," Daniels said. "Over a week's stretch or eight-day stretch we lost ground to two teams in the wild-card race and Oakland. And that's real, that's tangible, but we still feel the same way that we do about our club and view the competition very similarly, as well."
July, 2, 2013
Jul 2
1:30
PM CT
By
Todd Wills
| ESPNDallas.com
ARLINGTON, Texas -- The Rangers open a three-game series against Seattle on Tuesday night with right-hander
Justin Grimm
facing Mariners left-hander
Joe Saunders
at 7:05 p.m. on Fox Sports Southwest and ESPN Dallas 103.3 FM, ESPN Deportes Dallas 1540 AM.
PODCAST
Nolan Ryan joins Galloway and Company for his weekly visit to discuss the latest Rangers news, including Yu Darvish bringing back his fastball.

Listen

Grimm (7-5, 5.56):
Grimm has won two straight starts, going five innings in each outing. ... The 24-year old picked up the win against the
New York Yankees
on Wednesday, allowing three runs in five innings. ... He held the Yankees to one run until the sixth inning, when he allowed two hits, was taken out and both runners later scored against
Robbie Ross
. ... Grimm has won five games since May 17, more than any other Rangers starter. ... He is 2-2 with 9.00 ERA in five June starts. ... He leads all American League rookie pitchers with seven wins and 62 strikeouts. ... Grimm has made three of his 14 starts this season against Seattle, including his first two starts this season when he went 2-0 with a 3.31 ERA. ... Seattle is batting .309 against him, but .167 with runners in scoring position.
Saunders (5-8, 4.98):
Saunders lasted just 1 2/3 inning his last start, allowing six runs. ... He allowed three home runs as he tied the third shortest outing of his career. ... Saunders pitched well June 19 against the
Los Angeles Angels
, losing 1-0 despite throwing a complete game, allowing one run in eight innings. ... Saunders has nine quality starts to rank him third among Mariners starters behind
Felix Hernandez
and
Hisashi Iwakuma
. ... Saunders is 1-5 with a 6.46 ERA in eight road starts. ... He is 3-9 with a 6.60 ERA in 14 regular-season starts against the Rangers. ... His last non-playoff win against the Rangers was Sept. 28, 2008 with the Angels. ... He is winless in seven career regular-season starts in Arlington, going 0-7 with a 9.91 ERA. ... He beat the Rangers in last year's American League wild-card game in Arlington pitching for Baltimore.
Hitters:
Michael Morse
(4-for-8) and
Justin Smoak
(3-for-8) have had success against Grimm this season.
Ian Kinsler
(10-for-30, 4 HRs, 8 RBIs) and
Nelson Cruz
(8-for-27, 2 HRs, 3 RBIs) have hit for power against Saunders.
April, 11, 2013
Apr 11
8:06
AM CT
By
Todd Wills
| ESPNDallas.com
ARLINGTON, Texas -- The Rangers make their first visit to the Pacific Northwest for a four-game series against AL West Division rival Seattle.
PODCAST
Fitzsimmons & Durrett discuss Nolan Ryan's statement that he is staying with the Rangers. It's good news, but will Ryan stay with the club for the long haul?

Listen

The Rangers have opened the season winning their first three series, winning two out of three from Houston, the Angels and Tampa Bay. They lost two of their three series in Seattle last year and finished 4-5 at Safeco Field. The Mariners are 4-6 and in third place in the AL West behind Oakland (7-2) and the Rangers (6-3).
Here's what to watch for in this Thursday-Sunday series:
Felix's fastball:
Mariners ace
Felix Hernandez
, who goes for his 100th career victory Thursday night, has been one of the best power starting pitchers in baseball. But his fastball velocity has dropped from an average of 94 mph in 2009 to 89.7 mph so far in 2013. He threw 59 fastballs in his last start with an average velocity of 88.6 mph, two mph slower than any start in his career. Hernandez is off to a 1-1 start with a 2.57 ERA. He has 11 strikeouts in 14 innings.
The power of Morse:
New Seattle left fielder
Michael Morse
is one of the best unknown power hitters in baseball. Coming over from the
Washington Nationals
, Morse already has six home runs in 38 at-bats. He is tied for the major league lead in home runs with Atlanta's
Justin Upton
. Morse has nine RBIs, tied for sixth in the AL, and is batting .263 with 11 strikeouts and has drawn one walk.
Mariners struggle with injuries, Astros:
Mariners outfielder
Michael Saunders
sprained his right shoulder trying to make a lunging catch at the right-field wall Wednesday and is expected to miss some time and maybe go on the disabled list. That was one moment in an awful home series against the Astros, who beat the Mariners again Wednesday, 8-3. Seattle was outscored 24-12 in the two games against struggling Houston. The Astros racked up 37 hits against Seattle pitching.
Darvish's Seattle struggles:
Yu Darvish
was 0-2 with a 9.58 in two starts last season at Safeco Field, one of three ballparks he struggled in (the Oakland Coliseum and Boston's Fenway Park were the others). Darvish allowed 12 hits in 10 1/3 innings in Seattle, but he had 10 walks against only nine strikeouts.
Rangers domination:
Despite going 4-5 last season in Seattle, the Rangers are 17-11 in Seattle since 2011. They are 37-20 against the Mariners in the last three years, a big reason why the Rangers have made three consecutive playoff appearances. The Rangers have won the season series in eight of the last nine years.
January, 9, 2013
Jan 9
8:00
AM CT
Editor's Note: This occasional series on various players on the free-agent or trade market continues as we are still in the Hot Stove portion of the baseball year.
Today's player:
Michael Morse
[+] Enlarge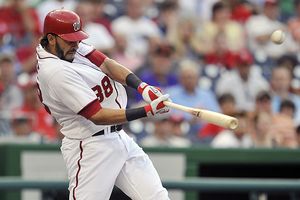 Joy R. Absalon/US PresswireMichael Morse could provide pop from the right side of the plate at a corner outfield spot or first base.
With the signing of
Adam LaRoche
to a contract that includes $24 million in guaranteed money (a two-year deal worth $22 million with a $2 million buyout on a 2015 mutual option), the
Washington Nationals
could look to deal Morse and, according to ESPN.com's Jim Bowden, 10-11 teams are interested in him.
Does he makes sense for Texas? Morse, who turns 31 in March, is slated to make $6.75 million in 2013 in the final year of his deal before becoming a free agent.
Morse, a right-handed hitter, hit .291 with 18 homers and 62 RBIs in 102 games for the Nationals last year. He battled injuries, including a hand contusion and strained right lat muscle. Morse plays the corner outfield positions and also started 82 games at first base in 2011. Right now, the only right-handed outfielders on the Rangers' roster are
Nelson Cruz
and
Craig Gentry
.
Mitch Moreland
, a left-handed hitter, is the club's primary first baseman.
Lance Berkman
, a switch-hitter, could also play first, though his primary role is DH and he isn't likely to get a ton of time at first. Morse could conceivably be an option at first against left-handed pitchers and could play in the outfield as well. But to do that, it could mean fewer at-bats against left-handed pitchers for
David Murphy
, for instance. It's worth pointing out that Morse hit .290 in 107 at-bats against lefties last year. He hit .297 against them in 2011. Yet in both years, he hit better versus righties. Murphy, by the way, hit .347 against left-handed pitchers in 75 at-bats last year.
In some ways, Morse could be the non-catching version of
Mike Napoli
. Like Napoli, he's right-handed and has power. Morse has had the more consistent batting average in the past few years. In 2011, Morse hit .303 with 31 homers and 95 RBIs. He had a .910 OPS that season.
According to Bowden, the Nationals want left-handed relief and prospects. The question is what kind of price it would take to get him. Room would have to be created for Morse, but this club hasn't worried about that in the past. I'll remind you that when Napoli was acquired prior to the 2011 season, it was unclear how he'd be used. He was listed as a third catcher and platoon first baseman. Things changed in a hurry.
Morse probably isn't worth a top-flight prospect such as a
Martin Perez
or Cody Buckel because of how he might be used in Texas. But perhaps the Rangers' deep farm system could net something to interest the Nationals without overpaying.
I'm intrigued by the guy and think his bat could help this club, but only for a group of prospects that doesn't include the top tier. That may not be possible.
What do you think of Morse? How many prospects -- or how high a level prospect -- are you willing to deal for him?