Texas Rangers:

Michael Pineda
August, 9, 2011
8/09/11
2:00
PM CT
By
Jeff Caplan
| ESPNDallas.com
ARLINGTON, Texas -- Proud papa
Alexi Ogando
is back from paternal leave in the Dominican Republic and ready to get back to work. The hard-throwing Rangers' RHP goes for his 12th win of the season against impressive, young
Seattle Mariners
RHP
Michael Pineda
.
Pineda (9-7, 3.53):
The 22-year-old will make his 22nd start of the season and looks to redeem a loss to the Rangers in his major-league debut on April 5 at Rangers Ballpark. ... Is coming off a victory on July 30 against Tampa Bay in which he gave up one run on two hits and struck out a season-high 10 over 6 1/3 innings to snap a two-game losing streak. ... Over previous three starts he was 0-2 with a 10.91 ERA to raise his ERA from 2.58 to 3.64. ... Ranks 13th in the American League with 133 strikeouts.
Ogando (11-5, 2.88 ERA):
Ranks seventh in the American League in ERA and fifth in wins. Since a stretch of three consecutive losses to end June, has gone 4-2 with a 2.90 ERA in his last six starts. In the two losses, both to Toronto and pitcher
Brett Cecil
, the Rangers provided Ogando with a total of two runs. ... Coming off a win in his last start against Detroit, allowing two runs on eight hits with seven strikeouts and no walks. ... Has mastered the Mariners this season with a 1-0 record and 0.75 in two starts. He handed Pineda his debut loss in April. ... Is 7-2 with a 2.69 ERA in 11 starts in Arlington this season.
Hitters:
No Rangers player has more than six at-bats against Pineda with
Mitch Moreland
leading the way with three hits (.600), including a homer, triple and double.
Michael Young
is the only other player with at least two hits, including a double. ...
Adam Kennedy
and former Ranger
Justin Smoak
are the only Mariners with at least two hits against Ogando. Smoak missed his fifth consecutive game Monday with a left thumb injury. Of the seven hits the Mariners have off Ogando, two are doubles, one each from Kennedy and Smoak.
July, 12, 2011
7/12/11
8:00
AM CT
PHOENIX -- American League manager Ron Washington made sure to talk to his squad prior to Monday's workouts and stressed having fun, but also playing a smart, aggressive baseball game. In other words: business as usual for Washington.
That's how Washington has managed the Rangers for 4 1/2 seasons now. He keeps things loose, supports his team, but stresses doing the little things to win games. The past two seasons in particular, the Rangers have improved on moving runners over, taking the extra base on balls in the dirt and having productive outs. Washington wants the same thing from his AL squad in tonight's All-Star Game.
"I want them reading balls in the dirt," Washington said. "I want them going from first to third. They can steal bags -- if they get an opportunity, take it. The way I put it in a nutshell was: 'Play the game of baseball unrestricted.'"
Washington said he has a bunch of run producers, so he'll just "stand out of the way and watch them score runs." And, of course, he wants to win.
"That's what we're here for," Washington said. "Anytime you compete, that's what it's about: winning. I want them to understand that it's about homefield advantage and one of their teams is going to the World Series."
Washington said Monday was a normal day for him. He threw batting practice during the workouts as he always does and walked around talking to players.
Washington talked just after Monday's workout about some of his plans for the game and his interaction with some players. Here are some of those notes:
* Rangers third base coach Dave Anderson and first base coach Gary Pettis will coach at their respective spots. Washington said Manny Acta will help him and Jackie Moore on the bench and John Farrell will help Rangers bullpen coach Andy Hawkins and pitching coach Mike Maddux handle the pitchers.
*
Michael Young
is the designated utility player for the American League, which means Washington can bring Young back in the game if needed.
Pablo Sandoval
is the National League's utility player. Young said he's ready to play any position Washington needs.
* The AL won't use signs -- it will be up to players when they think they can steal. But when the time calls for a bunt, Washington will use signs to tell Anderson, and Anderson will talk to the hitter.
* The pitchers will mostly get one inning, though Washington said he's got some guys that can go longer than that if needed. He expects
Alexi Ogando
to get in the game later because he has other pitchers he knows he has to get in first. That means Ogando might be working closer to his 2010 role than his 2011 one.
* Washington got a chance to talk to some of the young players like
Michael Pineda
and
Chris Perez
. He said they were "wide-eyed" and excited to be here.
* Washington asked
Justin Verlander
if he thought he could sneak him in the game without Detroit noticing. Verlander laughed. But the Tigers' ace, who started Sunday so isn't eligible for the game, did thank Washington for getting
Jhonny Peralta
on the team. "That's amazing," Washington said. "That's a class act for him to take up for his teammate like that."
May, 5, 2011
5/05/11
12:51
AM CT
SEATTLE -- Shortly after
C.J. Wilson
threw his 87th pitch of the game to end the fifth inning of the Rangers' 5-2 win over Seattle on Wednesday, pitching coach Mike Maddux marched over and asked the lefty how he was feeling.
"I'm finishing this game," Wilson said to him. "That's it. I'm going to finish it."
[+] Enlarge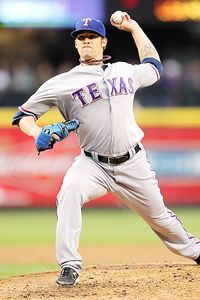 Otto Greule Jr/Getty ImagesC.J. Wilson became more prudent with his pitches in accomplishing his fourth career complete game.
Wilson knew he better get more efficient if he was going to be able to stay on the mound for four more innings. And that's exactly what he did. Wilson retired the final 14 batters he faced. He ended up allowing two runs (one earned) with 12 strikeouts and one walk. He threw 38 pitches in the final four innings -- an average of 9.5 per inning -- to earn the fourth complete game of his career.
It came after his defense was shaky in the early going and the Mariners managed to bloop and bleed their way to a couple of runs.
"After the bloop hits, I told myself I was going to make them hit the ball hard instead of dinking the ball against me," Wilson said. "That was frustrating. The more I challenged them, the more it paid off."
Wilson was able to out-pitch impressive youngster Micheal Pineda, who struck out nine Rangers in seven innings but allowed the first two homers of his season. Pineda has given up 11 earned runs in six starts and the Rangers have seven of them.
Mitch Moreland
's blast -- and I mean a shot estimated at 435 feet -- gave Wilson a 3-2 lead and he made sure that was all he needed. He also kept a shaky bullpen from even entering the game.
"That was big,"
Michael Young
said. "We needed it. That's a lot of pitches to throw, but C.J. takes care of himself. We know he's more than capable of having that kind of a workload. It was nice to get the 'pen a night off and have our starter keep the other team at bay. He got us back in the dugout quickly after we scored some runs, too."
Wilson is now 4-1 with a 2.92 ERA on the season. And he looks like an even better pitcher now than he did last season, when he won a team-high 15 games and made a smooth transition from the bullpen to the rotation. He credits that to a focus on not walking as many batters.
"I led the league in walks the whole year," Wilson said of 2010.
He finished with 93 walks, which led the American League. He had 170 strikeouts, making his strikeout-to-walk ratio 1.83, which was 38th in the AL. This season, he had a 2.89 mark (20th in the AL) headed into Wednesday. That got even better after Wilson tied a career-high with 12 strikeouts and had one walk.
"This year, my approach after watching some of the other guys around the league and Cliff [Lee] when he was with us, is that if you make the guys hit the ball early in the count, you're going to get ahead in the count and if you're ahead in the count, it's easier to pitch," Wilson said. "I'm trying to get to that 1-1 and 1-2 count."
Wilson noted that he had some outs in early counts Wednesday, enabling him to get through the full game despite such a high pitch count early. His defense, which let him down with two errors in the third inning contributing to an unearned run, also improved.
Julio Borbon
made a diving catch to end the seventh.
Ian Kinsler
snagged a liner to get a double play to end the fourth and prevent
Ichiro Suzuki
from batting with a runner in scoring position.
"I've been complaining all year that I haven't put it all together in one start," Wilson said. "Tonight, I had enough of the elements there. The cutter came back. I threw some good sinkers. The curve ball was working enough. Everything was working enough to get me quick through some counts and my fastball got me by a couple of guys in the zone."
Wilson stayed aggressive, made the Mariners swing the bats early in the counts and got efficient, quick outs. When Wilson made the transition to the rotation in 2010, one thing he focused on was reducing his pitch count. He ended up with 16.9 pitches per inning, an improvement over previous years. This season, he's now at 16.05 pitches per inning, nearly a full pitch less. Reducing the walks helps that stat as does forcing the opponent to swing early in the count.
Add it all up and you've got a left-hander who continues to mature. And his timing couldn't be better (is this a good time to mention he's a free agent at the end of 2011?).
"He's better now," Young said. "I think it's just experience. He has a good feel for starting. It's his second season doing this now. I'm sure he has a better feel for the hitters he's facing and how to pace himself through games. Without a doubt he's better this year. Experience is a great teacher and he's got a lot of it now."
Wilson was the stopper, as he put it, on Wednesday. His start ended a three-game skid for the Rangers, their longest losing streak of the season. He's now 2-1 this season in games after a Rangers' loss. Last year, he was 11-5 with a 3.27 ERA in 20 starts following a Texas loss. He seemed to come in and stop any bleeding. That's what he did on Wednesday, making sure the Rangers stayed in first place in the AL West, moving to 17-14.
May, 4, 2011
5/04/11
10:00
AM CT
SEATTLE -- We've got two games left against the Mariners in this series, which means it's not too late to scout the opponent. Ryan Divish from the
Tacoma News Tribune
was kind enough to answer some questions about Seattle.
Q: Give us an overall sense of how the Mariners are doing. It looks like they've played better since the first few weeks of the season.
Divish:
The overall sense of the Mariners has dramatically changed over the last the week. Heading into the six-game road trip, they were 8-15 and struggling to score runs. Obviously, it's not uncommon for teams to have slow offensive starts, but after what transpired last season. So when they struggled to score runs early, there that dooming sense of here we go again. And there was good reason to think it might happen again. If you looked at the Mariners roster, and the early struggles of
Chone Figgins
,
Jack Cust
,
Milton Bradley
,
Brendan Ryan
, there was reason to believe they might just be that awful again.
But then they went to Detroit and things started to improve. Of course the starting pitching of
Phil Coke
and the Tigers awful bullpen helped them immensely. They won three games in Detroit, and actually scored runs. And it carried over to Boston, where they won two of three. Did they get lucky to win those games? Yeah, it helped that
Bobby Jenks
couldn't throw the ball across the plate, and when he did it got hit hard. Still, winning five of six seems to have given them confidence. It seems like they've relaxed at the plate.
Q: How are fans and the players reacting to new manager Eric Wedge? What kind of traits has he shown as a manager?
Divish:
I don't know that fans have a great sense of Wedge other than he's intense and he has a sweet mustache like Stacy Keach in Prison Break. The things he's said about what he believes and expects from players have resonated if for no other reason that it was so different from Don Wakamatsu, who was so controlled and stoic. Fans who reminisce of the days of Lou Piniella can see some of those qualities in Wedge.
Wedge let the players know his expectations in spring training, but they found out that he meant it when he benched
Jack Wilson
and called him out after Wilson told the media he was pulled from a game in Texas, when in truth he begged out of the game. Wedge let him have it in the media and benched him for four games.
Then in Kansas City, after a 7-0 loss, he let them have it after the game. He could be heard outside the clubhouse screaming. Having seen how intense he is, I can only imagine what that was like.
Since being yelled at, they are 9-5. I don't know if it made them play better, but it certainly let players know that he's watching and he will say what he thinks.
Q: Once again,
Ichiro Suzuki
seems to be hitting well. Talk about what makes him so effective and consistent.
Divish:
Ichiro never ceases to amaze me with is production or his consistency. But the key to his success is the preparation. It's in the hours, days and weeks leading up to the games. He is borderline obsessive-compulsive when it comes to his daily preparation. There's hitting, stretching, more hitting, more stretching. He does it every day without fail, and it appears to be down to the exact minute when he does it. And the guy barely takes break in the offseason. He usually takes around two weeks to relax and rest and then is back hitting and conditioning.
It's all that stuff that makes him the hitter he is. He may not be the leader that some people expect or demand. Is he worth $19 million a year? Probably not. But he comes to the park prepared every day and he produces.
Q: Give us a quick scouting report on the remaining two starters we'll see in this series.
Divish:
Michael Pineda
: He's been fantastic. I covered him last year at Triple A for a few games and was amazed by his poise and presence on the mound. And it's gotten even better this year. He's 22 and he pitches with so much maturity. The fastball is right around 93-97 and his slider has been outstanding in his last few starts. But the big question is his changeup. He needs to have success against left-handers. Lefty hitters have had the most success against him. If I were Ron Washington, I would load the lineup with lefties against him.
Jason Vargas
: He picked up his first win in over a year in Boston. He's one of those lefties that doesn't throw hard, 88-90, and will use a changeup, cut fastball and curveball a lot. He has a good understanding of how to get people out. He never really gets rattled. The key for Vargas will be to increase the number of ground balls per game. That's usually a sign that his changeup -- his best -- pitch is working.
Q: Who has been the biggest surprise this season (besides Pineda) and who has been the biggest disappointment?
Divish:
The biggest surprise to me has been (former Ranger)
Justin Smoak
. When he was on the bereavement list for a week following the death of his father, the Mariners lineup was a disaster. There was absolutely no presence or threat in the middle of the lineup, especially with Cust struggling so badly.
Smoak has been outstanding this year. He's shown power from both sides of the plate, which has been a little shocking. In spring training, he really struggled driving the ball when he was hitting right-handed. But he's hitting the ball with authority. He's also shown a knack for getting hits with runners in scoring position -- something the rest of the team struggles to do. He has also shown a good approach at the plate, taking walks and adjusting to the number of breaking pitches he's seeing. He looks nothing like the player that came over in July following the
Cliff Lee
trade. He admitted he was a little overwhelmed with all that happened. And GM Jack Zduriencik admitted that Smoak may have been a little rushed in getting to get to the big leagues last season. The late trip to Triple A seemed to help him re-discover his approach and his swing.
Q: Anything else about the Mariners we should know?
Divish:
I guess this would fall in the surprising category, but the Mariners bullpen has been really solid over the last few weeks. They had a stretch of 14 scoreless innings. And the pitchers responsible were
Jamey Wright
,
David Pauley
and
Aaron Laffey
. That wasn't really expected.
April, 5, 2011
4/05/11
9:43
PM CT
ARLINGTON, Texas -- The Rangers got a sterling performance from their young starter and then held on after a hiccup in the seventh by the bullpen. Great defensive plays, including a diving catch by Julio Borbon, helped the Rangers preserve a 3-2 win.
They've won five in a row to start the season. Another 30,953 were there to see it and they had some good energy, especially late. Some quick thoughts (more to come from the clubhouse shortly):
* What a performance for
Alexi Ogando
. In his first major league start, he managed to pitch six shutout innings and gave up just two hits. He threw 90 pitches and his final one was at 93 mph for a strikeout of
Jack Cust
on a 1-2 pitch. It was important that Ogando was that good, too, as Seattle starter Michael Pineda didn't make things easy on the Rangers.
* After the bullpen had issues, ironically in the setup role that was vacated by Ogando and left some questions in relief,
Julio Borbon
made the play of the night. Borbon started back on a fly ball by
Milton Bradley
, but then sprinted in and made a tremendous dive to catch the ball and preserve a 3-2 lead in the seventh. That's the kind of speed that manager Ron Washington talks about. And despite breaking on it wrong, Borbon made the play.
* Ogando is the first Rangers pitcher to have six shutout innings in a debut as a starter since
Brian Sikorski
in 2000, for what it's worth.
* Ogando mixed his pitches well, which means
Yorvit Torrealba
deserves some credit. Ogando's split-fingered fastball sure looks like a real weapon. He fooled hitters with it repeatedly the first time through the lineup and it had very good movement. When you can touch 96 mph with your fastball and then drop things down by nearly 20 mph and still throw strikes, you've made it really tough on the hitter.
* The second time through the order, Ogando relied more on his slider as the secondary pitch. He did well there, too, allowing a double and a walk and otherwise getting outs without too much trouble.
* Ogando gave up a one-out double in a 1-0 game in the fifth, but got
Jack Wilson
to ground out. With a runner at third and two outs, Ogando went 3-2 on
Michael Saunders
, but got him to fly out to
Mitch Moreland
in right. It was a big out and a confidence booster.
* Ogando had a small blister on his right index finger, but he stayed in for final out of sixth inning. And Ogando, not an emotional guy on the mound, showed some when he got that final out, slapping his hand in his glove as he left the mound.
* Stat of the night: Rangers have 18 two-out RBIs, tops in the majors. They had two more on Tuesday.
* Even when he's not hitting homers,
Nelson Cruz
has an impact. He was facing starter Pineda, making his major league debut, and the rookie pitched around him with two outs, issuing a walk in the second. That allowed Mitch Moreland to come up and he crushed a ball to left-center and off the wall for a triple. Center fielder Michael Saunders thought it was going over the wall and jumped. It hit off the wall and that may have helped Moreland make it a triple as opposed to a double. It gave the Rangers an early lead.
* Cruz did not homer, ending his streak at four straight games to start the season.
* Pineda was impressive. He had the Rangers' hitters chasing his secondary pitches and looking unsure at times. That was a departure from the first four games of the season. Give the rookie some credit for that. But he did give Texas some hittable pitches as he went along and the Rangers don't miss too many mistakes.
* So one night after hitting a rare home run,
Elvis Andrus
put down a nice sacrifice bunt to get
Ian Kinsler
to second base with one out in the sixth for
Josh Hamilton
in a 1-0 game.
* Hamilton took advantage of the opportunity, blasting one to right-center field for a double and an RBI. The 2010 AL MVP has had a slow start to the season. Maybe that's the hit he needs to get going.
*
Michael Young
sure does hit well to the opposite field. He had a double to right, his 850th double, to make it 3-0 Rangers in that sixth inning as Hamilton scored.
* The Rangers have 30 extra-base hits in five games.
*
Mark Lowe
came in for the seventh inning and with one out allowed three straight singles to make it 3-1 and exit in favor of
Darren Oliver
. Lowe had the velocity on his fastball and changed speeds, but didn't have much movement and the ball was up in the zone. Mariners didn't hit ball particularly hard, but they hit him.
* Oliver came in and gave up a single to Saunders to make it 3-2. That means the 6-9 hitters helped the Mariners get back in it. Ichiro, the leadoff hitter, then grounded to second base, but Kinsler bobbled the ball for an error, allowing Ichiro to get to first to load the bases with one out. But Oliver threw a nice cutter inside to
Chone Figgins
to get him to pop out and Julio Borbon made a great catch to keep it a 3-2 game.
* Oliver went in for the eighth with the left-handed hitting Jack Cust and switch-hitter
Justin Smoak
due up and managed to have a 5-pitch inning. He got three groundouts and kept the Rangers in front at 3-2.
*
Neftali Feliz
came in for the third straight day and got the final three outs, getting the bottom three in the M's order (the same group that helped get them back in the game). Feliz featured a wicked curve and then blew a fastball by Michael Saunders to win it.
* Michael Young made his major league debut at first and save his best play for the ninth. He was playing near the line in a one-run game against
Adam Kennedy
and was positioned just right, diving into foul ground to snag a liner for the first out. Young also made a nice stretch on a high throw earlier in the game.