Texas Rangers:

Micheal Kirkman
March, 8, 2012
3/08/12
5:44
PM CT
By
Richard Durrett
| ESPNDallas.com
SURPRISE, Ariz. --
Neftali Feliz
's focus this spring is his off-speed stuff. To be a successful starter, the 23-year-old can't rely on that very fast fastball.
PODCAST
Rangers skipper Ron Washington comments on Neftali Feliz's first Cactus League start, as well as his impressions of the rest of the pitching staff. He also explains why he needs Josh Hamilton to stay healthy.

Listen

"What I wanted to do today was work on locating my off-speed stuff," Feliz said through an interpreter. "That's my goal."
The White Sox beat the Rangers, 6-3.
In his first Cactus League inning of the spring, Feliz's command wasn't there. He wasn't able to get his slider or changeup over for strikes consistently, and hitters waited on the fastball.
White Sox third baseman
Brent Morel
fell behind 0-2 after watching some fastballs, but then worked the count even before belting a single.
Dayan Viciedo
hit an off-speed pitch for a double before
Adam Dunn
crushed a 1-2 fastball (93 mph) over the right-center field wall to give Chicago a 3-0 lead. Feliz did bear down, elevating a fastball at 94 mph to get
Tyler Flowers
(after getting a swing and miss on a slider earlier in the at-bat) and then striking out
Kosuke Fukudome
with a slider (85) to end the inning.
But the second inning was a different story. Feliz came back to the mound and looked committed to throwing down in the zone. The command was there and he needed just eight pitches to get three outs (he needed 28 to get through the first).
"I got the ball down and it was better," Feliz said. "I wasn't worried about results."
He threw two sliders to
Gordon Beckham
that resulted in one swing and miss and a fly out to left field. Feliz started left-handed hitting Dan Johnson off with off-speed stuff before throwing some heat at 92 mph to get a ground ball to second. And
Eduardo Escobar
grounded out to second on the second pitch he saw, a 91 mph fastball.
[+] Enlarge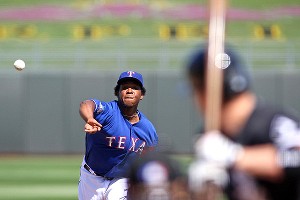 Jake Roth/US PresswireNeftali Feliz needed just eight pitches to get through the second inning after throwing 28 in the first.
Feliz isn't trying to dial up the fastball right now, a good sign. He's building up arm strength, but working on his command and the off-speed stuff. His changeup looked better in the intrasquad game (it was slower by a few mph then, too), but he continues to try to develop the off-speed stuff and will do so all spring.
"I know there's more in there when I need it," Feliz said.
Feliz figures he can throw the fastball 95 to 97 mph, but isn't doing that now because his focus remains the off-speed stuff.
Dunn dominates:
Dunn had a homer off Feliz in the first and then a double off
Michael Kirkman
in the second. Both hits were on fastballs over the plate. Kirkman's was at 94 mph.
Last year, Dunn hit .159 and had 177 strikeouts. He was particularly ineffective against left-handed pitchers, hitting .064 (94 at-bats) with no homers and 39 strikeouts. In fact, he had just one extra-base hit against lefties in 2011.
Kirkman struggles:
The left-hander, a candidate for a bullpen job this spring, gave up three runs on four hits in two innings, including a two-run homer by Beckham. Of the 11 batters Kirkman faced, five were left-handed hitters. They were 2-for-4 with a walk off him, including Dunn's double and a double by Fukudome.
Quick feet:
Ian Kinsler
went to cover the bag as
Alejandro De Aza
was on the move from first in the fourth. A ground ball was then hit toward where Kinsler had just vacated. The second baseman quickly scampered back to his left, scooped up the grounder and threw to first to end the fourth inning.
Red-hot SS:
Elvis Andrus
started his day with yet another hit and then added to it with a double in his final at-bat. He's having a ridiculous first week of spring training and is now 7-for-10 with two doubles and a triple.
Walk in the park:
Chicago pitcher
Gregory Infante
walked three Ranger batters in the fourth before he was lifted.
Josh Hamilton
led off the inning with a walk and scored on
Nelson Cruz
's single.
Mike Napoli
and Mike Olt also walked.
Quick reaction
: Olt got his glove up in a hurry to get to a liner hit by Beckham to end the fifth.
Utility infield:
Luis Hernandez
, one of the utility infield candidates, was 2-for-2 with an RBI and a run scored as he replaced Andrus late in the game.
March, 11, 2011
3/11/11
5:18
PM CT
By
Richard Durrett
| ESPNDallas.com
SURPRISE, Ariz. --
Colby Lewis
' line might not have seemed all that great: 4 innings, 5 hits, 3 runs, 2 earned, 1 walk, 3 strikeouts.
But for a guy like Lewis who has a guaranteed rotation spot, spring training isn't about statistics. It's about feel and getting ready for the season. And Lewis felt very good on Friday.
"I'm actually real excited about today," Lewis said. "Everything was doing what it was supposed to be doing today. Curve ball was sharp, getting ahead of guys better and I felt like everything was in sync pretty well."
Lewis said everything is progressing nicely toward the regular season. He got into a little trouble, but one Reds rally started thanks in large part to a great bunt by
Fred Lewis
that rolled down the line. Lewis said he gave up a hit inthe second inning with two outs on a slider that he said he was trying to throw for a strike and the batter was swinging away.
Friday was the first time Lewis has pitched four innings this spring as he builds up his arm strength.
Other notes:
*
Ian Kinsler
, who was the DH as the leadoff hitter Friday, was 2-for-3 with two runs scored. He had a home run, his fifth in a Cactus League game. He leads the majors in home runs this spring. Kinsler is hitting .393 and has nine RBIs. He has four strikeouts and three walks. (Interestingly, he had one more strikeout than walk in the 2010 regular season). Kinsler said he's been working on flattening his swing to avoid as many popups and to drive the ball better. That showed in his double in the first and in the home run.
"He's seeing the ball well and when pitchers are making mistakes, he's not missing," Washington said. "When you're locked in, that's what happens. He's working at it. He deserves to see the ball well because he's working hard to see it well."
* It was a battle of MVPs out there with
Josh Hamilton
and
Joey Votto
playing. Votto was 2-for-3 with an RBI. He had a single in the first to drive in the Reds' first run. Hamilton was 1-for-3 with a single on the first pitch he saw Friday that scored Kinsler (who had doubled).
*
Michael Kirkman
gave up one run on two hits and had his stuff working to the tune of six strikeouts and no walks in four innings. Again, the candidates for that fifth spot sure are making this an interesting competition. None of them are backing down.
"He had his fastball on both sides of the plate and that's what you have to do," manager Ron Washington said.
More on Kirkman tomorrow morning on the blog.
* C
Yorvit Torrealba
's spring training average is now .400 after going 1-for-2 with a run scored and a double.
* 3B Mike Olt had a homer in the bottom of the ninth that ended up causing the 5-5 tie (they didn't play after nine innings).
* 1B
Mitch Moreland
had a double, his fifth extra-base hit of the spring.
* OF
Craig Gentry
showed good hustle when he hit a bloop down the first base line and never stopped, diving into second with a double.