Texas Rangers:

Mike Lowell
March, 6, 2011
3/06/11
8:30
AM CT
By
Jeff Caplan
| ESPNDallas.com
SCOTTSDALE, Ariz. -- After a magical season personally and for the
Texas Rangers
, what did right fielder
Nelson Cruz
come into spring training focusing on improving?
"The main thing is just shortening his stroke up a little bit," manager Ron Washington said. "The end result of shortening the stroke is more contact, less strikeouts, maybe a few more single and doubles."
Last season it seemed Cruz would miss out on some home runs because he would hit the ball so hard and on such a line that it would scream into the wall with an astounding thud. Even Cruz would laugh when asked over and over if anyone hits the ball harder.
Not only did Cruz hit it hard, he put together one of the great offensive seasons in all of baseball and perhaps one that has gone severely underrated, or underappreciated, especially in the shadow of
Josh Hamilton
's MVP season. Nelson, a classic late-bloomer who was practically given up on by the Rangers a few years ago, hit .318 last season with 22 home runs, 31 doubles and 78 RBIs in 108 games.
Had he not missed multiple stints with hamstring issues, 30 home runs and 100 RBIs would have seemed inevitable.
Cruz was Mr. Clutch last season with five extra-inning home runs, tying him with Charlie Maxwell of the 1960
Detroit Tigers
for most in major league history. His three walk-off homers led the majors last season. He transferred that success to the postseason. With 13 extra-base hits in the playoffs, Cruz stands alone in that category as the all-time leader in a postseason.
His seven postseason doubles ties for the all-time lead with
Hideki Matsui
,
Mike Lowell
and Jason Werth, and his 44 total bases is tied for third-most all-time with
Barry Bonds
and just behind
Albert Pujols
(46),
Troy Glaus
(47) and
Carlos Beltran
(47).
So what does Cruz, 30, do for an encore in what will be only his third full season in the big leagues?
"With his years in this game and his growing experience, there is definitely upside," Washington said. "You might see him this year, he might hit .289, he might hit 40 bombs, he might drive in 100 runs. Average is overrated. His job is production. If he gives me average I'm fine with that, but I don't think we really know yet exactly what all Nelson Cruz is capable of doing because he has a ton of upside."
And that could be scary.
September, 30, 2010
9/30/10
10:30
AM CT
By
Richard Durrett
| ESPNDallas.com
ARLINGTON, Texas -- For the next five weekdays leading into Wednesday's Game 1, we're going to feature a timeline of the Rangers' season on and off the field. Consider it a way to recap what happened in 2010. Feel free to comment on some of the items and to let us know if we missed some. This first installment begins with the Winter Meetings last December and goes through January (two months for each installment will follow):
Dec. 8:
Rangers president Nolan Ryan makes public his partnership with Pittsburgh attorney Chuck Greenberg. They are part of a group of investors hoping to buy the club. Greenberg attends part of the Winter Meetings as does Dennis Gilbert, another prospective buyer. Houston businessman Jim Crane is also a bidder.
Dec. 9:
General manager Jon Daniels completes trade with the Orioles, sending
Kevin Millwood
and $3 million to Baltimore for reliever
Chris Ray
and a pick in the Rule 5 draft. The move frees up about $9 million in the budget.
Dec. 11:
Rangers make official the signing of
Rich Harden
to a $6.5 million deal.
Dec. 15:
Owner Tom Hicks chooses the group headed by Greenberg and Ryan as the one he will enter into exclusive negotiations with to buy the club. The decision comes after a flurry of activity, including resubmitted bids by Crane and the Greenberg-Ryan group. The hope then was to get a deal done by Opening Day.
Dec. 19:
The proposed deal to send Boston's
Mike Lowell
to Texas falls apart after Lowell fails a physical and needs surgery to repair a torn thumb ligament
Dec. 22:
Texas agrees to terms with reliever
Darren Oliver
on a one-year contract with a vesting option for the second year.
Jan. 11
: Rangers sign
Vladimir Guerrero
to a one-year deal with a mutual option to be their designed hitter.
Jan. 19
:
Colby Lewis
, the former first-round pick of the Rangers, signs a two-year deal after spending two previous seasons in Japan.
Jan. 21:
Club makes signing of utility infielder
Khalil Greene
official.
Jan. 23:
Hicks Sports Group and Rangers Baseball Express, the name of the group headed by Greenberg and Ryan, strike a deal to complete the sale of the Rangers, pending approval from MLB and HSG's creditors.
Jan. 31
: Rangers expect pitchers
Omar Beltre
and
Alexi Ogando
, who were held up from entering the United States on visa issues stemming from their part in a human trafficking scandal, to be allowed to arrive in time for spring training.
July, 17, 2010
7/17/10
5:24
PM CT
Gordon Edes of ESPNBoston.com reports that
third baseman Mike Lowell has abandoned any expectation that the Red Sox will release him,
allowing him the chance to play for the Rangers or anywhere else.
"I don't think they're going to release me,'' said Lowell, who returned here Saturday after spending the past two weeks at home in Miami with the club's permission.
"I think that's been addressed. I've got no say. What do you want me to do?''
With Lowell playing little here and not producing when he has -- he's batting .213 with 2 home runs and 12 RBIs in 31 games overall, and is 4-for-his-past-45 (.103) -- why wouldn't the Sox release him? Are they concerned that he would catch on with a team like the Rangers, who have a need for a right-handed hitting first baseman, and do something to beat the Sox in the playoffs?
"I don't know if it's specifically because I might beat them, I just don't think they want me to go to another team while they pay my salary,'' Lowell told ESPN Boston. "At this point, they're not going to get anything [in a trade]. You're going to get a subpar prospect at best. There's too much time left in the season, they're not going to get money.
The Rangers reached a deal with Boston in the offseason to acquire the veteran infielder for Max Ramirez, but if fell apart after concerns about Lowell's thumb surfaced.
June, 2, 2010
6/02/10
10:14
AM CT
Mike Lowell, relegated to bench duty, has said that he wants out of Boston, and ESPNBoston.com reports that the Red Sox are listening to Lowell's request to try to move him. A baseball source with knowledge of the situation told ESPNBoston.com that the Texas Rangers are among the clubs that have contacted the Red Sox about the possibility of acquiring Lowell.
For more,
read here.
March, 29, 2010
3/29/10
6:35
PM CT
By
Jim Reeves
| ESPNDallas.com
SURPRISE, Ariz. --
Neftali Feliz
got the message over the weekend. He then delivered it, at 101 miles per hour, to the
Colorado Rockies
in a 7-6 Rangers victory Monday afternoon at Surprise Stadium.
On Saturday, Feliz had been summoned to manager Ron Washington's office.
"He thought we were sending him down," Washington said. "It scared him."
Sending him down was the furthest thing from their minds. Instead, Washington and pitching coach Mike Maddux wanted Feliz to understand what they wanted from him when he's called from the bullpen.
On Friday, Feliz had served up a three-run homer to
Jake Fox
, the fourth time in four A game appearances he'd surrendered runs. His normally supersonic fastball was nestling in the vicinity of 91-94 mph. He'd seemingly forgotten what got him to the big leagues in the first place.
"We told him if he's going to be out there for multiple innings," Washington said, "it was OK to pitch a little. But when we need one inning out of him, we want him to leave it all out there."
In other words, bring back the howitzer.
Feliz did that in the ninth inning against the Rockies, striking out the side for the save and, in the process, hitting 100 mph or higher on the radar gun with at least half a dozen of his pitches. Colorado minor leaguer Chris Nelson could only wave futilely at Feliz's last pitch, a 101-mph beauty. Two of the triple digit pitches tickled the 101 mark.
Earlier in the day, Washington had been asked what concerned him about Feliz.
"That he doesn't take how good he is for granted," Washington said. "That he keeps the fire burning in his belly."
Feliz got the message and he passed it on to the Rockies, just as Washington had hoped he would.
Other Monday notables:
*
Darren Oliver
kept his Cactus League ledger squeaky clean -- no runs allowed in an A game -- but only because
Michael Young
and newcomer
Andres Blanco
turned an eye-opening bases-loaded double play to bail him out in the top of the eighth.
*How much does Washington love Blanco? Said general manager Jon Daniels, "I think Wash wants to adopt him." That's OK. Washington knows infielders like Maddux knows pitchers.
*Hmmm. Maybe Wash should re-think his plan to hit
Nelson Cruz
seventh in the Rangers' lineup. Cruz crushed his fifth home run of the spring onto the grassy hill in center, then hit another moonshot that caromed off the centerfield wall for a double. He might drive in 100-plus runs if he hits fourth or fifth.
*
Jarrod Saltalamacchia
appeared in an A game for the first time since suffering muscle spasms in his shoulder area over a week ago and caught the first six innings without any problems.
*Daniels ranks the chances of the Rangers making a deal for a right-handed hitting first baseman for a bench role at about 50-50. He said if the Rangers do opt to break camp with one of their young players there -- say
Matt Brown
-- it doesn't mean that they couldn't add a veteran later. My guess: If the Red Sox don't decide to move
Mike Lowell
, the Rangers will go with Brown. Rangers brass doesn't seem terribly enthralled by the other options on the trade market, including the Mariners'
Mike Sweeney
and the Cubs'
Kevin Millar
.
March, 29, 2010
3/29/10
12:00
PM CT
By
Jim Reeves
| ESPNDallas.com
SURPRISE, Ariz. -- It took about 24 hours for manager Ron Washington to see all he needed to see to officially make
Andres Blanco
the Rangers' utility infielder, leaving the team with one final bench spot to fill and there's potentially a new name to add to the mix there.
Washington is convinced that Blanco can cover the Rangers at short, second and even third, meaning the final bench player he's looking for is a right-handed hitting first baseman. Talk has centered on trying to re-work the offseason trade for Boston's
Mike Lowell
and there's also interest in veteran
Kevin Millar
, who is in the Cubs' camp as a non-roster invitee.
Another name to keep in mind is
Mike Sweeney
, who has been on fire in Seattle's camp this spring. It's difficult to see where Sweeney, hitting .556 with two homers and 7 RBIs in 27 Cactus League at-bats, can fit with the Mariners, who signed both
Casey Kotchman
and
Ryan Garko
to play first base this winter.
[+] Enlarge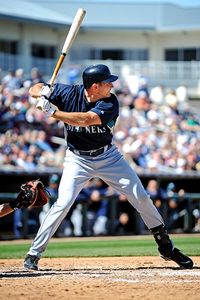 Mark J. Rebilas/US PresswireThe Rangers might think about trading for Mike Sweeney as their backup first baseman. Sweeney hasn't played more than 74 games since 2005, but he still managed to hit .281 last season with eight homers and 34 RBIs in 242 at-bats.
Lowell, Millar and Sweeney are all great makeup players, excellent in the clubhouse and all three qualify as right-handed hitting first basemen who could spell
Chris Davis
against particularly tough left-handed pitchers.
The Rangers are now hearing that Boston's ownership is reluctant to part with Lowell for sentimental reasons. Another problem is Lowell's contract. In the deal the Rangers and Red Sox agreed to this winter before it fell apart because of questions about Lowell's thumb injury, the Rangers would have sent them minor league catcher
Max Ramirez
and picked up $3 million of Lowell's contract. But that was before the Rangers signed free agent DH
Vladimir Guerrero
and reliever
Darren Oliver
. It's doubtful that $3 million is still available now.
There are concerns about how much Millar has left. Scouts say he's "cheating" at the plate on fastballs because his bat has slowed.
Sweeney has had back trouble for years and hasn't played over 74 games since 2005, but he still managed to hit .281 last season with eight homers and 34 RBIs in 242 at-bats.
If the Rangers can't get Lowell, adding Sweeney would be the smart move with Millar as the third option. Any of the three would be a better option for that role than the young players vying for it in camp right now.
What would the Rangers have to give up? Obviously they would like to get something for
Luis Mendoza
or
Joaquin Arias
, who are both out of options and will have to pass through waivers if the Rangers want to send them back to Oklahoma City.
If it takes a little better prospect than that, it might be worth it. This is a team that believes it can contend for a division championship and adding a veteran role player who can complement the clubhouse chemistry could be vital.
March, 28, 2010
3/28/10
1:31
PM CT
By
Jim Reeves
| ESPNDallas.com
SURPRISE, Ariz. – Ron Washington's patience is growing thin.
He had hoped one of the Rangers' young players would have stepped up by now to fill the role of backup first baseman/third baseman on a team with championship aspirations.
It hasn't happened, so the Rangers are scouring other camps to try to find that right-handed hitting role player Washington would like to have by the time the season opens on April 5 in Arlington.
The Rangers scouts, one team source said, keep coming back to Boston's
Mike Lowell
, the player the Rangers were ready to trade for this past winter until questions about his injured thumb and surgically-repaired hip resurfaced.
With the acquisition Saturday of defensive whiz
Andres Blanco
from the Cubs, Washington even seems willing to refine the requirements for his second bench infielder. Washington said he's confident Blanco could fill in at third – though he's never played there in the majors – for the few games
Michael Young
might miss. That narrows the focus on the second infielder to a right-handed hitter who can occasionally spell
Chris Davis
at first against tough left-handers.
The club source said the Rangers believe they can still basically get Lowell for the player they were willing to give up over the winter,
Max Ramirez
.
There are other players on the Rangers' watch list, like
Kevin Millar
, a non-roster invitee with the Cubs. But Millar may be in the process of earning that same bench/pinch-hitter role for Lou Piniella.
Wes Helms
with the Marlins and
Fernando Tatis
with the Mets are a couple of others who would seem to fit the description of what the Rangers are hoping to find. They've accepted the fact that super-utility types like
Geoff Blum
with Houston and
Willie Bloomquist
with Kansas City are probably unavailable for the price they're willing to spend.
The Rangers had hoped one of their youngsters like
Matt Brown
or Ramirez might have stepped up this spring, but that hasn't happened and both have been struggling at the plate as the pitching has become tougher.
"Because nobody is trying to seize the opportunity, it makes it difficult," Washington said.
Washington wants to see production and know that it'll be there when the Rangers need it this summer.
"With where we're at and what we're trying to accomplish, we're not talking suppositions any more," he said. "Somebody has to show us."
Even better, in Washington's mind, would be an experienced player with a track record of producing when called upon.
That's why, in the Rangers' final week in Arizona, the team's scouts are busier than ever.
February, 23, 2010
2/23/10
3:26
PM CT
By
Richard Durrett
| ESPNDallas.com
The great Gordon Edes of
ESPNBoston.com
sent over a few quotes from Mike Lowell about the Rangers and the deal that didn't get finalized. BTW,
you can read a story about Lowell here
. It's clear he thinks highly of the Rangers.
"I think I looked at the Texas thing as a pretty good challenge," Lowell said. "I thought that the team did a lot of good things last year they were in it basically till the end. The way I viewed it, I'd probably DH a lot, play first base a lot and if Michael Young needed to DH, I'd probably move to third for a handful of games.
"I didn't have a problem with that. I didn't see that as a bad situation. I thought that was a place I could fit in the lineup there and put up the numbers on a team that was going to be competitive. I wasn't ashamed of going over there. I wasn't disappointed that it might be a possibility where I landed. I was all right it didn't go through."
Lowell said he feels his thumb will be ready. He was asked whether he could still end up in Texas.
"I know they signed Vlady I got to believe Vlady is there to be DH most of the time I don't really know their roster," Lowell said. "I don't know if Im a fit there. Could I be? I guess I could. It'd be a great question for Jon Daniels."
We'll ask him.
December, 10, 2009
12/10/09
2:34
PM CT
By
Ben Rogers
| ESPNDallas.com

Like Morgan Freeman's character "Red" in The Shawshank Redemption, Rangers general manager Jon Daniels is proving that he too can "get stuff" in an extremely unfriendly acquisition environment.

Daniels has capped off the winter meetings by putting on an absolute workshop on how to make your baseball team better without any visible assistance from team ownership.

It's downright remarkable that he's been able to do anything of substance considering that he's wearing Tom Hicks' financial handcuffs. It's important to keep that in mind as you analyze JD's Jedi-like maneuvering over the past 48 hours or so.

By placing last-year-of-contract workhorse Kevin Millwood, who will soon be 35, into a giant black hat and somehow pulling out 28-year-old staff-ace-when-healthy Rich Harden, JD has delivered the goods when no one was expecting him to. It's no guarantee that the oft-injured Harden can actually stay healthy, but if he could you wouldn't be able to get him for under $16 million. It's a low-risk, high-reward transaction if there ever was one. If it doesn't work out, they'll part ways after the season. If they can keep him healthy, it will undoubtedly be the steal of the offseason.

For his next trick, JD now appears to be close to trading struggling minor leaguer Max Ramirez for 2007 World Series MVP Mike Lowell. And get this ... the Red Sox will reportedly pick up a sizable chunk of his $12 million dollar contract to make this happen. Seriously?

As young as this team is, Lowell's veteran leadership would be invaluable. He'll also be a considerable offensive upgrade over Andruw Jones, who had very little to offer at the plate last season.

Ramirez, coming off of a down year due to injuries, is quite honestly on the verge of being lost in the sauce in an organization rich in catching prospects. If he's able to bounce back this season he certainly has upside as a catcher or DH somewhere, but those are areas where the Rangers appear to be covered at this point. In quickly looking up and down the Texas roster, they appear to be running low on World Series MVPs. I love this move.

Rangers fans have been looking forward to 2010 as the year that that the rebuilding finally stops and the true contention begins, but the sale of the team has stalled everything. Everything but the wheels churning in their GM's brain.

In a perfect world, the Rangers would've been able to sign Harden without needing to dump Millwood's big salary. I get that. But considering the restrictive financial obstacles Daniels is creatively overcoming, what he's been able to accomplish has been quite impressive.