Texas Rangers:

Mitch Stetter
March, 26, 2012
3/26/12
6:21
PM CT
SURPRISE, Ariz. -- The
Texas Rangers
made five roster moves on Monday and they impact some of the final spots on the club's 25-man roster. Here's a look at the moves and what they mean:
* Outfielder
Conor Jackson
was given his release. The 29-year-old from Austin, Texas, just didn't show enough with the bat this spring. He was 3-for-33 (.091) this spring and knew when he arrived that he had to perform at a high level to make the team. By releasing him now, the Rangers are giving Jackson a chance to see if he can hook on with a major league team. That's unlikely and the club would be willing to sign him to a minor league deal if they can.
The Rangers had hoped Jackson's bat would give them a right-handed option in the outfield.
Brad Hawpe
remains in camp, but he's a left-handed bat and his arm isn't fully healed from Tommy John where he can play the outfield. So that hurts his chances of making the club. His release date is Friday morning by 11 a.m. central time.
* Left-handed pitchers
Mitch Stetter
and
Joe Beimel
were relased as well. Neither was able to push toward that situational lefty job in the bullpen. Stetter had a 5.40 ERA in 3 1/3 innings and Beimel sported a 4.50 ERA in six innings. The bottom line: The club had some other candidates it liked better.
The move leaves
Neal Cotts
,
Michael Kirkman
and Robbie Ross as the candidates for the bullpen. Of that group, Ross is the leader. The next test: throwing back-to-back days. There are no plans for Ross to do that before camp breaks. But some of the others could.
* The team also released
Sean Green
, who was a nonroster pitcher, and optioned right-hander
Mark Hamburger
to Triple-A Round Rock.
March, 21, 2012
3/21/12
1:00
PM CT
SURPRISE, Ariz. -- We continue our spring cleaning series by looking at a specific part of the relief corps and sizing things up with the season just a little more than two weeks away.
Spring cleaning:
Left-handed bullpen piece
One of the key questions when camp began: Who will step up and be the left-handed bullpen piece for the Rangers? Of course, Texas doesn't have to have a left-handed reliever. The Rangers do have some right-handed pitchers who have a solid track record of getting left-handed hitters out, but they would prefer a lefty to have for those key hitters in critical situations. That's the role
Mike Gonzalez
had at the end of last year.
A handful of internal candidates are in camp. Let's take a look:
Joe Beimel:
He dealt with some elbow tightness earlier in camp, but has made four appearances (four innings) and given up two runs on four hits with five strikeouts. He has had decent success against left-handed hitters.
Neal Cotts:
Started in minor league camp and then switched over to the big league side after throwing well early in spring. But he's got a 7.11 ERA in 6 1/3 innings in Cactus League games.
Miguel De Los Santos:
He finished last season in Double-A Frisco and is still working on his craft in the minors. He has allowed five runs in 5 2/3 innings in Cactus League games this spring and was optioned to Frisco on Monday.
Michael Kirkman:
Was forced to pitch two innings Tuesday (instead of one) because of
Neftali Feliz
's shoulder stiffness that limited him to three innings instead of four. Kirkman has been inconsistent in Cactus League games but has pitched better of late. He pitched two scoreless innings against the Cubs on Tuesday and has allowed just one run and two hits in his last four innings.
Martin Perez:
He was optioned to Triple-A Round Rock on Monday but impressed scouts this camp. He remains one of the club's top pitching prospects and could certainly help this team at some point this season.
Robbie Ross:
Perhaps the big surprise of camp. He has not been optioned back to the minors because he's pitching so well. With the race wide open, Ross will continue to get consideration. He's starting against the Angels on Sunday in Tempe with
Yu Darvish
pitching in a minor league game in Surprise. Ross has pitched four scoreless Cactus League innings with six strikeouts and no walks.
Ben Snyder:
Was in Double-A Frisco the whole 2011 season and is quietly performing well out here. He hasn't allowed a run in 5 1/3 innings and has no walks with three strikeouts. He doesn't have the stuff of Ross, but he's getting left-handed hitters out and working hard.
Mitch Stetter:
Came in after pitching for the Brewers last season. The sidearmer has allowed two runs on four hits with four walks and two strikeouts in four appearances (3 1/3 innings).
So how does it shake out? We still don't know. But at this point, the most intriguing pitcher is Ross. He split last season between High Class A Myrtle Beach and Double-A Frisco and was a combined 10-5 with a 2.34 ERA and 134 strikeouts to 33 walks in 27 games (26 starts). He was named the Carolina League Pitcher of the Year. He was a second-round pick in the 2008 draft by the Rangers and he's shown an ability to command his pitches, throw strikes and avoid walks.
Part of the decision on Ross (if he is the best candidate by the end of spring) is whether the club wants to carry him as a left-handed reliever on the big league club as opposed to keeping him as a starter in the minors. The thinking remains that he can be a starter long-term. But we've seen in the past with this club that current starters begin their major league careers in the bullpen.
Ross' slider and cutter sure are looking good this spring and so far hitters (he's faced a mix of regulars and minor leaguers) haven't been able to get the barrel on the ball well against him.
So we'll see. There's still time for Kirkman and others to step up. But give Ross some credit: He isn't making the decision easy.
March, 5, 2012
3/05/12
5:30
PM CT
SURPRISE, Ariz. -- Rangers left-handed pitcher
Mitch Stetter
returned to a big league mound on Monday for the first time since last May. Stetter landed on the disabled list when he was with Milwaukee and required hip surgery (Aug. 2).
"It was just exciting to be back out there," Stetter said. "Except I didn't want to give up a home run."
He gave up that homer to
Alex Gordon
, who belted a slider that didn't break enough over the right-field fence. But Stetter faced two other lefties and got both of them to ground out on fastballs that had some cut to them.
The 31-year-old throws his fastball around 83 mph and relies on deception and location to get outs.
"The key for me is early strikes against lefties," Stetter said. "The more pitches they see, they have a better chance to getting to something. So if I can get ahead in the count and make them swing at the slider or cutter, I'm in better shape."
Stetter wasn't the only left-handed bullpen candidate to pitch on Monday.
Neal Cotts
, who was moved over to the big league camp, gave up one run on four hits. Manager Ron Washington said the hits were "dinks" and noted that Cotts was 0-for-2 against left-handed hitters.
But
Kelvin De La Cruz
struggled in his final inning. With the Rangers leading by a run and two runners on, he came in to face the left-handed hitting
Mike Moustakas
, who was trying to bunt. De La Cruz threw four pitches out of the strike zone and walked him. He did induce a double play before giving up the winning hit to
Kevin Kouzmanoff
.
"It's early," Washington said. "We have to give these guys some time and see what they can do."
March, 5, 2012
3/05/12
8:49
AM CT
March, 4, 2012
3/04/12
5:00
PM CT
SURPRISE, Ariz. -- The Rangers will once again play the Kansas City Royals at Surprise Stadium on Monday at 1:05 p.m. CT. You can hear the game via webcast on texasrangers.com. Here's the pitching probables for the Rangers and Royals:
RANGERS

LHP Derek Holland (2 innings)
RHP Alexi Ogando (2 innings)
LHP Mitch Stetter
LHP Neal Cotts
LHP Ben Snyder
RHP Tanner Scheppers
LHP Kelvin De La Cruz
ROYALS
LHP Bruce Chen
LHP Mike Montgomery
RHP Louis Coleman
LHP Tim Collins
RHP Blake Wood
LHP Chris Dwyer
RHP Jeremy Jeffress
February, 22, 2012
2/22/12
8:00
AM CT
SURPRISE, Ariz. --
Michael Kirkman
knows the
Texas Rangers
head into spring training looking for a left-handed reliever. And the 25-year-old pitcher wants to show he can do the job.
PODCAST
Texas Rangers reliever Michael Kirkman talks about the short offseason, the adjustment to being a full-time reliever and the ins and outs of spring training.

Listen

Kirkman spent most of the 2011 season with Triple-A Round Rock. He shifted from a starter to a reliever and spent with month of September with the Rangers. He had a 6.59 ERA in 27 1/3 innings with the big league club.
"I feel good and I know this is a good opportunity for me," Kirkman said. "I've had a chance to come here the last couple of years and get some big league experience and I think that can help me now."
Kirkman isn't the only challenger for a left-handed relief job. The club traded for Kelvin De La Cruz from Cleveland, who hasn't pitched above the Double-A level but has good minor-league splits against left-handed pitchers.
Joe Beimel
,
Martin Perez
,
Mitch Stetter
and others will also get their shot at the left-handed relief job.
Kirkman said he's focused on getting all of his pitches refined (fastball, slider, split/changeup) and working on his mechanics.
"I've been throwing and getting ready," Kirkman said.
February, 17, 2012
2/17/12
12:27
PM CT
The Rangers provided some updates on players who had offseason procedures:
Mike Adams:
Inguinal Hernia repair on Jan. 3, by Dr. Aronoff in Dallas.
*
Status
: Typical recovery is 4-6 weeks -- He is long tossing and on schedule.
Josh Hamilton
: Sports Hernia repair first week of November, 2011 by Dr. Myers in Philadelphia.
*
Status
: Full go.
Mitch Moreland
: Right wrist surgery on Dec. 1, 2011 by Dr. Graham in Cleveland.
*
Status
: Eight week normal recovery, will monitor Moreland at the outset of camp, but he is on schedule.
Mike Napoli
: Rehabbed ankle all offseason.
*
Status
: Will monitor Napoli at the outset of camp.
Mitch Stetter
: Left hip surgery in August, 2011.
*
Status
: Full go.
Brad Hawpe
: Tommy John surgery in August, 2011.
*
Status
: Full go to swing and play 1B. Still building up arm strength.
Ian Kinsler
: Platelet-rich plasma injection a week after the season to seperate a ligament from the bone in his right ankle.
*
Status
: Full go.
February, 12, 2012
2/12/12
11:00
PM CT
The Rangers are fully stocked when it comes to starting rotation candidates. That has a ripple effect in that the pitchers who don't make the rotation can slide into the bullpen and help there.
[+] Enlarge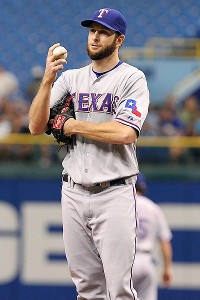 Kim Klement/US PresswireScott Feldman has a starter's mindset and has the ability to pitch multiple innings in relief for the Rangers.
Today's position:
Long/middle relief
As spring training begins, we can take some pretty good guesses at what might happen should the pitching staff stay healthy (a big if when you consider some of the injuries in spring the last few seasons).
Colby Lewis
,
Derek Holland
and
Yu Darvish
certainly appear locks for the rotation. The club is committed to giving
Neftali Feliz
a chance to start. That leaves one spot open.
It seems likely that
Matt Harrison
would keep his spot there and
Alexi Ogando
would head to the bullpen. That scenario would not impact long relief, as Ogando would be more of a late-inning weapon like he was in the postseason. Of course, that doesn't mean that he won't pitch in the sixth inning. The beauty of Ogando, as the baseball world discovered in the 2011 playoffs, is that he can pitch in just about any inning in relief.
So what about long relief options? The No. 1 candidate is
Scott Feldman
. First, he's making a hefty sum of $6.5 million in 2012 thanks to the contract he signed after winning 17 games in 2009. He had microfracture surgery on his right knee after a disappointing 2010 season and missed the first half of the 2011 season. The Rangers wanted Feldman to agree to pitch in the minors once he was healthy enough to return, but he had enough service time to make his own choice and decided to stay in the majors. He said he wanted to help the big league club, and to his credit, he did. He made two spot starts to help give some pitchers some extra days of rest down the stretch and also pitched in relief, though a blister hampered him a bit. Feldman gives the Rangers someone who can certainly handle multiple innings and has the mindset of a starter.
Michael Kirkman
is another option. He began the 2011 season in the Triple-A Round Rock rotation (after spending some time with the big league club in spring training), but was 0-3 with a 6.40 ERA in seven starts and moved to the bullpen. Once there, Kirkman was 3-0 with a 3.98 ERA in 20 relief appearances. The Rangers come into spring trying to sort out their left-handed relief options, and Kirkman figures into the mix. But he's also a multi-inning guy and could help in that middle relief role.
That left-handed spot will be one to watch this spring. The Rangers had Darren Oliver and Mike Gonzalez last year, but neither is on the roster now. Oliver will pitch for Toronto and Gonzalez, who had knee surgery, is still on the market. The Rangers have signed a couple of lefties to minor-league deals with invitations to big league camp. Among those are Joe Beimel and Mitch Stetter, who have major league experience.
Injuries could clearly alter what happens in the bullpen, but so could the fact that a slew of folks will be in camp with a chance to show something. One guy to keep an eye on is Tanner Scheppers, who is hoping to prove that he can become a solid reliever. He comes to camp knowing that's the role the club sees for him, rather than starting right now.
Cody Eppley
, who appeared in 10 games last year, will also be in Surprise, as will some of the club's high-level prospects who might not quite be ready for the majors yet. Yoshi Tateyama, who could have a big impact on Yu Darvish and his transition, can also pitch multiple innings, though he needs to get better against left-handed batters.
Watching how it all shakes out will be part of the fun of spring.