Texas Rangers:

Nate Schierholtz
April, 18, 2013
4/18/13
10:30
AM CT
By
Sahadev Sharma | Special to ESPNDallas.com
CHICAGO -- Manager Ron Washington decided to skip
Justin Grimm
and stick with
Alexi Ogando
as his starter for Thursday's game against
Carlos Villanueva
and the
Chicago Cubs
.
Yu Darvish
is scheduled to pitch Friday, followed by
Nick Tepesch
, Grimm and then
Derek Holland
for the series opener against the Angels. Rain could impact Thursday's game, but the clubs will try to do everything to get it in. First pitch is scheduled for 1:20 p.m. on FSSW and ESPN Dallas 103.3 FM.
Ogando (2-0, 1.08):
Ogando has been solid in his return to the rotation, allowing only two earned runs in 16 2/3 innings pitched with 17 strikeouts and five walks. … Despite his impressive start, Ogando has only pitched six full innings in one of his three starts. … This will be Ogando's first appearance against the Cubs. … Ogando has performed well in his 27 interleague innings, posting a 2.33 ERA with 23 strikeouts and 10 walks. … Ogando has three hits (all singles) and two strikeouts in five career plate appearances.
Villanueva (0-0, 0.64):
Villanueva has been impressive in his two starts with the Cubs, allowing only one earned run in 14 innings. … The lone run recorded off Villanueva this season came via a solo home run from Braves center fielder
B.J. Upton
. … Villanueva was in line for the victory in both games he pitched this season, only to see a leaky Cubs bullpen blow the lead. … Villanueva had 4.16 ERA while striking out 122 and walking 46 in 125 1/3 innings (38 appearances, 16 starts) with the Blue Jays last season. … Villanueva struggled with a 4.50 ERA as a starter last season, but impressed with a 22.9 percent strikeout rate while walking only 6.7 percent of the batters he faced. … Villanueva has a 3.69 ERA in 85 1/3 interleague innings and is 1-1 with a 3.16 ERA in 25 2/3 innings against the Rangers.
Hitters:
Nelson Cruz
(3-for-10, 1 HR, 1 2B),
Adrian Beltre
(3-for-6, 1 2B) and
Jeff Baker
(3-for-5) have had success against Villanueva. Ogando has only faced two current Cubs,
Nate Schierholtz
(0-for-1) and
David DeJesus
(1-for-2).
June, 9, 2012
6/09/12
6:31
PM CT
By
Bryan Dolgin
| ESPNDallas.com
How it happened:
After starting pitching headlined in Game 1 for the
Texas Rangers
during thos three-game series in San Francisco, fielding came into focus with three errors for the visitors Saturday.


Hard-luck starter
Scott Feldman
and the Rangers fell 5-2 to the Giants.
Miscues once more haunted Feldman. In his starts on May 14 and May 29, third baseman
Adrian Beltre
made errors that led to runs. On Saturday afternoon,
Ian Kinsler
committed his seventh error of the season in the third. After picking up
Ryan Theriot
's grounder to second, Kinsler went to tag baserunner
Gregor Blanco
, who was running from first base to second. But Blanco stopped in his tracks to avoid the tag, forcing Kinsler to throw wild to first base.
Ryan Vogelsong
scored on that play and gave the Giants a 1-0 lead.
The fifth inning began with left fielder
Josh Hamilton
battling the sun and not being able to catch
Brandon Crawford
's fly ball. That was Hamilton's third error of the season. Two outs later, Theriot singled to right field for a 2-0 Giants lead.
A failed pickoff attempt by
Koji Uehara
in the seventh inning moved Blanco from first to third. One out later,
Pablo Sandoval
drove in Blanco with a single for a 4-0 Giants lead.
A Giant step:
Feldman did not make it past 1 2/3 innings in his last start, which was across the Bay in Oakland. Feldman, who grew up a Giants fan in nearby Burlingame, Calif., made it through five innings for the first time in six starts this season. He walked one, gave up four hits and struck out six in 5 1/3 innings against the Giants.
Inherited runner gets best of Ross:
Rangers left-handed reliever
Robbie Ross
inherited a runner when he entered the game in relief of Feldman. Ross retired the first batter he faced for the second out of the inning, but then
Nate Schierholtz
tagged him for an RBI triple. Ross has allowed just three of 20 inherited runners to score against him this season, and he holds the lowest percentage among Rangers relievers at 15 percent.
Stranded Rangers:
The Rangers left 13 on base in Friday night's win against the Giants, and they continued that trend in Saturday's loss. In each of the first two innings, the Rangers left two on base.
Michael Young
grounded into a fielders' choice for the final out of the first, and Ian Kinsler grounded out to third base to end the second. After getting two hits in the first inning, the Rangers did not manage another until the eighth.
Splash landing:
Mitch Moreland
had a pinch-hit lead-off home run in the eighth that landed in McCovey Cove. It was Moreland's ninth home run and 21st RBI. It was also the 25th splash landing for an opponent at the ballpark. The Rangers have four pinch-hit home runs this season. That was the third and final hit allowed by Ryan Vogelsong who pitched 7 2/3 innings.
Road weary:
Hamilton has not had a good road trip. He was 1-for-3 with a walk and double Saturday. For the trip, he is 6-for-37 (.162).
Cruz leaves game:
Right fielder
Nelson Cruz
left before the bottom of the eighth inning.
David Murphy
replaced Cruz in the field and took his spot in the lineup.
Facing a righty:
When there is a right-handed opposing pitcher, left-handed hitting David Murphy starts in left field and Josh Hamilton plays center field. On Saturday, right-handed hitting
Craig Gentry
started against right-handed pitcher Ryan Vogelsong. Gentry entered this game with as a .289 hitter (.710 OPS) against righties. Gentry was 0-for-2 with a walk and was hit by a pitch.
Worlds apart:
The first two starting pitchers of this series were not on the Rangers' World Series roster in 2010 when the Rangers faced the Giants.
Matt Harrison
and Feldman did pitch for the Rangers in that regular season.
October, 31, 2010
10/31/10
4:07
PM CT
By
Richard Durrett
| ESPNDallas.com
October, 29, 2010
10/29/10
12:37
AM CT
By
Jeff Caplan
| ESPNDallas.com
SAN FRANCISCO --
C.J. Wilson
deserved better. On a night when the lefty came to deal on the heels of
Cliff Lee
's surprising Game 1 tumble, a ruptured blister on his middle finger, an impotent offense and an imploding
Texas Rangers
bullpen turned a Game 2 pitchers' duel into a 9-0 San Francisco romp.
Wilson pitched superbly, matching the Giants' stellar starter,
Matt Cain
, for all but one pitch. San Francisco shortstop
Edgar Renteria
launched a fifth-inning Wilson fastball high into the left-field bleachers for a 1-0 lead. In the top half of the fifth, Rangers second baseman
Ian Kinsler
missed giving Texas the lead first with a blast that smacked off the top of the center-field wall, just inches from going over, and somehow stayed in play.
Kinsler settled for a leadoff double, but another round of failed hitting with runners in scoring position left him standing on second.
[+] Enlarge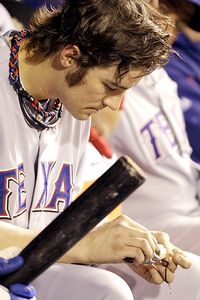 AP Photo/David J. PhillipRangers starter C.J. Wilson went toe-to-toe with the Giants' Matt Cain, but his solid outing was ruined by a blister and his bullpen.
The rapidly moving game remained 1-0 in the bottom of the seventh when the blister on Wilson's left middle finger ruptured during a 10-pitch at-bat to
Cody Ross
, resulting in a walk, and the beginning of the end. The bloody blister left Wilson incapable of gripping the seams of the baseball, and he removed himself from a game that would put the Rangers in a 2-0 hole as the World Series shifts to Texas.
"Cain and I had a good pitching battle all the way through," said Wilson, who allowed three hits. "I made that one mistake to Renteria and other than that I was in complete control the whole way. ... You never want to come out of the game, but I did what I thought was right for the team at that point. It didn't work out as well as anybody drew it up."
Spinning out of control is the Rangers' bullpen.
Darren Oliver
couldn't finish off the Giants in the seventh, allowing one run. But, it was a mind-numbing eighth that ended any hope of a comeback. After Darren O'Day struck out the first two batters,
Buster Posey
singled.
Rangers manager Ron Washington pulled the righty O'Day in favor of young lefty
Derek Holland
, a success story against the Yankees in the ALCS, to pitch to the left-hand-hitting
Nate Schierholtz
.
O'Day, a spot pitcher whom Washington tends to pull rather than face a left-handed hitter, was upset he couldn't punch out Posey to end the inning.
"Obviously, yeah, it's tough to watch for sure. You want your teammates to succeed. You want your team to succeed. We just didn't get the job done, including myself. Schierholtz was coming up. Derek Holland was warming up and if you look at what he did last series against the Yankees, he's obviously a pretty damned good pitcher."
Unfortunately for Holland, he'll need a short memory to soon forget what happened next.
"I was in the bullpen hitting my spots," Holland said. "And then I come out of the bullpen and couldn't hit the broad side of a barn."
Holland threw 13 pitches to three batters; one for a strike. Schierholtz walked on four pitches. Then Ross watched four go by to load the bases.
Aubrey Huff
ran the count to 3-0 before Holland finally landed one in the strike zone. The fifth pitch, a fifth consecutive fastball, missed and a run came home.
As the balls kept coming, Rangers manager Ron Washington and pitching coach Mike Maddux never got the bullpen warming. Washington said he thought Holland would correct his fastball, but he never could.
"Very frustrating. I'm happy with what he did," Holland said of Washington sticking with him. "He had confidence in me. It's my fault. I let him down. I let the team down in that situation. This is a very serious time."
Finally,
Mark Lowe
got up. He came in and promptly walked a fourth consecutive batter,
Juan Uribe
, on five pitches. Suddenly, Wilson's hard-fought battle against the near-perfect Cain was a 4-0 deficit. The Giants would make it 9-0 by the end of the inning.
Wilson helplessly watched his work unravel.
"No, I'm not surprised at all," said Wilson, who got a no-decision in Game 1 against the Yankees after a strong start followed by an epic bullpen failure. "When you walk a metric-ton of people, they're going to score."
The Rangers obviously miss the services of injured eighth-inning set-up man Frankie Francisco, who remains with the club. He was almost teary-eyed when asked how badly it hurts to be out of commission and watch the bullpen spiral.
Francisco had been a valuable bridge to get to rookie closer
Neftali Feliz
, who has still not pitched in a save situation. Feliz hasn't pitched since the ALCS clincher last Friday night and could have been an option to stop the bleeding in the eighth, but Washington said he never considered going to his 22-year-old fireballer.
"No, I didn't," Washington said. "I didn't at all."
Now the Rangers head home for a possible three games and needing to win four of the final five to capture the franchise's first World Series. Nothing is predictable, as the first two games at AT&T Park have shown. Lee proved mortal and when Wilson gave everything he had, a tiny, but debilitating injury, a dead-bat offense and a bungling bullpen did him in.
"Trust me," Holland said sternly. "The bullpen is going to be fine come Friday [for Game 3]. It's a new day. We're not going to sit and dwell on it. This game's over and we're going to come back and help this team win."