Texas Rangers:

Ranger Resolutions
January, 7, 2014
Jan 7
8:00
AM CT
By
Richard Durrett
| ESPNDallas.com
Note: This week, we're running a series titled "Ranger Resolutions" as we look at some things the Texas Rangers hope to do better in 2014.
Today's resolution:
Finish strong
This is the third consecutive year we've run a resolution titled "Finish Strong."
You can read last year's version here (if you dare).
Obviously, it's doesn't have the same punch this year as it did last year. Then, the team was trying to put the disappointment of blowing a five-game lead with nine to play in the AL West and then losing to Baltimore in the 2012 AL wild card game. The year before, it was not being able to finish off the
St. Louis Cardinals
in Game 6. You know the details of that one. We don't need to go into that here.
But this returns as a resolution more for the first few weeks of September than for the last. Texas, to its credit and the credit of manager Ron Washington, fought to the very end in 2013. One loss in that final week would have ended the season before Game 163. But they won seven consecutive games to force a home game the day after the regular season was supposed to end.
And yet, that was as far as the Rangers could get.
David Price
looked more like the Cy Young Award winner from 2012 and the Rays moved on to the wild card game while the Rangers went into the offseason earlier than expected.
It was the way most of the final month of the season went that cost the Rangers a chance to make the playoffs without having to compete in a play-in game. Texas was 5-15 the first 20 games of September. They didn't have
Nelson Cruz
for the final 50 games and that hurt. During the first 20 games of the final month, the Rangers hit .246 as a team. They committed 12 errors. The starting rotation had a 4.57 ERA, forcing the team to constantly play from behind. A total of 10 of the Rangers' 15 losses in that span were in one- or two-run games. They just could not win enough of the close games.
So once again, the Rangers must making finishing strong a resolution. And that doesn't mean just the last week of the season. They need to be playing their best during that final month to generate some momentum and confidence. It's something that hasn't happened the past few seasons. Will this year be different?
January, 6, 2014
Jan 6
8:00
AM CT
By
Richard Durrett
| ESPNDallas.com
Note: This week, we're running a series titled "Ranger Resolutions" as we look at some things the Texas Rangers hope to do better in 2014.
Today's resolution:
More first base production
This has been a Ranger resolution for years now without much success. Ever since the Rangers traded
Mark Teixeira
, a trade that helped reshape the franchise and lead it to its best years ever, the club has been without a truly productive first baseman.
It's a long list of players that have attempted to fill that spot.
Chris Davis
got a few chances and didn't reach his potential until leaving for the
Baltimore Orioles
.
Justin Smoak
was the heir apparent, but was dealt as part of the
Cliff Lee
deal in early July 2010. And many others have attempted to give the club some production, only to struggle with consistency.
You can't help but wonder what
Mitch Moreland
's season would have been like had he not hurt his hamstring. He was hitting .288 in June when he strained the hamstring. He never found his rhythm after that and finished 2013 with a .177 average in September as the Rangers went 5-15 to start the month and ended up in a Game 163. Still, Moreland had 23 homers and 60 RBIs, both career highs. And that may be one big reason the club is insisting on getting full value if they deal him. At this point, they don't have to, either.
In order to address this major need, the Rangers traded All-Star second baseman
Ian Kinsler
to the
Detroit Tigers
for
Prince Fielder
. The blockbuster gives Texas a proven player at first base who has a powerful and productive bat. But with Moreland, the Rangers have some options. They could shift Fielder to designated hitter at times and play Moreland, the better defensive player, at first. Still, the Rangers have said repeatedly that Fielder is their first baseman.
But the Fielder acquisition all of a sudden gives the club a chance to vastly improve on some disturbing first-base offensive numbers. Texas scored 69 runs from first base in 2013, which was 10th in the AL. Only the
Tampa Bay Rays
generated fewer runs from that position and still made the postseason. The Rangers first base batting average was .223, the worst in the AL.
Fielder brings a career .286 batting average and an average of 35 homers and 107 RBIs per 162 games to Arlington. That should certainly help the Rangers finally make good on a longstanding resolution.
January, 3, 2014
Jan 3
8:00
AM CT
By
Richard Durrett
| ESPNDallas.com
Note: This week, we're running a series titled "Ranger Resolutions" as we look at some things the Texas Rangers hope to do better in 2014.
Today's resolution:
Find a closer
It's one of the few remaining questions for the Rangers as they steam toward spring training, which starts in just a month and a half. The good news: The Rangers have some good possible answers, they just have to settle on one.
Texas made the decision not to re-sign closer
Joe Nathan
, who did an excellent job in his two All-Star seasons with the club. But Nathan wanted a multiyear deal and the Rangers didn't want to pay a premium price to keep him knowing they had to use their money on bats this offseason.
The other reason they could afford to let Nathan go (he eventually signed with Detroit) was that they have three realistic internal candidates who can handle the job.
That list starts with
Neftali Feliz
, who comes into spring training as the favorite to earn the job, if he proves he's healthy and ready. Feliz is returning from Tommy John surgery and pitched in six games for Triple-A Round Rock near the end of last season, allowing no runs on four hits in 8 2/3 innings with nine strikeouts and two walks. He went to the Dominican Republic to pitch in winter ball and gave up three runs on six hits in 9 2/3 innings, though two of those three runs in one rough outing Dec. 10. One of Feliz's two walks in those 10 appearances was in that outing as well.
Feliz was the club's closer in 2010 and 2011, so he has experience and knows what it takes to do that role. And he's said that he wants to close. But he also has to prove that mentally he's completely put how the 2011 season ended in the rearview mirror.
Feliz isn't the only candidate. The club has two others:
Joakim Soria
and
Tanner Scheppers
. The Rangers signed Soria before last season knowing that he wouldn't be able to help them until midway through the year, coming off injury. Soria ended up with a 3.80 ERA and showed flashes of his old self. He finished the year with scoreless outings in 12 of his final 14 appearances and he was an All-Star closer for the
Kansas City Royals
in 2010, when he had 43 saves. He also had 28 saves in 2011. So Soria certainly knows how to close and is an option.
Scheppers came into his own as a solid, setup reliever in 2013. He made 76 appearances (76 2/3 innings) and sported a 1.88 ERA and a 6-2 mark. Scheppers had a great first few months, but was inconsistent at times in July and August before rebounding with a strong September. In the final month, Scheppers put up a 1.13 ERA and 14 strikeouts to just two walks in 16 innings. Alexi Ogando is slated to be in the rotation, though if something changes there, perhaps he gets a chance to throw his hat in the ring. But as of now, the Rangers are planning on him starting.
As the new year is now upon us, the Rangers must figure out the back end of the bullpen, starting with the closer. The Rangers can afford to let things play out and see how each guy in the trio does this spring before making any decisions. It should make for an interesting competition.
January, 2, 2014
Jan 2
8:00
AM CT
By
Richard Durrett
| ESPNDallas.com
Note: This week, we're running a series titled "Ranger Resolutions" as we look at some things the Texas Rangers hope to do better in 2014.
Today's resolution:
Run the bases better
When the Rangers were busy putting up impressive back-to-back World Series appearances, they did it, in part, with an aggressive, versatile offense. Texas could hit the long ball, but they could move runners over, put pressure on the opponent with their feet and they didn't hesitate to take advantage of any little opportunity to move up a base.
Perhaps because opponents recognized it was such a weapon in 2010 and 2011 combined with the fact that the Rangers didn't do as good a job of running the bases smartly the past two years, that part of their game hasn't been as productive.
That said, it's worth pointing out that 2013 was a much better season than 2012 on that front. Texas was second in the league in 2013 in stolen bases with 149. They were fifth in steal percentage in the AL. In 2012, Texas had just 91 stolen bases and was 13th in the league in steal percentage.
But stolen bases are only part of the story when it comes to running bases. Scoring runs can depend on going from first to third or getting that extra base on a dirt ball. While the Rangers did better in 2013 than they did the previous year in those categories, it's still something they must improve upon. Too often they ran into outs on the bases, either through pickoffs or not picking the best time to steal.
Rangers runners were picked off 18 times in 2013, putting them in the bottom half of the AL. That, though, was an improvement from 2012, when they were picked off a league-worst 29 times. Texas did improve its rate of going from first to third at 30.1 percent, according to Jeremy Mills at ESPN Stats & Information, but that still wasn't as good a percentage as 2010 or 2011.
There's a fine line between being smart and being too aggressive and the Rangers haven't towed that line as well the past few seasons as they did during the World Series years. It's something manager Ron Washington and running coach Gary Pettis will be stressing this spring.
January, 1, 2014
Jan 1
8:00
AM CT
By
Richard Durrett
| ESPNDallas.com
Note: This week, we're running a series titled "Ranger Resolutions" as we look at some things the Texas Rangers hope to do better in 2014.
Today's resolution:
Keeping the rotation healthy
Injuries happen and there's very little general manager Jon Daniels and manager Ron Washington can do about it. But when those injuries happen to several members of the rotation, it's very difficult to overcome.
Last season, the Rangers entered with 18-game winner
Matt Harrison
on the mound on Opening night in Houston. But Harrison started just two games and dealt with injuries and surgeries. He's expected back at the beginning of this season. But losing one of your best pitchers for the entire season is nearly impossible to make up. But the injuries didn't stop there.
Colby Lewis
, expected to return in June, never did make it back to the big leagues. He'll try again in 2014.
Martin Perez
, the leading candidate for the final spot in the rotation in spring, fractured his left forearm at spring training and missed the first three months of the season.
The Rangers tried to fill the gaps as best they could, but having just two starters make the majority of their starts --
Yu Darvish
and
Derek Holland
-- took its toll. When you're talking about a team that needed just one more win to make the AL wild card, every injury counts.
Darvish won 13 games in 2013 with a 2.83 ERA. He led the league with 277 strikeouts and was a Cy Young Award finalist. The bar for Darvish is high, which is why each and every start was analyzed and nitpicked. And he didn't perform as well as he could have when his offense didn't respond with hits for him. But Darvish remains one of the elite pitchers in the league and this club's ace. He got an injection in his back right after the season, but the reports have been good this offseason and he is on schedule with his throwing program.
Holland's season was an improvement from 2012. He was 10-9 with a 3.42 ERA in 33 starts and showed a little more consistency, though he admits that he has to be better. Still, he stayed in the rotation and stayed healthy. That needs to happen again this year.
Harrison talked about his frustration at not being able to pitch and is desperate to get back to form and healthy. He had put together back-to-back seasons before the injury bug hit and if he can do that in 2014, it's a huge boost for this rotation.
Perez pitched well enough down the stretch to earn a club-friendly extension. The Rangers stayed patient with Perez, long considered one of their top pitching prospects, and it paid off in 2013. Perez was 10-6 with a 3.62 ERA in 20 starts and showed improvement almost with each outing.
So going into the 2014 season, the Rangers' rotation looks solid with Darvish, Harrison, Holland and Perez. There are a few candidates for that final spot, including
Alexi Ogando
,
Robbie Ross
or Lewis, should he be healthy when the season begins.
But while all the offseason discussion has centered around the offense, as it should, keeping this rotation is key to not only making the playoffs but doing something once they are there.
December, 31, 2013
12/31/13
7:30
AM CT
By
Richard Durrett
| ESPNDallas.com
Note: This week, we're running a series titled "Ranger Resolutions" as we look at some things the Texas Rangers hope to do better in 2014.
Today's resolution:
Young players continuing to grow up
While the offseason focus for the Rangers has been on some big names, like
Prince Fielder
and
Shin-Soo Choo
, bolstering the lineup, the key to the club's short-term and long-term success is how some of its young core does in 2014.
Last season was an opportunity for some of them to get playing time and be thrust into different roles. Now, they'll be counted on even more. Let's start with
Jurickson Profar
, a player talked about so much that it seems like he's been in the league for years. Profar, who turns 21 years old just as spring training gets going, was a big part of the club's offseason plans. With a logjam at middle infield, Texas decided to trade All-Star second baseman
Ian Kinsler
to Detroit for Fielder. But now only did that put a power, left-handed bat in the middle of the lineup, but it freed up second base for Profar.
Instead of roaming around various positions as a super-utility player, Profar can now focus on second base. A few scouts I talked to believe that's going to really help Profar's entire game, because he won't have to worry about where he's playing or whether he's adjusting to another position. Manager Ron Washington has some options about where to put Profar in the lineup, but he's likely to be at the bottom of the order to give that area some offense and help it turn the lineup over to Choo at the top. Profar hit .234 with six homers and 26 RBIs in 324 plate appearances (85 games). A lot more will be expected of Profar this year.
Leonys Martin
, 23, took advantage of an opportunity to play more in 2013 and comes into the 2014 season as this team's center fielder. He hit .260 last season with eight homers, 49 RBIs and 36 stolen bases. Before the Choo signing, Martin was penciled in as the leadoff hitter. Now, he could utilize that speed near the bottom of the order, giving Washington more options. Long-term, the lineup would get deeper if Martin could grow into the leadoff spot, allowing Washington to move Choo down in the order and take advantage of his production as the No. 5 or No. 6 hitter, for example. But that's down the line. What the Rangers want to see is continued improvement from Martin.
While those are the two big, young names in the lineup, there are others that must step up.
Engel Beltre
, 24, is out of options and vying to be one of the club's bench outfielders.
Neftali Feliz
is just 25 and could be the club's closer in 2014.
Martin Perez
, fresh of a contract extension, needs to build off a strong season and is only 22 (more on Perez and the rotation later this week). And Tanner Scheppers, who turns 27 in January, is a candidate to close as well or at the very least continue in his role as a critical, late-inning setup man.
But growing up from the young players, especially to every day starters in Profar and Martin, will have a direct impact on how well this team does in 2014.
December, 30, 2013
12/30/13
7:30
AM CT
By
Richard Durrett
| ESPNDallas.com
Note: This week, we're running a series titled "Ranger Resolutions" as we look at some things the club hopes to do better in 2014.
Today's resolution:
Better clutch hitting (and a more disciplined approach at the plate)
The Rangers offense scored 730 runs in 2013, a total that was good enough for seventh in the league. But for a team that is used to depth throughout the lineup and the ability to drive in runs when needed, finishing middle-of-the-pack was a disappointment.
[+] Enlarge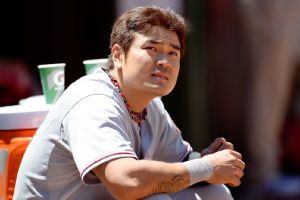 Thearon W. Henderson/Getty ImagesWith Shin-Soo Choo at the top of the lineup, the Rangers' run production should improve in 2014.
But it goes deeper than that. It's difficult at times to quantify hitting in the clutch. But if you look at how the team did with runners in scoring position -- when the opportunity is there to drive in runs -- you see a drop-off from previous seasons. Texas hit just .249 with runners in scoring position in 2013, which was 12th in the AL. Only the
Houston Astros
,
Seattle Mariners
and
Minnesota Twins
, three teams that weren't even close to the postseason, were worse. Texas was third in the AL in batting average with runners in scoring position in 2012 at .275 and first in 2011 at .285. So it's a big difference.
In fairness, it's a bit misleading to simply look at batting average. The Rangers were sixth in the AL in RBIs with runners in scoring position, which means they did drive in some runs when needed, even without a hit. But to put that in context, Texas was first in the AL in 2012 in that category and third in 2011. However you attempt to quantify how they did in key run-scoring situations, it wasn't nearly as good as the previous few seasons. And when the club's overall on-base percentage is also middle-of-the-pack, getting those hits with runners in scoring position when you aren't getting as many of those chances as you'd like is critical.
There can be, of course, lots of reasons for that. It didn't help to have the club's top run producer,
Nelson Cruz
, out for 50 games because of a suspension. Injuries at various times can also contribute to the number. But the bottom line is that, even when healthy, this team just didn't respond as well to those at-bats. They weren't as good with a runner at third and less than two outs. They had more issues on the bases than they have in previous seasons (that's a resolution we'll get to later this week).