December, 6, 2012
12/06/12
8:00
AM CT
NASHVILLE, Tenn. --
Texas Rangers
CEO Nolan Ryan wouldn't dismiss the idea that his club could afford to sign both
Josh Hamilton
and
Zack Greinke
, but he acknowledged that it would take ownership approval.
Ryan, speaking to local reporters Wednesday night, said principal owners Bob Simpson and Ray Davis would have to approve anything that was over budget. And Ryan suspects that signing both players would put the club over budget, though he cautions that he doesn't know exactly what that might cost.
Davis is in Nashville, attending some of the club's meetings. The key personnel that determine the club's financial resources are in place should Daniels get close to a deal before the winter meetings end.
Read the entire story
here
.
November, 5, 2012
11/05/12
11:00
PM CT
Editor's Note: Before we shift our complete focus to the 2013 season, let's take a quick look back at 10 memorable moments -- games, signings, events -- from the 2012 campaign. By memorable, we mean both good and bad moments. And we've now reached our top 5.
Moment No. 4:
Texas signs Japanese pitcher
Yu Darvish
just prior to the deadline on Jan. 18.
Before we get to Jan. 18, we have to back up a bit. While the Winter Meetings were wrapping up -- those meetings in Dallas included one of the Rangers' biggest rivals, the Angels, signing
Albert Pujols
and
C.J. Wilson
-- general manager Jon Daniels and his staff were busy putting the finishing touches on two separate presentations to club owners Ray Davis and Bob Simpson, co-chairman of the board. The baseball staff wanted to go after Darvish and that required a major financial commitment.
[+] Enlarge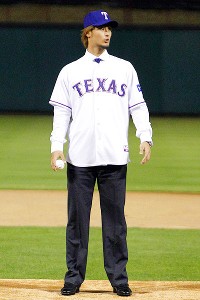 AP Photo/LM OteroYu Darvish donned his new jersey and threw a pitch from the mound at Rangers Ballpark after his introductory press conference in January.
The staff had convinced Nolan Ryan to back them and the CEO decided that a presentation from the baseball front office rather than Ryan himself might better sell the proposal. Davis and Simpson agreed to what ended up becoming a $51.7 million posting bid. And they weren't sure if that would be enough to land Darvish. The bid went in that December and on Dec. 18, the Rangers were notified that they had won the bidding and would begin negotiations with Darvish and his representatives. They had a month to get a deal done or Darvish would pitch in Japan in 2012.
The Rangers didn't take anything for granted. The scouts and personnel that had followed Darvish established contact with the family. Josh Boyd went to Japan to help iron things out. And Daniels, assistant GM Thad Levine and others worked with Darvish's representatives (Don Nomura and Arn Tellem) to get a six-year, $56 million deal completed (Darvish gets $4 million more if he stays healthy in those final few years of the deal).
A few weeks prior to the deadline, the Rangers entertained Darvish and his father. The club treated it like a recruiting trip, showing a video on the big screen, touring the ballpark and potential places to live and giving Darvish a taste of life in Texas.
The day the deal came together -- Jan. 18 -- was an interesting one in Arlington. Japanese media had stayed through the night just in case a deal got done hours before the deadline, but things didn't come together until that afternoon. Darvish was still in Japan, but made his way to Texas two days later for the official news conference.
But the posting and the signing represented yet another major step for the club. It showed it has an ownership group willing to spend money and one that put its trust in the front office.
May, 17, 2012
5/17/12
1:05
PM CT
IRVING, Texas -- Shortly after completing his first round at even par, four-time major winner
Phil Mickelson
said he was trying to get to Arlington to see his second
Texas Rangers
game in less than 24 hours.
Mickelson, a big sports fan, attended Wednesday's Rangers game with Japanese star
Yu Darvish
on the mound. And the golfer enjoyed watching Darvish pitch well, allowing one run on four hits in 7 2/3 innings in a 4-1 Rangers' win over the A's.
"I had a really good view of it and it was pretty impressive," Mickelson said. "The differences in speeds from 95 to 68 to 75 to 88. It was all over the map. He had such great control. You could tell he's a special talent."
Mickelson interacted with fans before he left the ninth-hole scoring area and told some of them that he was pulling for the Dallas Mavericks and was disappointed they had an early exit in the playoffs.
Rick George, who used to work for the PGA Tour and is now the COO of the Rangers, organized Mickelson's Rangers visit. The golfer and his caddie, Jim "Bones" Mackay, sat with Rangers co-chairman of the board Ray Davis and talked sports for nearly eight innings Wednesday.
"Darvish was awesome," Mackay said. "When Mr. Davis told us how fast Darvish can throw it left-handed (in the mid 80s), we were like, 'Wow, that is obviously some kind of athlete.' The crowd for a Wednesday night game against the A's. No disrepect to anybody, but it was 40,000-plus.
"I didn't realize how young Darvish was. We all read about him in the offseason, but at age 25 he'd already proved himself enough that they'd want to throw those kinds of dollars around. There was a lot of scouting around and the guy is the real deal. The other thing that impressed me about the Rangers is that these guys really, genuinely like each other. I bet it's a great clubhouse."
March, 11, 2011
3/11/11
4:40
PM CT
ARLINGTON, Texas -- What challenges will Nolan Ryan face now that he's added the CEO title with Chuck Greenberg's departure from the Rangers?

"I don't really see, with the people that we have in place, it really much different than the role that I've played as president in the three years that I've been here," Ryan said. "I really don't see that changing."

Ryan's first comments of Friday's press conference were thanking co-chairmen of the board Ray Davis and Bob Simpson for having the confidence in him to fill the additional role. However, he followed that up by emphasizing the importance of "staying the course" for the Rangers.

"I'm not a micromanager," Ryan said. "I really believe in hiring good people and letting them do their jobs, so it really will be a joint effort, not only in the front office but as it's been in the baseball department with Jon Daniels and Thad Levine and Ron and our coaches and scouts. I don't see the business side of it being run any differently than my approach to the baseball side."
August, 13, 2010
8/13/10
5:39
PM CT
By
Jeff Caplan
| ESPNDallas.com
ARLINGTON, Texas -- While Chuck Greenberg and Nolan Ryan are the faces of the Texas Rangers' new ownership group, they are not the primary investors. That distinction belongs to Bob Simpson, who was chairman of XTO Energy Inc., and Ray Davis, a Dallas billionaire and former co-CEO of Energy Transfer Partners LP.

Those four, though, comprise less than one-fourth of the franchise's total investors -- 18 -- all of whom have yet to meet as a group.

"I'm the only one they've all met," Greenberg said.

That will change Saturday night.

"We are having a get-together tomorrow night," Greenberg said. "So it will kind of be like the first day of school for everyone."

Greenberg said the majority of investors are local or have local ties. Almost all outside the Big Four have remained anonymous. Greenberg said they could soon be made public.

"I just want to be respectful," Greenberg said. "Once we have a chance to do that, if they're comfortable with it, then we'll do that."