Texas Rangers:

Ray Olmedo
October, 26, 2010
10/26/10
3:00
PM CT
By
Jeff Caplan
| ESPNDallas.com
SAN FRANCISCO -- Before Game 5 of the ALCS, when
Matt Treanor
would get behind the plate to catch
C.J. Wilson
for a chance to clinch the American League pennant, he was asked if this was the biggest game of his career.
He quickly responded, no.
"To be honest, every game this year has been the biggest game of my career," the 34-year-old Treanor said. "I started the year in the minors."
PODCAST
Ben and Skin go "Inside the Clubhouse" with Rangers LHP Derek Holland ad he talks World Series, World Series and more World Series!

Listen

The Rangers' secondary catcher hit his first career postseason home run in the game and also knocked in the
Texas Rangers
' only other run in the loss, but his performance further illustrated just how valuable the unheralded catcher has been to the club this season.
Of all the trades that general manager Jon Daniels has produced to help propel Texas to its first World Series, perhaps the most overlooked one is the deal that quietly and shrewdly went down on March 22: The Rangers sent infielder
Ray Olmedo
to the
Milwaukee Brewers
for a backup catcher most fans in North Texas probably had never heard of before.
And if things had went as planned, they likely still wouldn't. Treanor was sent to Triple-A Oklahoma after spring training, another dose of hard reality for a player who's had to scrap for every inning he's played in the big leagues.
"You know you what, I kind of embraced my situation this year," Treanor said. "I knew that I was going to have to battle and there might have been a situation where the club would need me. It so happened that after game one or game two [of the regular season] I was called up and asked to fill a position."
Jarrod Saltalamacchia
got injured out of the chute and backup
Taylor Teagarden
couldn't get comfortable swinging the bat. Treanor, affable, humble and hard-working, got the call up on April 9 and was behind the plate for the Rangers on April 11. It's been a two-way love affair ever since.
Now, the career journeyman who labored 10 years in the minor leagues before getting his shot with the
Florida Marlins
in 2004, will catch Wilson in their first World Series against the
San Francisco Giants
in Thursday's Game 2 at AT&T Park. It could be one of two starts with Wilson.
Bengie Molina
,
acquired mid-seasoin, will handle the other pitchers
.
"I can't say enough about how important he's been to our ballclub," third baseman and captain
Michael Young
said. "He might not get a lot of the publicity as some of our guys get, but if you ask everyone in our organization, top to bottom, and they'll talk about what a massive impact Matt Treanor's had on our team. He basically bailed us out early. He bailed out our catcher situation. He played hard, played hurt, was a leader, great clubhouse guy and just played extremely well. He's a guy that we're all really proud to call our teammate."
Treanor hit just .211, but he had some clutch shots -- who can forget the two-out, two-run, pinch-hit game-winning triple in the top of the ninth against his former Marlins during the team's longest win streak of the season? -- and he deftly handled a pitching staff in transition.
"He didn't make our club [out of spring training], but he committed himself to us," Washington said. "And because of the way things went early in the season with Salty and Teagarden, we were very fortunate that we had a guy of his standard to step in and continue to help our young pitching staff get through the season."
Treanor went on to post career highs for games played (82) -- starting a team-high 67 at catcher -- at-bats (237), runs (22), hits (50), homers (five), RBI (27) and walks (22). As Wilson's personal catcher in the postseason, Treanor's been remarkable getting on base with a team-best .545 on-base percentage in three games.
He has three hits in seven at-bats and has walked -- or limped -- to first base four other times, twice by walks and twice by getting plunked -- in consecutive at-bats -- in Game 2 of the ALDS. Both times he got hit to lead off the inning and both led to runs in the victory.
"Personally," Treanor said, "to be with a group of guys, not just in this situation in the postseason, but to be surrounded by this group all season where we were a true unit the whole year, it showed on the field and we got the wins."
Even when the club went out and acquired the veteran Molina in mid-season, Treanor accepted it and even welcomed it.
"Absolutely. He's a guy that's been in postseason play and I'm pretty sure that's why they went to go look for him," Treanor said. "I've watched Bengie ever since he got here; the way he calls a game, the way he goes about his business, everything."
Don't believe him? The dog pile after clinching the ALCS pennant is proof.
"I'm on the bottom of the pile with him," Treanor said. "He was the first guy I'm looking for. I'm kissing him on the forehead. He had no idea what was going on."
March, 14, 2010
3/14/10
7:30
AM CT
By
Richard Durrett
| ESPNDallas.com
SURPRISE, Ariz. -- Rangers manager Ron Washington talked about utility infielders on Saturday. With second baseman
Ian Kinsler
out at least a week with a high right ankle sprain, it's on the Rangers' brains right now.
Esteban German
,
Joaquin Arias
and
Ray Olmedo
remain the in-house contenders. You can add
Hernan Iribarren
, whom the Rangers signed on Saturday.
Washington has been pleased with German's progress in spring training, but the big question is whether he can play shortstop. Washington made it clear once again on Saturday that he wants his utility infielder to be able to play shortstop.
"I know he could do it for two or three days, but I don't know about two weeks," Washington said. "That's why we've got him out there working on it. He's got the physical tools, but we'll see how he reacts in games."
German played shortstop for the final three innings of Satuday's game as he continues to get some work there. As for his bat, German is 5-for-13 with four runs, four walks and two stolen bases.
Arias looked comfortable in Saturday's game, playing second base for the entire nine innings with Kinsler out.
"Joaquin is doing well," Washington said. "He is throwing 100 percent better than what we saw last year. So far he lookes pretty good on the routine stuff. I want to see him go deep in the hole and make plays there."
Arias did make one very nice play at second on Saturday, ranging to his left and spinning around to get a runner at second. He also had a couple of hits. Washington said Arias' throws have been fine and that he's seen nothing to indicate a "red flag."
Washington said the more he sees Olmedo, the more he likes.
"He's played second base and third base and he's earning playing well enough to earn some more playing time," Washington said.
March, 3, 2010
3/03/10
8:00
AM CT
By
Richard Durrett
| ESPNDallas.com
Things have certainly changed the last few weeks on the utility front. This was supposed to be all about
Khalil Greene
, who was signed in the offseason to handle the infield positions.
[+] Enlarge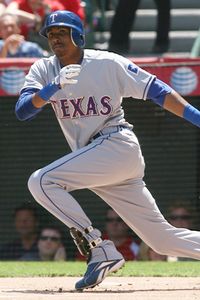 Kevin Reece/Icon SMIJoaquin Arias came to the Rangers organization in the trade that sent Alex Rodriguez to the Yankees.
Greene's decision not to report to camp (the club ended up voiding his $750,000 contract) means that the utility position is up for grabs. The intention at this point is for an internal candidate to win that job, though the Rangers will continue to look around (
possibly Julio Lugo?
) and check the waiver wire as spring training comes to a close.
But this is a big opportunity for
Joaquin Arias
.
Arias is out of options. At one time, he was one of the club's top prospects. But arm and shoulder issues slowed him and surgery means he'll likely never fully regain the arm strength he had a few years ago. Arias, though, comes into spring training on a mission.
"I don't want to play in Oklahoma again," said Arias the day he reported, referring to Triple-A Oklahoma City. "I want to play in the big leagues. It's my time."
Arias, 25, was acquired from the Yankees in the
Alex Rodriguez
-
Alfonso Soriano
trade in 2004. He made his major league debut in September of 2006 and was on pace to keep improving. But he spent all of 2007 on the disabled list and had surgery on his right shoulder. He says he feels healthy and even better than he did last spring training. He must prove he can make the throws necessary. The Rangers will see if he can seize the opportunity.
"He's in a better position now to be considered for this job than he's been the last two years," general manager Jon Daniels said. "That's what spring training is for. Joaquin's going to be given a chance to compete for the job, but he's going to have to go out and win it."
Both Daniels and manager Ron Washington said the most important component of a utility infielder is the ability to play shortstop. That's Arias' natural position and one that he played in winter ball leading up to spring training. He also played some at second base in 2008. Arias is not a first baseman, but
Max Ramirez
could be a candidate to back up at first base (as well as play catcher if needed) as the 25th man on the roster. Or the Rangers could go out and get a right-handed hitting first baseman as a backup.
But Arias would give them a backup that can play in the middle of the field. That position is an important one.
Omar Vizquel
did a solid job in that role in 2009. He was there to help mentor
Elvis Andrus
, but when injuries occurred -- to
Ian Kinsler
and
Michael Young
-- Vizquel was able to step in and produce.
Arias must show he can limit mistakes and earn the trust of his teammates and the manager. Arias had a solid stay in the Dominican Winter League, hitting .296 with 11 RBIs, 14 runs and six stolen bases in 27 games. He had 504 at-bats for Triple-A Oklahoma City last season, batting .266 with five homers, 52 RBIs and 24 stolen bases (in 27 attempts). Arias would give Washington another pinch-running option late in games as well.
Arias isn't the only player who will get a look.
Ray Olmedo
and
Esteban German
are both in camp, though not on the 40-man roster. Washington said he didn't know much about Olmedo before camp, but he's working with him and discovering more about all of his reserve infielders as the spring progresses.
Do you think Arias is right for the job? Should the Rangers look outside the organization?