April, 14, 2014
Apr 14
11:08
PM CT
By
Richard Durrett
| ESPNDallas.com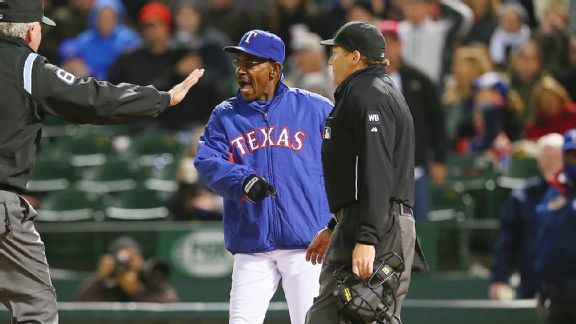 Ronald Martinez/Getty ImagesRangers manager Ron Washington was ejected for arguing in the sixth inning.
ARLINGTON, Texas – The replay umpires made the right call in the sixth inning of the
Texas Rangers
' 7-1 loss Monday to the
Seattle Mariners
, when they invoked the transfer rule. It was the right call, but it's the wrong rule.
Just ask Rangers manager Ron Washington and catcher
J.P. Arencibia
. Even Mariners manager Lloyd McClendon, whose team benefited by the call Monday, wishes the rule would "go away."
"The guy on the base was out," Washington said. "I understand what the rule is, but we've got to do something about it."
The transfer rule has already caused some consternation among managers this season. It has caused balls that look like catches in the outfield to turn into hits, but also causing baserunners to cross one another in the confusion. It has allowed some runners to be safe when, in previous seasons, they would have been out. And that's a problem. Players, managers and even umpires have been used to calling it one way and now, with replay, have to enforce it another.
On Monday, the rule made Washington so mad he charged out from the dugout after an out turned into a run when a call was overturned. Pitcher
Pedro Figueroa
snagged a bouncer to the mound in the sixth inning and threw home to Arencibia, who caught the ball with his foot on the plate. He then transferred it to his hand to attempt to complete a double play with a throw to first, but bobbled it. The umpires called
Dustin Ackley
out at the plate. But McClendon challenged the play, citing the transfer rule.
"The rule applies not only to the outfielders, but the infielders as well, particularly on that type of play," McClendon said. "I thought it was a clear violation of the rules. It was an impactful play. We thought we should go out and challenge it."
It took replay officials in New York 3 minutes, 30 seconds to decide to overturn the call. Replays showed it was the correct decision in terms of how the rule is being interpreted, because Arencibia clearly didn't have control of the ball on the transfer.
That allowed the sixth run of the game -- and fifth of the inning -- to score, and Arencibia was charged with an error.
"It's jeopardizing the game," Arencibia said about the transfer rule. "It's giving guys extra outs when the game has been played the same way for the last however many years, and I think that it's a little ridiculous what's going on."
Washington didn't even make it all the way to home plate before he was automatically ejected, because managers can't argue calls once a replay decision has been made.
"The only guy that gets the advantage on that is the batter-runner," Washington said. "He doesn't get doubled up. If he catching the ball at the same time and he drops it, I understand. But I understand what the rule is saying. I just don't agree with it."
Washington was asked if he thinks the rule needs to be clarified.
"It's already clarified," Washington said. "The clarification is you've got to have control of the ball when you take it out of your glove. That's the clarification. But the guy coming down the line is out."
It's difficult to understand why Major League Baseball has chosen to interpret the rule this way after players have been called out on that play for as long as anyone can remember. But everyone knows the rule is in place now. McClendon knew and was smart to challenge it, giving his team another run. And Washington has every right to be upset about it.
The rule needs to be changed. Until it is, expect more challenges and more ejections as managers end up on its good and bad ends.
April, 1, 2014
Apr 1
8:58
PM CT
By
Richard Durrett
| ESPNDallas.com
ARLINGTON, Texas -- The first review of the season for the
Texas Rangers
occurred in the sixth inning of Tuesday's game, and they won it.
Ben Revere
wandered off second base and
Martin Perez
made a quick pickoff move to second base that was caught by
Donnie Murphy
, who applied the tag on the back of Revere. The umpires on the field called Revere safe.
Ron Washington slowly walked to second to give the club -- assistant advance scout Joey Prebynski specifically -- a chance to look at a variety of angles. It took two minutes, 18 seconds for umpires in the command center in New York to overturn the call. Washington glanced in the dugout and saw bench coach Tim Bogar give him the sign to challenge. He did and it helped the Rangers in a 3-2 victory over the Phillies.
The Rangers contemplated a challenge earlier in the inning on a fielder's choice bunt that got
Cesar Hernandez
from second to third. But replays showed the call was right and Washington did not end up challenging.
The mechanics were there, though. Washington has the slow walk down and all parts of the staff were quick about making a decision. They made the right one both times.
It means the manager is now 1-for-1 on challenges in 2014.
December, 11, 2013
12/11/13
2:00
PM CT
By
Richard Durrett
| ESPNDallas.com
Note: Periodically during the winter meetings, we'll post some of the chatter going on in the lobby in regards to players the Texas Rangers may be interested in this week at Disney World.
LAKE BUENA VISTA, Fla. -- Since we don't have a whirlwind of trades and signings to discuss (at least not yet), conversation here at Disney World has turned to instant replay.
The managers and general managers were briefed this morning by Major League Baseball on how parts of the system are going to work. Several managers shared some of those details.
Each manager gets one challenge in the first through sixth innings. If you get that challenge right, you get an extra one. But after the sixth inning, it's up to the umpires to get together. And two managers I talked to expect the umpires to do just that, saying they want to get the calls right just like everybody else.
Managers can't challenge everything. For example, they can't challenge the "vicinity" plays at second base. I would imagine that's because those plays would be challenged all the time and that it's up to the discretion of the umpire to figure out where players are and how that should be called. Never mind that keeping those plays the way they are now might help with injuries. If you force players to stay on the bag longer to be sure they get that call and aren't overturned, you're likely to have more players run over. Just a thought.
But fair and foul calls in the outfield are fair game. I asked two managers which call they think will be challenged the most. The answer was the same by both of them: stolen bases.
How many times have we seen the umpires have trouble with whether the runner got his hand on the bag before the tag? Now they can slow that down in replay and, hopefully, get the call right more often. So look for that.
I also wonder if a manager hasn't used his challenge in the first five innings, might he challenge the next close call in the sixth inning no matter what or risk losing the challenge? Again, that's just me speculating.
I didn't hear much complaining about the rules. As one skipper told me: "When Tony La Russa and Joe Torre support it, it lends credibility."
Other tidbits:
* Word is Scott Boras will appear in the lobby this afternoon. We'll see if he says anything of substance regarding
Shin-Soo Choo
.
* Most of the folks I've talked to expect very little to happen today and tomorrow morning, especially on free agents. Two agents told me they think Choo and
Nelson Cruz
will go into January. We'll see.
* When I asked one Rangers official about the lack of activity, he said that even though there wasn't the same rhythm at these meetings, the staff has had a chance to work together and even do "a little bonding." That's certainly not a bad thing.
August, 17, 2013
8/17/13
7:16
PM CT
By
Todd Wills
| ESPNDallas.com
ARLINGTON, Texas --
Rangers
manager Ron Washington went out four different times to discuss calls with umpires in Friday's 3-1 loss to the
Seattle Mariners
.
So how many of those would he have challenged under the 2014 expanded replay challenge system that is pending approval by owners, players and umpires?
[+] Enlarge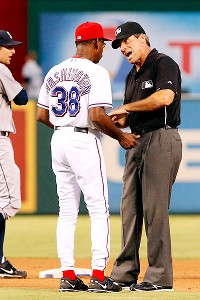 Richard W. Rodriguez/Fort Worth Star-Telegram/MCT via Getty Images
Rangers manager Ron Washington offered his thoughts about what an expanded replay challenge system might look like after questioning three calls with umpires during Friday's loss to the Mariners.
"I don't know," said Washington, who will get one challenge during the first six innings and two from the seventh on under the proposed expanded replay.
There were two plays at second base and one at home plate Friday that were close enough to need several looks on replay to see exactly what happened.
The first one occurred in the bottom of the first when
Elvis Andrus
tried to slide around the tag of Seattle catcher
Humberto Quintero
at home plate. Quintero blocked the plate and was able to tag Andrus on his pant leg.
In the third inning,
Ian Kinsler
's foot came off second base while receiving a throw from third baseman
Adrian Beltre
, a close enough play for Washington to come out and ask for explanation.
And in the fourth,
A.J. Pierzynski
slid over the bag at second base and wasn't able to keep his hand on the base before getting tagged out.
Washington said all three calls were correct after he watched them on video, and he commended second-base umpire Angel Hernandez for being in the correct position on the plays at second base.
"Live, I couldn't tell," Washington said. "Live, it looked like both of those plays [at second base] were safe. But ... I've looked at the replays.
"Other people can go look at it and come up with their own conclusions. But in reality, they were off the bag."
Friday night provided a strong glimpse at how difficult it will be for managers to decide whether or not to challenge a particular call.
"It's going to be tough," Washington said. "It's not going to be as easy as you think it's going to be. That's where the base coach has to really, really focus in to give you, as a manager, what they really thought."
PODCAST
ESPN Insider and senior MLB analyst Jim Bowden joins Fitzsimmons and Durrett for his weekly segment to discuss the Rangers and MLB replay.

Listen

Washington has said he's in favor of expanded replay, and Friday's game did nothing to alter his opinion. He said it will be good for the game.
"Not only is it giving you a chance as a manger to do some challenges, but as an umpire, it's giving umpires a chance to focus on their jobs a little harder," Washington said. "Now, will they be wrong some times? Yes? But most of the time, they'll be right.
"Because now they have to fight to get themselves in the right position because they're being scrutinized," he said. "And those that don't, I don't know how long Major League Baseball will keep them around."
Does Washington foresee a time when a coach or some club personnel will be up in the press box watching replays to decide whether or not a call should be challenged, like it's done in the NFL and college football?
"I don't think so," Washington said. "It may happen, but I'll be ..."
At that, Washington starting rocking in his chair.
October, 23, 2011
10/23/11
4:09
PM CT
By
Jim Reeves
| ESPNDallas.com
ARLINGTON, Texas -- Baseball doesn't have to have more instant replay to get the majority of its calls correct. Baseball just needs for its umpires to get over the mentality of protecting each other, even when another umpire knows the call just made by one of his teammates was wrong.

Game 3's blown call by first base umpire Ron Kulpa could have easily reversed if home plate ump Alfonso Marquez had stepped in and called a conference between the umprs. Replays showed that Marquez had a perfect view of Mike Napoli's tag on the Matt Holliday's shoulder. Marquez's angle was much better than Kulpa's, in fact.

Marquez should have stepped up and let Kulpa know that he'd missed the call. By doing so, he would have have helped his comrade avoid the embarrassment of having blown a critical call in the World Series.

Instead, umpires have almost always protected each other first and worried about whether the call was correct later. They won't confer unless the umpire who made the call requests help, and they do that rarely because it indicates indecision.

The priority has to change from the "we're right even when we're wrong" mentality that umpires stubbornly have adopted to one of getting the call right first, no matter who may look bad in the process.

Umpires have the toughest job in baseball. But they can help each other more by stepping up and speaking out than by playing the protect-each-other-at-all-cost game.