Texas Rangers:

Rick Carlisle
June, 21, 2014
6/21/14
10:08
PM CT
By
Bryan Gutierrez
| ESPNDallas.com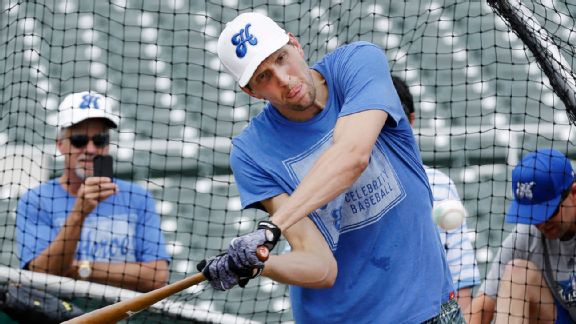 AP Photo/LM OteroDirk Nowitzki's White Socks team scored a 17-16 victory in Saturday's charity game.
FRISCO, Texas — The stars were out Saturday night as
Dallas Mavericks
forward
Dirk Nowitzki
hosted the 2014 Heroes Celebrity Baseball Game presented by Baylor Medical Center. The game featured stars of the Mavericks and
Dallas Cowboys
and former
Texas Rangers
. Nowitzki led his White Socks against the Blue Socks.
Former
Dallas Stars
center
Mike Modano
established the game 10 years ago. With the event flagging three years ago, the foundation approached Nowitzki, who has taken over responsibility since. The event benefits the children's charities of the Dirk Nowitzki Foundation and the Heroes Foundation, established by Mavs owner Mark Cuban.
For the first time, the celebrity baseball game played at Frisco's Dr Pepper Ballpark sold out -- for which Nowitzki expressed his gratitude.
9200 people came. Insane. Sell out. You guys are amazing. Thanks for supporting my baseball game.

— Dirk Nowitzki (@swish41) June 22, 2014
Here are some of the highlights:
Cowboys quarterback/White Socks dugout coach Tony Romo joked during the game that he was dying to play, but head coach Jason Garrett -- who played third base -- wouldn't let him. Both Garrett and Mavs coach Rick Carlisle joked beforehand that they had a similar dream: That everyone involved would avoid any injuries. Their dream ultimately came true.

Nowitzki -- who played first base -- singled in his first at-bat, a line drive up the middle. Nowitzki casually ran backward to first base. He later scored the first run of the game.

Jason Witten was caught in a rundown between first and second base during the same inning. He was eventually called out at first but charged into the opposing catcher. No one was injured.

Cowboys wide receiver/White Socks center fielder Dez Bryant made a tremendous catch in the top of the fourth inning. Former Rangers catcher Ivan Rodriguez hit a hard pop fly to center, forcing Bryant to retreat. Still trying to catch up to the ball, Bryant leapt as he was running backward and snagged the ball, drawing a roar of applause from the crowd.

Between innings, Carlisle joined the Mavs' drum line. As its members were going through their routine, Carlisle grabbed sticks and began banging on each of the drums.

Mavericks guard/White Socks second baseman Devin Harris had an eventful sixth inning. He let a ground ball roll between his legs -- then redeemed himself with a running over-the-shoulder catch on the next play.

Former Mavericks forward/White Socks infielder Brian Cardinal had the game-winning hit, a bases-clearing two-out double. The fly ball got past a hard-charging Terrell Owens. The White Socks scored seven runs during their comeback in the bottom of the sixth inning.

Cardinal and Nowitzki were named co-MVPs of the game. With the 17-16 win, Nowitzki got his first victory in the charity contest. In addition to the 33 runs, the teams combined for 40 hits.
May, 1, 2012
5/01/12
6:38
AM CT
By
Jeff Caplan
| ESPNDallas.com
OKLAHOMA CITY -- Mavericks coach Rick Carlisle has invoked the basketball gods a time or two this season. After a second gut-punch playoff loss to the Thunder in Monday's Game 2, Carlisle channeled a friend of his in another sport.
"As my good friend Ron Washington would say, that's how baseball go," Carlisle said.
The Mavs have dealt with two losses by a total of four points in the first two games of this first-round series. If
Kevin Durant
's jumper in Game 1 doesn't get the sweet bounce, Dallas holds the 1-0 lead. If
Dirk Nowitzki
's baseline jumper with 27.9 seconds to go in Game 2 doesn't bounce off the rim, the Mavs might have had a 2-0 lead.
Instead they are in an 0-2 hole with critical Game 3 in Dallas two days away on Thursday night.
"You've got to give them credit for what they're doing and we've got to just; we can't dig ourselves a 16-point hole in the first half," Carlisle said. "That's something that's tough. I love the way we fought back and it was great. Guys hung in, they kept their poise, all that. But, hey look, they held serve and we've got to go home and hold serve, too."
November, 18, 2011
11/18/11
3:23
PM CT
By
Jeff Caplan
| ESPNDallas.com
ARLINGTON, Texas --
Rangers
manager Ron Washington got an invite from lockout-bound
Dallas Mavericks
coach Rick Carlisle to stop by the American Airlines Center, visit and talk some shop.
Carlisle has been something of a DFW pro sports ambassador this extended offseason. He's visited with
Dallas Cowboys
coach Jason Garrett and his staff, sitting in on meetings and film sessions, and he did the same with Dallas Stars coach Glen Gulutzan and his staff. So, after the Rangers lost the World Series in seven games to the
St. Louis Cardinals
-- and Carlisle, a good friend of Tony La Russa, was in St. Louis for Games 6 and 7 -- the Mavs coach invited Washington to stop by.
"He's a champion. I want to see how champions do things," Washington said Friday in his first media availability since the World Series. "So I went over. I had a good time."
Back in town for a few days before heading back to New Orleans for Thanksgiving, Washington took him up on the offer Thursday and he found the visit to be rather inspirational.
"What I learned when I went over there yesterday is how to continue to hope, how to continue to believe, how to continue to keep working so when things do come together you're ready and prepared," Washington said. "That's what it's all about."
Washington said he and Carlisle's staff sat around a table and talked a lot of basketball and baseball. The manager said Carlisle and his coaches continue to work even though the lockout persists with no end in sight.
"At least hey're still meeting, they're still putting stuff on boards, they're still talking about basketball," Washington said.
October, 22, 2011
10/22/11
5:45
PM CT
By
Jeff Caplan
| ESPNDallas.com
ARLINGTON, Texas --
St. Louis Cardinals
manager Tony La Russa is famous for being buddies with other famous coaches in every sport. He's pals with people from Bill Parcells to Bob Knight to even Rick Carlisle.
La Russa and Carlisle dined on the eve of Game 3 and La Russa was apparently looking for any edge he could get against the
Texas Rangers
with the World Series tied up and tonight being the first of three games at Rangers Ballpark in Arlington.
"I asked him about what we do to get an edge in this series and he said, 'Hand the ball to Dirk,'" La Russa said. "And I said, 'I can't do that.' He said, 'This is Dallas, I can't be telling the Cardinals how to beat the Rangers."
About as close as La Russa can come to getting the ball to NBA Finals MVP
Dirk Nowitzki
is to give it to him before the 7-footer throws out the ceremonial first pitch tonight. Then, again, the Rangers probably won't let La Russa get that close to him.
August, 23, 2011
8/23/11
8:01
PM CT
By
Richard Durrett
| ESPNDallas.com
ARLINGTON, Texas – For the first time since the buzzer sounded that night in Miami, touching off all kinds of celebrating in Dallas, Mavericks coach Rick Carlisle sat down and watched Game 6 in its entirety.

It took him two days. He watched the first half Monday and the second half Tuesday, hours before throwing out the ceremonial first pitch before Tuesday's Red Sox-Rangers game.

"It's the first time I've sat down and watched it in detail," Carlisle said, shortly after throwing a strike to Rangers manager Ron Washington to huge cheers from the crowd at Rangers Ballpark in Arlington. "It was such a great series, such an intriguing series. The level of basketball was so high and so pure. It was an unforgettable 14 days.

"There were so many things special about it: how important it was for our fans to have that feeling, Mark Cuban being able to hoist a trophy and put it next to him on the plane coming home and sleep with it and all that."

Carlisle recently returned to the Mavericks offices, preparing for a season that may or may not happen. He couldn't comment about the lockout, but did talk about what the championship meant to him, the team and the city.

"Watching film from last year, it becomes more clear what a special experience that was, what a special group of guys that we have," Carlisle said. "I think maybe more than anything, the magnitude of winning in Dallas. It's a city that's uncompromising in how important it is to be the best. I have no doubt that it's something that drives every one of our sports teams. It drove us very hard. Now our guys enter that pantheon of teams that have won a world championship in Dallas. Those guys are held in high regard and our guys are deserving."

Carlisle admitted that he isn't sure whether the team will get rings, the traditional post-championship sports prize.

"I don't have details," Carlisle said. "I'm sure whatever is done will be appropriate."

Carlisle certainly enjoyed his experience in Arlington. He said he threw some tennis balls against the wall of the Mavericks locker room to practice, but didn't want to throw too many for fear of wearing out his arm.

He waved to the crowd, threw what he called a "hybrid" that caught the corner of the plate, and held his arms out and smiled. Then he got Rangers CEO and president Nolan Ryan's autograph, saying he was "stoked" about it.

"I got a chance to meet Ron Washington beforehand and he's just such an even-tempered guy," Carlisle said. "I felt pretty relaxed before I went out there. He told me he was going to catch. I said, 'Are you sure you want to do that?' He said, 'Oh, I'm catching you.' It was kind of a reassuring thing having him out there. It worked out."
June, 24, 2011
6/24/11
4:07
PM CT
The ESPY ballot is out
, and it's no surprise that Dirk Nowitzki and representatives from your Dallas Mavericks are represented in multiple categories.
But they're not the only local representatives who are on the ballots.
Here are your local choices:
*
Male Athlete of the Year:
Dirk Nowitzki
*
Team of the Year:
Dallas Mavericks, Texas A&M women's basketball
*
NBA Player of the Year:
Dirk Nowitzki
*
Coach of the Year:
Rick Carlisle
*
MLB Player of the Year:
Josh Hamilton
*
MLS Player of the Year:
David Ferreira
So vote, and then tell your friends to vote.
Click here to get to the ballot.
Enjoy!