Texas Rangers:

Robin Ventura
May, 1, 2013
5/01/13
11:09
PM CT
By
Todd Wills
| ESPNDallas.com
ARLINGTON, Texas --
A.J. Pierzynski
and
Addison Reed
were battery mates last year, starting catcher and closer for the
Chicago White Sox
.
PODCAST
Randy Galloway, Matt Mosley and Mark Friedman discuss the latest with the Rangers, including their loss last night and Ron Washington's decision to leave Nick Tepesch in the game.

Listen

On Wednesday, Reed, still the White Sox's closer, went inside on his former teammate Pierzynski in the bottom of the ninth and hit the
Texas Rangers
catcher on the elbow. Pierzynski, who had missed the first 17 innings of the series because of a sore oblique muscle, got drilled with two outs and nobody on and the White Sox leading 5-2.
Chicago held on to win by that score. Was there any foul play by the White Sox?
"I'm sure they were trying to pitch me inside and it just got away," Pierzynski said. "There were two outs and we were down by three runs."
Reed said after the game that's exactly what happened.
"I was trying to throw inside and it happened to hit him,'' said Reed, who worked a scoreless ninth for his ninth save. "Was I trying to hit him? Absolutely not.''
Reed said he enjoyed throwing to Pierzynski when he was the White Sox catcher.
"I grew up a Sox fan rooting for him,'' Reed said. "I have nothing at all against him.''
Pierzynski said he didn't know of any ill will between him and the 24-year old Reed, who broke through with the White Sox last year to record 29 saves.
""Not that I know of," said Pierzynski, who last year had 27 home runs in one of his best seasons with the White Sox. "I always got along fine with him."
White Sox manager Robin Ventura said with a three-run lead against the powerful Rangers lineup, "we're not trying to put anybody on base. You saw what happened. Thirty seconds later, they had the tying run at the plate.
"There was no message sent.''
April, 5, 2012
4/05/12
12:00
PM CT
By
Richard Durrett
| ESPNDallas.com
ARLINGTON, Texas --
Chicago White Sox
manager Robin Ventura still hasn't spoken to Rangers CEO and Hall of Famer Nolan Ryan about their memorable brawl on Aug. 4, 1993.
But it's not because Ventura doesn't want to or has blocked it from his memory.
"I haven't run into him yet," Ventura said.
Ventura won't have to watch that video this weekend at Rangers Ballpark in Arlington. Chuck Morgan, the Rangers' executive VP of in-park entertainment, said the club will still run it at times, but the clip won't be shown as part of a pregame montage before most games, like it was the past few years.
It's one that always gets fans excited as Ventura charges the mound after being hit by Ryan. The then 46-year-old Ryan gets Ventura, 20 years his junior, in a headlock and starts punching.
Ventura said he wouldn't have bothered him had the Rangers decided to show it with the White Sox in town for opening day and weekend.
"It's not like I haven't seen it," Ventura said. "It's up to them. They can play it if they want. It's not going to change any decision I make or anything else I do."
Ventura also noted that he returned to Arlington many times after that day and has dealt with the fan reaction to it.
"I'm not playing, so to me they can get all hyped on it all they want," Ventura said. "It's happened before. I'm concerned more about what my guys are doing and how we play than I'm worried about if I get booed."
Ventura said he's been asked a lot about why he charged the mound that night.
"It's more of kind of what the teams were going through at the time," Ventura said. "Everybody's made a lot of it and they can if they want. When you play a team and you're in a locker room with 25 guys, sometimes you're asked to do things that probably aren't in your comfort zone. But for me, that was me. I had to be that person at that point. It is what it is."
March, 15, 2012
3/15/12
8:00
PM CT
By
Master Tesfatsion
| ESPNDallas.com
March, 15, 2012
3/15/12
2:01
PM CT
One of Robin Ventura's most enduring moments -- one he'd rather forget -- came the night of Aug. 4, 1993, when the
Chicago White Sox
played the
Texas Rangers
at old Arlington Stadium.
After getting plunked by Nolan Ryan, Ventura charged the mound and absorbed several punches from the future Hall of Famer while wrapped in a headlock. Nearly two decades later, the encounter remains a YouTube staple.
The video recently made news when the Rangers announced they will no longer show it on their outfield scoreboard. Texas and Chicago will meet in their season opener April 6, and Rangers officials scrapped the video out of respect to Ventura. After some internal debate, team executives also decided the fight had run its course as a ballpark entertainment vehicle.
Fans apparently aren't thrilled with the decision.
"I don't care," Ventura said. "It's not like I haven't seen it."
Circumstances surrounding the incident haven't been fully shared for public consumption, but this much is clear: Some hard feelings had developed between the Rangers and White Sox, then AL West rivals, and Ventura was determined to take a stand. Halfway toward the mound, he appeared to lose enthusiasm upon realizing that he was running smack into a middle-aged Texas legend. But he still earned some serious credibility with teammates.
"The story you hear is that the Rangers had hit some of the White Sox guys, and Robin stood up in the clubhouse and said, 'If this guy hits me. I'm going out there. Be ready.' That's a pretty gutsy thing to say with Nolan Ryan. Sure enough, Robin got hit, and there he went,''
Paul Konerko
says.
Konerko, then 17, was playing for the U.S. Junior National Team in 1993. As fate would have it, the squad trained in Tyler, Texas, and drove two hours to Arlington the night of Aug. 4 for the White Sox-Rangers game. Konerko remembers Ventura, a former U.S. Olympic team member, dropping by to deliver a few words of encouragement to the team before the game. Then the junior Olympians took their seats in right field.
"Two hours later, it was a riot," Konerko says. "People were chanting 'Nolan! Nolan!' for about five innings. It was awesome."
March, 8, 2012
3/08/12
6:09
PM CT
By
Richard Durrett
| ESPNDallas.com
SURPRISE, Ariz. --
Texas Rangers
public address announcer and in-game presentation guru Chuck Morgan said Thursday that the video of the memorable moment of Nolan Ryan putting Robin Ventura in headlock and punching him will not be shown opening weekend and probably only once all season.
Ventura, now the manager of the
Chicago White Sox
, brings his team to town for the opening series of the 2012 season April 6-8.
"We may show it on the day it happened as part of the 40th anniversary moments, but that's probably it," Morgan said. "I just thought this offseason that we didn't need to be showing that anymore. I watched how St. Louis treated Stan the Man during the playoffs and that's how we should treat Nolan as the face of the franchise. We'll celebrate his no-hitters and other moments."
Morgan said he told Ryan, the club's CEO, of his plans a few weeks ago and Ryan told him he agreed, adding that Morgan could do what he wanted when it came to the highlight montage.
"I also don't think it's right for us on our Opening Day to show a fight and then that whole weekend we're going to treat Robin Ventura with respect," Morgan said. "He's the manager of the White Sox. We don't need to do anything like that."
The fight happened in 1993 when then 46-year-old Ryan hit Ventura with a pitch. Ventura, then 26 years old, charged the mound, but Ryan held his ground, got Ventura in a headlock and started punching. It was shown before nearly every game at Rangers Ballpark in Arlington in 2011 and appears in various baseball highlight reels.
"We've got a team that just went to back-to-back World Series and we've got plenty of good moments to show," Morgan said.
December, 6, 2011
12/06/11
3:40
PM CT
By
Richard Durrett
| ESPNDallas.com
DALLAS -- The highlight of Rangers CEO Nolan Ryan putting Robin Ventura in a headlock and punching him in 1993 is a staple during the opening montage at Rangers Ballpark in Arlington prior to games. And in 2012, the
Chicago White Sox
with Ventura as its new manager come to town to take on the defending American League champions on Opening Day.
Ryan said he thought of that video when Ventura was hired and figured that Chuck Morgan, the man in charge of in-park entertainment, wouldn't show it while the White Sox were in town.
So does Ventura care? No.
"I don't have to actually play, so it doesn't matter," said Ventura, smiling as he walked toward the lobby of the Hliton Anatole at the Winter Meetings on Tuesday. "Last time I checked, we weren't on the 25-man roster. I don't think it's going to make a difference for anyone actually playing the game."
Ryan, then 46, waited for the 26-year-old Ventura to charge the mound and them put him in headlock and got some shots to his head. It's one of those brawls that shows up repeatedly in highlight reels.
Ventura says the incident comes up many times in interviews or in conversations with fans.
"Usually in an interview, it takes about five questions," Ventura said (Note: it was the first question in this interview). "That's really the ones they want to get to, but they cover it by going some other route for five questions and coming back."
Ventura said some folks have tried to get him to watch it and he doesn't want to.
"It happened a long time ago, so I don't spend a whole lot of time on it," Ventura said.
Ventura said he and Ryan haven't ever talked about it, mainly because they've never been in the same spot to discuss it. Ryan said when Ventura was hired that the former player "certainly knows the game." Ventura said he has a lot of respect for Ryan and the Rangers.
"He's done a great job with Texas," Ventura said. "You look at where they've gone. He's obviously doing great stuff."
August, 4, 2010
8/04/10
11:01
AM CT
[+] Enlarge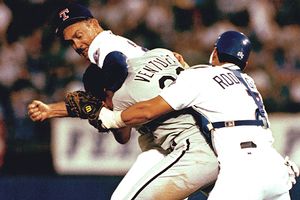 AP PhotoNolan Ryan was never one to back down from a fight.
It was exactly 17 years ago today that Nolan Ryan made official what had long been suspected: He is one tough dude.
It was Aug. 4, 1993, when Robin Ventura made the biggest mistake of his life. He took exception after getting hit by a pitch from the 46-year-old Ryan and charged the mound.
Ryan proceeded to put Ventura into a headlock and pummel his face.
Think Ryan might want to celebrate the anniversary by restaging the incident, with Mark Cuban standing in for Ventura?