Texas Rangers:

Rod Barajas
November, 17, 2010
11/17/10
9:55
AM CT
November, 9, 2010
11/09/10
8:00
AM CT

ESPN.com Illustration
As part of our ongoing 7 Offseason Questions series, we turn our attention behind the plate.
Question: Who will catch for the Rangers in 2011?
It's a complicated question that isn't easy to answer at this point. The position is certainly a priority for general manager Jon Daniels and his staff this offseason.
Last season was proof that things can change in an instant. The Rangers headed into 2010 with
Jarrod Saltalamacchia
and
Taylor Teagarden
as its catchers. Before the first week was over, Saltalamacchia was on the disabled list and never played for the Rangers in the big leagues again. Teagarden went through a rough slump, was sent to Double-A Frisco before eventually returning for a much better stint later in the season. But Teagarden was not on the postseason roster and is not considered a starter for the 2011 season.
Texas ended up going with
Matt Treanor
for much of the first three months before trading for
Bengie Molina
at the end of June. Molina ended up playing more games in the second half, but Treanor also got some time as manager Ron Washington utilized both of his veteran catchers.
Molina hit just .240 with two homers and 19 RBIs in 57 games for the Rangers. But he was a beast in the postseason, batting .293 with two homers and 8 RBIs. He hit a huge home run in Game 4 of the ALCS to help the Rangers take control of the series. Molina dropped off in the World Series, but so did his teammates as the Rangers hit just .190 as a team.
Treanor, 34, played in 82 games, the most of his career. He hit .211 with five homers and 27 RBIs in the regular season. But he did a nice job with the Rangers' pitching staff and was a tough competitor the team could count on to go out there and get the job done.
The question is whether both return in 2011. Molina hinted pretty strongly after the World Series that he's thinking of retiring at age 36. But the Rangers are interested in bringing Treanor back for next season as a very capable backup (and personal catcher for
C.J. Wilson
, of course).
That means shifting attention to acquiring, either through trade or the free-agent market, a starting catcher. A couple of players the club would likely discuss:
John Buck
and
Victor Martinez
.
Martinez makes sense if
Vladimir Guerrero
doesn't return. He could catch, but also DH and even play first base if needed. Martinez is also a switch hitter, which is intriguing.
Buck, 30, hit .281 with 20 homers and 66 RBIs, all career-best numbers for him. He played in 118 games and has played in at least 109 games in five of his seven seasons.
Others to consider:
Gerald Laird
and
Rod Barajas
(former Rangers catchers),
Ramon Hernandez
,
Yorvit Torrealba
and Ramon Hernandez.
Who would you go with at catcher? Who should the Rangers target?
May, 11, 2010
5/11/10
8:00
AM CT
Someone asked me the other day if
Vladimir Guerrero
was the top offensive free agent signing this offseason. You could certainly make that argument.
[+] Enlarge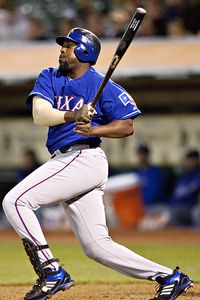 Jason O. Watson/US PresswireVlad Guerrero isn't the only free agent paying big dividends for his new team.
Guerrero is batting .339 with six homers and 26 RBIs. He even has four stolen bases and his body appears to be holding up just fine so far this season. He's making $5.5 million (the contract includes performance bonuses) this season and there's a mutual option (with a $1 million buyout) for 2011. So who else signed offseason deals that look good so far this season? ESPN Stats & Information put together a list. Here goes (all stats through Sunday):
* Arizona's 2B
Kelly Johnson
(one year, $2.35M): 10 HRs, 19 RBIs and a .282 batting average. He hit just eight HRs in 303 at-bats last season.
* Toronto SS
Alex Gonzalez
(one year, $2.75M): He's a defense-first infielder with Toronto who's added 10 HR (he hit eight all of last year) and 27 RBIs.
* Chicago OF
Marlon Byrd
(three years, $15M): The former Ranger has a .347 BA, 6 HRs, 22 RBIs.
*
New York Mets
C
Rod Barajas
(one year, $500K): Another former Ranger, he leads the Mets with nine HRs.
* New York Mets C
Henry Blanco
(one year,$750K): Backup has thrown out all five baserunners this season in limited action.
* Washington C Pudge Rodriguez (two years, $6M): .365 batting average for the catcher that turned down a one-year offer from the Rangers and got a multiyear deal in Washington.
Here are some who have struggled:
* New York Mets'
Jason Bay
(four years, $66M): one HR, 12 RBIs, .248 batting average.
* Seattle's
Chone Figgins
(four years, $36M): He's hitting just .185 for a struggling Mariners lineup.
February, 20, 2010
2/20/10
4:22
PM CT
SURPRISE, Ariz. -- A shortened workout day is in the books. Here are six things of note from Saturday's action:
1. Derek Holland tweaked his right knee during a shuttle drill as part of the agility work he was doing on Saturday. He will go through treatment this weekend and see how the knee feels on Monday. If there's no improvement, he'll have an MRI to get a better look at what's going on. He's
a contender for the fifth spot
and even a minor injury won't help in a competitive camp like this one.
2. Neftali Feliz talk was buzzing around camp today as the Rangers talked about all of their options. They certainly don't have to make a decision now as to whether he's a starter or reliever. But there will come a time this spring that they do.
Check out more about Feliz here
.
3. Rain impacted the workouts on Saturday. The Rangers did get out there and throw some bullpen sessions and even some live batting practice, but things got cut short thanks to the wet weather. Chances are good that Sunday will be a better weather day. After all, it doesn't rain often during spring training.
4. Welcome to camp, Ian Kinsler. The Rangers second baseman arrived on Saturday to a wet greeting. He's looking forward to getting things going. We'll have more from him in the coming days. Endy Chavez also showed up on Saturday. He's not expected to be fully healthy from a knee injury until June or so.
5. Another free agent catcher is apparently off the market. According to a FoxSports.com report, former Ranger Rod
Barajas has agreed to terms with the Mets
for a one-year, $1 million major league contract that could include another $1 million in incentives. So Texas will have to look at some other options, likely via trade, if they want to bring in another veteran catcher.
6. ESPN.com's Jorge Arangure Jr. did
a blog post on how the club wants Nelson Cruz to take on more of a leadership role
this season. It's worth checking out.
January, 2, 2010
1/02/10
11:34
AM CT
One New Year's resolution for the Rangers is to get a veteran catcher. There may not be a bunch of names available, but the club needs some insurance in game Jarrod Saltalamacchia isn't quite ready to catch everyday after recovering from shoulder surgery. They aren't sure if Taylor Teagarden is the starting catcher at this point, either.

They have had interest in Rod Barajas, but he wants a two-year deal. General manager Jon Daniels made it clear this offseason that he doesn't want to sign a veteran catcher to a two-year deal. That's just too expensive an insurance policy. What about Miguel Olivo or Yorvit Torrealba? Word is that Torrealba also wants two years.

The Rangers have shown interest in Tampa Bay catcher Dioner Navarro, who agreed to a $2.1 million for next year with the Rays. Maybe there's a trade that could be worked up to bring him to Arlington.

Does anyone else interest you? Mike Redmond?
December, 8, 2009
12/08/09
6:57
PM CT
INDIANAPOLIS -- General manager Jon Daniels didn't even have catching on his list of offseason priorities two weeks ago. But the uncertainty surrounding Jarrod Saltalamacchia's shoulder has quickly moved it near the top.

Saltalamacchia has been shut down for a month after experiencing discomfort in his surgically-repaired shoulder as he started winter ball in the Dominican Republic last week. That means Daniels and his staff are working on finding a veteran catcher to give the club insurance should Saltalamacchia not be completely ready to start the season. Taylor Teagarden will get a chance to compete for the job, but the club wants to have someone they know can handle the starting role if needed.

"It's such a critical position," Daniels said. "It impacts the pitching staff and how the game is run. We can't take any chances."

Daniels has spoken with teams and agents of various catchers and told them that in a perfect world, Saltalamacchia would be the starter.

"But we're not in a perfect world," Daniels said.

Daniels acknowledged that former Ranger Rod Barajas is one catcher the club is interested in. Jason Kendall is probably another. Manager Ron Washington likes the way Kendall plays the position, and pitching coach Mike Maddux is familiar with him from his days in Milwaukee. Kendall, 35, hit .240 with two homers and 43 RBIs in 134 games for the Brewers last season.

Barajas, 34, batted .226 with 19 homers and 71 RBIs for the Blue Jays in 2009. Other possbilities at catcher: Jose Molina and Yorvit Torrealba.
December, 8, 2009
12/08/09
10:09
AM CT