Texas Rangers:

Roy Halladay
April, 7, 2012
4/07/12
5:13
PM CT
By
Richard Durrett
| ESPNDallas.com
ARLINGTON, Texas -- Rangers manager Ron Washington knew he wanted
Craig Gentry
and
Josh Hamilton
in the outfield with Texas protecting a one-run lead in the final few innings.
But it was Hamilton and Gentry that decided who played where Friday. And that was just fine with the manager. Hamilton told Washington that Gentry was more comfortable in center and that he had no problem playing left. That's what happened as the Rangers won, 3-2.
"I said, 'Thanks, Hamilton. I love you,'" Washington said. "I wasn't going to move Hamilton out of center field. I'm glad he made the decision; he and Gentry."
Washington said he was pleased that Hamilton and Gentry took it upon themselves to make sure they were comfortable where they were. He wanted both of them in the outfield and didn't feel strongly enough about where they were positioned to alter what they discussed.
"I'm not going to overrule my players when they think something is best," Washington said. "They thought that was best. I love them for it."
Washington added that he wants his players in positions where they are most comfortable when that's possible. And that was the case with Gentry and Hamilton on Friday.
Washington said Gentry and Hamilton will probably be in the game late with a slim lead when Murphy starts, as long as Murphy doesn't have an at-bat coming up.
"If we go into the eighth and Murphy has already hit, I'm going to go with the defense," Washington said. "If Murphy still has an at-bat, I'll let him hit and then pinch-run with Gentry."
Other notes:
* Washington wants to try to get every player involved in the game in the first week, if possible. That doesn't mean every player will start, but bench players will get in the game when Washington feels like he can make it happen.
"Everyone can get the jitters out, the butterflies out," Washington said. "When I came to the big leagues, I remember every year the manager got me in the game at some point the first week. I might have sat for another two weeks, but I got in there the first week. It's important for every guy that's here to at least get out there and get a feel."
*
Elvis Andrus
bunted on his own in the first. Washington said he was giving Andrus a chance to get the runner to third by hitting to the right side, but Andrus decided the best way to do that was bunting.
"What a team player," Washington said. "When you're facing a [John] Danks, a
Cliff Lee
, a
Roy Halladay
, the best in the business, when you're facing those kind of guys, I'm all for it."
* Washington said he's comfortable going consecutive days with any of the three relievers he used on Friday --
Alexi Ogando
,
Mike Adams
and
Joe Nathan
. He wanted to be sure they lined up in the opener with the game on the line and by pitching all three, they are ready for today because none of them pitched more than one inning.
* The Rangers get their rings tonight for winning the AL for a second straight year.
"Not winning the World Series doesn't dampen what that ring represents," Washington said. "We're still champions."
October, 23, 2010
10/23/10
12:00
PM CT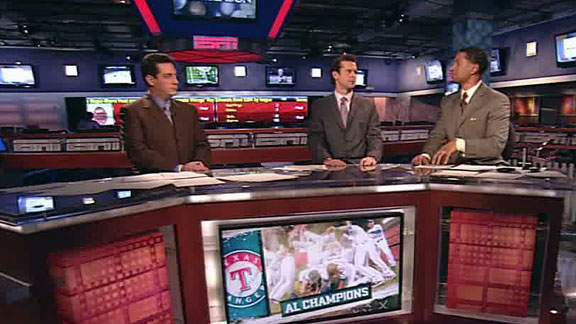 ARLINGTON, Texas -- It's fine with
Cliff Lee
if the Rangers face the Phillies in the World Series, but he insists that it wouldn't be any sweeter to beat Philadelphia than San Francisco.
Lee dominated during his only postseason with the Phillies, going 4-0 with a 1.56 ERA in five starts last year. That didn't prevent the Phillies from flipping him for prospects a couple of months later as part of a four-team deal that brought ace
Roy Halladay
to Philadelphia.
It'd certainly make for a spectacular storyline if Lee starts Game 1 against Halladay in Philly, but Lee says he'd be just as excited to head to San Francisco.
"I don't care who we play," said Lee, who is 3-0 with an 0.75 ERA in these playoffs. "[The Phillies are] a very capable team of winning two more games. If they do, yeah, I'd love to face them. If they don't, I'd love to face the Giants, too.
"I'm not out for blood or out to prove something to anybody or anything like that. I just want to help this team win. What's happened in the past is in the past. I'm not trying to rub anything in or anything along those lines."
October, 19, 2010
10/19/10
9:45
AM CT
By
Jeff Caplan
| ESPNDallas.com
NEW YORK --
Mitch Moreland
and
Tommy Hunter
were drafted in 2007 by the
Texas Rangers
. They roomed together during short-season ball in Spokane, Wash., and again this year when Hunter was sent down to Triple-A after recovering from an injury. They're good friends with high hopes for long big league careers.
Moreland knows Hunter will be ready when the Rangers' rotund right-hander makes his ALCS debut tonight against the
New York Yankees
with a chance to give his team a commanding 3-1 lead.
"Tommy won't feel any pressure. He'll be ready to go. He's a competitor," Moreland said. "When he steps on the mound, he's going to go out and pitch his game. That's just the way Tommy is."
[+] Enlarge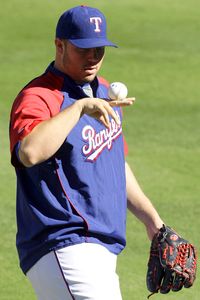 AP Photo/Tony GutierrezRangers Game 4 starter Tommy Hunter, who won 13 games this season, knows how to stay loose.
Hunter won 13 games during the regular season, and he's 22-12 in his first two years as a starter. One has to wonder what those numbers would be like if he pitched a full season in 2009, when he went 9-6 with a 4.10 ERA, and if he hadn't suffered a left oblique strain during spring training that delayed his first 2010 start until early June.
Hunter, though, dwells on only one number: 16.36.
"That's something you don't forget," Hunter said of his 2008 ERA in three starts with the Rangers. The club kept Hunter on the move that year, jumping from Bakersfield, Calif., to Frisco, Texas, to Oklahoma City and finally to the big club, where he went 0-2.
"When you get knocked down, you remember the times you get knocked down," Hunter said. "You also remember the times when you come back from that. I think I was pretty good in July [2009]. I don't know exactly the stats, but I don't think I lost. Those first five starts I think I was 4-0, something like that."
Once he got back to the Rangers in 2010 -- and he was not thrilled to start the season in Triple-A -- he went 8-0 over his first 10 starts to become the first Texas pitcher ever to begin a season 8-0 exclusively as a starter.
While this will be Hunter's first career start at Yankee Stadium, he faced the Yankees in Arlington on Sept. 11. He struck out a career-high eight, incluing
Mark Teixeira
,
Alex Rodriguez
and
Robinson Cano
in succession in the third inning.
Despite that stat, Hunter is not a strikeout pitcher. Hunter doesn't have dominating or overpowering stuff, but when he's on he has tremendous control. He mixes between fastballs, curves and cutters. When he's not totally on or when he starts to lose control, Rangers manager Ron Washington said it's easy to spot.
He spotted it in the fourth inning of Hunter's lone postseason start, the Game 4 loss to the
Tampa Bay Rays
in the ALDS. Hunter didn't return for the fifth inning, although he didn't pitch badly, allowing three runs (two earned) on six hits, striking out seven and walking none.
"He got to the point where he started elevating the baseball," Washington said. "You can't elevate against good teams. His game is not power. His game is command. If he can command the baseball, hit his spots, I think he'll be successful."
Hunter is something of the clubhouse clown. He jokes around, has fun and sometimes maybe puts his maturity level to the test. Washington called him "loosey-goofy" but then stated, "At least he's not tight. I'd rather have loose and goofy than tight."
Don't think he's not serious when he needs to be. Just like he remembers 16.36 more than his 22 career victories, Hunter is almost consumed by making sure he sticks in the big leagues. He was in competition for a rotation spot in spring training until the oblique injury. It hit him hard when the team sent him to Oklahoma City instead of keeping him with the big club when he returned from the injury.
"Anytime you go from green pastures to mud, you're not going to like it," Hunter said.
And despite his 13 wins and 3.73 ERA this season, he remembers the nickname most people don't know rather than the one that everyone knows: Big Game.
That nickname, Hunter said, has no real basis. It's just a convenient tag to put in front of his surname.
"My nickname in the training room is 'Spot,'" Hunter said. "Yeah, I'm a spot starter, every fifth day. That's the way I've looked at it. It kind of creates a challenge for me personally. I am at the end of the rotation. I'm not a front-line guy. Would I like to be? Yeah. Anybody that plays this game wants to be in the front, wants to be a go-to guy. But right now, it's just you got to fight for a job every fifth day and that's what I try to do."
Washington said he gave thought to starting lefty
Derek Holland
instead of Hunter for Game 4, which would seem to feed Hunter's belief -- real or imagined -- that his place in the Texas rotation is not a certainty. That seems strange for a pitcher whose winning percentage (.765) was the best in the American League this season and whose 13 victories after the beginning of June were tied for fourth-most in the majors behind
CC Sabathia
(17),
Trevor Cahill
(14) and
Roy Halladay
(14).
"I'm still fighting that battle right now," Hunter said. "I don't know if it's with anybody or me personally. It's one of those things."
He'll take his internal struggle to the hill tonight against one of the most feared lineups in baseball in front of a vocal, sold out crowd in one of the game's most intimidating parks. And that's when the loosey, goofy Hunter re-emerges.
"We have been doing this since 5 years old," Hunter said. "I had moms screaming at me when I was 12. That's probably more intimidating than people I don't know. Just another game really. That's how I'm going to treat it at least."
May, 29, 2010
5/29/10
9:55
PM CT
With free agency looming last summer for
Roy Halladay
, the
Toronto Blue Jays
made it known that one of the game's premier aces was up for grabs.
The Rangers were in the middle of a division race and were in the hunt for Halladay, but money woes and a high asking price --
Justin Smoak
,
Neftali Feliz
and
Derek Holland
were all rumored to be in the mix -- ultimately killed any midseason deal.
Halladay rode out the season with the Blue Jays and signed with Philadelphia in the offseason. On Saturday, the 33-year-old All-Star threw the 20th perfect game in MLB history,
a 1-0 victory over the Marlins.
There's no guarantee that Halladay (7-3, 1.99 ERA) would have stayed in Arlington had he been acquired, or even that he would have been the difference in last season's run at the division. And despite Smoak's struggles with the bat, Feliz and Holland have been integral parts of the pitching staff this season.
But does Halladay's gem change the Rangers' thinking on giving up prospects? Texas remains in the discussion for the Astros'
Roy Oswalt
(3-6, 3.25). Like Halladay, he is still considered to be an ace in his prime.
Or do the Rangers instead focus on fixing their inconsistent offense? Even low ERAs such as Halladay's or Oswalt's may not translate into wins this summer.
The difficult transfer of ownership has not derailed the Rangers' play on the field -- yet -- but the they've lost five of six and are in need of any help they can get.
May, 11, 2010
5/11/10
3:38
PM CT
December, 14, 2009
12/14/09
5:36
PM CT
By
Richard Durrett
| ESPNDallas.com
It's not an easy question with the wild offseason so far in the division. The Angels, as always, are the team to beat because of their recent success on top of the AL West. But today we learned the Mariners sure are pushing hard too.

A published report says the Mariners have traded for Cliff Lee as part of a three-team deal that sent Roy Halladay to the Phillies.

So while the Rangers were busy acquiring Rich Harden, trading Kevin Millwood to get Chris Ray and the money to sign Harden and looking at right-handed bats (maybe Mike Lowell if he passes a physical), the Mariners were busy too.

They signed Chone Figgins at the Winter Meetings and now appear to have a top-notch starting pitcher to go in the rotation with Felix Hernandez. Wow.

Who do you think is the favorite in the AL West?