Texas Rangers:

Rudy Jaramillo
May, 21, 2010
5/21/10
6:11
PM CT
ARLINGTON, Texas -- The most celebrated return of a hitting coach happened Friday, when the Cubs' Rudy Jaramillo arrived at the ballpark.
Jaramillo left the Rangers last year after rejecting a one-year contract.
"I miss it here, there's no doubt about it," said Jaramillo, who was the Rangers' hitting coach from 1995 until last year. "I was here for so long, I had great relationships with a lot of those young kids that are going to play tonight. You know I'm pulling for the Rangers. I'm in the National League, [but] my favorite team is the Rangers. I check the box scores, I check the scores during the game and they mean a lot to me. I'm going to have players on both sides that I care a lot about."
One would think Jaramillo is bitter about how things ended here. He helped
Alex Rodriguez
,
Michael Young
,
Juan Gonzalez
and
Ivan Rodriguez
, among others, reach their potential. Jaramillo said the decision to reject the one-year deal was hard one but a business decision.
"Yeah, it was," he said. "Anytime you've been in a place this long and it's your home, and it was, but it's a decision I made and sometimes you need changes for everybody. [The Rangers] are doing great, they're in first place and I tip my hat to them and I hope they keep going. I do miss these kids and I was close to them. I had a lot of them for so many years, the rapport and the trust you build with them, and we'll still continue to be friends and we'll see them in the winter."
Cubs manager Lou Pinella said he's fine with the job Jaramillo is doing. The Cubs are fourth in hitting (.267), third in hits (381) and tied for fifth in on-base percentage (.338) in the NL.
"He's done a nice job here, a professional," Pinella said. "Always available. The players enjoy working with him."
Jaramillo's day started as it used to. He visited his mother's house in Oak Cliff for a meal then headed to the ballpark. When he came out of the visitors 'dugout, several fans chanted his name. He said it was the first time he walked out of the visitors' tunnel to get to the field.
"Strange to come back," Jaramillo said. "It's really strange, but its great being here. I've been here for so long and I think I really realized it when we took off from [spring training in] Arizona. I was always used to coming home [Dallas], and I was going to Atlanta and it felt a little strange, but I'm getting used to it. I love Chicago. I love the fans there. I love working for Lou Pinella, he's great."
March, 16, 2010
3/16/10
1:39
PM CT
By
Richard Durrett
| ESPNDallas.com
MESA, Ariz. -- Former Rangers outfielder
Marlon Byrd
was asked to participate in a little role play on Tuesday. Byrd, who was on the field taking batting practice with the Cubs before Tuesday's game with Texas, was given this scenario: If he were Rangers general manager Jon Daniels and the choice was signing him or getting
Vladimir Guerrero
to be the designated hitter, which would he choose?
"You get Vlad," Byrd said. "It's a no brainer. I know I'm a good player, but I'm no Vlad Guerrero. You don't pass that up."
Byrd said he didn't hear from any teams as free agency began, but once the Cubs traded
Milton Bradley
, talks heated up. He said there were a few preliminary discussions with the Rangers, but "not the deep discussions like I would have wanted." He added that he wouldn't want to go through free agency again, saying it's too unpredictable.
Byrd said he arrived at spring training early and got to know his teammates. He's pleased to be with the Cubs and said it's "World Series or bust" for Chicago.
"With the payroll and players we have, we're built to win," Byrd said.
He also predicted good things for the Rangers, saying they have a very good chance to win the AL West. He was complimentary of the Guerrero signing and said the bullpen could be "the best in the American League."
BTW, hitting coach Rudy Jaramillo and prospect
Thomas Diamond
were also on the field visiting with former teammates and coaches.
"I was thinking on the way up here that I'd get to see Marlon and Rudy," first baseman
Chris Davis
said. "I have a lot of respect for those guys and miss them. I know they will do well over here."
March, 5, 2010
3/05/10
8:00
AM CT
By
Richard Durrett
| ESPNDallas.com
We are in the final stretch of our positional outlooks as we turn our focus to Clint Hurdle.
After a disappointing 2009 season on offense, Hurdle joins the Rangers to try to help get things turned around. Longtime hitting coach Rudy Jaramillo decided to take a multi-year offer from the Cubs. So it's Hurdle's job now to aid the Rangers' hitters.
Before we go any further,
Click here to listen to Hurdle's interview with Ben & Skin
on 103.3 ESPN FM.
Hurdle seems re-energized, taking the job after spending much of 2009 out of baseball. He was fired as manager of the
Colorado Rockies
on May 29 of last season after the team got off to a struggling start. And the months away from the field only made Hurdle miss it more.
[+] Enlarge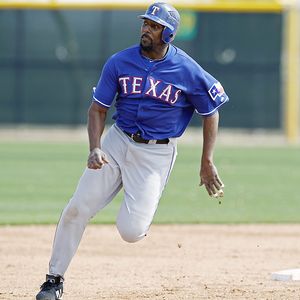 AP Photo/Charlie NeibergallWith big bats like Vladimir Guerrero and Josh Hamilton in his order, Clint Hurdle has the tools to restore the Rangers' offense.
His mission is to make the Rangers' offense more versatile. You know all the stats from last season -- the runs were the lowest the club has produced since moving into Rangers Ballpark in Arlington -- and the organization has talked about needing to do the little things to get better. There's a focus on moving runners over, getting productive outs and making every at-bat count.
Of course, much of what Hurdle preaches, Jaramillo did too. But sometimes a different voice can make an impact. We'll see if that's the case with Hurdle.
He came in during the offseason and worked with a handful of hitters at Rangers Ballpark in Arlington and also called many of them on the phone to have general conversations about their philosophies. Hurdle is one of the hardest-working guys at spring training. He's at the park early to hit the cages with some of the players and he stays late if anyone wants extra work after the day is done.
Hurdle is also big on the mental side, texting players and coaches famous sayings he likes. Hurdle is careful to caution that all hitters are different and that he isn't out to change swings completely. But he does want to make sure that players understand the proper strategy for each situation.
Michael Young
talked about hitting to the scoreboard. If you need to move a runner over, know where you have to hit the ball and find a way to get it done. If you can swing away, take advantage of it. But don't waste at-bats. That's the message Hurdle is delivering.
Judging by the box score of Thursday's game, some of that is going on. Players are understanding when they can let it rip and when to play a little small ball. The other weapon the Rangers will use to produce runs is speed. They were 3-for-3 in the stolen base department on Thursday. And they've got speed in all over the lineup, giving Ron Washington more options.
A revamped lineup that includes
Vladimir Guerrero
and, the Rangers hope, better seasons from
Josh Hamilton
and
Ian Kinsler
, should make them more dangerous. Hurdle wants to make sure they are supremely prepared.
Will it all translate to better offense in 2010?