Texas Rangers:

Russell Wilson
April, 1, 2014
Apr 1
1:47
PM CT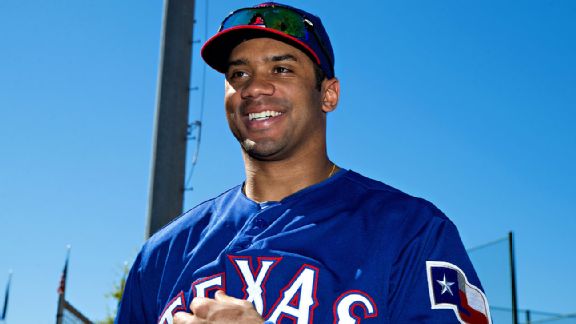 Mark J. Rebilas/USA TODAY SportsSeahawks quarterback Russell Wilson made an appearance at Rangers spring training in Arizona.
Seattle Seahawks
quarterback
Russell Wilson
will throw out the ceremonial first pitch prior to the
Texas Rangers
game against the
Philadelphia Phillies
on Wednesday in Arlington.
Wilson made an appearance at Rangers spring training in Arizona on March 3, working out with the club, speaking to players and donning a uniform for the Rangers' game with Cleveland.
Wilson, who helped lead the Seahawks to victory in Super Bowl XLVIII in February, was selected by Texas from the
Colorado Rockies
in the Rule 5 draft in December. An infielder, Wilson played two seasons in the Rockies minor league system in 2010-11.
March, 7, 2014
Mar 7
3:16
PM CT
Seattle Seahawks quarterback Russell Wilson's impact at
Texas Rangers
spring training is still being felt in the merchandising industry even though he left camp Monday evening after a one-day stay.
Wilson's No. 3 Rangers replica jersey and Rangers T-shirt with his name and number on it are among the top-5 MLB sales for players in the last week, according to Fanatics.com, the largest online retailer of officially licensed sports merchandise.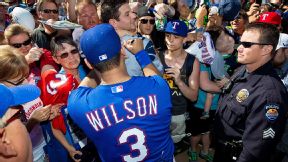 Mark J. Rebilas/USA TODAY SportsThe Rangers quickly sold out of their original allotment of Russell Wilson merchandise.
The Rangers sold the items starting Sunday in Surprise Stadium in Arizona and Monday at retail stores in Dallas, Fort Worth and at Globe Life Park in Arlington. The club quickly sold out of its original allotment -- 500 units -- in all locations and has placed re-orders.
"We didn't know what to expect," said Rob Matwick, Rangers' executive VP of business operations. "It may not sound like 500 is a lot of product, but for a guy that was in camp one day, that's impressive."
Wilson spent Monday with the Rangers, participating in workouts and watching the Cactus League game in the dugout wearing his blue Rangers jersey.
Fanatics.com's numbers showed that Wilson's T-shirt alone (not the jersey, but the shirt was his name and number on it) was one of the top-selling MLB items overall Tuesday and Wednesday. Interestingly, Fanatics.com said its internal numbers show that Seattle was the top-selling market for MLB gear this week.
March, 4, 2014
Mar 4
7:30
AM CT
SURPRISE, Ariz. -- Now that the media throng has departed in search of another story to cover, some of you have emailed and tweeted wondering if
Seattle Seahawks
quarterback
Russell Wilson
's visit was worth it.
That question, of course, has two sides. Was it worth it to Wilson? Was it worth it to the
Texas Rangers
?
The answer to both, in my opinion, is yes. Let me explain:
First, there's no question the Rangers got publicity out of the deal. They paid $12,000 to draft Wilson, and the amount of media coverage from stories to photos to B-roll of Wilson wearing a Rangers jersey was priceless.
But that's not how the club got a huge return on its investment. This was no publicity stunt.
Talk to the Rangers' front office and players and it's clear Wilson wasn't here to smile at the cameras and drum up some free press for Texas. He was treated as one of the guys and, in return, acted like one.
Wilson was not seeking out the star players or the big names he's seen on television. His first lengthy interaction at the ballpark on Monday was with two players who, frankly, are extreme long shots to make this roster. (
You can read more about that here
). But for those two young players, it was 10 minutes of knowledge they admit they'll apply to what they're doing in preparing for workouts and games.
March, 3, 2014
Mar 3
1:23
PM CT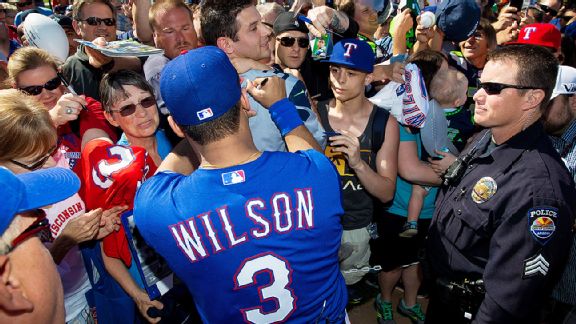 Mark J. Rebilas/USA TODAY SportsRussell Wilson was greeted by fans, a few with signs thanking him for the Seahawks' Super Bowl win.
SURPRISE, Ariz. --
Nate Adcock
, a 26-year-old non-roster right-handed pitcher considered a long shot to make the
Texas Rangers
this spring, was eating breakfast in the clubhouse when Seattle Seahawks quarterback Russell Wilson asked if he could join him.
For 10 or 15 minutes, Adcock and 25-year-old catcher Brett Nicholas, invited to big league camp after a solid Double-A season, peppered Wilson with questions.
"We just wanted to be a sponge and soak it all in," Adcock said. "He was telling us about his day and that he gets in at 5:45 in the morning and doesn't leave until 7 [p.m.]. He puts in a lot of hard work and a lot of hours.
[+] Enlarge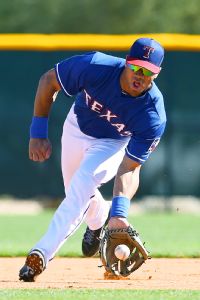 Mark J. Rebilas/USA TODAY SportsRussell Wilson joined Rangers manager Ron Washington for the skipper's daily infield practice.
"If a championship-caliber quarterback, and one our age, puts that kind of work in, you probably need to do the same thing. I'm not saying I don't work hard, but there's always more you can do."
That's the reason the Rangers selected Wilson in the minor league phase of the Rule 5 draft in December. They paid $12,000 to grab him from the
Colorado Rockies
.
The investment was for days like Monday.
After breakfast, Wilson stretched his arm and joined manager Ron Washington for the daily extra infield practice. Tucked back on a half-field, with plenty of cameras clicking, Wilson listened intently as Washington put him through a variety of individual infield drills.
"He surprised me for not being out on the baseball field for a while," Washington said. "I might have burned his legs up a little bit, but he made it through all the drills and did a fantastic job. He's got tremendous aptitude. That's why he is who he is. You give him something and he knows how to apply it."
Wilson stretched with the team, chatting with regulars
Prince Fielder
,
Adrian Beltre
,
Elvis Andrus
and
Jurickson Profar
. He then took grounders with the rest of the infielders as part of the team fundamental drills. Several hundred fans, many of them dressed in Seahawks colors and a few of them with handmade signs thanking him for the Super Bowl victory, cheered as he scooped up balls and practiced flips to second base to start double plays and throws to first to finish them. Wilson watched as some of the club's players in the lineup for today's game took batting practice.
He's expected to be in uniform and watch from the dugout during the club's Cactus League game with the
Cleveland Indians
and then talk to the media. He'll also spend some time with some of the club's minor leaguers and then will eat a private dinner with some of the team's core players.
February, 28, 2014
Feb 28
4:32
PM CT
SURPRISE, Ariz. -- The
Texas Rangers
will be selling
Russell Wilson
merchandise just in time for the Super Bowl-winning quarterback's arrival at spring training next week and includes home white and royal replica jerseys and a "Seahawk Green" T-shirt with "Wilson" and "3" on the back.
Those items go on sale Sunday at the Texas Rangers Team Shops at Globe Life Park in Arlington (open Sunday from noon to 5 p.m. CT) and Fort Worth (noon to 6 p.m. CT). The merchandise will be available in Dallas starting at 10 a.m. CT Monday.
Fans in Arizona will also get an opportunity to buy replica home white jerseys and red and royal T-shirts with Wilson's name and number on the back at the Surprise Stadium store Sunday when the Rangers host the
Chicago White Sox
at 1:05 p.m. local time.
February, 27, 2014
Feb 27
11:42
AM CT
SURPRISE, Ariz. --
Seattle Seahawks
quarterback
Russell Wilson
won't be facing any 95 mph fastballs on Monday against the
Cleveland Indians
. There's no reason for Wilson or the Rangers to put the Super Bowl-winning signal-caller in harm's way.
But Rangers manager Ron Washington made an even better offer to Wilson on Thursday: a chance for a one-on-one infield tutorial.
Just ask
Prince Fielder
and
Adam Rosales
about the benefits of that. Yes, I know Wilson isn't going to be suiting up in a big league game anytime soon (and probably never). But Wilson talked about how much he missed the game and his desire to at least be around it again. There's no better way to do that than to spend 20 minutes or so with one of the best teachers in the game.
The Rangers are hoping the 25-year-old Wilson provides some motivation and wisdom for their young players. They want them to hear about his commitment and mental preparation. But Wilson has a chance to learn a little something, too.
Not only would Washington make Wilson a better infielder -- yes, he can do that on a back field in Surprise for a half-hour -- but the lessons learned can't hurt him on a football field. He'll be working on footwork and hand-eye coordination. And maybe more important, he'll get a chance to see how Washington goes about teaching and motivating players. Perhaps that's something Wilson can take back to an NFL huddle with him.
You've now got an invitation for a lesson you aren't likely to forget, Russell. I'd jump on it if I were you.
February, 26, 2014
Feb 26
5:41
PM CT
SURPRISE, Ariz. -- Those fans hoping to snap a photo of
Seattle Seahawks
quarterback
Russell Wilson
in a
Texas Rangers
uniform will get a shot Monday.
The Rangers announced today that Wilson is expected to work out with the big league squad Monday and will be in uniform for the Cactus League game that afternoon against Cleveland at Surprise Stadium. It's unclear what parts of the workout that Wilson may participate in with the Rangers.
Wilson, who helped lead the Seahawks to the Super Bowl title less than a month ago, was selected by the Rangers in the Rule-5 draft at the Winter Meetings in December. He last played professional baseball in 2011 with the
Colorado Rockies
organization, hitting .228 with three homers, five doubles, four triples, 15 RBIs and 40 runs scored in 61 games with Class A Asheville.
February, 12, 2014
Feb 12
4:03
PM CT
The
Texas Rangers
are still hoping that
Seattle Seahawks
quarterback
Russell Wilson
will come to Surprise, Ariz., for spring training, but they aren't putting any pressure on him.
"He's got an open invitation to come," general manager Jon Daniels said Wednesday afternoon. "We have not reached out to him formally and talked to him about that at this point."
Daniels said the club wants to be "respectful" of Wilson's schedule and to give him time to decompress after the Super Bowl win. Daniels has talked with Wilson's agent, Mark Rodgers, but nothing has been determined yet.
If Wilson does come, the Rangers would formally invite him to big league spring training -- they would do that because Wilson has a minor league contract with the club after he was selected in the minor league phase of the Rule 5 draft in December -- and get him a locker with the rest of the team. What Wilson does is up to him.
"It would be fun to see him out there at second base by
Elvis (Andrus)
," Daniels said. "Just having him around our guys and our guys be able to pick his brain and see his preparation and what it takes to reach that level would be impactful.
"He's an age contemporary and as accomplished as it gets at that young an age in his profession. They know who he is and what he just accomplished. If he has impacts on one guy in camp, it would be worth it."
Rodgers said shortly after the Super Bowl that things were "too fluid right now to commit to anything," but noted that Wilson was "honored" to be drafted by Texas.
February, 7, 2014
Feb 7
10:18
AM CT
How badly do the Myrtle Beach Pelicans, the Class A affiliate of the
Texas Rangers
, want Russell Wilson to spend just one day with them?
The minor-league club is offering to contribute $20,000 to the charity of Wilson's choice and send Wilson and his wife on an all-inclusive vacation that includes golf and beach time if the quarterback and infielder will make an appearance at a game.
They don't expect him to actually play.
"But we'd love it if he would talk to our young players and maybe help us with a kids clinic and do a Q&A before one of the games so fans can get to know what's made him successful," said Andy Milovich, vice president and GM of the Pelicans.
So far, no word from Wilson, who has been busy with post-Super Bowl activities, including the team's parade through Seattle on Wednesday. Wilson also hasn't decided when or if he's going to visit the Rangers during spring training, though he said in December that he was interested in doing that.
Milovich is doing all he can to sell the idea to Wilson, even appearing in a few videos -- sans shirt -- as the Tom Hanks character in Cast Away ( and yelling Wilson, of course).
"It tells me the progress that I'm making in CrossFit isn't all the way there," Milovich joked. "But it's been fun."
The idea came shortly after the Rangers selected Wilson in the Rule-5 draft. The Pelicans, like any minor league team, were looking for a creative way to sell tickets and figured that Wilson, now a Super Bowl champion, was a great way to try to do that.
The club has enlisted the help of a group of Myrtle Beach companies, who have agreed to provide greens fees, a car, food, accommodations and entertainment for a vacation. Milovich says Wilson can come whenever he wants, but he thinks the Monday after the Masters in April might be fun for Wilson and the team.
"It's a 50-50 shot, I think," Milovich said. "It's a free vacation. Why not here? He's a great guy and we'd love to have him."
January, 29, 2014
Jan 29
11:00
AM CT
Triple Cards and Collectibles owner Al Gilliland is looking forward to late April.
The owner of a sports card shop in Plano, a suburb north of Dallas, believes that Seattle Seahawks quarterback Russell Wilson in a
Texas Rangers
uniform will get plenty of local interest. And Topps said it
plans on debuting Wilson's Rangers card in a Bowman Series on April 30
.
"It will be a Ranger and it's the novelty of it," Gilliland said Tuesday. "He's probably going to end up at spring training in some form or fashion. There are enough people that will want to look for that card and add it to their collection."
Gilliland, whose store sells cards and collectibles from all sports, is anticipating a solid year for selling Rangers items.
"The Rangers are going to be very popular this year because of what they've done this offseason," Gilliland said. "There's new blood on the team with
Prince Fielder
, (Jurickson) Profar as the full-time second baseman, (Shin-Soo) Choo in the outfield. All of those guys will give it more interest. They are a stronger team than what they were and the novelty of the Wilson helps, too."
Topps' first 2014 series of cards comes out Wednesday, but Wilson won't be available until late April in the Bowman Series, which is reserved for prospects.
December, 13, 2013
12/13/13
8:10
AM CT
LAKE BUENA VISTA, Fla. -- It was 6:15 a.m. PT when Mark Rodgers called his client,
Russell Wilson
, to give him the unusual news that the
Texas Rangers
had drafted him and now owned his rights, paying $12,000 to do it.
"He was already at the complex and I had to explain to him what happened," Rodgers said. "He knew something was up for me to call that early. He was excited."
Rodgers said more than anything, Wilson was "captivated by the idea that baseball hadn't forgotten him."
So much so that Wilson expressed a desire to go to spring training, something Rodgers reiterated late Thursday.
"I guarantee you'll see him at some point in spring training," Rodgers said. "I don't know for how long, but he'll be there. And he'll probably take grounders and hit. He won't do something crazy, but he won't just hang out."
December, 12, 2013
12/12/13
10:50
AM CT
LAKE BUENA VISTA, Fla -- At first blush, you might think that the
Texas Rangers
, because they were desperate to get some attention before flying home after four days at the winter meetings without signing any free agents or making any trades, selected
Seattle Seahawks
quarterback
Russell Wilson
in the Rule 5 draft. And at the low, low price of $12,000.
Rangers GM Jon Daniels, a huge
New York Giants
fan, will now be on a variety of ESPN NFL shows the next few days talking about one of the NFL's most prominent players. But Daniels didn't do it for that reason. This wasn't simply a case of the Rangers wanting a little publicity or paying a decent price for a motivational speaker. (Though they'll get publicity now, and again in February or March, if Wilson does come to spring training.)
Daniels talked to Wilson this morning and made it a point to tell him the club isn't trying to distract him and won't be bothering him until after the football season. But Wilson is excited he was drafted and told Daniels he wants to come to spring training. If the QB does, I'd expect him to do more than walk around and chat with the players like some dignitary. He'll probably want to take grounders, go through workouts and attempt to improve. It just seems that this is in Wilson's nature. At least the Rangers think so. All the reports they did on him when they scouted him as an infielder in high school and college, and all the reports they are getting now, indicate he has all the intangibles you want in a player.
That's the point. The Rangers preach a "winning environment." They talk to players and staff about doing all the little things it takes to win. Manager Ron Washington has cultivated a clubhouse that is loose and fun, but also focused. The players work hard. The Rangers say they believe Wilson has all those traits and they want him around their team.
The Rangers don't harbor any real hopes that Wilson will eventually give up throwing a football for a living. They know the odds are long that he'll ever grab a glove and actually play in a game. But that's not what drafting Wilson was about.
It's an investment of attitude. If young players see someone like Wilson working hard in spring training even after he's played a grueling NFL season for one of the league's top teams, perhaps they'll want to emulate him. It's about the message that Wilson can help send to everyone within the organization. Isn't that worth $12,000?