Texas Rangers:

Ryan Sweeney
April, 17, 2012
4/17/12
9:38
PM CT
The
Texas Rangers
steamrolled the Boston Red Sox on Tuesday, getting 18 runs on 21 hits and a quality start from
Colby Lewis
. The Rangers were behind 2-0 after the first inning, but immediately took the lead in the second with four runs and never looked back. Texas mashed six homers (two from
Mike Napoli
) and scored eight of their runs in the eighth inning alone. It was an impressive game all the way around for the Rangers. It's the club's fifth consecutive win and eighth in its last nine games. Some quick thoughts:


What it means:
The Rangers set new season-highs for runs (18), hits (21), home runs (6) and runs in an inning. They had eight runs in the eighth thanks to three home runs. The trio of
Josh Hamilton
,
Adrian Beltre
and
Nelson Cruz
hit them. They just kept hitting. The inning took 32 minutes and the Red Sox threw 60 pitches. Texas had seven hits, including the three homers. Every Rangers starter in the game had at least one hit and the 18 runs are the most in franchise history at Fenway Park.
PODCAST
Rangers manager Ron Washington talks about the Rangers' series-opening 18-3 win over the Red Sox.

Listen

Solid start:
Colby Lewis gave up a two-run homer to second baseman
Dustin Pedroia
and surrendered four hits in the first inning. But after that, he was on his game. The Red Sox had four more hits off Lewis the rest of the game and no runs as he went seven innings and gave up two runs (that's another quality start). His control has been impressive the whole season. He has 22 strikeouts and just one walk in 2012. His ERA is now 1.83.
Still on a roll:
Hamilton's first-inning single means he's hit safely in 10 of the 11 games the Rangers have played this season. Hamilton also had a first-pitch hit. He's now 6-for-10 when he swings at the first pitch this season (and he's swinging at the first pitch more than anyone in MLB).
Five RBIs:
Hamilton tied a career-high with five RBIs. That included a monster home run to right field that was absolutely crushed. ESPN Stats and Information puts it at 469 feet, the second-longest homer in MLB this season.
Travis Hafner
hit one 481 feet Sunday against the Royals. In his last three games, Hamilton is 8-for-14 with two doubles and three homers.
Great throw:
Hamilton made things happen in the field, too. Playing in left, Hamilton snagged a ball off the left-field wall and fired it to second to get
Jason Repko
and end the fourth inning. Hamilton has had a sensational first 11 games.
Playing the wall:
Craig Gentry
did a nice job of playing
Ryan Sweeney
's double off the wall in center. Gentry was able to catch it right away after it hit the top of the wall (the ball never touched the ground) and immediately got it back in. That kept
Adrian Gonzalez
at third. Lewis then got a soft ground ball out down the first-base line to end the inning and limit the damage.
Lovin' Fenway:
Cruz, who came into Tuesday's game batting just .211, also came into the game hitting .385 (37-for-96) agianst Boston. He hit a one-out double in the second to the deepest part of Fenway (it probably went 410 feet and wasn't a homer) and scored on Napoli's two-run shot. He later had a home run and ended up 3-for-6 with three runs scored and two RBIs.
Two-strike hit:
Napoli came into Tuesday's game 0-for-15 with nine strikeouts on two-strike counts. But he crushed an 0-2 inside slider thrown by
Jon Lester
in the second inning. The ball went over the seats on top of the Green Monster in left. Napoli made the swing and then didn't even look at the ball as he trotted around the bases. He knew it was gone. The homer tied the score. Napoli's homer on Sunday in Minnesota may have gotten him going. He had two Tuesday -- both two-run shots. Napoli's second homer in the ninth curled around the foul pole in left. It looked like Bubba Watson's hook shot on the second playoff hole at the Masters earlier this month.
Speed helps:
With the bases loaded in the second,
Elvis Andrus
didn't hit the ball very far. But with his speed, it was far enough. His dribbler between the mound and third-base line was enough to score the go-ahead run and allow him to get to first base without a throw.
Strange play:
Left fielder
Cody Ross
had a fly ball from Hamilton go off his glove in the second. He was camped under it, but maybe looked up too soon to see where he was going to throw the ball. Instead, Gentry scored and Ross threw to third for a forceout of
Ian Kinsler
.
Long at-bat:
Beltre's second-inning at-bat was 12 pitches long and ended up as an infield single. In fact, if not for a terrific diving grab by Pedroia, Beltre would have had an RBI. Still, he helped drive up Lester's pitch count.
49 pitches...in one inning:
Lester threw 49 pitches in the second inning alone. The Rangers had five hits and two walks in the inning, scoring four runs.
Walk in the park:
The Rangers came into Tuesday's game last in the AL in walks with 18. But they walked seven times Tuesday.
August, 13, 2011
8/13/11
2:39
PM CT
May, 4, 2010
5/04/10
11:41
PM CT
OAKLAND, Calif. -- The A's held on to beat the Rangers, 7-6, as
Andrew Bailey
got the four-out save (though the Rangers made the 10,135 A's fans nervous in the ninth). You can find a replay of the in-game chat
here
. Some quick thoughts:
* Despite not having his best stuff early in the game -- seven runs allowed in the first four innings -- RHP
Scott Feldman
managed to grind out seven innings on 111 pitches. It was a gutsy effort. His sinker got better, helping him settle down. He got the final 12 batters he faced, most of them on fly balls. It was important that he saved some of the bullpen by eating up innings. That's especially big with the quick turnaround to a day game Wednesday.
[+] Enlarge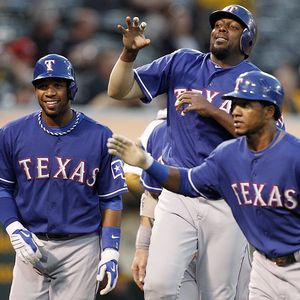 AP Photo/Ben MargotVlad Guerrero (center) almost single-handedly brought the Rangers back with five RBIs, including a grand slam in the third inning.
* The last Texas pitcher to throw seven innings and allow at least seven runs was
Rob Bell
on July 27, 2001, against Tampa Bay in Arlington. Bell actually won that game.
* Feldman had a rough first, second and fourth inning. In the first, he gave up a ground ball single on an 0-2 pitch to
Daric Barton
and then surrendered a homer to
Ryan Sweeney
. It was Sweeney's first homer in 51 games.
Kevin Kouzmanoff
also had a hard hit on Feldman, who did get out of the inning after allowing two runs.
In the second, Sweeney struck again with two more RBIs. It happened after Feldman loaded the bases.
Eric Patterson
doubled and was picked off on a fielder's choice hit by
Landon Powell
. But the Rangers weren't able to take advantage of the break. With two outs, Barton walked to load the bases. Sweeney then hit a ground ball single behind second base that
Elvis Andrus
just couldn't quite get to. Kouzmanoff added another run on a single. Feldman had thrown 49 pitches through two innings and was behind 5-0. Feldman surrendered a leadoff walk in the fourth and then three straight hits to give Oakland a 7-4 lead. That's when he calmed down and got through seven without allowing anything else.
* The five RBIs for Sweeney were a career high and a high for an A's player this season. He previously had four RBIs on Sept. 14, 2009, against the Rangers. The guy loves playing Texas, apparently.
* DH
Vladimir Guerrero
hit the first pitch thrown to him in the third inning out to left field for a grand slam. It was Guerrero's sixth career grand slam and his first since May 1, 2007, when he took Kansas City's
Zack Greinke
deep. Five of Guerrero's grand slams have come since 2005. It was also Guerrero's 410th homer, moves him past
Jason Giambi
into 43rd place all-time.
* Guerrero added a single with two outs in the fifth to score Andrus for his fifth RBI of the night.
*
Josh Hamilton
drew a four-pitch walk before Guerrero's home run to load the bases. The Rangers drew three walks in the inning, in fact. Guerrero's homer scored
Julio Borbon
(on via fielder's choice), Andrus (walk) and Hamilton (walk) in front of Guerrero.
*
Michael Young
's single in the first (on a 1-2 pitch) was hit No. 1,692. That ties him with
Rafael Palmeiro
for second place on the club's all-time list. Pudge Rodriguez is first with 1,747.
* 2B
Ian Kinsler
was 0-for-4 with two strikeouts. It was his first hitless game since his return. Ron Washington is contemplating giving him the day off.
* Good piece of hitting by Hamilton in the seventh. With one out and a runner at third, he went the other way to left field (through the hole between short and third) and scored the runner. Earlier in the game, he drew a four-pitch walk, leading to Guerrero's grand slam.
* Andrus did his usual stuff in the leadoff spot. He had his team-leading 18th walk and had two bunt singles. His speed is a real asset. He also stole a base in the fifth and seventh innings. He has 10 on the season. He stole third in the seventh and helped the Rangers manufacture a run when Hamilton's single scored him.
* C
Matt Treanor
got a hit in the ninth to give the Rangers an opportunity to tie it.
Craig Gentry
was the pinch runner and he stole second, but was later stranded. The Rangers had the tying run at second with no outs and couldn't score him.