Texas Rangers:

Scott Boras
December, 16, 2013
12/16/13
7:30
AM CT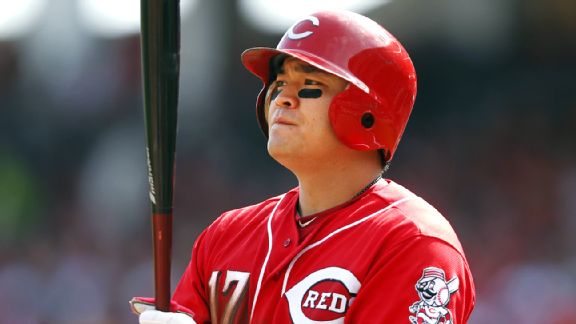 John Sommers II/Getty ImagesShin-Soo Choo has the numbers to show he could be a productive leadoff hitter for the Rangers.
The
Texas Rangers
are still looking around for a bat and two pretty big ones remain on the market --
Shin-Soo Choo
and
Nelson Cruz
.
Texas has been linked to both and has shown interest in both players, though the price last week was too high to get anything done. The question now might be whether the price drops on either one at some point in the near future, allowing the Rangers to jump in and grab one. So while that's the case, let's take this time to look at both of them on the blog. Today, we'll deal with Choo.
The 31-year-old comes into this offseason after hitting .285 with 21 homers and 54 RBIs as the leadoff hitter for the
Cincinnati Reds
. Cincinnati is preparing for life without Choo, as Reds GM Walt Jocketty met with Choo's agent, Scott Boras, at the winter meetings and didn't seem to think Choo would return.
"I think we have to move on,"
Jocketty told Reds reporters in Orlando last week.
"I think that's how we have to plan, anyhow. We have to plan as if we're moving on."
The Rangers also met with Boras and rumors are Choo is looking for something similar to what
Jacoby Ellsbury
got from the
New York Yankees
(7 years and $153 million).
Among leadoff hitters, Choo's .432 on-base percentage was tops in the National League. His 21 homers were nine more than any other qualified leadoff hitter in the NL (
Starling Marte
was second). His slugging percentage of .481 was second among leadoff hitters to St. Louis Cardinal (and TCU product)
Matt Carpenter
, who was barely ahead of Choo at .483.
December, 12, 2013
12/12/13
4:35
PM CT
LAKE BUENA VISTA, Fla. -- The media work room here at the Walt Disney World Swan and Dolphin Resort is nearly empty as most of the baseball world has departed Orlando to continue the offseason from their respective homes.
A few final notes from the beat writers' chat with general manager Jon Daniels and some laps around the lobby this morning and afternoon:
* Scott Boras has left the resort, meaning
Shin-Soo Choo
didn't sign anywhere before his agent departed Orlando. Daniels said things were "unchanged" from where they stood last night, meaning the Rangers have done what they can for now and will see what happens.
* The meetings ended with Choo and
Nelson Cruz
still on the market. If you're the Rangers, that's a good thing. The longer it takes either one to sign, the more likely the price gets lowered to a range the club is comfortable doing. Texas likes both players, and either one would fit in to what the club would want. Choo could lead off and allow the Rangers to move
Leonys Martin
down in the batting order. Cruz provides power and could hit in the middle of the lineup. Either way, the lineup gets a boost.
* Our buddy Jayson Stark reported that the Rangers are one team looking at
Shaun Marcum
. This makes sense as Texas is a club that doesn't mind taking some chances on players trying to come back from injuries. Marcum missed the second half of 2013 and had Thoracic Outlet Syndrome surgery after he experienced numbness in his hand. Marcum could be ready to throw by spring training. But it's one of those types of deals that could give the club some pitching depth at low risk.
* Daniels was pleased with how the week went. He conceded the Rangers didn't end up doing much, but they had conversations with teams that could lead to something down the road and they got a sense of where other teams were in terms of needs and where certain free agent markets were, as well. That's never a bad thing.
* A reminder that last year plenty happened in the weeks after the meetings and even into January. There's a long way to go.
December, 11, 2013
12/11/13
2:45
PM CT
LAKE BUENA VISTA, Fla. -- It finally came Wednesday. The annual Scott Boras news conference at the winter meetings that only a few of the lucky folks in the first row can actually hear.
There were probably 100 media members -- but it felt like 1,000 -- pointing microphones, recorders and cameras as if they were spears at Boras, poking for answers in regards to
Shin-Soo Choo
's future, among Boras' other clients.
And Boras didn't really offer many answers. He did say he is receiving offers on behalf of Choo and that he was "certainly in the middle of it" in regards to negotiations. The agent said Choo is a patient, thoughtful guy who wants to take time to look at all his options and talk things over with his wife. Boras said some of the offers have come from teams that are "building and some expecting to win" in 2014.
"He's really a player I think is revered," Boras said.
Boras wouldn't get into many details, but was asked about teams with money talking about staying within certain budgets.
"Budgets are a human design rather than a physical barrier," Boras said.
That might be the quote of the meetings so far.
The Rangers don't want to sign Choo at price levels close to the 7-year, $153 million Jacoby Ellsbury got. But if the price drops, that's a different story.
April, 4, 2013
4/04/13
4:44
PM CT
By
Todd Wills
| ESPNDallas.com
ARLINGTON, Texas -- Texas Rangers general manager Jon Daniels won't put a "face of the franchise" tag on any one player. The fans, he said Thursday, decide that.
For the Rangers through the years, that has been Nolan Ryan, Pudge Rodriguez and Michael Young, in chronological order. That's this 41-year-old franchise's Mount Rushmore.
PODCAST
Rangers shortstop Elvis Andrus joins Fitzsimmons & Durrett to discuss his new contract extension, why it was so important to stay in Texas and his expectations for the season.

Listen

There's room for one more.
Maybe, just maybe, that player is 24-year-old shortstop Elvis Andrus, who on Thursday afternoon had an
eight-year, $120 million contract extension
through 2022 formally announced at Rangers Ballpark in Arlington. It came on the eve of the Rangers' home opener against Josh Hamilton and the Angels.
It's ironic; this could have been Hamilton. The big contract. Face of the franchise. Now it might be Andrus.
Andrus' smile and charisma endeared him to Rangers fans a long time ago. His style of play, his fearlessness on the basepaths, his glove, his clutch hitting, his two All-Star appearances -- fans like that, too.
PODCAST
Eric Nadel joins Galloway & Company to discuss the Rangers' home opener against the Angels, Elvis Andrus' contract extension and much more.

Listen

What they'll really sign up for, what they'll always vote on for face of the franchise, is a player who puts winning above everything else. The Rangers were twice a strike away from winning the World Series in 2011. The 3.5 million fans who showed up at the ballpark last year thought about that every day.
So did Andrus. And he still does. He said it Thursday after becoming a very wealthy 24-year-old.
"I'm not going to rest or sleep until I get a World Series," Andrus said. "As a player, I treat myself as a winner. If I don't get a ring, get this organization a ring, I won't sleep."
The Rangers see Andrus as a critical piece to getting that last strike. He plays a premium defensive position. He hit .350 with runners in scoring position last season. No current Ranger embodies the style of play manager Ron Washington wants and asks of his players each day more than Andrus.
As Daniels said Thursday, the Rangers are built to be an up-tempo, aggressive team, something they believe got lost last year. The Rangers made it to the World Series two straight seasons because of tough at-bats, solid pitching and defense.
Andrus can't pitch, but he does the other two things at a very high level. And he should only get better in his prime years.
"He epitomizes all of those things," Daniels said. "In a lot of ways, he is everything we're all about: the charisma, the smile, the connection with our fans, the connection with our teammates. At 24 years old, with the things he's accomplished to this point, with the multiple All-Star Games and the World Series and the other personal accolades. And the way he leads the charge when we take the field every night."
Sounds like a franchise player, doesn't it?
Another focal point Thursday was the close relationship between Andrus and Washington.
Andrus and his agent, Scott Boras, gave major credit to Washington for the shortstop's development, taking on a 20-year-old rookie straight from Double-A and molding him from a player who drove Washington crazy with routine errors in 2009 into a player the manager said he was able to back off last season for the first time. No player has endured Washington's teaching and scolding more than Andrus.
"As a player, especially a young player, that's what you want," Andrus said of the manager's constant pushing and prodding. "You want, as soon as you make a mistake, to be that lucky to have somebody that wants to teach you, wants to make you get better, make you do the job that you're supposed to do. I always say I really appreciate that, I will never get mad at that. I always appreciate him personally and thank him for being there for me."
Andrus is here for the Rangers, at least until the end of the 2018 season, when he has an opt-out in his contract -- the key to getting the deal done.
Andrus was thought to be headed to free agency at the end of next season because of who his agent is. But Andrus instructed Boras to work out a long-term deal to stay with the Rangers.
Daniels and Boras made a point of spending time discussing Andrus each time the two talked in the past two years about free agents and other baseball topics. The Rangers were very interested in keeping one of their core players.
"As we sat down and looked at things," Boras said, "it became clear to me and Elvis -- and I think to [Daniels] -- that we had some very workable and common thoughts that would allow us to reach an agreement. It was a very collaborative effort and one that worked out well for all sides."
Andrus said his family jumped for joy upon hearing the contract was done. Andrus said he wanted security in his life, for his family. The contract getting done is a relief, he said.
Now he can focus on his main goal of winning a championship. Andrus talked about it over and over during his news conference and afterward.
Time will tell on the face of the franchise tag.
"Those things happen on the field," Daniels said. "Those are natural connections made to the fan base. In a lot of ways, Elvis and a lot of his teammates have already become that."
February, 6, 2013
2/06/13
1:30
PM CT
Texas Rangers
shortstop
Elvis Andrus
said Wednesday that he's happy in Texas, but he'll "see what happens" in terms of a possible contract extension. His current deal expires in two years. The 24-year-old Andrus is positioned to be one of the top free agents after the 2014 season, and with Scott Boras as his agent he's expected to see what is value is on the open market.
PODCAST
Texas Rangers shortstop Elvis Andrus joins the Ben & Skin Show to discuss his contract situation and the upcoming season.

Listen

Andrus was on The Ben & Skin Show on ESPN Dallas 103.3 FM and was asked what it would take to keep him in a Texas uniform long term.
"I think everybody has to be on the same page to get there," Andrus said. "I'm happy. I've still got two more years on my contract, and then we'll see what happens. We're still talking about it. That's all I can say. For sure, I would love to stay here. Hopefully, I can stay here for a long time."
Andrus, a two-time All-Star, is a career .275 hitter in the majors with 14 homers, 197 RBIs, 123 stolen bases and a .342 OBP. He was a finalist for the Gold Glove last season and has established himself as a key hitter near the top of the lineup.
Andrus talked about what he's looking for in his next contract (which comes after he makes $4.8 million this year and $6.475 million next year).
"For every young guy who gets an opportunity to be a free agent this young, what we're looking for besides the money is the year," Andrus told Ben and Skin. "You want to be able to sign and be secure for a good period of years. I want to be at a place for a long time and play with that team for a long time and secure my future and my family too."
With Andrus' stock rising and Boras as his agent, it's going to be difficult to sign him before he hits free agency. Once he gets there, it gets even tougher. We've seen what has happened recently to big-time Rangers that have hit the free agent market the past few years.
Cliff Lee
went to Philadelphia.
Josh Hamilton
signed with the Angels.
But if you read between the lines, it sure seems like Andrus will at least test the market.
January, 2, 2013
1/02/13
11:30
PM CT
By
Ben Rogers
| ESPNDallas.com
PODCAST
The Rangers have had a relatively quiet offseason, but there are still a few things they can do. Baseball Ben Rogers gives the team four offseason options. What would you do? Vote now on ESPNDallas.com.

Listen

The offseason has not gone according to plan for the
Texas Rangers
. Market prices have clearly been higher than the club anticipated in both baseball currencies -- dollars and prospects.
But reluctance to overspend doesn't equal an unwillingness to shake things up. Although "smart business decisions" will never appear on a fan-made stadium banner, prudent moves are guardian angels for passionate fans. Headline-grabbing trades that liquidate a farm system or massive free-agent acquisitions that push the limits of a payroll often become franchise-sinking icebergs.
[+] Enlarge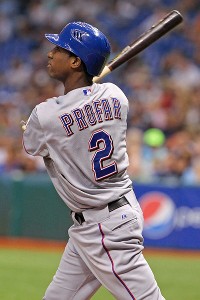 Kim Klement/US PRESSWIREThe Rangers likely would have to include prospect Jurickson Profar if they wanted to enter trade talks for a big name such as Felix Hernandez or Giancarlo Stanton.
While they've done nothing to motivate fans to break out their Rangers face paint, they've also done nothing to mortgage an incredibly bright future (with one of the top farm systems in baseball) or hamstring their payroll with a giant, ticking time bomb.
Talk of financial flexibility and "keeping powder dry" go over like a funeral prank, thanks to what the Dallas Mavericks are currently experiencing. But when aging, expensive players fall well short of expectations, the window to contend closes all too quickly. Although this type of financial responsibility talk either puts fans to sleep or causes them to grab a pitchfork and torch, ultimately it's what prolongs their ability to enjoy a true contender in the long run.
Rangers fans might be ready to storm the castle, but paying too much for the fragile, turbo-diva services of
Josh Hamilton
would have been flat out negligent. No offense, Mr. Dipoto.
That said, the Rangers have a handful of immediate needs that must soon be addressed and the impact free-agent aisles in the baseball store have been picked clean. It's time for a blockbuster trade.
The top prospect in baseball, phenom shortstop
Jurickson Profar
, is ready for full-time duty. Because of that, the Rangers have three top-notch options and only two middle infield positions to put them. It's a luxury they can't afford. One of the three must go to acquire a piece, or pieces, that address pressing needs elsewhere.
Teams seeking middle infield help have been circling the Ballpark in Arlington like vultures, waiting to see which one will be without a chair when the music stops. The Rangers appear to have four options at this point:
[+] Enlarge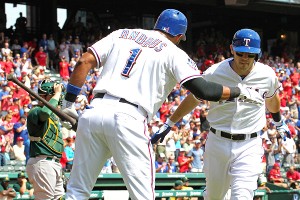 Matthew Emmons/US PRESSWIREIan Kinsler and Elvis Andrus have put up huge run totals atop the Rangers' lineup, and there's no reason to believe that Jurickson Profar couldn't do the same if given the chance.
This appears to be the way the Rangers are leaning. If not,
Justin Upton
would've already been acquired. Going this way, you can pencil in magnetic personalities Andrus (SS) and Profar (2B) as the most entertaining/electric double-play combination in baseball for the short term, and move Kinsler -- who has openly volunteered to play whichever position his team needs him to play -- to first base or outfield.
Kinsler is a phenomenal athlete, and there's little concern from the team or the player about his ability to learn a new position. Keeping this trio together offers dynamic possibilities as all three know how to reach base, have above-average speed and are exceptional on the basepaths. Kinsler and Andrus have piled up huge run totals atop this batting order for years. Profar projects to be a top-of-the-order guy as well, but would add instant excitement to the 9-hole in 2013.
This option merely delays the inevitable. With Andrus' pending free-agency bonanza lurking in the shadows like a thief in the night, his storyline has reached the critical fish-or-cut bait moment. Although Kinsler has selflessly agreed to be flexible regarding potential position changes, that's not something to take likely. In other words, there's no need to jerk him back and forth from one position to another each offseason. Keeping all three together this season would be very difficult on Kinsler, and is not a long-term solution.
Option 2: Trade Andrus
If the Rangers decide to use the trade route to reallocate their resources, Andrus will likely be the odd man out based solely on the fact he'll be a free agent in two years and his agent is notorious front office headhunter/payroll destroyer Scott Boras.
The idea of paying Boras-bloated free agency mark-up money for Andrus makes little sense for a team with a far more affordable option in Profar, who won't be a free agent until 2019. Once Andrus reaches free agency, Boras will put on a Darth Vader costume and likely seek an 8-year deal at roughly $18 million per season.
Meanwhile Profar will do the job just as well, if not better, for peanuts by comparison. With two years left on his deal, the 24-year-old Andrus -- a two-time All-Star in a league where elite shortstops are extremely rare -- would be enticing to teams who aren't sure they can resign him because they would potentially still have time to trade him themselves if necessary. The return for trading Andrus should be higher now than it will be at any point moving forward. Having said that, if Andrus were to agree to a reasonable extension in Texas, all bets on trading him are off.
This option makes the most sense. Those who place their hope in Boras negotiating a reasonable win-win extension for both Andrus and the Rangers will quickly realize true hopelessness. It's not going to happen. This is a break-the-bank or make-the-trade crossroads.
Option 3: Trade Profar
As the top prospect in baseball, Profar could headline a package for any of the biggest names in the game thought to be available. If the Rangers decide to shop "the chosen one" (and additional pieces of varying values based on their target), they might soon find themselves in trade discussions for the likes of "untouchable" aces like
David Price
or
Felix Hernandez
, or 23-year-old Marlins slugger
Giancarlo Stanton
, just to name a few. But this option only makes sense if Andrus is signed long term. If not, Profar is basically untouchable.
This option will never happen because of Boras' involvement. That's not necessarily a bad thing though, as the prescribed cure for a case of missing Andrus will be consuming large doses of Profar highlights. An ever so slight dropoff defensively, Profar will be significantly better on the offensive end.
Option 4: Trade Kinsler
[+] Enlarge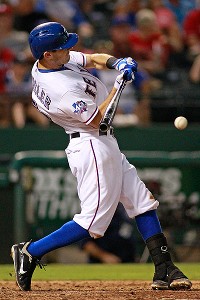 Paul Moseley/Fort Worth Star-Telegram/MCT/Getty ImagesIan Kinsler is coming off a "down" season during which he hit .256 with 19 home runs, 21 stolen bases and 72 RBIs.
At 30, Kinsler obviously wouldn't net the same type of return as Profar, or even Andrus. But he's a three-time All-Star with 30 HR-30 SB seasons in 2009 and 2011. His contract is team-friendly -- by Kinsler's own design -- as it decreases in annual salary over the final three years.
There would certainly be considerable interest if Texas decided to shop Kinsler, but trading him now doesn't make the most sense for three reasons:
* He's coming off a down year for his standards, so his value is somewhat compromised;
* With the loss of Hamilton -- and to a lesser degree,
Michael Young
and
Mike Napoli
-- this offense needs his production more than ever;
* In a new, unfamiliar post-Young environment, Kinsler -- along with
Adrian Beltre
-- is an important leadership piece in what this franchise hopes will remain one of the best clubhouses in baseball.
The Rangers should ignore this option. Kinsler is about to have a bounce-back season that will make his contract look like a beauty.
Ultimately, that's what this is all about: Avoiding the bad contracts while stacking up the good ones. Keeping that in mind, look for Option 2 to make headlines in the near future.
Which option would you choose?
The Ben and Skin Show airs weekdays from 9 a.m.-noon on ESPN Dallas 103.3 FM. Follow Ben on Twitter: @BenRogers
December, 7, 2011
12/07/11
11:06
PM CT
DALLAS -- The lobby isn't quite as full as its been the past two nights, but there is certainly a buzz in the air about
C.J. Wilson
. He's here at the Hilton Anatole and is contemplating his offers. A few thoughts:
* The wait continues as Wilson meets with agent Bob Garber and other officials. It appears Wilson's two likely choices are a reported six-year deal from the
Miami Marlins
or a five-year deal from the Angels. In other words: long-term deal with security vs. pitching at home. Which way will he go? The betting odds in the lobby favor the Angels -- slightly. We'll see.
* The Rangers met with Scott Boras today. It was mainly about LHP
Mike Gonzalez
, a reliever the Rangers would like to re-sign. He also has interest in Texas. The two sides also discussed
Prince Fielder
, but it was more about doing some due diligence and keeping tabs on the first baseman.
* Boras held court in the lobby on Wednesday night and talked briefly about Gonzalez. "Mike had a great experience in Texas," Boras said. "He really enjoyed it. He's certainly open [to returning]."
Boras said he's talked to a number of teams and added that "Mike has a pretty fruitful market for his services."
Boras said Gonzalez is doing well following knee surgery about six weeks ago.
"The doctor gave him a clean bill of health and he's feeling a lot better," said Boras, who added that Gonzalez will be fully healthy for spring training.
* Our buddies at ESPNChicago.com are reporting
that the Rangers and Cubs discussed
Matt Garza
. The Rangers are checking on various starting options through trade (see
Gio Gonzalez
) and Garza is another example. Chicago wants top-tier prospects and they are interested in
Scott Feldman
, but the Rangers are reluctant to part with him, according to the report. That may be because he's an important insurance policy with a young staff as someone with experience who can start if needed.
* Rangers GM Jon Daniels said earlier tonight that Yu Darvish hasn't been on the club's mind this week since he hasn't been posted yet. He wasn't even on their board. They'll worry about that once they know what he's going to do. They've seen him -- Daniels himself did so in person -- and they are interested.
February, 22, 2010
2/22/10
8:32
AM CT
SURPRISE, Ariz. -- The Rangers are expected to discuss
Khalil Greene
this morning and a
FoxSports.com report that he will not report to camp on time
because of anxiety issues.
The report, according to sources, says Greene won't report as scheduled on Tuesday. Greene, 30,
signed a one-year, $750,000 contract in January
.
That would certainly alter general manager Jon Daniels' plans for the utility spot. The club had talked about having Greene be able to backup all four infield spots, even spending some time at first base, a position he hasn't played.
Greene
addressed his anxiety issues with reporters shortly after the signing was announced
. He talked about how he was excited about the upcoming season and enjoying baseball again. Greene was on the disabled list twice last season with the Cardinals because of anxiety issues.
"I feel like at that point, it was something that was lingering as far as having unresolved personal things," Greene said in a conference call in January. "I won't get into specifics, but I don't think it's any different than a lot of people as far as stresses and pressure of everyday life on the field and off the field. I was carrying that on the field where the game itself becomes an obstacle. It wasn't the primary obstacle, but it was difficult."
The Rangers don't have a long list of internal candidates who can play all the infield spots. So they might have to look outside via free agency or trade. They'd like a right-handed bat who could play first.
Felipe Lopez
, 29, is still on the market as a possibility. He hit .310 with nine homers and 57 RBIs with Arizona and Milwaukee in 2009. He also changed agents,
according to an ESPN.com report
, leaving Scott Boras. The Rangers also kicked the tires on
Augie Ojeda
, who played for Arizona last year and agreed on a one-year deal with the club again this offseason. More on the possibilities later. And we'll update you when the Rangers discuss the matter.