Texas Rangers:

Scott Servais
August, 23, 2012
8/23/12
9:00
AM CT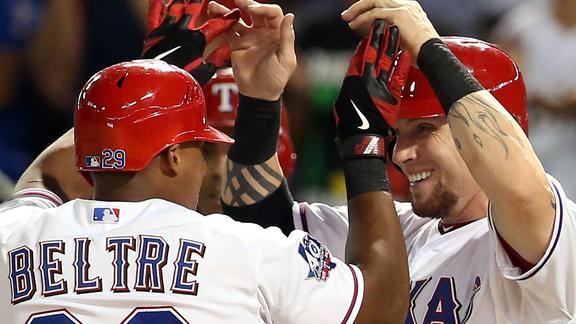 ESPN.com decided to go back and revamp its
MLB Future Rankings (insider)
to reflect any changes from the amateur draft and the trade deadline. And when all the numbers were crunched, the
Texas Rangers
still ended up on top. The rankings look at five key categories -- majors, minors, finance, management and mobility -- when determining how teams are set up for the next five years. Texas was on top, ahead of the
New York Yankees
and
St. Louis Cardinals
, who were second and third, respectively.
PODCAST
Innovative technology takes Ben and Skin inside Josh Hamilton's mind during an at bat earlier this week against the Orioles.

Listen

But Texas, like every team, has some tough decisions coming this offseason. Let's take a look at a few of them:
*
Josh Hamilton
. The 2010 AL MVP is a free agent after this season and has said that Texas is his first choice. The Rangers would certainly like to have him in that No. 3 spot in the order, but the question is how many years they're comfortable guaranteeing. The Rangers have other players who will be getting raises and are coming up for free agency in the coming years, and while they've got lots of financial resources, there isn't a big money tree growing at Rangers Ballpark in Arlington. In other words: There is a budget, though it's a large one. The Rangers must decide how far they are willing to go to try to keep Hamilton and what the market bears for the slugger. That will be interesting to watch.
* Jurickson Profar. He's one of the top prospects in the game (check out Keith Law's list if you don't believe me) and is inching closer and closer to the big leagues. The club has discussed bringing him up, and you can bet his name will be brought up again when they sit down to talk about September call-ups. But the bigger question is when the Rangers feel he's ready to get a starting nod at the top level. If that's 2013, that means making room for the shortstop. With
Elvis Andrus
still under contract, perhaps that means sliding second baseman
Ian Kinsler
to the outfield (Kinsler said when he signed his long-term deal that he'd be willing to do that at some point) and putting Profar at second base. And how well Profar performs could have an impact on whether Andrus is here long-term.
* Catcher. It's been a bit of a revolving door, though the club is building that position at the lower levels of its farm system. Part of the appeal of acquiring
Geovany Soto
one day before the trade deadline was that he's under contract next season. If he performs well down the stretch, he can solidify the starting spot. So what happens with the backup position?
Mike Napoli
is a great presence in the clubhouse and clearly wants to be in Texas. He's battled injuries and inconsistencies in 2012, though, and we'll see what kind of response he gets when he hits free agency.

*
Mike Olt
. The Rangers want to make Olt as versatile as they can so they can try to find a spot for him. He has shown maturity at the plate early in his big league career since getting called up on Aug. 1, but he has work to do defensively at first base and right field. The club still believes in
Mitch Moreland
, and the first baseman has hit the ball better since coming off the disabled list. It will be interesting to see how all the pieces come together there.
* Rotation. Texas has some key starters under contract --
Derek Holland
and
Yu Darvish
have long-term deals and
Matt Harrison
remains under club control. But after that, there are questions. The club still doesn't have that "ace" and is constantly looking for one.
Ryan Dempster
is a free agent after this season. Veteran
Colby Lewis
, a free agent after this season, had surgery to repair a torn flexor tendon in his elbow and must go through rehab and show he can return.
Neftali Feliz
is also out for the year, and when he returns, the club must decide if he'll do so as a starter or reliever.
Alexi Ogando
might be given a chance to start, but he was a valuable bullpen piece late last year and in the postseason. There are others in the minors who have shown flashes at the big league level this season (
Martin Perez
,
Justin Grimm
) and they could deserve a look at spring training next season.
*
Scott Feldman
. It's highly unlikely the Rangers will pick up the $9.25 million option on his contract for 2013, but the question is whether he returns to Texas. Feldman got that contract after winning 17 games in 2009. He has looked much more like that pitcher the past few months than he did in 2010 and 2011; most of that time was spent dealing with a knee injury and rehabbing from surgery. But is he a guy who could crack the Rangers' rotation in coming years?
* Bullpen.
Mike Adams
, the club's primary eighth-inning setup man, is a free agent after this season. Other pieces could exit as well. But the Rangers have shown the past few years that they don't mind filling bullpen spots in the offseason. They made a big financial commitment to
Joe Nathan
that has paid off. We'll see what they can do with Adams and how they'll fill some of those key late-inning roles.
* Coaches and front office. When you're a good team, other teams want your personnel (see: pitching coach Mike Maddux's options to be a manager, the Angels' hiring of Scott Servais, the Astros' interest in Thad Levine). That's not likely to stop, and ownership will do what it can to try to retain the quality management it has in place.
November, 4, 2011
11/04/11
5:41
PM CT
The Angels announced on Friday that they've hired Scott Servais to be the assistant general manager, scouting and player development reporting to general manager Jerry Dipoto.

Servais, 44, was named senior director of player development for the Rangers when Jon Daniels took over as general manager prior to the 2006 season.

Servais, who played 11 big league seasons as a catcher, was a pro scout for the Rockies when Dipoto was the director of player personnel. Servais helped develop the Rangers' players in the farm system and worked with the major league catchers. Nelson Cruz credits Servais for helping him alter his swing in 2007 that led the slugger to figure out how to succeed at the big league level.

Daniels said he had "mixed emotions" about Servais' departure.

"We will miss him here, but [are] excited for him in taking on this new challenge," Daniels said. "Scott's been a big part of our success, not just on the development side, but overall. He's a good friend, and a talented baseball man. Fortunately, he helped put together an outstanding staff, so we're confident others will step up and we won't miss a beat. Our commitment to scouting and development does not change."

Daniels said the organization in not ready to discuss how they will fill Servais' position yet.

"I would like to thank the Texas Rangers for the opportunity they gave me," said Servais in a release sent out by the Angels. "They have some phenomenal baseball people from which I have learned a tremendous amount. I'm thrilled to join yet another top organization in the Angels, Owner Arte Moreno, President John Carpino & General Manager Jerry Dipoto.

"We will hit the ground running in the scouting & player development program to ensure the success of the Angels now and for years to come. It will be our goal to always have a championship-caliber team for our fans."

Other background on Servais from the Angels' release:

Servais began his professional with the Houston Astros after being selected in the third round of the 1988 draft. He would eventually make his Major League debut on July 12, 1991 for the Astros. During a career that included time with the Astros (1991-95, 2001), Chicago Cubs (1995-98) and San Francisco Giants (1999-2000), the La Crosse, Wisconsin native batted .245 with 130 doubles, 63 home runs and 319 RBI in 820 games. After retiring from his 14-year career in 2002, Servais held the position of roving catching instructor for the Chicago Cubs.

Servais played college baseball at Creighton University, where his head coach was former Cubs GM Jim Hendry. He was inducted into the school's athletic hall of fame in 2003. He also helped Team USA win a gold medal in the 1988 Olympics and a silver medal in the 1987 Pan American Games, and earned USA Baseball's Alumni Award in 1994.

His uncle, Ed Servais, is currently the head baseball coach at Creighton and another uncle, Mark Servais, is a professional scout with the Chicago Cubs. Servais and his wife Jill currently reside in Larkspur, Colorado with their three children: Tyler, Jacqueline and Victoria.
July, 25, 2010
7/25/10
10:00
AM CT
ARLINGTON, Texas -- It was three hours before the start of Saturday's game and Ron Washington was busy instructing a young pupil on the finer points of first base.

But Washington wasn't working with anyone that will help this club in its quest to win the AL West this year. That, of course, didn't matter to Washington. He saw Tyler Servais, son of Rangers director of player development and former big league catcher Scott Servais, not using the proper footwork or technique in receiving ground balls and throws at first base. Tyler Servais, a catcher (naturally), is playing in a baseball tournament at TCU in the next week and he's going to get some time at first base. That's why he was working there on Saturday.

"He wasn't doing it right and I wanted to make sure he does it right," Washington said. "So I went over there and worked with him. I had the time and wanted to do it."

Bench coach Jackie Moore wasn't surprised.

"He does that all the time," Moore said. "He loves teaching and loves the game. It doesn't matter who that was, he would have gone over there and helped. And did you see how much better he got?"

Scott Servais never asked Washington to help his son. He wasn't even sure Washington knew Tyler was out there working before batting practice.

"It's special when someone helps you out, but it takes it to another level when they go out of their way to help your kid," Servais said. "That's the kind of guy Wash is. He's that way with this team. If they need help, he helps them."
March, 22, 2010
3/22/10
10:22
AM CT
By
Ben Rogers
| ESPNDallas.com
There's a misperception out there that once the curse of Tom Hicks' debt collecting army has been replaced by Chuck Greenberg's giant, fruit-producing wallet that expensive free agents will instinctively flock to the
Texas Rangers
like the salmon of Capistrano (gratuitous "Dumb & Dumber" reference). That won't likely be the case. At least not immediately.
Assuming the deal actually overcomes the last remaining obstacles and gets finalized in the first part of the season, Greenberg will probably need a long, uninterrupted sleep followed by a full day of sweat-inducing checkbook balancing before he's able to walk outside and enjoy the sunshine.
That's why picking the Rangers to win the West this season sounds like an unfair expectation. If you set the bar there, anything less will appear to be an underachievement. Let's not forget that this team's payroll will resemble a bottom-feeding catfish near the bottom of the payroll rankings this season. Let's also not forget that several extremely young heavy-lifters on this team will make roughly $400K this season. That's a biweekly paycheck for most Yankees.
The Rangers' new ace wasn't exactly purchased on the Boardwalk portion of the board.
Rich Harden
was picked up with a St. Charles Place vibe. Sure, he has the chance to be Marvin Gardens, but the point is that he represents a shrewd signing by a team unable to do anything more than gamble on a slightly damaged-but-talent heavy risk/reward proposition -- not an undeniable ace acquisition.
Contenders aren't typically constructed under nearly unfathomable financial duress. Lofty expectations almost seem laughable when you truly put the picture in the frame here. The fact that people are picking the Rangers as the fashionable dark horse to win the West speaks volumes about the job that Jon Daniels, Thad Levine, A.J. Preller, Scott Servais and the great Nolan Ryan have done with a tuna can budget.
I'm as excited as anyone about the future of the Texas Rangers. But don't expect instant domination as soon as Greenberg gets behind the wheel with Ryan riding shotgun. At least wait until you can't see Hicks' rioting debt collectors in the rearview mirror before you start planning the parade route.