Texas Rangers:

Shaun Marcum
December, 13, 2013
12/13/13
3:35
PM CT
Note: The winter Mmetings may be over, but we'll continue our "Hot Stove Talk" series on players and issues that come up this offseason.
Today's player:
Shaun Marcum
Marcum, who turns 32 on Saturday, is attempting to make a comeback after Thoracic Outlet Syndrome surgery. He missed half of the 2013 season after experiencing numbness in his pitching hand.
Marcum was 1-10 with a 5.29 ERA in 14 appearances (12 starts) for the
New York Mets
last season. He had 60 strikeouts and 24 walks, but managed just 78 1/3 innings because of injuries. The Mets scored three or fewer runs in seven of his 12 starts, which partially explains the rough record.
Jayson Stark lists the
Cleveland Indians
,
Kansas City Royals
and the Rangers among the teams with interest.
Why he makes sense:
The Rangers don't have any problems taking chances on players coming back from injury and Marcum would be a nice buy-low candidate. If healthy, he could give the club some starting pitching depth, which is something they could use. Don't forget, Marcum has won 12 or more games in three seasons, and from 2007 and 2012 he had a 3.67 ERA and a solid strikeout-to-walk ratio. So, if healthy, perhaps he can revert back to something similar to those numbers.
Why he doesn't make sense:
It would depend on the contract. With at least two other teams in the mix, perhaps the bidding gets higher than it should. Marcum hopes to be back and ready to go in spring training, but if something happens with that plan this offseason, maybe that changes the approach.
Bottom line:
The Rangers like these types of deals, and I think, if the money is right, that it makes sense to try it. You can't let the fact that the club has failed on some of these in the past stop you from looking in this kind of direction. Marcum could give them some depth if healthy, and you can never have enough arms.
January, 14, 2013
1/14/13
8:55
AM CT
Editor's Note: This is a periodic series during the offseason that looks at available players and how they may or may not fit for the Texas Rangers.
Today's player:
Shaun Marcum
A report out this morning (Jon Paul Morosi of FoxSports.com) says the Rangers are one of a few teams interested in the 31-year-old right-handed starter. Marcum missed two months last season because of elbow tightness. Marcum is a player we talked about earlier this offseason on this blog, thinking he could be someone the Rangers checked in on at some point.
He doesn't blow anyone away with his fastball speed (averaged just shy of 87 mph last year), but can move the ball around the zone and gets ahead of hitters. He was 7-4 with a 3.70 ERA in 124 innings pitched last season (21 starts). He came back from the elbow injury in late August and was 2-1 with a 4.32 ERA in his final eight starts (32 strikeouts and 15 walks). Opponents batted .279 against him in those last eight outings.
In his last four seasons, Marcum has a 3.57 ERA and a 42-26 record (was with Toronto and Milwaukee).
Earlier this offseason, speculation was Marcum wanted a two- or three-year deal. I wonder if he'd consider a one-year deal with a club option (or something like that) now to try to show he's over any elbow concerns. Any club that signs Marcum does not have to give up draft-pick compensation, so that makes him more attractive. And if Marcum wants to play for a contender, the Rangers should have some appeal for him.
The question the Rangers must ask is if Marcum makes more sense than letting their young pitchers compete for the spot. But general manager Jon Daniels stressed over the weekend that his club is still searching the starting pitching market. They'd like some more depth there. Marcum's not a top-tier rotation pitcher, but he can add depth.
If the contract is structured where only one year is guaranteed, I see how it can make some sense. Otherwise, I'd rather see
Martin Perez
,
Justin Grimm
and
Robbie Ross
(and other external options that might pop up) get an opportunity to fight for that fifth spot.
What do you think? Would you like to see Marcum added? Why or why not?
December, 26, 2012
12/26/12
8:39
AM CT
There aren't too many remaining free agents to discuss and some of them may not make much sense, but that doesn't mean we can't talk about it (and you know the Rangers' front office talks about anything and everything internally). A few of you have tweeted me asking about some other starting pitchers. Let's take a look at one that you've brought up (we can get to the other way tomorrow).
Today's player:
Shaun Marcum
The 31-year-old right-hander is apparently drawing interest from the
New York Mets
,
Minnesota Twins
,
San Diego Padres
and
Chicago Cubs
this offseason (of the teams that have surfaced in reports).
Marcum was 7-4 with a 3.70 ERA in 124 innings pitched. He made just 21 starts because he spent two months in the middle of the season on the disabled list with an elbow injury. He returned in late August and was 2-1 with a 4.32 ERA in his final eight starts with 32 strikeouts and 15 walks. Opponents hit .279 against him in that span.
Marcum's last four seasons have been fairly consistent (he missed 2009 recovering from shoulder surgery). He's got a 3.57 ERA with a 42-26 record pitching for Toronto and Milwaukee. Marcum's never been one of those guys that is dazzling, but he's been solid. When Keith Law put together his top-50 free agent list right after the season ended, he's part of what he said about Marcum:
I love that Marcum goes after hitters like they kicked his dog, but a fastball at 85-88 mph is too hittable for the heart of the plate, and he'll need to continue to adjust his approach to pitch in the middle of anyone's rotation.
Marcum is likely looking for a two- or three-year deal and made $7.725 million last year. For what it's worth: Marcum has made just two career starts at Rangers Ballpark in Arlington, his last coming in 2010. He gave up three runs on two hits in seven innings and got a no-decision in a game the Blue Jays lost in April to Texas. He's not a pitcher that induces a lot of ground balls and may not be well suited for Texas.
The question that must be asked (and we've asked it with other names we've brought up here before) is whether Marcum is better than the club's internal options to fill out the rotation. I'm not sure at the price he's going to command that the team isn't better off letting
Martin Perez
,
Justin Grimm
and others (maybe Robbie Ross) fight for that role. Plus, the club's overall plan has been to either dramatically improve the rotation with an upper-tier starter or give the young kids a chance. Marcum does not improve the upper-part of the rotation.
So I'm not too excited about Marcum, unless he ends up getting a one-year deal and I can't see that happening. At this point, I'd rather see the young pitchers get a shot, but that's just me. And since a group of you tweeted or emailed in the past three days asking about Marcum, I thought I'd throw him out there for discussion.
Do you like him? Would you sign him and stick him in the rotation or would you rather go to spring training with the current crop of candidates?
April, 9, 2010
4/09/10
8:00
AM CT
By
Darren O'Day
| ESPNDallas.com
Editor's note: In this week's diary, Darren O'Day talks about Opening Day, a good first pitch, a bad handoff and a bullpen celebration.

ARLINGTON -- Last week in my diary, I talked about Roger Staubach and throwing a strike. The truth is that was one of the more impressive first pitches I've ever seen. I think he's got a little something left in that right arm. He threw a nice heater right down the pipe. That's something we all struggled with Wednesday, so maybe we need to get him a uniform. It's not an easy thing to do. I tried to throw out the first pitch at a game at my college and it looked more like a pitchout, so it was impressive to see him groove one.
I thought our team did an awesome job on Opening Day. A good flyover is all about timing and they nailed it, roaring by just as the anthem wrapped up. I never fail to get goosebumps. Did anyone else notice the enormous Texas flag we had stretched across the hill in center field? I was wondering if there were any other teams in the big leagues that had their state flag at their Opening Day. I would be very surprised if they did. Texans love them some Texas. I'm starting to buy into it in my second year in the Metroplex.
For us to be no-hit for six innings is pretty incredible, especially by a guy who hadn't pitched in a year. We knew he was a good pitcher and had a plus changeup, but for him to do that to a team of such accomplished hitters was something. I remember thinking during the player announcements of Mike Young,
Josh Hamilton
and Vladdy about what an intimidating lineup we have. You have to be on your toes for one through nine.
Shaun Marcum
baffled us for a while, but we eventually got to him. Nelson's homer is the kind of homer that makes Arlington a hitter's park. He's a big, strong dude, but he put half a swing on it and almost smoked me in sitting in the bullpen. That's a good piece of hitting, knowing your ballpark and how use the jetstream.
That was a special Opening Day win for us. To get no hit for six innings and come back like that shows the persistence of our hitters. We have decided to do something about the fact that it takes us way too long to run from the bullpen out to the field on a game-winning hit. We were jumping around, celebrating by ourselves, but there was something missing.
Doug Mathis
decided that from now on, the bullpen will be having our own private dogpile down there. Once that is over, we'll all hustle to the locker room for the traditional beer shower.
I was thankful for Salty getting the hit and beer shower going early in the season. My technique is a little rusty from the long offseason. I did too much shaking and didn't have my thumb placed correctly and had beer spraying all over me.
That wasn't the only thing that was shaky for me this week. My exchange when Wash pulled me from the game Wednesday was not good. He came out and put out his hand for the ball and the first thing that came to mind was to shake it. That's just a boneheaded move. Wow. He said nothing. He was professional about it. Once again, I blame the long offseason for that.
Scott Feldman
was ready for me when I came in and said, 'Was that a rough exchange there? What happened?' He had a good laugh at my expense.
It was an odd night for Arlington, but it felt good to see my first game action. It was windy and chilly, and I was a little overexcited for my first appearance. I was overthrowing and my ball wasn't sinking, but it got better as I went along. Luckily, I have at least 162 more games to improve.
April, 5, 2010
4/05/10
5:00
PM CT
ARLINGTON, Texas -- One teammate kidded that
Nelson Cruz
should split credit with the jet stream for the home run that put the Rangers on the scoreboard for the first time in 2010.
[+] Enlarge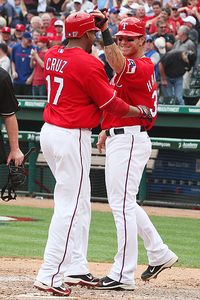 Matthew Emmons/US PresswireNelson Cruz gets a high five from Josh Hamilton after belting a game-tying three-run home run in the bottom of the seventh.
"Whatever works," Cruz said with a grin after the 5-4 win over the Blue Jays. "I just tried to go the other way. I put good wood on it. Even though I was in front of it, I squared it up."
It looked like a relatively mundane inside-out swing on a 2-2 changeup in the seventh inning. But the ball kept going, going, going until it landed in the Texas bullpen, 398 feet away from home plate.
Shaun Marcum's no-hit bid had ended moments before Cruz dug into the batter's box. Cruz's three-run shot ruined Marcum's chance for a win.
Cruz said he knew he got enough of the changeup to at least get the ball to the wall. Manager Ron Washington, well aware of the way the jet stream works at the Ballpark in Arlington, knew it was gone right away.
It's not like Marcum gave Cruz much of a pitch to hit. He put a 2-2 changeup low and outside. Cruz was looking for a changeup, which Marcum used to confuse the Rangers throughout the first six innings, but he still got out in front of the ball a bit.
As much as the jet stream helped, the homer was a pretty impressive display of the 6-2, 240-pound Cruz's strength.
"There's not really anywhere you can throw it that he's not going to be able to hit it," said catcher
Jarrod Saltalamacchia
. "The home run was not even hittable, but he hit it. I think everyone realizes what kind of presence he is and how powerful he is."
And Cruz did more damage in the Rangers' rally for the victory in the bottom of the ninth. He tied the game again with an RBI double, which was a bit of a blooper down the right-field line. He admitted he didn't get the good part of the bat on that ball, but he executed his plan to put it in the outfield.
Cruz finished the day 2-for-4 with four RBI. Pudge Rodriguez is the only Ranger with more RBI on Opening Day, driving in five in 2000.
Cruz was considered Quadruple-A player a couple of years ago. Then he shined in a September 2008 callup and followed that up by belting 33 homers for the Rangers last season. Suddenly, it appears that his career is taking off like a fly ball in the jet stream.