Texas Rangers:

Spring Cleaning
March, 22, 2012
3/22/12
8:00
AM CT
By
Richard Durrett
| ESPNDallas.com
SURPRISE, Ariz. -- We continue our spring cleaning by looking at that final spot on the roster.
Spring cleaning:
Bench

On a team with so many players returning to their usual roles, there aren't many spots up for grabs. But a spot on the bench is open.
The Rangers need a utility infielder and manager Ron Washington has said he wants someone who can play shortstop.
That's why Yangervis Solarte was sent to minor league camp Tuesday. He was hitting the ball well and playing well, but he can't play shortstop. The 24-year-old will spend time playing second, third and shortstop in minor league camp.
So that leaves
Luis Hernandez
,
Alberto Gonzalez
and Greg Miclat to fight for the spot. Washington has worked with all three of them and said Monday that there is no leader right now. It's one of those decisions that will come down to the final week.
All three players a nonroster invitees hoping to prove they belong on the roster. Look for all three to get some more meaningful time at short in the coming games as the team tries to make a decision.
Does this mean that it's definitely someone in camp? No. Other infielders could be released by other clubs the final week of the season, which could increase the Rangers' pool of candidates. But all three players have been pretty solid this spring, so I'm not sure there will be better options available.
Stay tuned.
March, 21, 2012
3/21/12
1:00
PM CT
By
Richard Durrett
| ESPNDallas.com
SURPRISE, Ariz. -- We continue our spring cleaning series by looking at a specific part of the relief corps and sizing things up with the season just a little more than two weeks away.
Spring cleaning:
Left-handed bullpen piece
One of the key questions when camp began: Who will step up and be the left-handed bullpen piece for the Rangers? Of course, Texas doesn't have to have a left-handed reliever. The Rangers do have some right-handed pitchers who have a solid track record of getting left-handed hitters out, but they would prefer a lefty to have for those key hitters in critical situations. That's the role
Mike Gonzalez
had at the end of last year.
A handful of internal candidates are in camp. Let's take a look:
Joe Beimel:
He dealt with some elbow tightness earlier in camp, but has made four appearances (four innings) and given up two runs on four hits with five strikeouts. He has had decent success against left-handed hitters.
Neal Cotts:
Started in minor league camp and then switched over to the big league side after throwing well early in spring. But he's got a 7.11 ERA in 6 1/3 innings in Cactus League games.
Miguel De Los Santos:
He finished last season in Double-A Frisco and is still working on his craft in the minors. He has allowed five runs in 5 2/3 innings in Cactus League games this spring and was optioned to Frisco on Monday.
Michael Kirkman:
Was forced to pitch two innings Tuesday (instead of one) because of
Neftali Feliz
's shoulder stiffness that limited him to three innings instead of four. Kirkman has been inconsistent in Cactus League games but has pitched better of late. He pitched two scoreless innings against the Cubs on Tuesday and has allowed just one run and two hits in his last four innings.
Martin Perez:
He was optioned to Triple-A Round Rock on Monday but impressed scouts this camp. He remains one of the club's top pitching prospects and could certainly help this team at some point this season.
Robbie Ross:
Perhaps the big surprise of camp. He has not been optioned back to the minors because he's pitching so well. With the race wide open, Ross will continue to get consideration. He's starting against the Angels on Sunday in Tempe with
Yu Darvish
pitching in a minor league game in Surprise. Ross has pitched four scoreless Cactus League innings with six strikeouts and no walks.
Ben Snyder:
Was in Double-A Frisco the whole 2011 season and is quietly performing well out here. He hasn't allowed a run in 5 1/3 innings and has no walks with three strikeouts. He doesn't have the stuff of Ross, but he's getting left-handed hitters out and working hard.
Mitch Stetter:
Came in after pitching for the Brewers last season. The sidearmer has allowed two runs on four hits with four walks and two strikeouts in four appearances (3 1/3 innings).
So how does it shake out? We still don't know. But at this point, the most intriguing pitcher is Ross. He split last season between High Class A Myrtle Beach and Double-A Frisco and was a combined 10-5 with a 2.34 ERA and 134 strikeouts to 33 walks in 27 games (26 starts). He was named the Carolina League Pitcher of the Year. He was a second-round pick in the 2008 draft by the Rangers and he's shown an ability to command his pitches, throw strikes and avoid walks.
Part of the decision on Ross (if he is the best candidate by the end of spring) is whether the club wants to carry him as a left-handed reliever on the big league club as opposed to keeping him as a starter in the minors. The thinking remains that he can be a starter long-term. But we've seen in the past with this club that current starters begin their major league careers in the bullpen.
Ross' slider and cutter sure are looking good this spring and so far hitters (he's faced a mix of regulars and minor leaguers) haven't been able to get the barrel on the ball well against him.
So we'll see. There's still time for Kirkman and others to step up. But give Ross some credit: He isn't making the decision easy.
March, 21, 2012
3/21/12
8:00
AM CT
By
Richard Durrett
| ESPNDallas.com
SURPRISE, Ariz. -- With the
Texas Rangers
getting a rare spring training day off, let's take some time to look at some things to watch in the final couple of weeks before the season begins. That includes several position battles. We'll start with one of those.
Spring cleaning:
Center field
[+] Enlarge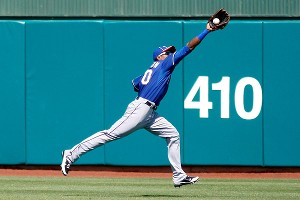 Rick Scuteri/US PresswireJulio Borbon has put together a solid spring while challenging for the starting spot in center field.
When the spring started, this was a battle between
Craig Gentry
,
Julio Borbon
and
Leonys Martin
-- in that order. Nothing, it appears, has changed in that order.
But Gentry's latest wrist sprain, which kept him out of a handful of games, isn't helping his candidacy. He hasn't been able to get into a rhythm because of injuries, which have plagued him at various times the past few seasons. But his play in 2011 and the fact that he played in meaningful games still gives him an edge. He was in right field and then switched to center on Tuesday and beat out two infield hits and attempted a stolen base. Gentry was thrown out, but the fact that he tried to steal was important. It was something the Rangers wanted to see from Gentry at this point. He'll play the entire game Thursday.
Martin has shown flashes of what the Rangers saw in him when they made the investment last year. He's got great speed, good instincts and can hit the ball some, too. But he's raw and needs a little more seasoning.
To me, though, the most interesting candidate is Borbon. This is his fifth spring and he isn't here as the de facto center fielder. In the past, this has been his job to lose. And he's lost it, thanks to inconsistent play and injuries.
Before yesterday's game, when he dropped a ball in center field that was in his glove and wasn't able to cut off a ball hit hard to center, Borbon was putting together a solid spring. That's worth nothing. It's unfair to let one game alter the entire picture. But in a sense, that's been the story of Borbon. He's had difficulty with consistency.
But overall, this spring has been a good one for Borbon. He's hit the ball well, hasn't been afraid to use his speed and has felt better defensively -- even with some hiccups Tuesday.
"He's more confident and more aware of what he's doing out there," outfield coach Gary Pettis said Tuesday morning. "I think last year, maybe he just didn't bear down as much as he could have. This year he's come back to prove that he belongs here, and so far, he's done that. He knows he can go get a ball, he's confident in his throwing. If he makes a poor throw or a poor play, he can make the adjustment. He has to continue that when the mistakes happen."
Borbon said he feels more relaxed this year, in part because he hasn't been handed anything. He performed well in the playoffs in winter ball and has some confidence from that.
"I'm really not thinking about any kind of position battle," Borbon said. "My focus is improving my game. I know what's going on and what's at stake, but I can't worry about that. I learned a lot last year and I want to keep doing that."
Prediction:
If Gentry stays healthy, I still think this is his job.
Josh Hamilton
will still play his fair share of center field, but the Rangers want to protect him in left field and need to trust that Gentry can do the job well enough. I think he can and that he'll get himself ready in the next few weeks.