Texas Rangers:

Steve Buechele
January, 8, 2014
Jan 8
2:24
PM CT
With Bobby Jones moving up to the major league coaching staff, the
Texas Rangers
had to make a few changes to their minor league staffs. Steve Buechele takes Jones' place in Triple-A Round Rock, moving up from Double-A Frisco. James Wood moves up from Class A Myrtle Beach to take Buechele's place in Frisco.
Buechele led the RoughRiders to the postseason in three of his four seasons there. Wood was the 2013 Carolina League Manager of the Year and helped the Pelicans make the playoffs in each of the last three seasons.
Scott Coolbaugh, as the club announced earlier, is the hitting coordinator and Brook Jacoby is the assistant hitting coordinator.
Here's a complete look at the staffs for the minor league clubs.
Round Rock (Triple-A)
Manager: Steve Buechele
Pitching: Brad Holman
Coach: Justin Mashore
Coach: Spike Owen
Trainer: Jason Roberts
Strength: Ric Mabie
Frisco (Double-A)
Manager:
Jason Wood
Pitching: Jeff Andrews
Coach:
Jason Hart
Trainer: Carlos Olivas
Strength: Eric McMahon
Myrtle Beach (High-A)
Manager: Joe Mikulik
Pitching: Steve Mintz
Coach: Josue Perez
Trainer: Jacob Newburn
Strength: Anthony Miller
Hickory (Low-A)
Manager: Corey Ragsdale
Pitching: Oscar Marin
Coach: Bobby Rose
Trainer: Sean Fields
Strength: Wade LaMont
Spokane (Short-A)
Manager: Tim Hulett
Pitching: Jose Jaimes
Coach: TBD
Trainer: Zach Jones
Strength: Ed Yong
Arizona (Rookie)
Manager: Kenny Holmberg
Pitching:
Brian Shouse
Pitching: Joey Seaver
Coach:
Donzell McDonald
Coach: Kenny Hook
Coach: Albert Puello
Trainer: Dustin Vissering
Strength: Josiah Igono
Dominican (Rookie)
Manager: Aaron Levin
Pitching: Henderson Lugo
Pitching: Pablo Blanco
Hitting: Guillermo Mercedes
Coach: Humberto Miranda
Coach: Alexis Infante
Coach: Chu Ovalle
Coach: Osvaldo Olivia
Trainer: Alex Rodriguez
Strength: Eduardo Thomas
Roving Instructors
Field Coordinator: Jayce Tingler
Hitting Coordinator: Scott Coolbaugh
Asst. Hitting Coordinator: Brook Jacoby
Pitching Coordinator: Danny Clark
Catching Coordinator:
Hector Ortiz
Asst. Catching Coordinator: Ryley Westman
Infield/Baserunning Coordinator: Casey Candaele
Special Assistant-Pitching: Mark Connor
Special Assignment Coach: Brian Dayett
Special Assistant-Hitting: Harry Spilman
November, 1, 2013
11/01/13
5:48
PM CT
Triple-A Round Rock manager Bobby Jones, who has spent 26 years in the
Texas Rangers
organization as a coach, will join the big league coaching staff in 2014.
It hasn't been decided whether Jones will coach first base, as the club has one more spot to fill on the staff. That slot will go to someone with catching experience, and either that coach or Jones will also coach first with Gary Pettis staying at third base.
It's likely that Double-A Frisco manager Steve Buechele will take Jones' place at Round Rock.
Jones is a favorite among the players and has spent much of his baseball life with the Rangers.
August, 6, 2012
8/06/12
12:11
PM CT
By
Bryan Dolgin
| ESPNDallas.com
Steve Buechele, former
Rangers
third baseman and current manager at Double-A Frisco, has had the honor this season of informing two players about their promotion to the major leagues. In addition to RHP
Justin Grimm
and 3B/1B
Mike Olt
, many wonder when, not if, SS/2B
Jurickson Profar
will get the call to join the big club.
PODCAST
Frisco RoughRiders skipper Steve Buechele talks about how it feels to tell his players they're getting called up, Mike Olt's development, Jurickson Profar projections and more.

Listen

"It's rare for a Double-A manager to tell one that they are going to the big leagues, let alone two. Maybe down the road there may be another. I don't know," Buechele said.
Buechele was a guest on Rangers Magazine this past Sunday on ESPN Dallas 103.3 FM. He discussed sharing the call-up news with Grimm and Olt, puts Olt's promotion into perspective, his experience coaching in the Futures Game and much more.
Profar, the 19-year-old switch-hitting native of Curacao, is the top prospect in minor league baseball. Through Sunday, he's batting .281 with a .357 on-base percentage and .464 slugging percentage. He's tallied seven triples, 13 homer runs, 23 doubles, 56 RBI and 66 runs scored. He has walked 51 times while striking out just 68 times in 416 at-bats. Profar has 82 games under his belt at shortstop, but has also played second base in 21 games.
"If they view (Profar) as a possible piece that can help them in the playoffs in whatever role as a utility player, someone who can pinch hit, get down a bunt, that can play multiple positions, it's going to be up to them, but I think there's a chance," Buechele said. "In the season that's he's had so far, I think a September call up, at least ... He's worthy of that."
Lately, Buechele has alternated Profar and Leury Garcia at shortstop and second base. He will continue to do so. Buechele also discussed what Profar has handled well and the areas where he can show improvement.
Listen to the podcast.
July, 8, 2012
7/08/12
3:30
PM CT
KANSAS CITY, Mo. -- Frisco RoughRiders manager Steve Buechele was pleased with Mike Olt's first game in right field last week.
The Rangers want to make Olt as versatile as they can, especially with
Adrian Beltre
occupying third base for the forseeable future, and they tried the corner infielder in a corner outfield spot.
"He looked like he'd play right field all his life," said Buechele, who is one of the coaches for the World Team at today's Futures said. "The first play he got was a tough running play torward the line and he got over to it and made a nice play. He looked comfortable out there."
Buechele said Olt, who is hitting .294 with 22 homers and 63 RBIs, will play some more in right field and will also get some chances at first base, though he hasn't had many so far this season.
Buechele said defensively, Olt continues to improve.
"For Mike, it's the little things he's working on," Buechele said. "He wants to be sure he's got his foot work down and is in the right position. But he listens and wants to learn."
July, 7, 2012
7/07/12
12:10
AM CT
By
David Collier
| ESPNDallas.com
Just two years after entering the
Texas Rangers
minor league system, Mike Olt has progressed into one of the Rangers' top prospects, but it's been a process. The slugging third baseman has polished his skills on the diamond and, most importantly, grown a characteristic that may be the difference between making the major leagues or not: patience.
[+] Enlarge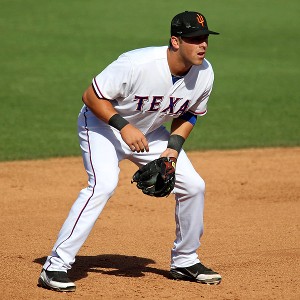 Mike Janes/Four Seam Images/AP ImagesFrisco RoughRiders third baseman Mike Olt will play for the U.S. team in the Futures Game on Sunday.
The Rangers drafted Olt with the 49th pick in the supplemental first round of 2010 First-Year Player Draft after a successful three-year career at the University of Connecticut. With the Huskies, Olt became a prospect who teams were taking a serious look at, and when Texas came calling, he couldn't pass it up.
"I was really excited to get drafted by Texas," Olt said. "I've heard a lot of great things about Texas. I heard they had a great minor league system, and I was going to learn a lot and be able to push myself to move up the ladder. It's been a great experience so far."
Olt, who will play for the U.S. team in the 2012 Futures Game on Sunday as part of the MLB's All-Star Game festivities, has spent the entire 2012 campaign with the Rangers' Double-A affiliate, the Frisco RoughRiders. The talented third baseman has put up impressive numbers, hitting .297 this season with 22 home runs and 62 RBIs.
"He's got awesome power," RoughRiders manager Steve Buechele said. "He's been a real good breaking ball hitter. He's hitting mistakes and taking advantage of it. I think if there's one thing he'll get better at it will be jumping on fastballs in hitter's counts. If he starts doing that, I think you may see some even better power numbers."
A lot of his power at the plate has come this season. Olt hit a combined 24 home runs in his first two seasons in the Rangers' minor league system, but those numbers are steadily climbing year by year. What has been the difference? Olt says it's all about patience.
"I just think it's just a matter of getting yourself in good counts," Olt said. "Early in my pro career, I was really aggressive at the plate, and I found myself getting myself out a lot because I was swinging at tough pitches and putting myself in pitcher's counts. This year, I've improved my approach at the plate, and I'm seeing myself get into better counts because of it. Then, the pitcher has to come to me a little bit more, and I've been able to take advantage of it."
Senior director of player development Tim Purpura is in his first season with the Rangers, but he has already seen extensive improvement at the plate from Olt.
PODCAST
Rangers play-by-play voice Eric Nadel talks all things baseball with Ian Fitzsimmons and Matt Mosley. Are the Rangers really going after Cole Hamels?

Listen

"What I've seen so far this year is that his patience at the plate has grown," Purpura said. "He is much more plate aware than he was even in spring training. I think he learned the lesson in spring training about being selective on pitches and getting a good pitch to hit and being able to drive the ball. What I've seen is the patience at the plate grow and just the confidence that he knows he belongs. He knows he can play at the big league level. He knows he's got to wait on his opportunity to do so, but his confidence level is at an all-time high.
"The great thing about Mike is it's all positive. He's not worried about when he gets to the big leagues. He's not chomping at the bit to get there as far as checking the box scores everyday. He's quietly confident. When he gets to the major league level, I think he knows he has a great chance to be successful."
The question is when will he get that chance and where will it be? The Rangers are fortunate enough to have an All-Star third baseman in
Adrian Beltre
and
Mitch Moreland
-- when healthy -- is a solid first baseman.
"They want to make me more versatile and expand into some other positions, which I'm all for," Olt said. "It helps me out, and it helps Texas out. It gives me more of an opportunity."
Purpura said the Rangers had a discussion about Olt a few weeks ago. He hopes Olt gets to test the waters at the major league level this season, but he knows becoming a more versatile player is vital to make him more of an asset.
"When it came down to third base, Mike Olt was the unanimous choice that he would be the guy that would be ready to go to the big leagues right now and play third base," Purpura said. "When the subject of first base came up, he was the choice again. He's the guy people look to. Although he hasn't had a lot of time at first, they look at him if it's going to be a long-term deal that he would be the guy that could go there.
"The other thing we've talked about with him is that in the second half (of the season), do we get his feet wet a little bit in the outfield? That just opens up a lot of possibilities. At first and third, I think he would be everyone's choice for the fill in guy."
There are a wide variety of options available for Olt, and it's not without warrant. Buechele sees him more than anyone, and he thinks Olt can play a number of positions.
"He's going to play a lot of positions, and the more that he can play, the better for him and for the Rangers," Buechele said. "He's a baseball player and wherever you put him, he'll be successful."
There's little doubt that Olt will make it to the major leagues at some point in the near future, but it's impossible to guess when it will be. As he's done all year long at the plate, Olt has to be patient.
"They just say to keep doing what I'm doing and things will work out," Olt said. "It's something that I'm not really worried about. It's going to work out in the long run and there's no need to rush it now."
Olt has emerged as a top prospect with patience. So far, I think it's safe to say that patience is paying off.
July, 5, 2012
7/05/12
11:00
PM CT
By
Clint Foster
| ESPNDallas.com
ARLINGTON, Texas -- "Special" is one of Jurickson Profar's favorite adjectives. He uses it all the time in conversation. Perhaps it is fitting that the best adjective to describe Profar on and off the field is just that: special.
He has been turning heads ever since he first entered the
Texas Rangers'
lauded farm system in 2010. Mike Olt, his teammate and another top prospect for the Rangers, said he knew Profar was something special ever since he first saw him on the Rangers' rookie-league team in Spokane, Wash.
[+] Enlarge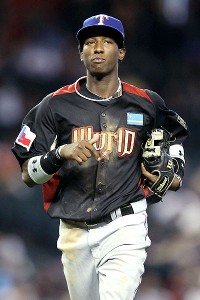 Christian Petersen/Getty ImagesRangers prospect and Frisco RoughRider Jurickson Profar is headed back to the MLB Futures All-Star Game on Sunday.
"I thought he was really good there," the third baseman for the Frisco RoughRiders said. "I think a lot of his progression has come with maturity. He's really mature for his age. I think that helps his game. He understands the game really well, and it's fun to watch."
It is rare to find a young player with the sheer amount of raw talent, potential and humble attitude that Profar has. Many scouts have praised the shortstop/second baseman for the RoughRiders as a top-five prospect. ESPN.com's Keith Law ranked Profar as the second-best minor league prospect in baseball. Profar can also add a selection to the Texas League All-Star team and an invitation to the 2012 MLB Futures All-Star Game to his list of honors this season.
Profar will make his second consecutive appearance in the Futures Game on Sunday as part of the World Team. At 19 years old, Profar will be the second-youngest player in the game.
"It feels great," Profar said. "I was working hard to go back this year. I really liked it last year, playing with those guys. There are some great players out there, and to be part of it was a good thing. It's going to be fun."
Profar hails from Curacao, a small island in the Caribbean just north of Venezuela. Curacao, along with Aruba and Bonaire, make up the "ABC islands," which are constituents of the Netherlands. Curacao has produced many professional baseball players, including
Andruw Jones
of the
New York Yankees
and
San Francisco Giants
hitting coach Hensley Meulens. Profar said he is proud to be a part of that legacy.
"We are a small island, and to have good players like that is special," he said.
In his hometown of Willemstad, Profar got started with baseball at an early age. When he was 11 years old, he competed in his first of two consecutive Little League World Series, winning the championship in 2004. The trip to Williamsport, Pa., was Profar's first time in the United States. He said that competing on an international level in front of so many people was not only a great experience but also ultimately helped get him to where he is today.
As a member of the Rangers' Double-A affiliate, Profar has the fourth-best batting average among RoughRiders at .295 with 19 doubles, six triples, nine home runs and 39 RBIs while slugging .481. What stands out most is his speed on the base paths, indicative by his nine stolen bases this season, and his skills on defense.
"He comes better than advertised," manager Steve Buechele said. "He's a great kid that loves playing, and he's a heck of a baseball player. There were concerns about him jumping a level and coming here, but I think he's handled it as good as he possibly can. He's on the All-Star team, and he's played like an All-Star."
"He's just a great competitor," hitting coach
Jason Hart
said. "He's got great hand-eye coordination, twitch muscles, and his heart and competitive edge at the plate really put him over the top."
Another thing that gives Profar an advantage over many international players is that he has a firm grasp on the English language. In addition to his native Papiamento, he speaks three languages, a phenomenon that is extremely common in his home country.
"Some other people over there speak like 10 languages," Profar said. "We learn it in school. It's something special, understanding what your managers and coaches are trying to do with you. It helps a lot."
Profar certainly puts his understanding of English to good use. Buechele said that Profar's coachability is just another one of his many positive attributes.
"He just eats up everything you teach him," Buechele said. "He's just a wonderful kid who wants to get better. He's not afraid to fail, and the best part about him is he's not afraid to be great either."
Like any great player, Profar puts all of his attributes toward one goal: helping his team win. Frisco sits in third place in the Texas League South standings and is looking to improve. Profar said he loves playing for Frisco and is willing to do anything to help the team, including playing multiple defensive positions.
"We're a great team," Profar said. "I've got great teammates. We play together as a team, and that's what you want. We're closer to Arlington here, so everybody kind of looks to us. That's why we have to play hard every day and try to win every day."
Temporary goals aside, there is no denying that the ultimate pinnacle for Profar, like any prospect, is getting called up to the major leagues. Although the Rangers may not need his position yet, he could be playing at a high enough level to be called up anyway.
"That's going to be special," Profar said. "That's what I'm working for, you know? I want to be over there, so that's why I'm working hard every day. We'll see what happens."
Profar said that when he does get that call, the first person he will let know is his grandmother, Victoria. Victoria raised him and is his most beloved relative. But she has yet to see him play in America.
"She's scared of an airplane, so she won't come," Profar said. "When I get to the major leagues, she will come for sure."
In that case, Victoria had better start getting over her fear. While Profar may be turning heads in the minor leagues today, it won't be long before he gets his chance to play on baseball's biggest stage. And that will be something special.
June, 16, 2012
6/16/12
9:00
AM CT
By
Clint Foster
| ESPNDallas.com
ARLINGTON, Texas -- Justin Grimm was nine years old, a first-year pitcher for his little league team in Bristol, Va., when
Jimmy Gobble
made an appearance at one of his games. Gobble, a pitcher and favorite son of this small town on the Virginia-Tennessee state line, had just been drafted into the major leagues. As kids surrounded Gobble, asking him for autographs, Grimm looked to his parents and simply said: "I want to be that some day."
Saturday, Grimm's childhood dream comes true. He's slated to make his big league debut against the
Houston Astros
at 6:15 p.m. on ESPN Dallas 103.3 FM and FSSW. The 23-year-old right-hander will face right-hander
Lucas Harrell
(6-4, 4.83) in front of a sellout crowd at Rangers Ballpark in Arlington.
"It's just very overwhelming," Grimm said. "I'm excited to be here and ready for the opportunity. I'm just going to take it a day at a time and try to learn as much as I can from Mike [Maddux] and continue to develop."
Grimm has an 8-3 record at Double-A Frisco this season, posting a 1.87 ERA. He's struck out 67 batters and issued 14 walks in 77 innings (13 starts). Opposing batters are hitting .228 against him.
Grimm describes himself as a power pitcher with a good fastball, a slurve -- a combination between a curve and slider -- and a changeup that he is continuing to develop. He said he's matured as a pitcher since joining the Rangers organization as a fifth-round draft pick in 2010 out of the University of Georgia.
"At the start of the season, I didn't see myself possibly reaching the big leagues this year," Grimm said. "Once I got into professional ball, I just showed up with the attitude everyday of: 'What can I learn today?' So I feel like that's a big part of how I've come so far in such a short time."
Grimm received the news of his promotion a few days ago. He said his coach, Steve Buechele, called him into his office before a game to congratulate him on being selected for the Texas League All-Star team. Before Grimm left the office to say goodbye to his visiting family, Buechele told him to make sure to get them tickets to Arlington because he would be pitching Saturday.
"My jaw just dropped," Grimm said. "My heart started beating a little fast, knees started shaking. But that's good. I want that feeling. That's something that I'm never going to forget."
Rangers general manager Jon Daniels said he was confident that the move to call up Grimm was the right decision.
"We felt overall, putting together our bullpen and our starting options, that Justin was most ready to help us win a ballgame and step into this role," Daniels said. "I think the developmental staff has done a real nice job with him."
Fellow rookie
Robbie Ross
was particularly excited to hear the news of Grimm's promotion. Ross and Grimm have the same agent and the two grew close as teammates in the minors.
"I'm fired up for him," Ross said. "It's going to be sweet. I hope he can come in here and enjoy it and not let any pressure get to him. I'm just excited for him."
Grimm is ready to enjoy the ride and doesn't want to put any added pressure on himself. He's already had a chat with manager Ron Washington.
"He said, 'You know, it's the same pitches in Double-A ball and here. You make the pitch, you have success. If you don't, they're going to hit the mistakes,'" Grimm said. "I feel like if I can make my pitches, I'll be all right."
Grimm's chance to make his pitches in the big leagues has finally come and his parents and sister will be in attendance. Grimm said his brother is disappointed because he is the best man in a wedding and has to miss his brother's first start.
"I just told him not to worry about it," Grimm said. "I know he's pretty upset, but hopefully there will be more coming for him to come see."
The Rangers hope Grimm is right. If he is, the club may have found a reliable starting option to help a pitching staff that is short-handed.
April, 16, 2012
4/16/12
3:00
PM CT
By
Bryan Dolgin
| ESPNDallas.com
It's always a pleasure to catch up with the manager of the Double-A Frisco RoughRiders and former
Texas Rangers
third baseman Steve Buechele. He was a guest on Rangers Magazine this past Sunday on ESPN Dallas 103.3 FM. As you can imagine, RoughRiders third baseman Mike Olt was a primary focus of our conversation.
PODCAST
Double-A Frisco manager Steve Buechele joins Rangers Magazine to talk about Mike Olt and other Rangers prospects.

Listen

"Number one, he's a great kid. Number two, he's super talented. You know, I think everyone talks about his power potential, which is a given. They've got him listed as a plus defender, which I think he will be. He's got some way to go defensively and things to learn. That's why he's here," Buechele said. "The good thing about him is that he's willing to learn, and he's not afraid to work. He's going to be a good one. There's no question about it."
Of course, it makes sense that Buechele is assisting in the development of a third baseman. He played more 1,200 major league games at third base from 1985-1995 and most of those years with the Rangers. Buechele was a solid defender, but he also knows how to develop the baseball mind from his own experiences.
When you think about Olt, you also have to think about who is at third base for the Rangers. It's
Adrian Beltre
, and he is signed to a long-term contract. When Buechele was in the minors, Buddy Bell manned the hot corner for the Rangers.
"I think in this game, you never know what's going to happen. Buddy was traded [to the
Cincinnati Reds
], and I got the call. You never know with injuries or trades. It's just the way this game goes. I think sometimes it can be frustrating to a player, but sure enough when you are ready to make it to the big leagues and play in the big leagues, there will be a spot for you," said Buechele, who was 23 years old when he received the call-up to the big leagues.
Odds are extremely against Beltre being traded, but Olt, who is 23, saw playing time at first base in spring training and will eventually play some first base with the RoughRiders. As we know from over the years, the Rangers have not been shy about trading quality minor leaguers to bolster the major league club. It will be interesting to follow the development of Olt.
Buechele also talked more about the versatility of position players, Jurickson Profar's first taste of AA, how far Olt and Profar are from the big leagues, Brad Hawpe's progress, Engel Beltre's improvement, Joe Wieland's MLB debut, Barrett Loux, Justin Grimm and Tim Murphy. Listen to the podcast.
August, 29, 2011
8/29/11
3:00
PM CT
By
Bryan Dolgin
| ESPNDallas.com
The magic number is one…for the Frisco Roughriders, the Double-A affiliate of the
Texas Rangers
, to reach the Texas League playoffs. However, developmental magic continues to be produced by their manager, former Rangers third baseman Steve Buechele.
PODCAST
Frisco RoughRiders coach Steve Buechele talks about prospects, the transition from High-A to Double-A and dealing with the dog days of baseball season in the minors and majors.

Listen

"My primary focus is to make sure that they are playing the game the right way," Buechele said when he was a recent guest on Rangers Magazine (Saturday 10-11 a.m.) on 103.3 FM ESPN. "Get them ready to play at the next level. We have a lot of young kids in this organization who are being pushed and challenged to play at a level that they maybe they shouldn't be at age-wise. If I can pass along a kid up to Triple-A, the best thing I can pass along is a kid who plays the game the right way."
Buechele, along with pitching coach Jeff Andrews, were able to "pass along" a couple of their pitchers earlier this season to the
San Diego Padres
in order to acquire reliever
Mike Adams
for the major league club. Adams pitched a scoreless relief inning in last night's Rangers win against the Angels.
"The trades…part of you, when you lose a Robbie Erlin and a Joe Wieland all at one time, part of the trades you're saying 'gosh darnit, you just took 40 percent of my staff and these are the two guys we are leaning on,' but the other half is that's what we're here for is to develop these young players and if they go in trades, they go in trades."
In the interview, Buechele also talked about pitching prospect Robbie Ross, outfielder Mike Bianucci, third baseman Tommy Mendonca, outfielder Engel Beltre, the transition from High-A to Double-A and dealing with the dog days of baseball season in the minors and majors.
Follow Bryan Dolgin on Twitter
@RangersRadioBD
.
April, 4, 2011
4/04/11
1:46
PM CT
FRISCO, Texas -- LHP Martin Perez, who enters the season as the top-rated prospect in the Rangers' system according to ESPN, says a stint in Venezuela for the winter and progress during spring training has him confident and ready for 2011. That includes learning a 2-seam fastball, fine-tuning his mechanics and strengthening his back.

"One of the biggest issues last year was my back," Perez said, at Dr Pepper Ballpark for media day on Monday. "I really worked on getting that stronger."

Perez said the back, which he felt just go out on him one night last season, was the main cause of his drop in velocity for parts of 2010, where he went 4-8 with a 6.02 ERA for Double-A Frisco. It caused him to alter his mechanics some and he never got going again.

"I couldn't throw the same," Perez said. "It was 86 [mph] sometimes. Now I'm throwing 95 to 96 again."

Perez said he spent time over the winter learning a two-seam fastball and was confident enough to throw it during minor league games this spring.

"It's about 93 and was something I wanted to do," Perez said. "I showed it to the Rangers officials this spring and they told me to keep throwing it."

Perez, who also throws a 4-seam fastball, a curve and a changeup, said the mental side of the game has improved for him as well.

One thing I learned in Venezuela was not to go out and think about throwing seven innings or eight," Perez said. "I only worry about that one inning and then do it again."

Frisco manager Steve Buechele is expecting big things from the lefty.

"He threw better in spring training than I think he threw all of last year," Buechele said. "You can see the adjustments that he made and the improvement. I thoroughly expect him to keep improving. He's a young kid with huge talent. It's up to him and us to develop those talents and from what I've seen from the end of last season to now is an incredible improvement."

Perez is slated to start Friday's game in Frisco against the Springfield Cardinals. That's the club's second game of the season.
January, 15, 2011
1/15/11
8:00
AM CT
The Rangers continue the Winter Caravans by heading up to Frisco at Dr Pepper Ballpark from 1:30 to 3 p.m. for an autograph session. Please note a maximum of 300 autographs will be signed.
Players and officials coming to the event:
Chuck Greenberg
Derek Holland
Tommy Hunter
Mitch Moreland
David Murphy
Steve Buechele
Dave Anderson
Also: Deuce, the RoughRiders' mascot, and Rangers Captain will be on hand to meet fans and take photos. Fans can also purchase food and drinks at the ballpark concession stands.
April, 8, 2010
4/08/10
7:15
AM CT
By
Brett Perryman
| ESPNDallas.com
Here are your Opening Day starters for the Rangers' affiliates (all times CT):
Triple-A OKC:
Derek Holland
(7:05)
Double-A Frisco: Blake Beavan (7:00)
Class-A Advanced Bakersfield: Wilfredo Boscan (9:15)
Class-A Hickory: Joe Wieland (5:35)
Beavan is not yet listed by the RoughRiders website as an official starter. I asked manager Steve Buechele on Wednesday about the Frisco rotation order for the first week. He projected Beavan, Richard Bleier (Fri), Alexi Ogando (Sat), Kasey Kiker (Sun), Martin Perez (Mon), but said that the order was still tentative.
Boscan earned a promotion and this opening day start after a solid first full professional season in 2009, where he continued to allow few baserunners but saw his strikeout rate fall from 9.1 per nine innings in rookie ball to 5.0 in the SAL. Jason Parks shared a terrific
scouting rundown
on Boscan yesterday.
Wieland repeats the Low A level after joining Hickory late last May, posting decent secondary numbers (K/9 of 7.9 and K/BB of 3.0) but was hit hard and needs to show more before earning a spot in a competitive Bakersfield rotation.
You can follow these games live toight
here
.