Texas Rangers:

Surprise positional outlook
February, 9, 2012
2/09/12
11:10
PM CT
By
Richard Durrett
| ESPNDallas.com
We've come to the end of our starting rotation outlooks and it's a former closer who we'll discuss today.
[+] Enlarge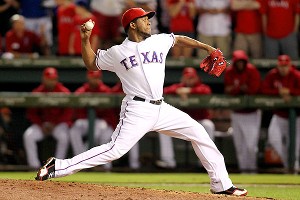 Tim Heitman/US PresswireThe Rangers want to find out this season whether Neftali Feliz can be an effective starter.
Today's position:
No. 5 starter
The Rangers want to find out this season whether
Neftali Feliz
can start. They told him shortly after the season ended that he'd be moving into the rotation and to prepare for a spot. GM Jon Daniels said he wanted to avoid all the questions during spring training about if Feliz would make the rotation. So he heads to spring training with a place in the rotation.
Feliz's season ended with a national TV audience watching in Game 6 of the World Series. You know the details, but after Feliz gave up the two-out, two-strike hit to tie the score, the coaching staff felt he wasn't in any condition to pitch the 10th inning. The Rangers ended up losing in 11 innings and Feliz walked from the clubhouse to the bus with his head down.
Now, months after that event, Feliz says he's focused on starting and helping the team in the rotation. He said at Rangers FanFest in January that the bottom of the ninth in Game 6 was something that "really, really upset me a lot."
"But I'm not mad at myself because I threw my pitch," said Feliz, who surrendered the game-tying double off the bat of
David Freese
after getting within one strike of the championship. "It just got hit."
Feliz said he's still thought about that night, but has vowed to move on. He'll get a chance now with a new role on the Rangers as he attempts to prove he can start.
The Rangers, in an effort to help prepare Feliz for the challenge,
organized a meeting with
Pedro Martinez
. Feliz talked with Martinez earlier this offseason and said he was planning on meeting him again so that Martinez could watch him pitch and give him some pointers.
"Coming form a guy like him who I always admired as a kid, I took it very seriously," Feliz said. "He gave me advice about mental things and toughness. He was sincere with me. He said 'Be patient and don't get anxious. You'll get adjusted to it.'"
Feliz must show he can handle the workload of a starter. That means hard work in the offseason and staying in shape during the season. Feliz has that 100 mph fastball and the ability to change speeds. He said his slider and changeup must be more effective and that will be a focus this spring.
One of the biggest spring training stories will be Feliz's progress and if that electric fastball, combined with his secondary stuff, will be good enough to be a successful starter. We'll get our first sense of that in a few weeks.
February, 25, 2010
2/25/10
7:30
AM CT
By
Richard Durrett
| ESPNDallas.com
Here's our look at Tommy Hunter, who goes into spring training as the No. 4 starter. It's his job to lose after a solid 2009 season.
SURPRISE, Ariz. – Tommy Hunter remembers a conversation he had with
Michael Young
on a quiet plane ride back from Boston in August of 2008.
Hunter started against the Red Sox at Fenway Park and couldn't get out of the second inning. He gave up nine earned runs on seven hits and was pulled in a 10-0 loss.
"He told me that stuff happens and you have to come back next time and try to improve," Hunter said. "He told me I couldn't give up."
Hunter used the troubling start as motivation.
"It's one of those things that you can't do any worse than what I did the year before," Hunter said.
He was 0-2 with a 16.36 ERA in 11 innings (three starts).
Hunter had a conversation with his dad before spring training last year, telling him that if he got five consecutive starts, it would determine whether he had the stuff to make it in the major leagues.
[+] Enlarge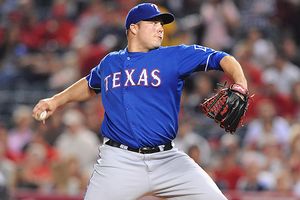 Kirby Lee/Image of Sport/US PresswireA cutter and an improved changeup helped Tommy Hunter recover from a tough stretch.
He was called up for a spot start in May and pitched well, but was sent back to the minors for a month. When he returned, Hunter knew he was going to get his chance to show if he was worthy of staying in the Rangers' rotation.He allowed just three combined earned runs in his first three starts and then faced Boston and
Josh Beckett
in late July.
"It was one of those hurdles that you've got to get over," Hunter said. "I was sitting there thinking, 'This could be a good turning point.' I got a win and the start went pretty well. Things went from there."
Hunter allowed one run in six innings in a 4-2 Rangers' win.
It was during that stretch that Hunter's cutter became a topic of discussion. His fastball delivery had a natural cut to it at times, but he said if he threw one it was "by accident." He and catcher
Kevin Richardson
experimented with it in a bullpen session before he was called up last season and Hunter tried to throw in a game a few days later.
The pitch, along with an improved changeup, added another dimension to Hunter's game. His confidence continued to increase as the season progressed. He ran into some fatigue issues, which contributed to his final few starts (he gave up 13 runs in eight innings in two of his last three starts). Hunter worked this offseason to get his strength up and be prepared to pitch well for the entire season.
"I have to keep it going and keep working," Hunter said.
The 23-year-old is another example of a young pitcher showing steady improvement for the Rangers. The club wants to see if he can take the next step and become an integral part of the rotation from start to finish in 2010.
February, 24, 2010
2/24/10
7:30
AM CT
By
Richard Durrett
| ESPNDallas.com
SURPRISE, Ariz. -- Colby Lewis rejoins the Rangers in a much different mindset than he was when he was a first-round draft pick in 1999.
[+] Enlarge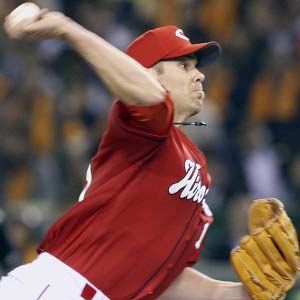 AP Photo/Koji SasaharaAfter two years in Japan, Colby Lewis comes back to the Rangers with a fresh outlook.
That's what
two years in Japan finding your game
will do for you after shoulder injuries and struggles. After spending part of 2007 in the Oakland bullpen, Lewis figured it was time to see if he could make some money and pitch better overseas.
He did both. And after two solid seasons playing for the Hiroshima Carp -- 26-17 with a 2.82 ERA in two seasons -- he's returned to Texas as the No. 3 starter. Lewis isn't in Surprise to fight for a rotation spot. He has one already, part of a contract that pays him $5 million in guaranteed money the next two seasons and could net him another $3.25 million in a club optoin for 2012. What the Rangers hope to see is the same guy that found his command in Japan.
Lewis' most impressive number is his strikeout-to-walk ratio. Lewis, 30, struck out 183 batters and walked 27 in 178 innings in 2008. Last season, he pitched 176 innings and had 186 strikeouts and 19 walks.
"I found my command and got more consistent about locating the ball," Lewis said.
All of this comes after shoulder injuries and an inability to consistently find the strike zone had Lewis going back and forth between the majors and minors. Right shoulder surgery in 2004 forced Lewis to miss the 2005 season. He bounced around some more after that before landing in Japan in 2008.
Lewis added a cutter while overseas to go along with his slider, changeup and curve. He has a more compact delivery since Ranger fans last saw him. He's not throwing quite as hard (though he says he can hit 96 mph on the gun at times) in an effort to be sure and find the location. It's a formula that worked for him in Japan.
Now the question is: Can it work here? The Rangers are certainly banking on it. Lewis seems very calm and collected at spring training so far, going about his business and making sure he's in top shape for the start of the season. He has a quiet confidence about him. We'll see if that translates into a solid 2010.
BTW,
check out some of Lewis' thoughts of Japan here
.
What are you expecting from Lewis this season?
February, 22, 2010
2/22/10
8:00
AM CT
By
Richard Durrett
| ESPNDallas.com
SURPRISE, Ariz. -- Our positional outlooks continue all week with the five starting spots. For the purposes of this assignment, we'll slot some guys in spots where they could end up. In fairness,
Scott Feldman
was the club's top starter last season, though
Kevin Millwood
was considered the No. 1 starter. But for this outlook, the No. 1 spot goes to
Rich Harden
. He's expected to seize that role this season. Feldman will be featured on Tuesday.
[+] Enlarge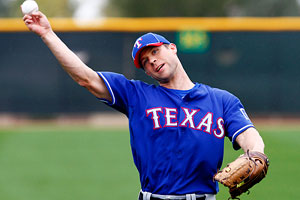 AP Photo/Charlie NeibergallRich Harden has had seven stints on the disabled list in the past five seasons and has pitched more than 148 innings just once in his career.
Part of general manager Jon Daniels' offseason work included trading Millwood to Baltimore to free up the money necessary to sign Harden, a free agent. The Rangers believe that Harden is worth what is $6.5 million in base salary in 2010 (he has some incentives) and a mutual option for 2011 at $11.5 million. Why? Because when Harden is healthy, he's shown ace-like stuff. He made 25 starts in 2008 between the Cubs and A's and was 10-2 with a 2.07 ERA. He made 26 starts last season and had a 4.09 ERA, but also 171 strikeouts in 141 innings.
The reason the signing is a big risk: Harden has made seven trips to the disabled list in the last five seasons. He's pitched more than 148 innings in a season only once. And that was 2004.
But Harden arrived in Surprise committed to showing he can become a durable starter. The Rangers certainly need that. How important is a true No. 1 starter? Well, there are certainly examples of teams that have made the postseason with an overall solid rotation, but no true ace. But, as Michael Lynch at ESPN Stats & Information points out, three of the last four AL West titles for the Angels were won with a starter that had a 3.50 ERA or lower and who pitched at least 175 innings. In the entire decade of the 2000s (2000-2009), the Rangers had only one pitcher accomplish that feat:
Kenny Rogers
in 2005.
I have a column online now that talks about Harden's health and his focus on decreasing his pitch count per inning. Because he's a big strikeout guy, he throws a lot of pitches. That can hurt his ability to go deeper into games. Of pitchers that threw at least 140 innings last season, Harden had the fifth-most pitches per inning at 17.7.
That's what you would expect from a strikeout pitcher. And he has sure had a bunch of those. Of the pitchers that threw at least 100 innings in 2009, no one had a higher strikeout rate per nine innings than Harden's 10.9. The list:
1. Rich Harden (10.9)
2.
Tim Lincecum
(10.4)
3.
Justin Verlander
(10.1)
4.
Jon Lester
(10.0)
5.
Yovani Gallardo
(9.9)
So Harden comes in with the expectation that he can be a stalwart in this rotation. He's worked hard this offseason (in Arizona, actually) with his conditioning to be in position to throw a bunch of innings at the top of the Rangers rotation this season.
Will he do it?